It's normal for life to feel a little overwhelming at times. And while some of us might resort to meditation apps or positive affirmations and quotes to get us through, some of us might prefer mindfulness colouring. You probably enjoyed hours of colouring as a child, but mindfulness colouring is now a popular activity for adults to enjoy too.
Don't worry, we're not asking you to buy a children's colouring book when you're next at the supermarket. This style of colouring is a lot more detailed than children's colouring, with various intricate designs and themes to choose from depending on what you're interested in.
It's not just a fun activity to pass the time away, but it can be very beneficial for our mental health too, a bit like a meditation book or wellness journal. Think of it like a holiday or spa break for your brain. It's a great wellbeing activity that can help your brain focus on that one activity to help you switch off from any distractions you may have in your life.
What are the benefits?
Mindfulness colouring can benefit our mental health in a variety of ways. Firstly, it's a real creative outlet, helping to get the creative side of your brain flowing.
Taking out some quiet time to colour can also help us when we're feeling stressed, anxious or like we need to work through a few things. Alternatively, you might not want to think about anything else at all other than the colouring project, a bit like if you were meditating for mindfulness.
Secondly, all those bright colours can help release our happy hormone dopamine, giving you a dose of the happy feeling you get when you put on your favourite bright colour.
How to get started
With the modern world we find ourselves living in, it can be easy to get distracted by things like our smartphones TV and the internet. It's a good idea to get started by swapping the 20 minutes you might spend scrolling through your phone for some colouring.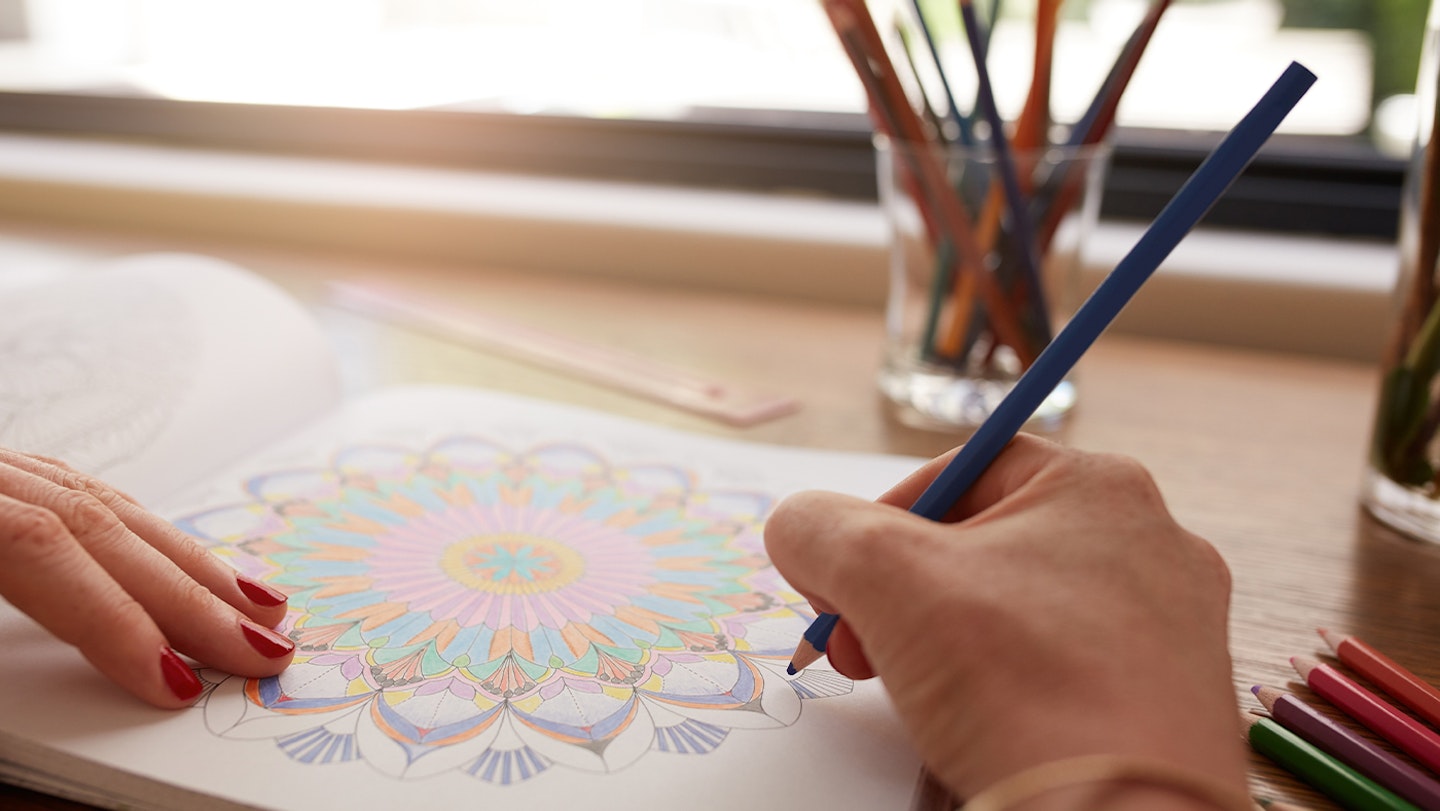 We'd recommend using colouring pencils for adults to do your colouring projects as they won't bleed over the lines like felt tips or gel pens might. This is essential for the more intricate styles of colouring you'll find in an adult colouring book.
If you struggle to concentrate on something for long periods, we'd recommend setting a timer for 10 minutes and spending ten minutes on your colouring project, fitting in your colouring around your usual daily activities.
Mindfulness colouring printable sheets
Mindfulness colouring books can be expensive, so to save you investing in a whole book before you even know if it's a hobby you'll enjoy, it's a good idea to try some single sheets at first.
There are plenty of different printable sheets to colour which you can download and print off the internet for free. We've popped a few of our favourites below that we think you'll love. Keep in mind that to download most of these, you'll need to set up a subscription account. These are all free to set up, but they will need your email address.
Quotes to colour in– these are brilliant if you need some positive quotes to get you through.
Mindfulness colouring printable sheets pack – this pack of colouring sheets has various different designs to have a go at, depending on what you're in the mood for.
Mandala colouring page – If you're new to mindfulness colouring, then a mandala style of colouring could be the perfect place to start. They're nice and intricate and not too time consuming and they look beautiful so you might want to even frame it when you're done.
Our favourite mindfulness colouring books
If you've had a go and think you can master a full book, then there are plenty of adult colouring books on the market to choose from. These also make brilliant presents for friends and family too.
Description
This book contains 64 pages of mindfulness colouring illustrations to give you all the satisfying
Description
This book is specifically designed for those days when you're feeling all tense and stressed. Full
Description
If you're in need of a more positive mindset, then this book is for you. Its 48 pages are full of