The Eurovision Song Contest is something we look forward to each year, and Yours has the best Eurovision party ideas for a contest to remember. From Loreen's ballad Euphoria to ABBA's classic Waterloo, this continent-wide celebration has given us some memorable moments - as well as plenty of international music to enjoy. Last year's winners, Ukraine, are unable to host due to ongoing conflict in this part of the world. So, the UK has taken over and Liverpool has been announced as the host for 2023.
So, whether you're having a small get-together or a full-house watch party, we've got you covered with some game ideas, costume inspiration and more. Eurovision comes but once a year and is a cause for celebration. But is Eurovision taking place in the UK? It feels like once in a lifetime! So, it's worth it to go 'all out' for the occasion. After all, the contest brings so many countries together with music, a universal language. Whether a die-hard fan attending the finale in Liverpool or cheering for your favourite act at home, we've hand-picked the best ideas for a Eurovision party – from cheesy costumes to decorations.
Some of our picks are worthy of earning at least 12 points.
When is Eurovision on?
The 67th Eurovision Song Contest will be held in the Liverpool Arena on Saturday 13 May 2023 with the semi-finals taking place on Tuesday 9 and Thursday 11 May 2023. We're pleased that Graham Norton will be hosting this year alongside actress Hannah Waddingham, singer and Strictly winner Alesha Dixon and Ukrainian singer Julia Sanina. What a line-up.
A few tickets are left for the live shows: Semi-Final and Grand Final, available exclusively at Ticketmaster. If you're a die-hard fan, we recommend visiting Liverpool. It'll be worth it – not to mention so much fun. Tickets are priced from £30 to £290 for the Semi-Final shows and from £80 to £380 for the Grand Final shows.
Best Eurovision party ideas 2023
Our checklist consists of games, food, outfits and decorations. Plus, you shouldn't forget the theme. Eurovision is a yes - but are you going for something country-specific or something a little more general? After all, this guarantees that all your decorations, signs and supplies are cohesive.
Games
It wouldn't be a party without some games – and we're not talking Musical Chairs. No, we're talking about entertaining guests before the show airs and during the boring bits. From Strictly-style scoring paddles to trivia, we've got some Eurovision party games to suggest.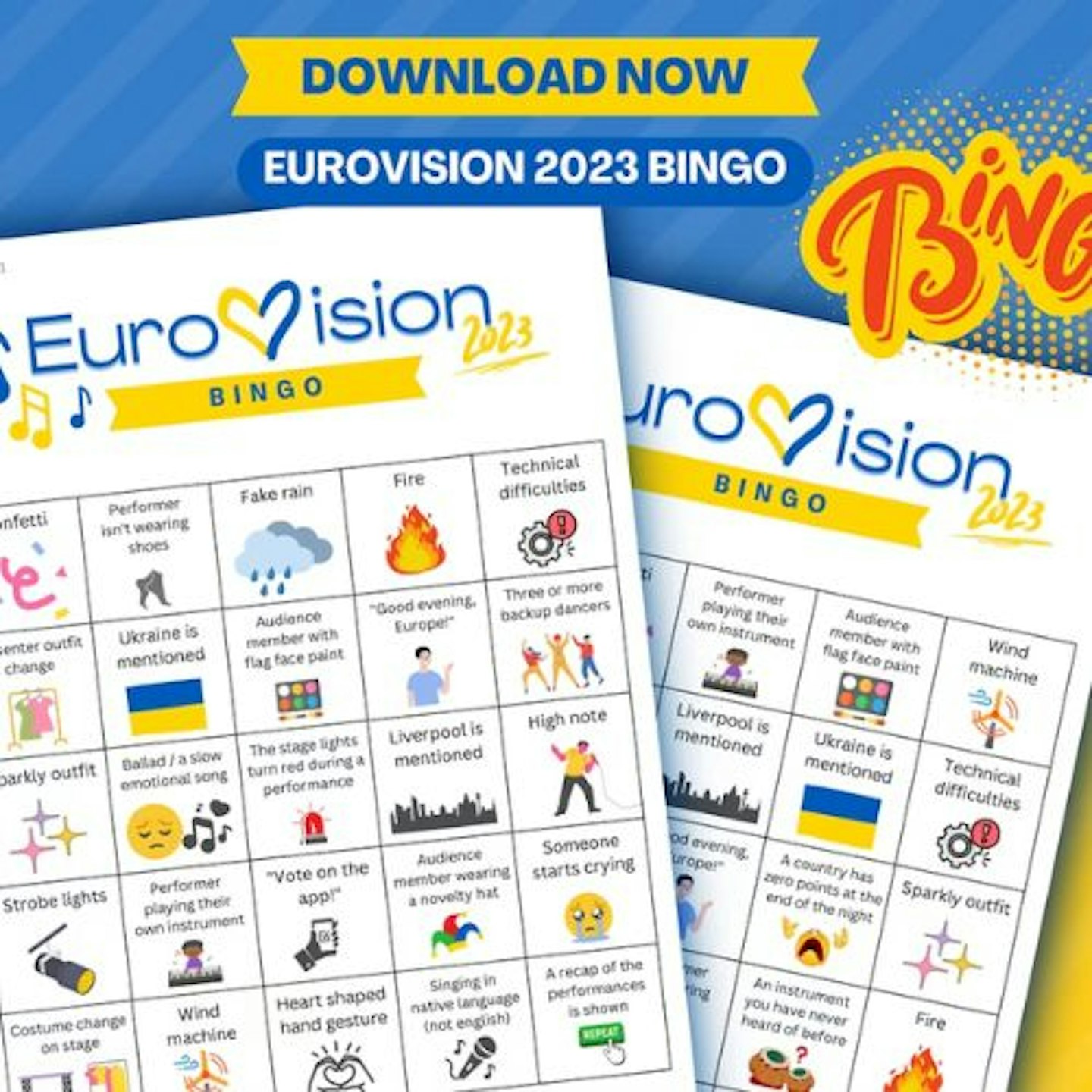 1 of 4
Eurovision 2023 Bingo Sheets (12 Player Cards)
From Etsy, we love this printable Eurovision 2023 bingo. Coming as 12 unique bingo cards, this set is perfect for any Eurovision shindig. Gather around the screen and listen out to cross categories off: such as 'sparkly outfit' and 'someone starts crying'. Don't forget a prize, either.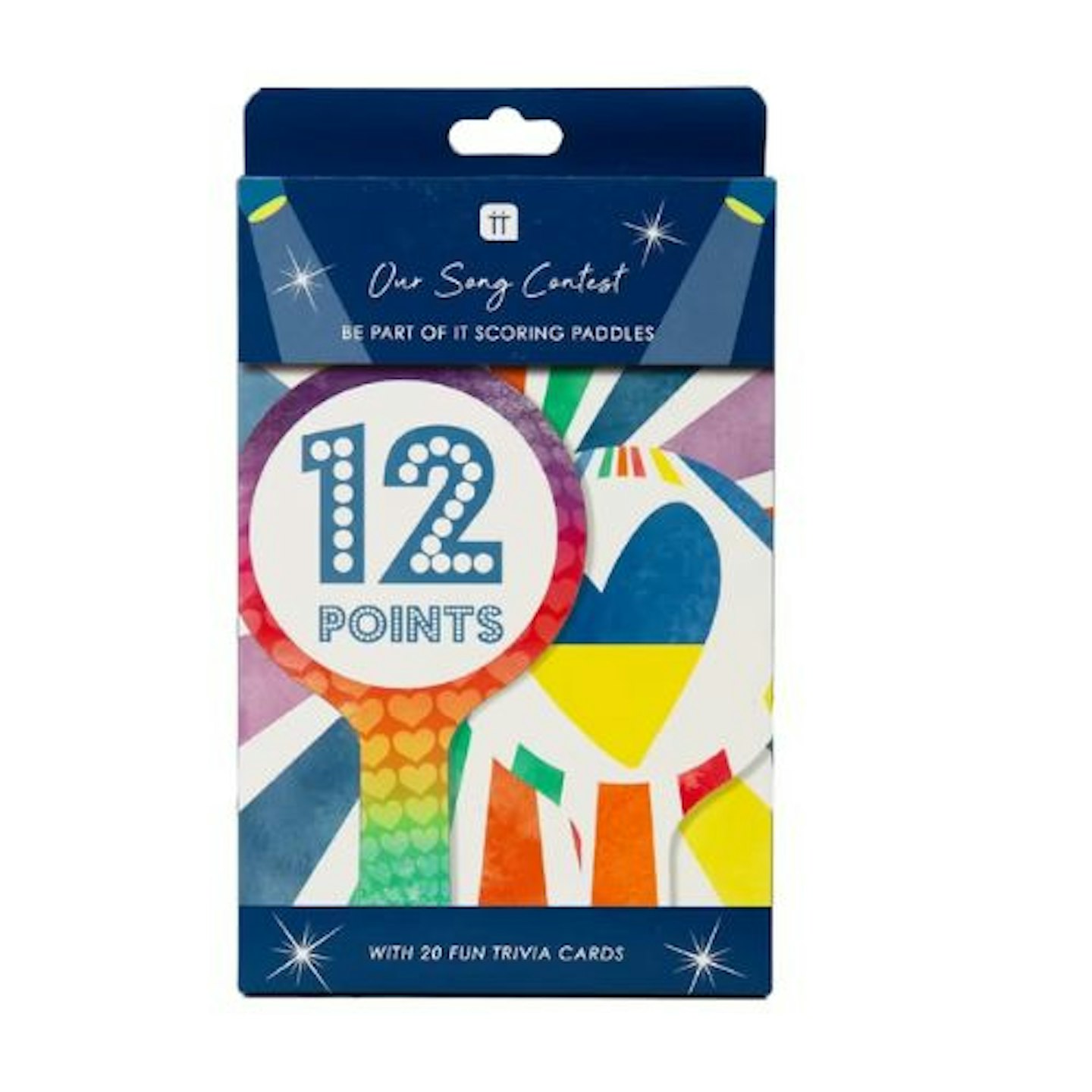 2 of 4
Eurovision Song Contest Scoring Paddles and Trivia Cards
Become the judging panel with these scoring paddles from Etsy. Rate performances and it'll get your guests talking about certain acts. Plus, there are some quiz cards included for the night. 12 points to this pick.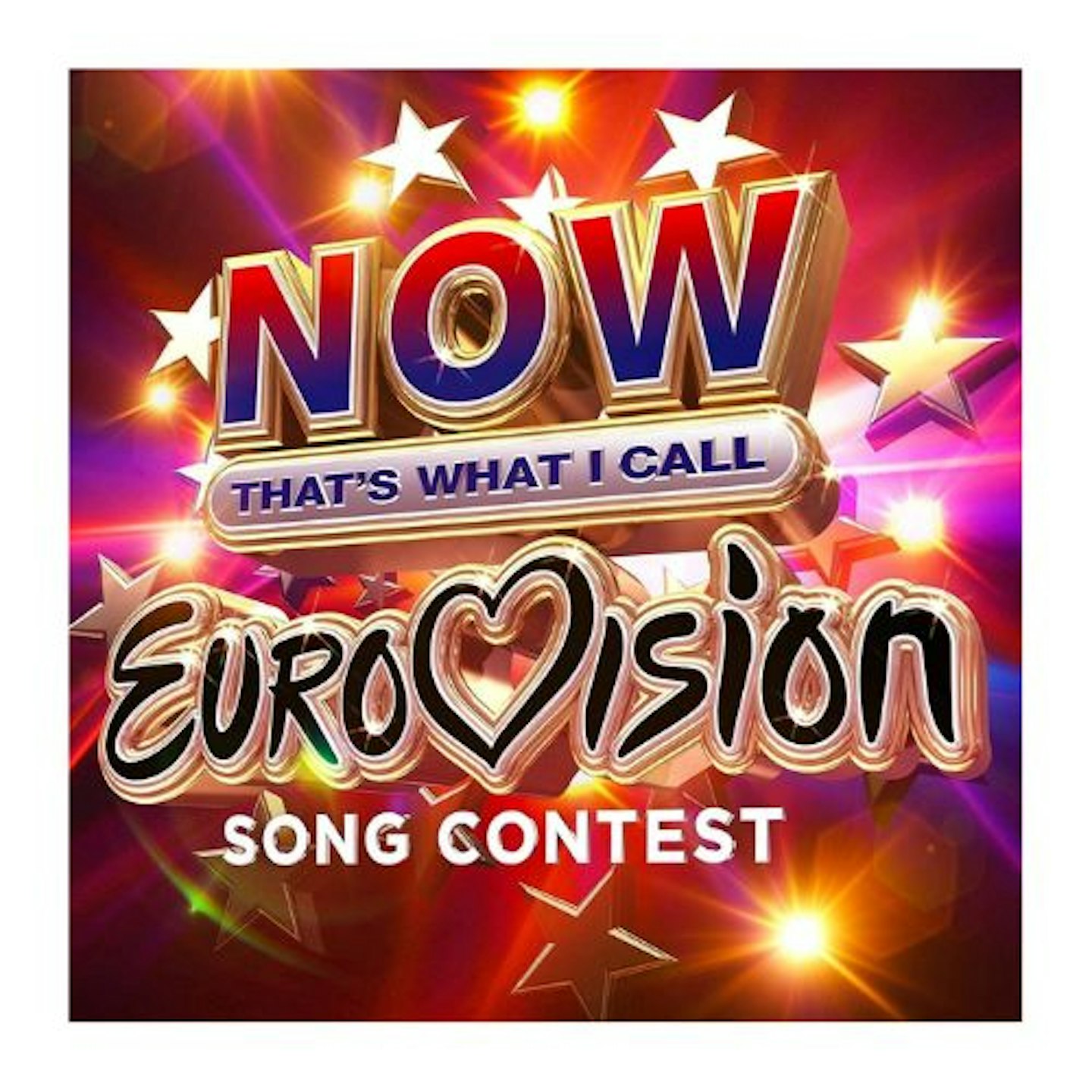 3 of 4
NOW Thats What I Call Eurovision
The perfect playlist for your evening, pop on this CD for plenty of Eurovision favourites. With this bumper-pack of Eurovision history, you could have a good sing-song, too. Ooh Aah... Just A Little Bit of karaoke does no harm.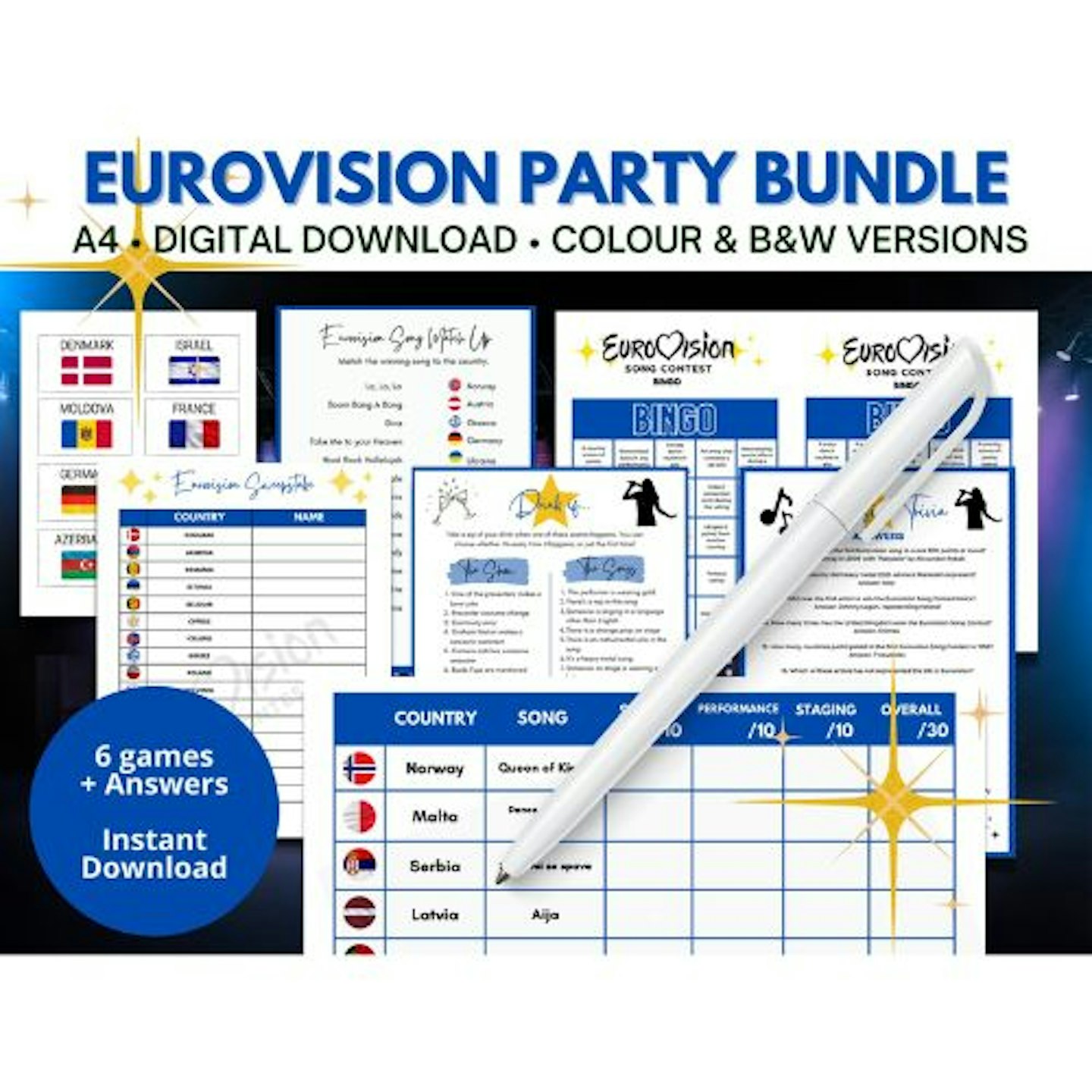 4 of 4
Eurovision Party Games Bundle 2023
An ideal addition to your Euroivison party, this instantly-downloadable party bundle is a hit. This downloadable Eurovision Party Bundle contains 6 games guaranteed to get your Eurovision party started with a bang! There is a Sweepstake kit, Scorecards, Trivia, Song Match-Up, Bingo and even a Drinking Game.
Decorations
Next, come decorations - which are vital for hosting a good party. Don't worry, we've not just included flags. Save that for your Coronation party. With Eurovision, you want something a little flashier, sparklier and not just the Union Jack hanging in your lounge. You could even theme your Eurovision party around a certain country, for example, Ukraine which won last year.
Yours has found some fantastic Euroivison party decoration ideas - from cushions to banners.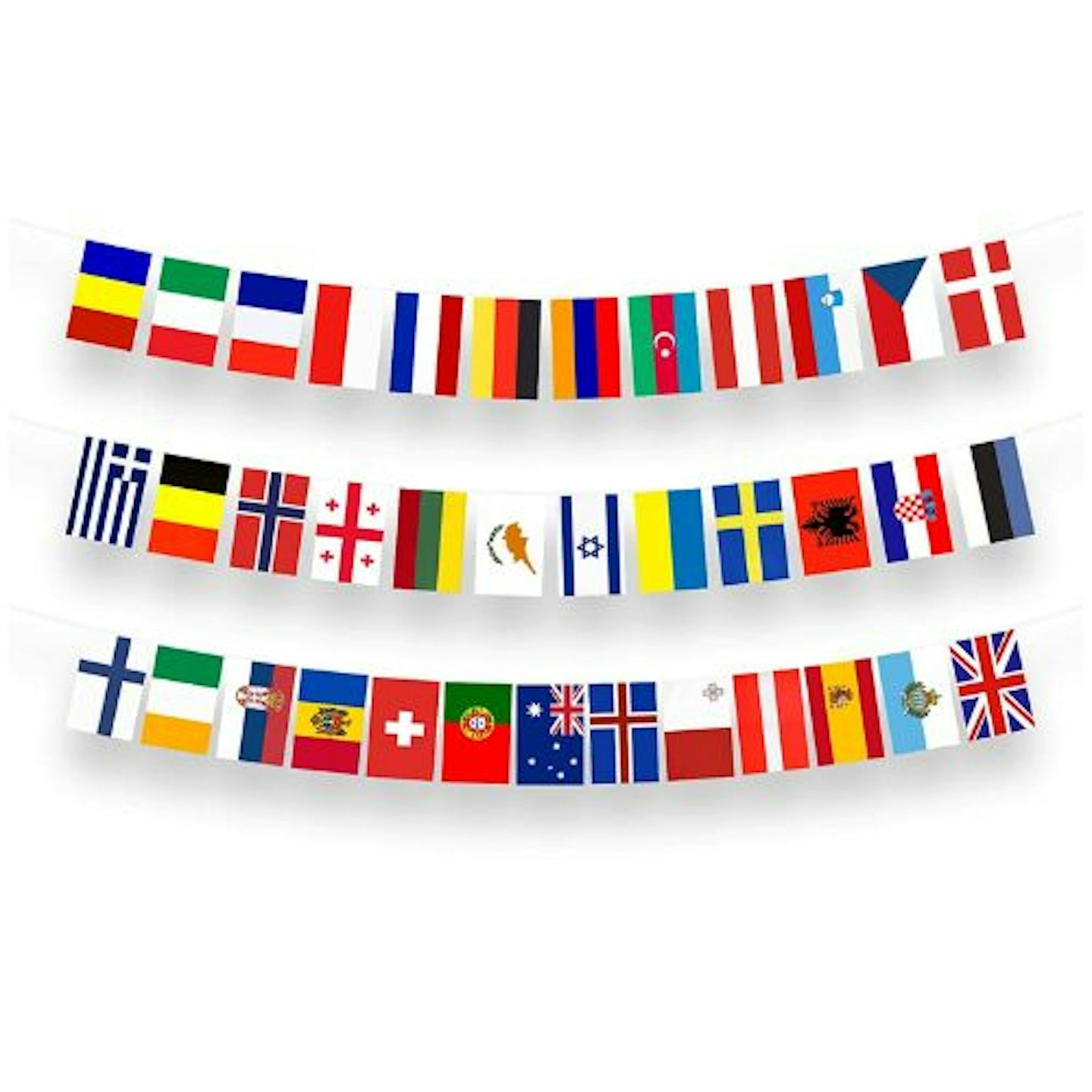 1 of 6
Eurovision Party Decorations Bunting Banner
Okay - we've got the flags out of the way first. For Eurovision, having a multi-international flag banner or burning works best. If you're not theming your party around a certain country, then having a mix of flags works best.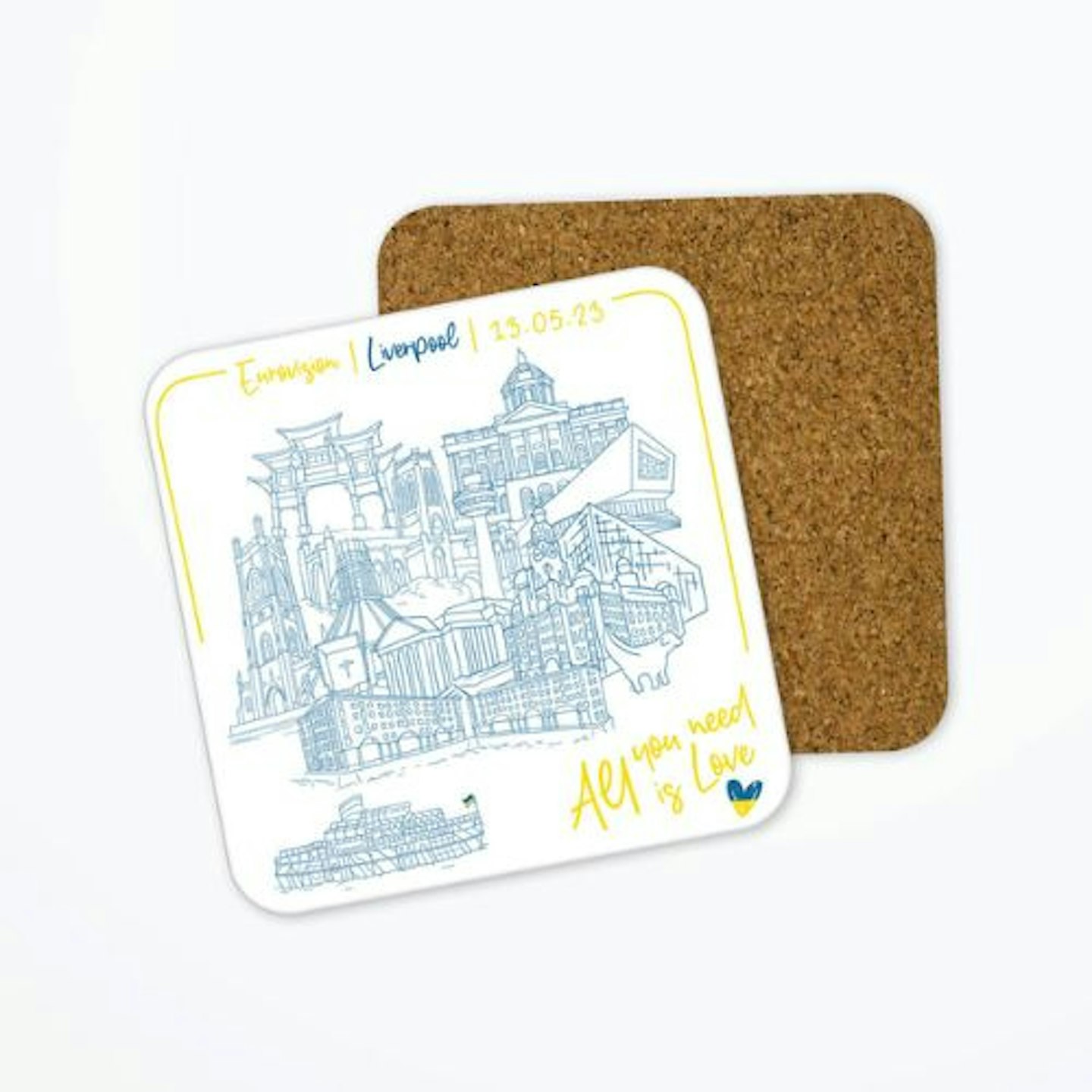 2 of 6
Eurovision Liverpool Coaster - Landmarks
We suggest some coasters if you're having a tipple and want to save your furniture from spills and bumps. And - why not be in-theme with these creative and unique Liverpool-inspired coasters? These coasters come singular or as a set and pay tribute to the host city Liverpool's skyline and landmarks. It's perfect for a Eurovision party.
3 of 6
Eurovision 2023 Liverpool Poster
Get ready to celebrate the Eurovision Song Contest in style with this vibrant and unique Liverpool 2023 Eurovision Celebration Poster! This poster features a stunning design that captures all of our excitement.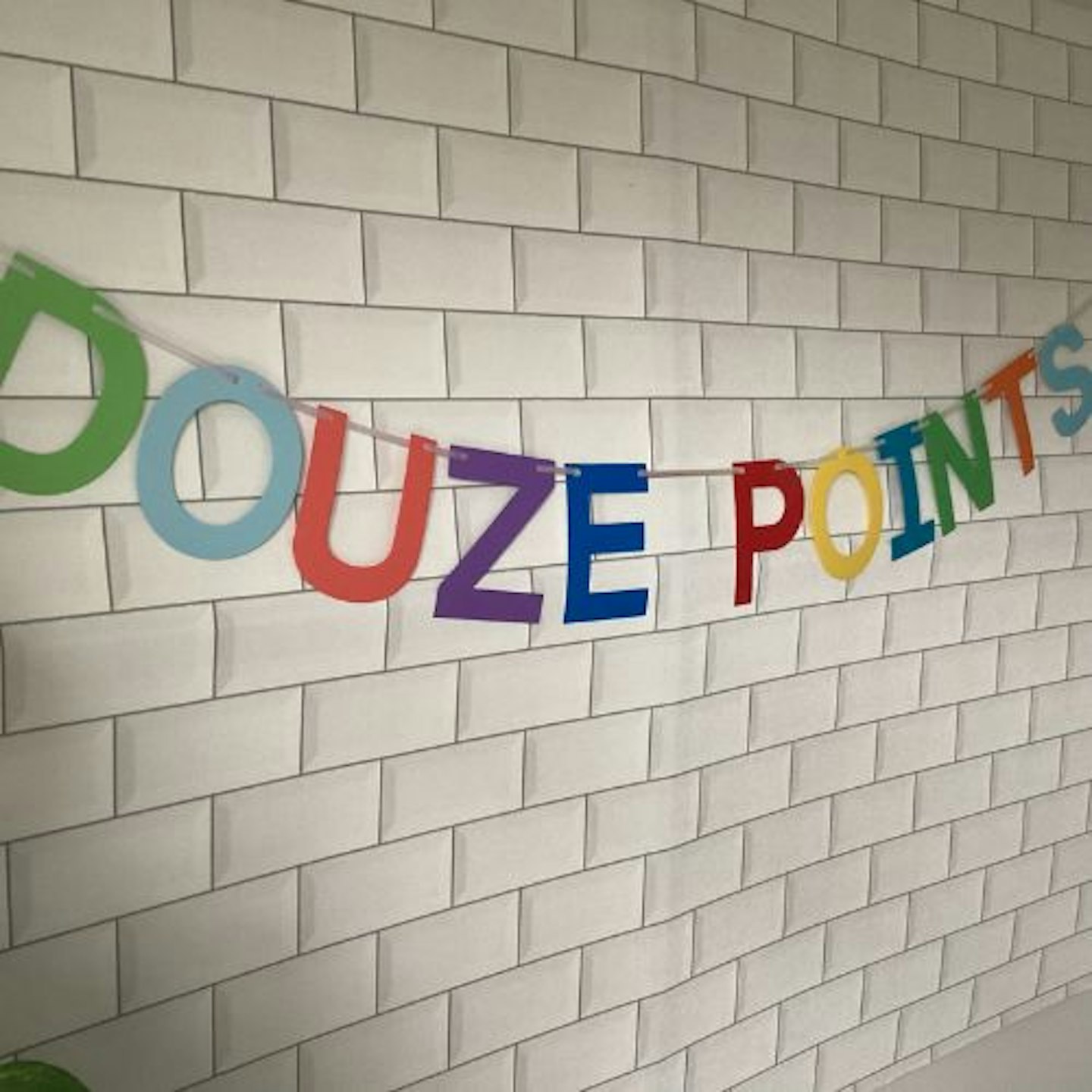 4 of 6
Eurovision Party Douze Points Celebration Banner
Bring Douze Points home with this banner. It's perfect for your Eurovision party.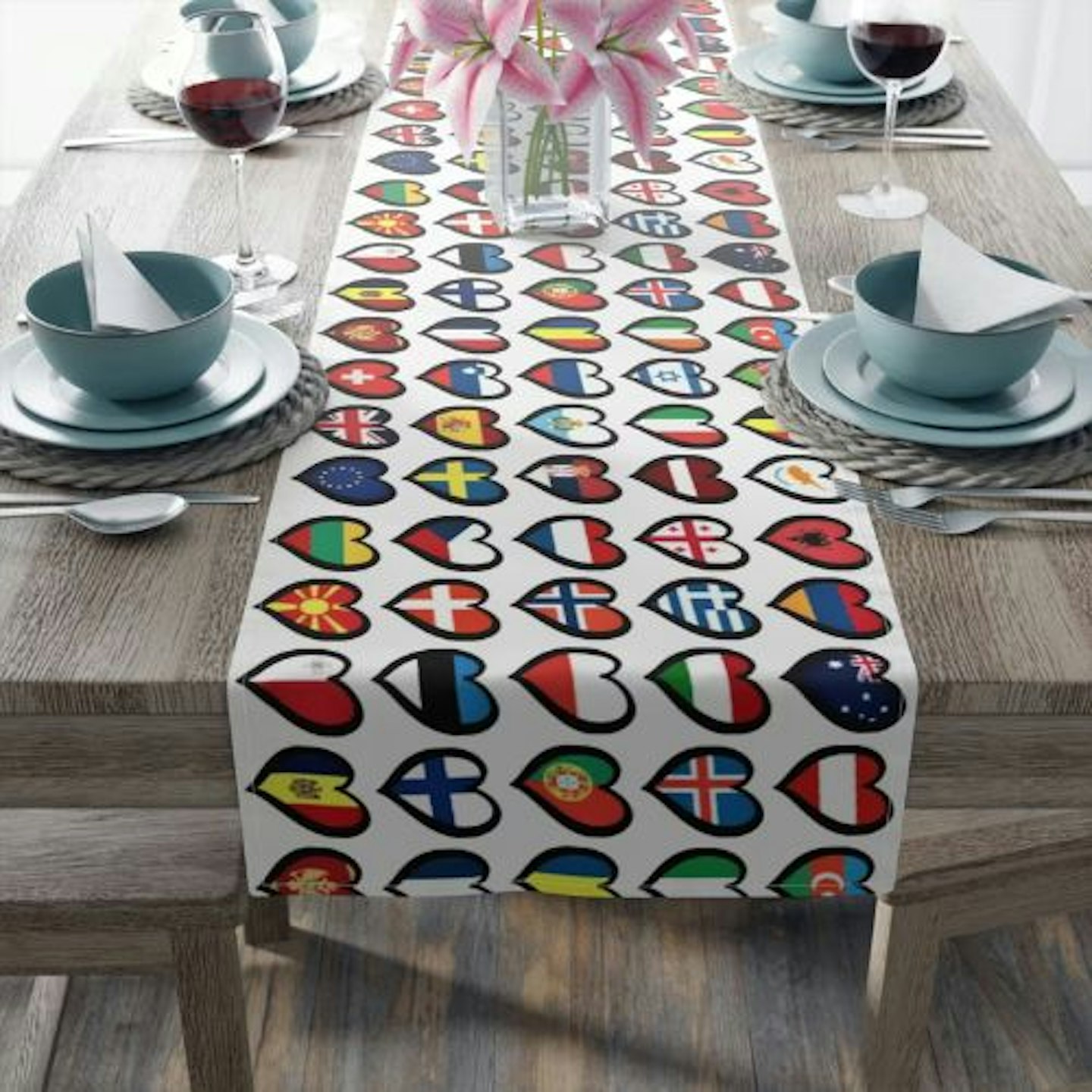 5 of 6
Table Runner - Eurovision, Flags of Eurovision Countries, International Flags
To make your Eurovision party look the part, make your table-setting look picturesque with these heart-shaped flags representing Eurovision countries - this stylish runner is a must-have. Available in cotton twill or cotton and in two different sizes, this table runner will look great alongside your spread.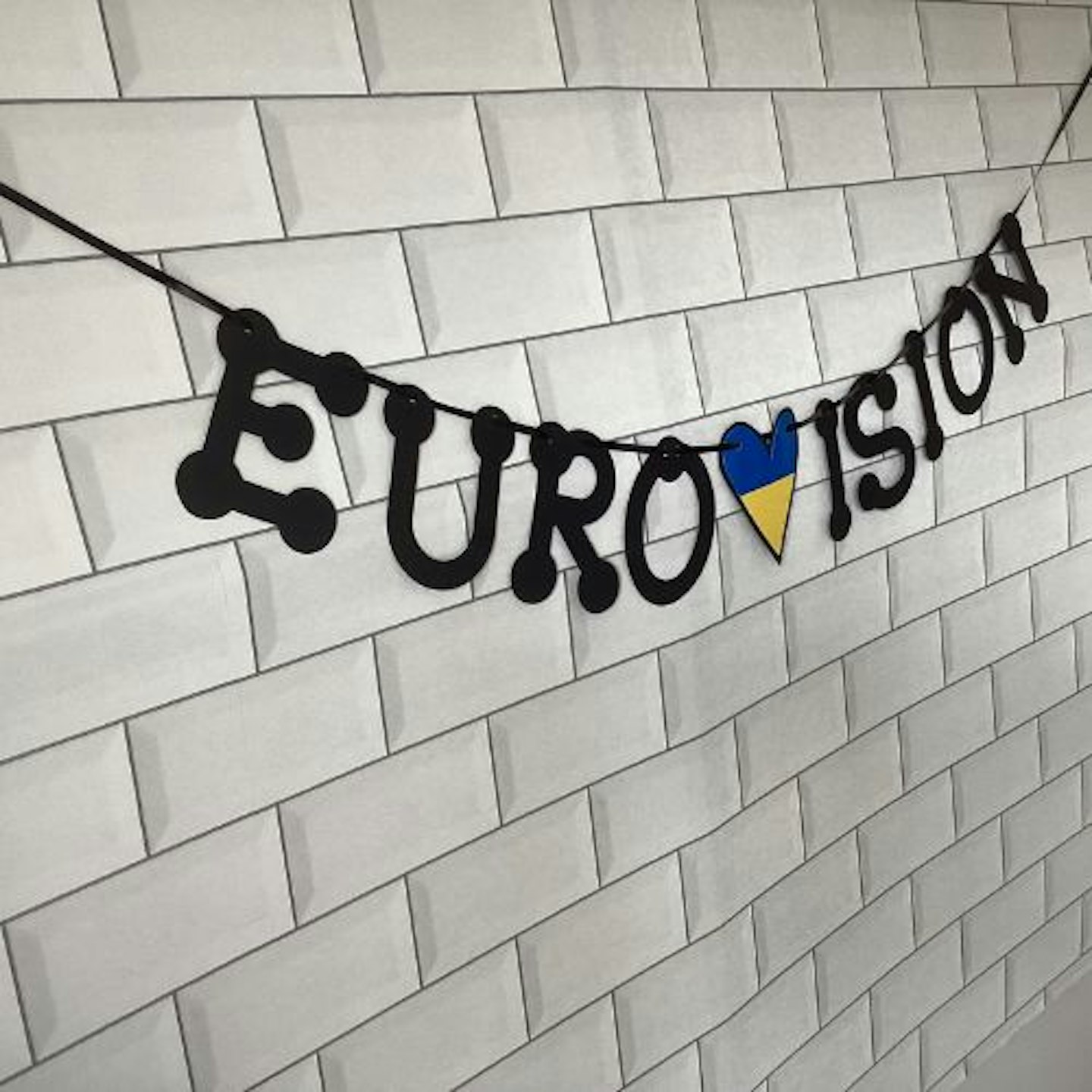 6 of 6
Eurovision Party Banner Ukraine Heart Bunting
We can't get enough of a banner. This is the last one, we promise. Show Ukraine some heart.
Outfits and costumes
Of course, you can dress up for a Eurovision party. In fact, we highly encourage Eurovision-themed fancy dress. You will probably get quite a few sparkly ABBA-style jumpsuits turning up at your door, so we have some alternatives, too. By all means, jump on the 70s glam trend and you'll become the Dancing Queen. Or you could go for some quirky Eurovision-inspired earrings. Yours has found some Eurovision outfit ideas that'll rock your world.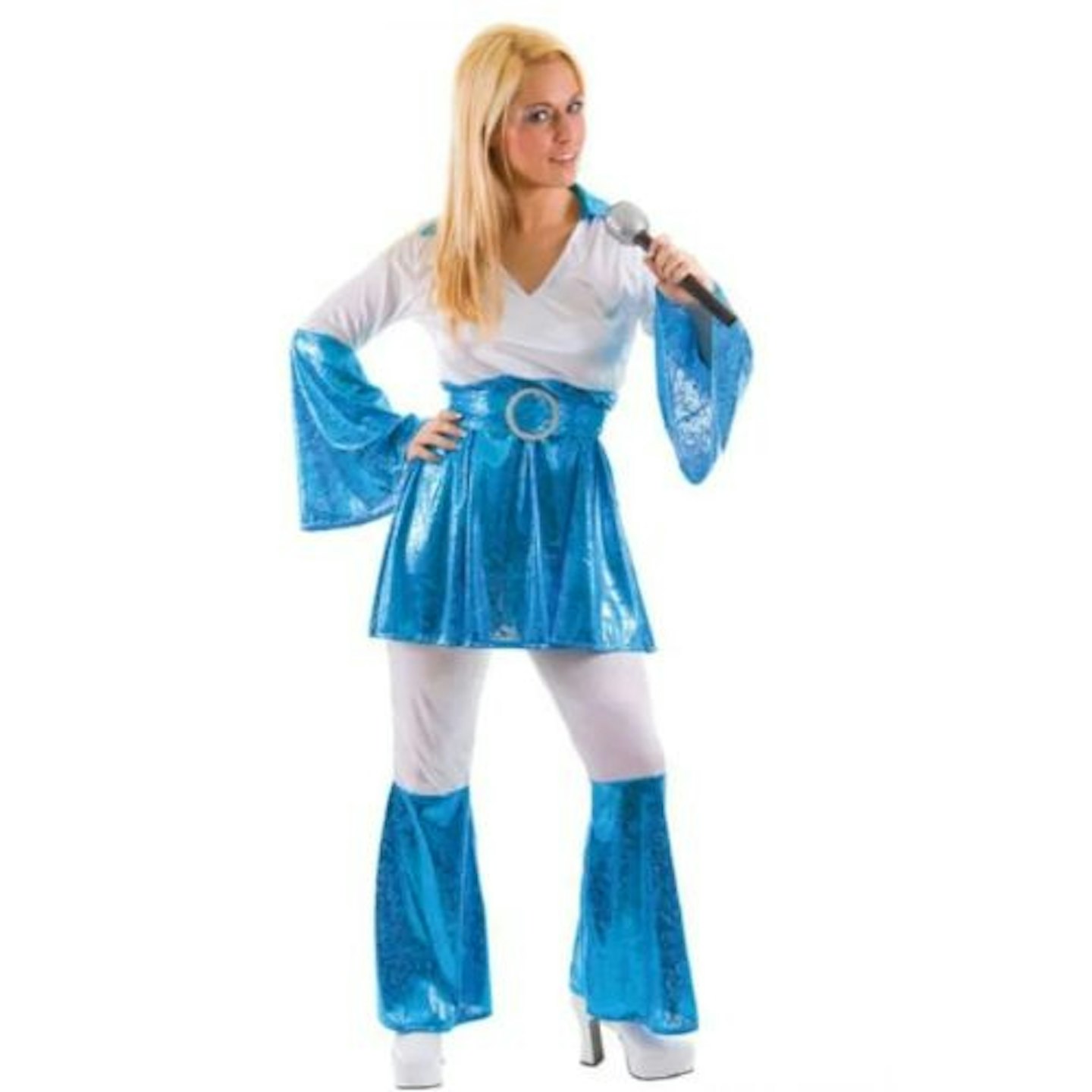 1 of 7
ABBA-Inspired Fancy Dress Costume
Finally, face your Waterloo with this fancy dress pick. Inspired by the most iconic band of the 20th Century, this 70s pop diva-inspired costume comes in a Medium, which is a UK Size 14-16.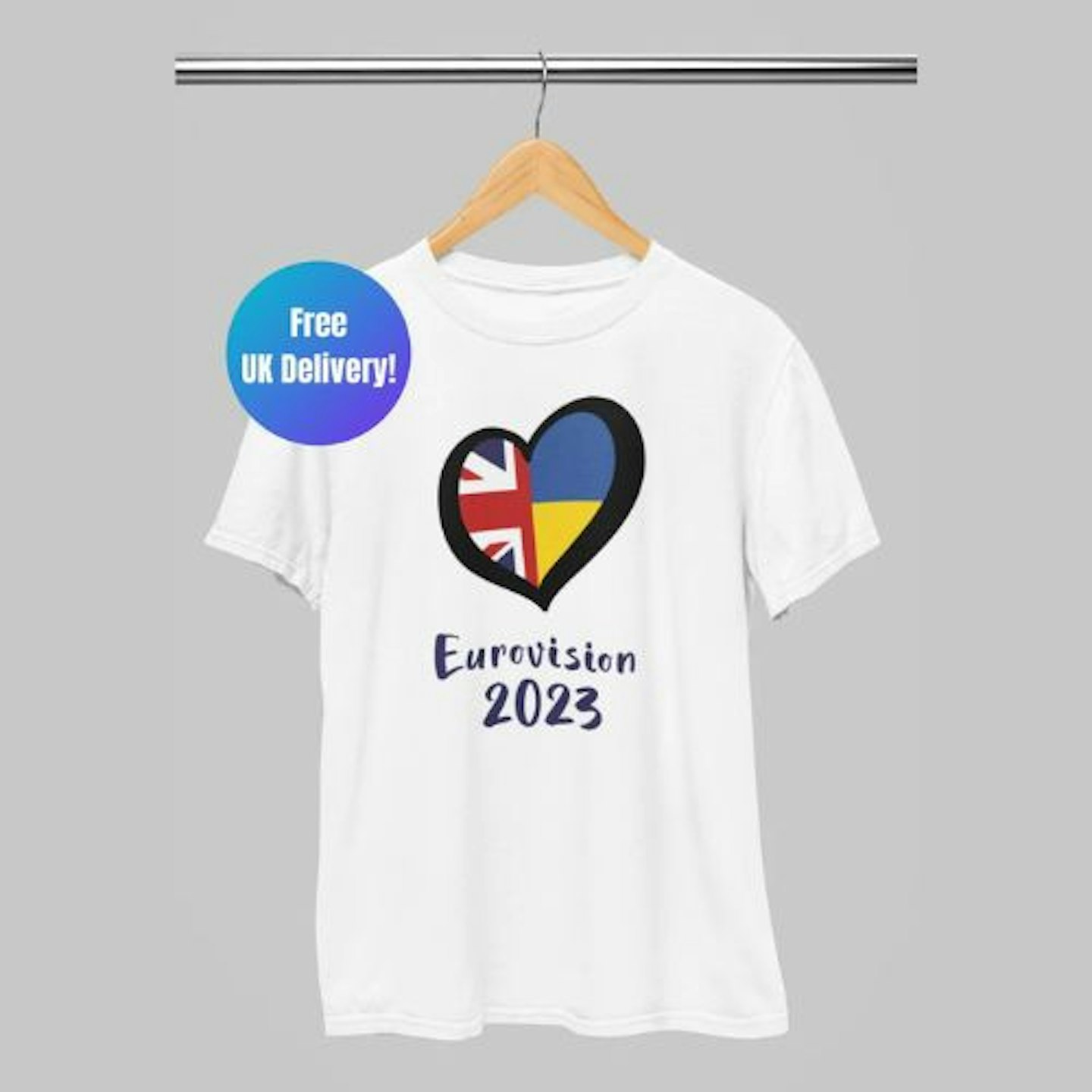 2 of 7
Eurovision 2023 Liverpool T-Shirt
Celebrate Eurovision 2023 in style with this unique Eurovision t-shirt that combines the flags of the UK and Ukraine. This unisex comes in sizes S to 5XL for the perfect fit. Grab a few of these maybe for the whole gang?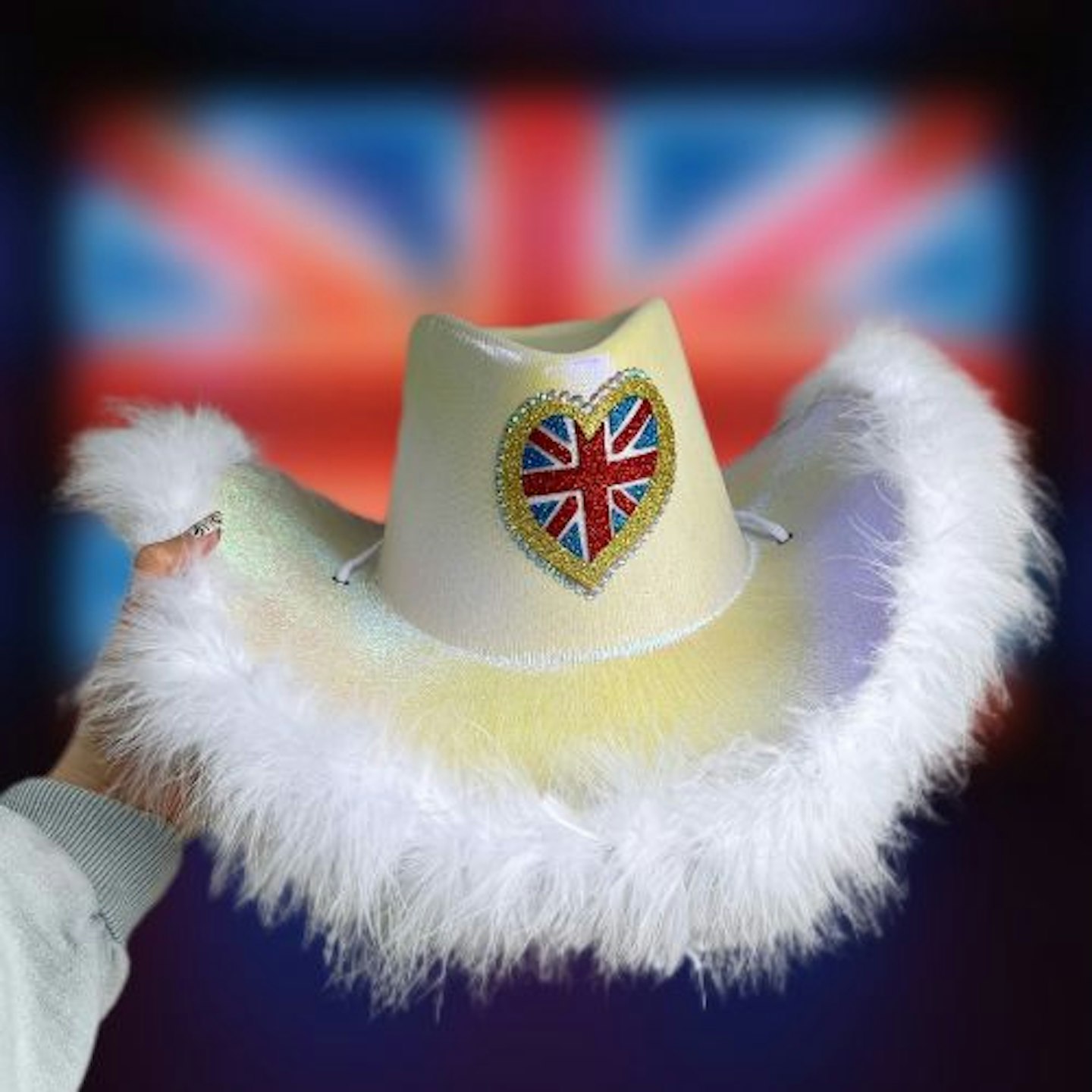 3 of 7
Eurovision Cowboy Hat
Eurovision deserves to be met with excitement, energy and a fabulous outfit. What better way to support your country than dressed in glitter, feathers, and rhinestones? This is over-the-top in the best way and embodies the spirit of Eurovision.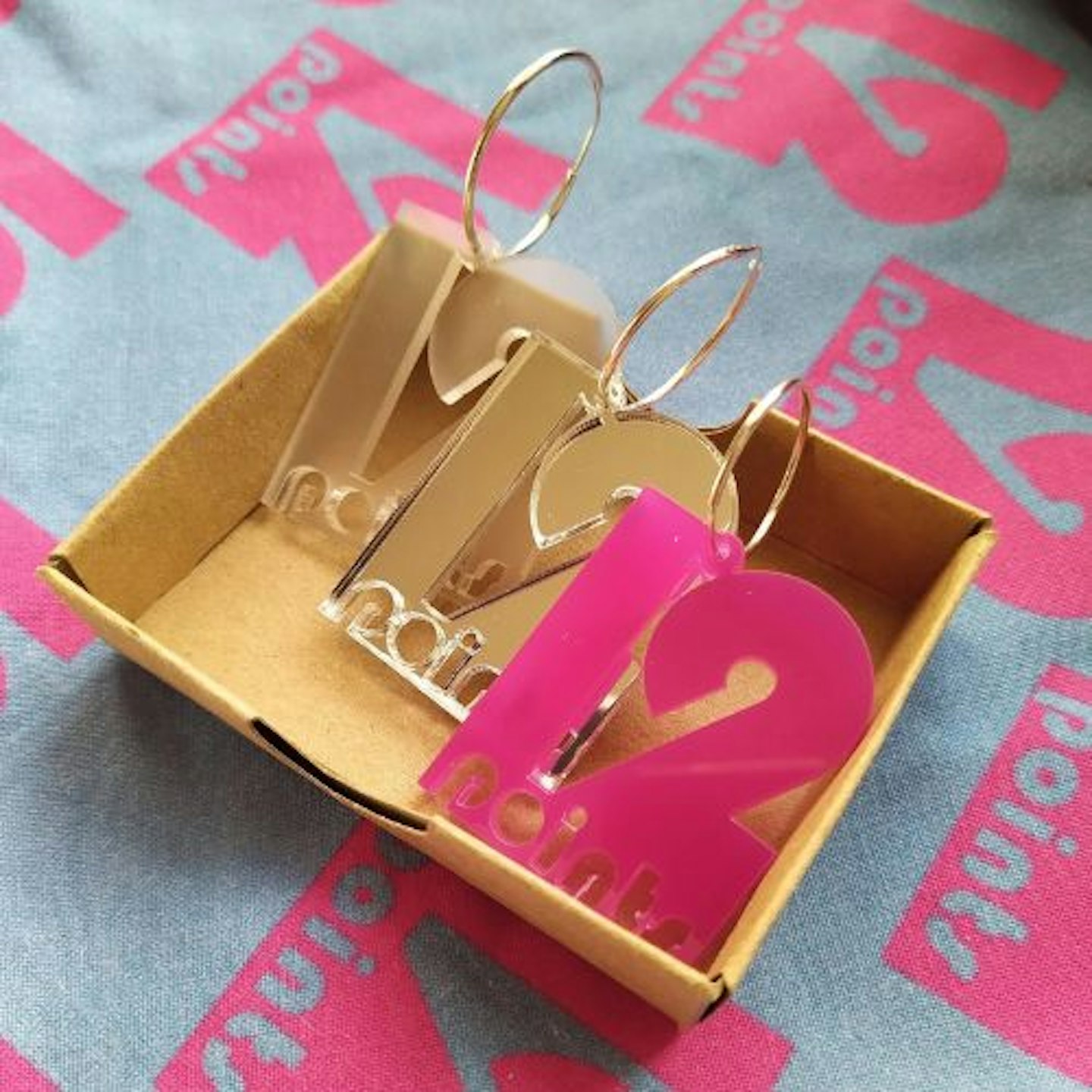 4 of 7
Douze Points Earrings
Choose between frosted, pink and silver mirrors for these recycled, Eurovision-inspired earrings from Etsy. One of our favourite picks of the bunch, these zany and old earrings will sure to get some attention and remind everyone that you're Eurovision's biggest fan. You can get the same design in blue and yellow, like the Ukranian flag, too.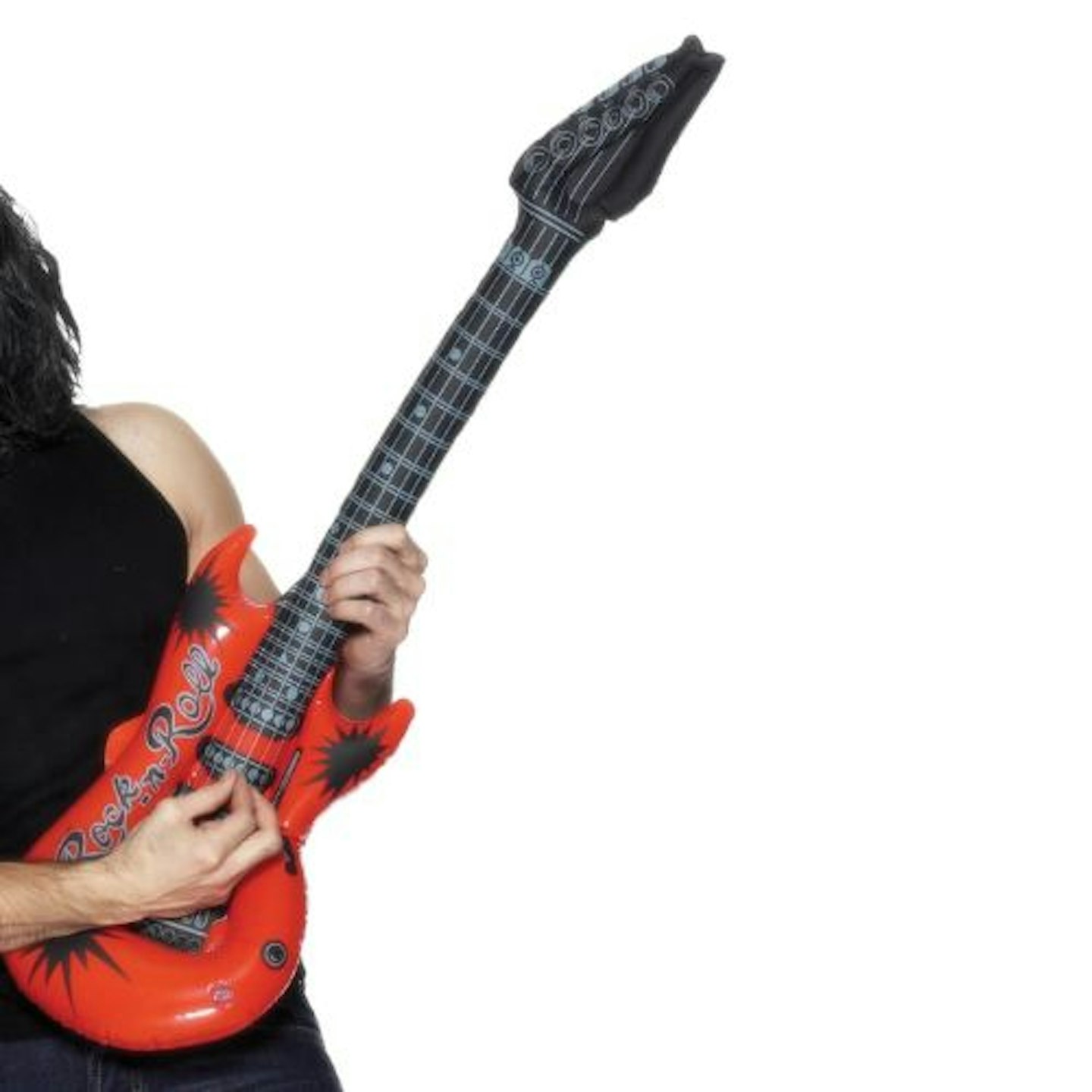 5 of 7
Inflatable Guitar
If you're looking at perfecting your look, why not grab this inflatable guitar? After all, rock bands such as Finland's Lordi and Italy's Maneskin have rocked the contest in their respective years. Countries sending less mainstream acts has in the past led to some memorable performances and, unsurprisingly, awesome results. Rock on!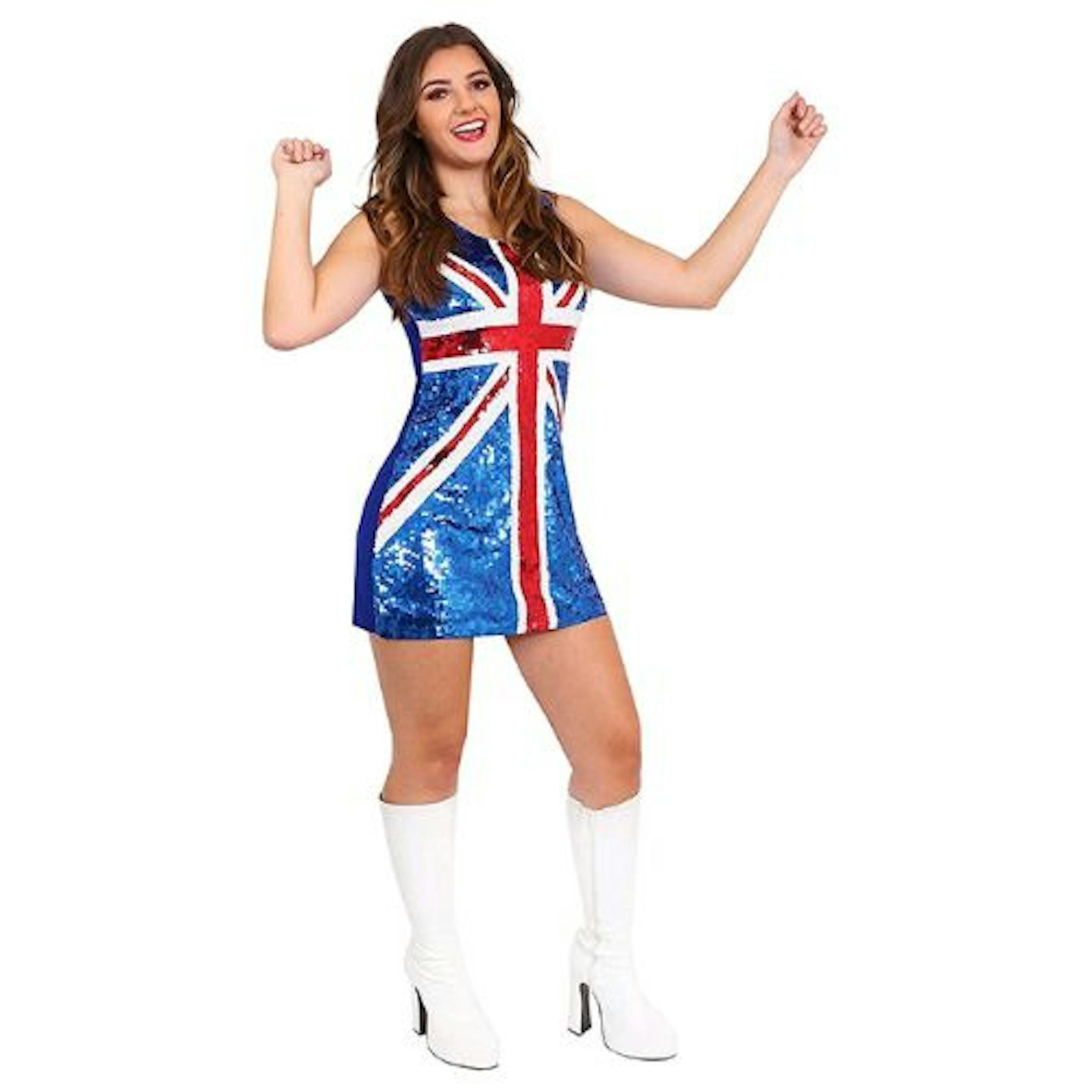 6 of 7
Britpop, Geri Halliwell-Inspired Union Jack Dress Costume
We can't quite understand as to why the Spice Girls weren't picked to represent the UK in Eurovision. After all, they seem to epitomise all things British in their attitude, as well as their look. If you've gone for a British theme with your Eurovision party, why not break out the Geri-inspired Union Jack dress? It's sparkly and over-the-top, which is perfect for the night you have planned.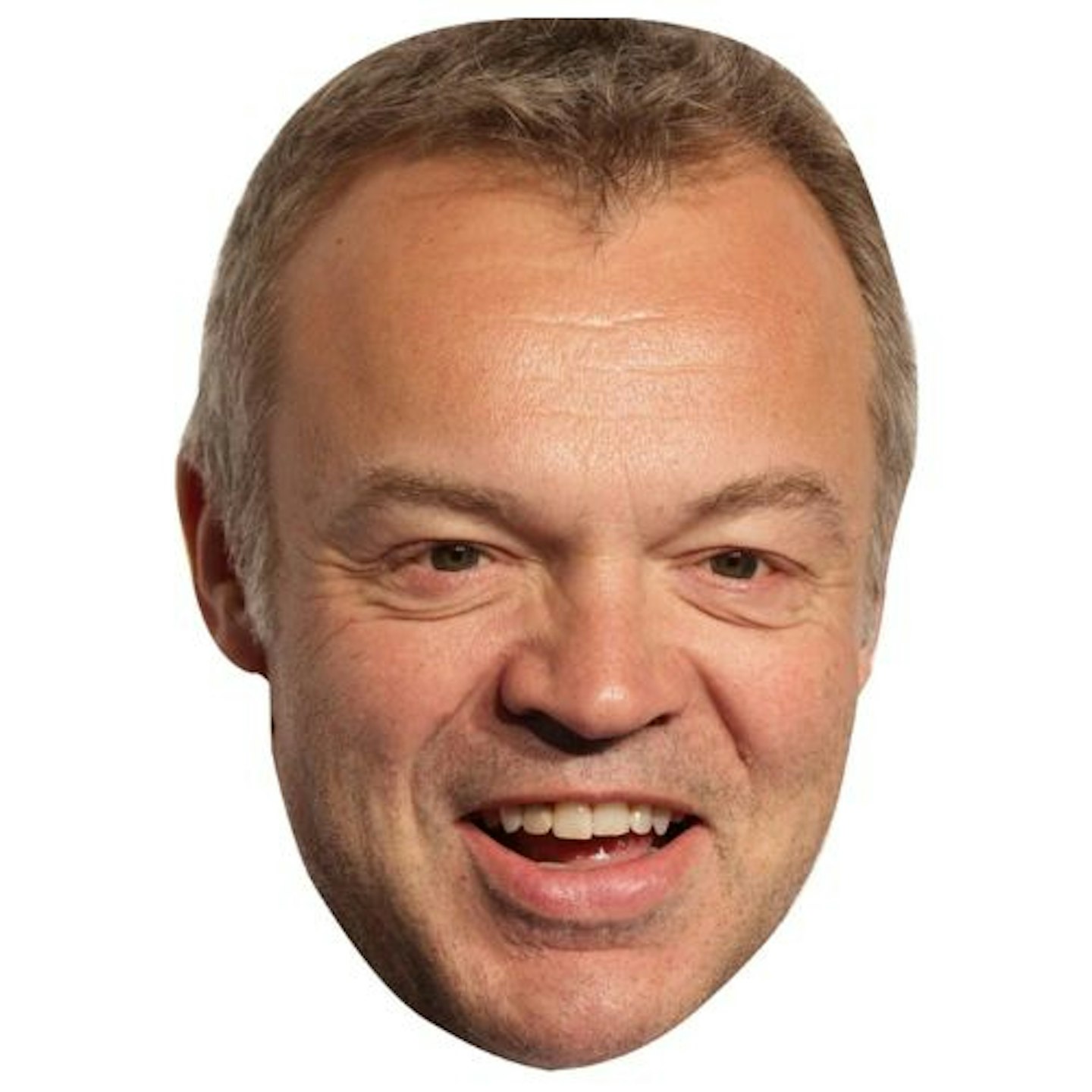 7 of 7
Graham Norton Celebrity Face Mask
Make them laugh with this cheesy, easy-breezy Graham Norton mask. Graham has become synonymous with the event over here in the UK, and someone is bound to dress up as the presenter. Simply, tie and go.
Food and drink
Get your friends together for a night of Euro-themed fun and party food. With our picks, why not select a dish from your chosen country – like Swedish meatballs or German Apple Strudel? Here, we have listed some Eurovision food ideas, accessories and essentials to treat your guests to. From wine to cake toppers, we have some thoughts.
As for food, make it simple, nibbles are best, but ensure that everyone's preferences and intolerances are catered for. Why not make some signature cocktails for the night? Have a non-alcoholic option, too. We recommend taking a look at the BBC Good Food's list of Eurovision recipes for inspiration.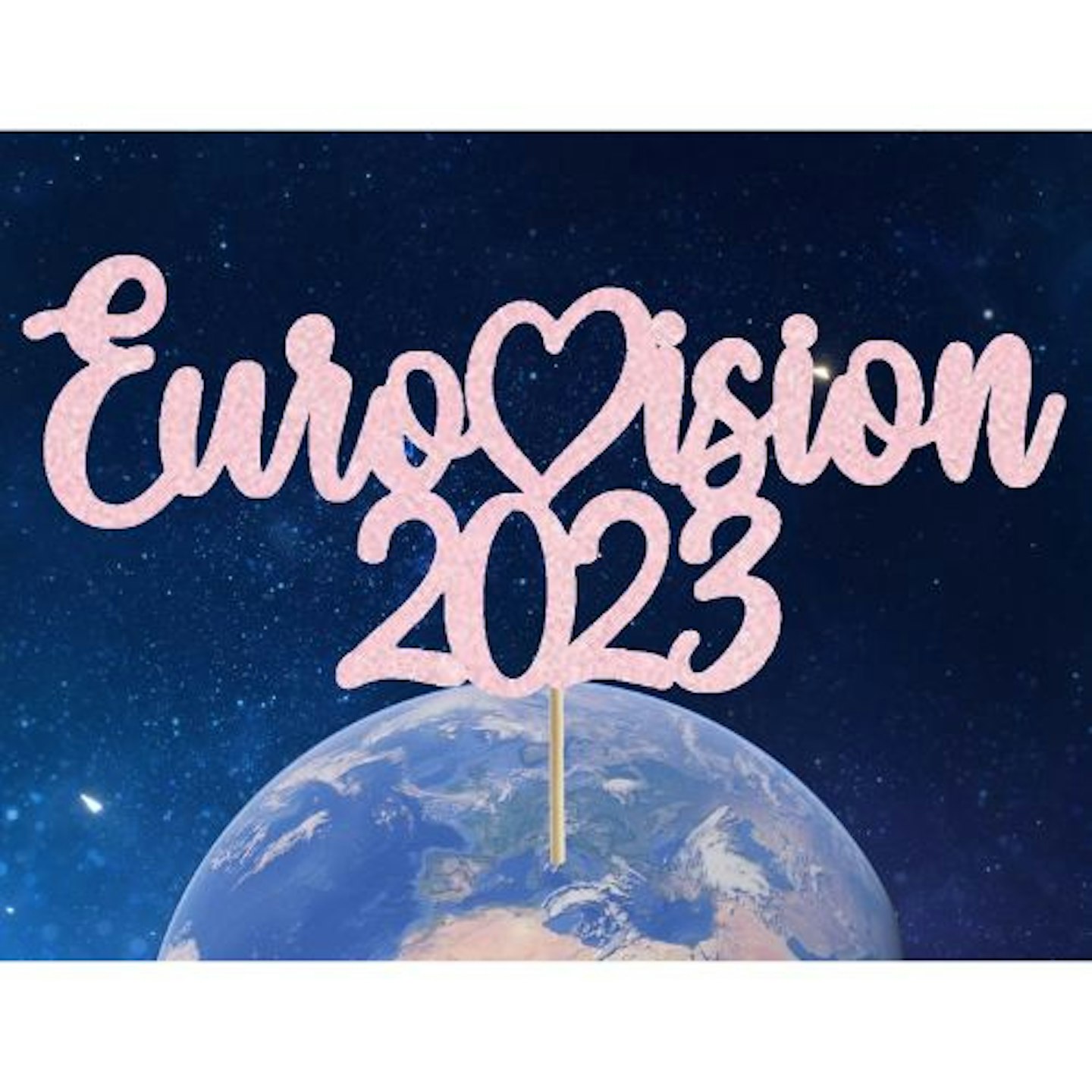 1 of 5
Eurovision Cake Topper
Add to your Eurovision party celebrations this year with a glitter cake topper to use with gifts, cakes or on a table display.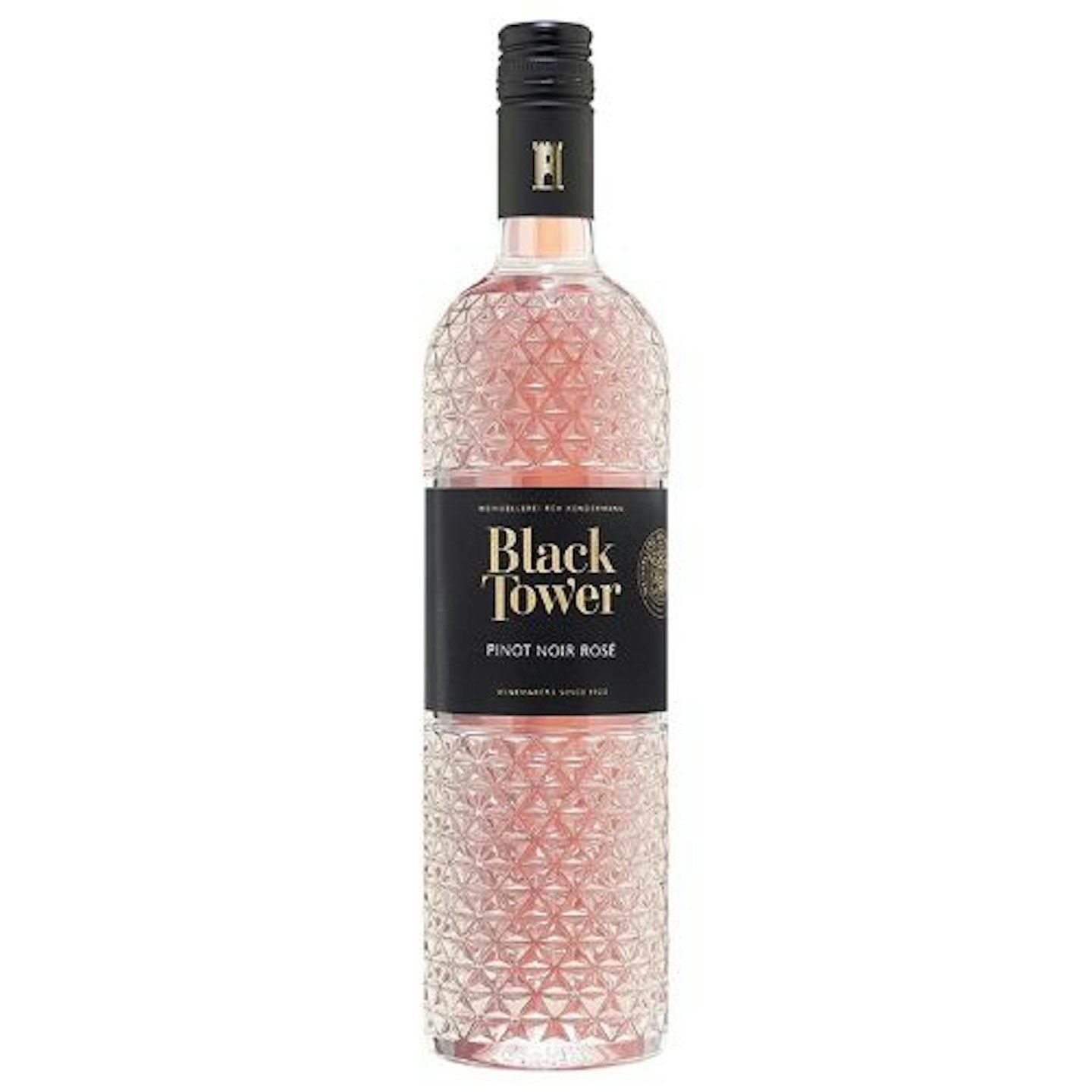 2 of 5
Black Tower Club Edition Pinot Noir Rose
Germany's best wine would feel right at home with your Eurovision shindig. For example, Black Tower's Club Edition Pinot Noir Rose is a real crowd-pleaser with a notable twist. Seductive, alluring and juicy, this wine is pleasant and will fare well at your lively watch party.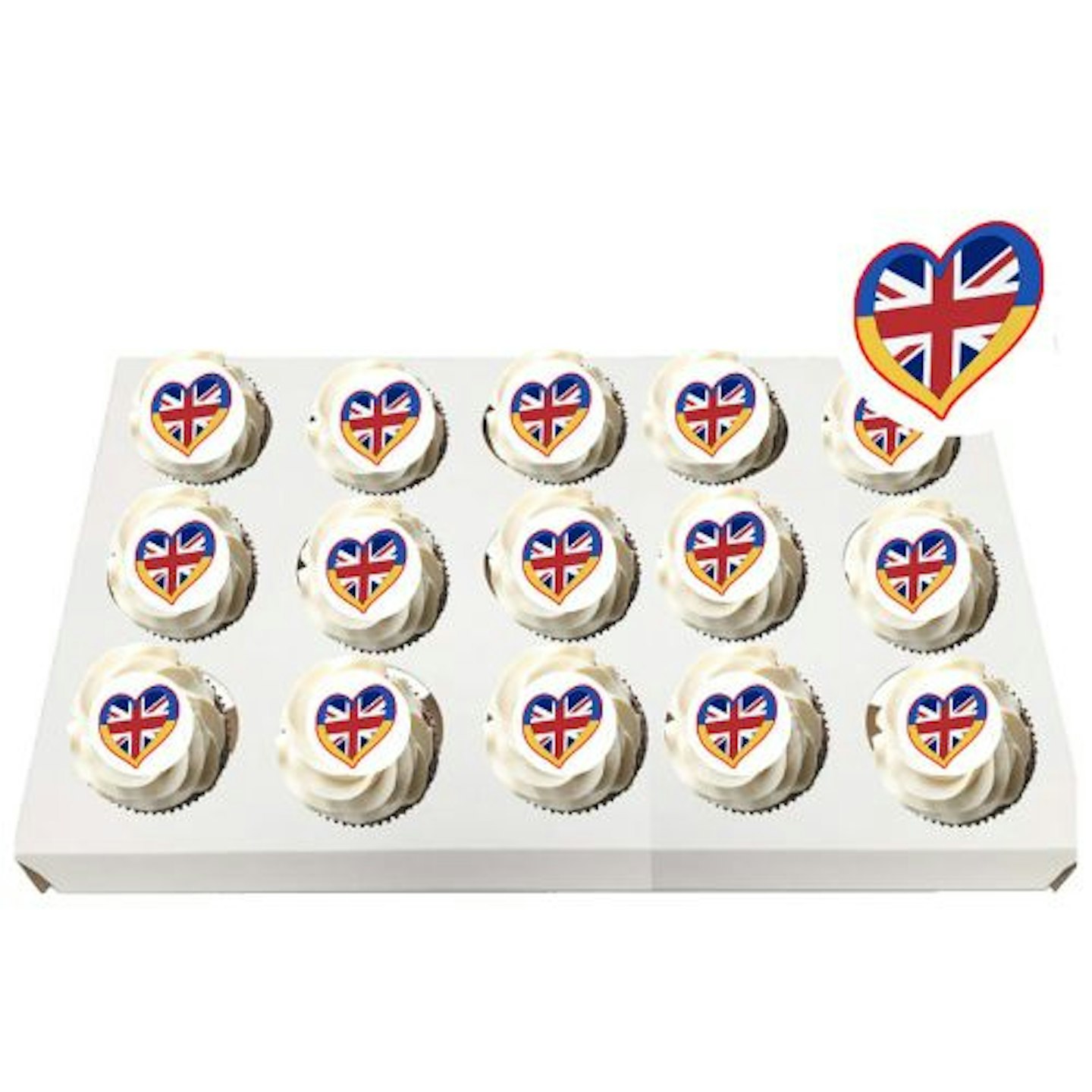 3 of 5
Eurovision Edible Cake Toppers - Union Jack Ukraine Heart
Suitable for vegetarians and vegans, these Eurovision-style edible cake toppers are easy to apply and look good on any batch of cupcakes. Dig out the mixing bowl and whip up some celebratory confectionary. Go on!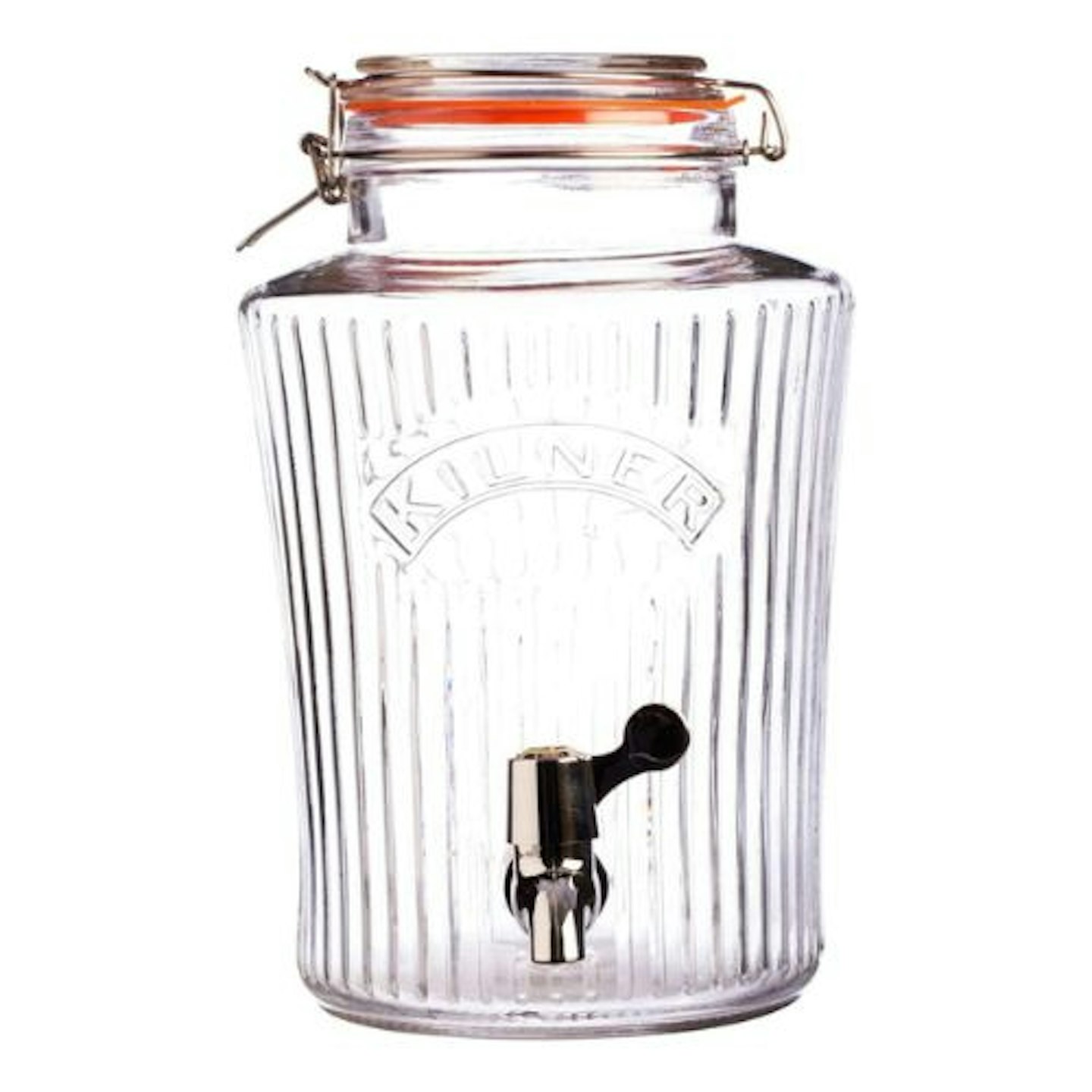 4 of 5
Kilner, 5 Litre Vintage Glass Drinks Dispenser
Generous, this vintage-inspired drinks dispenser will come in clutch with your ready-made Pimms or Euro-inspired cocktail. We love the look of the Spiced Apple Strudel and Brandy Cocktail from BBC Good Food.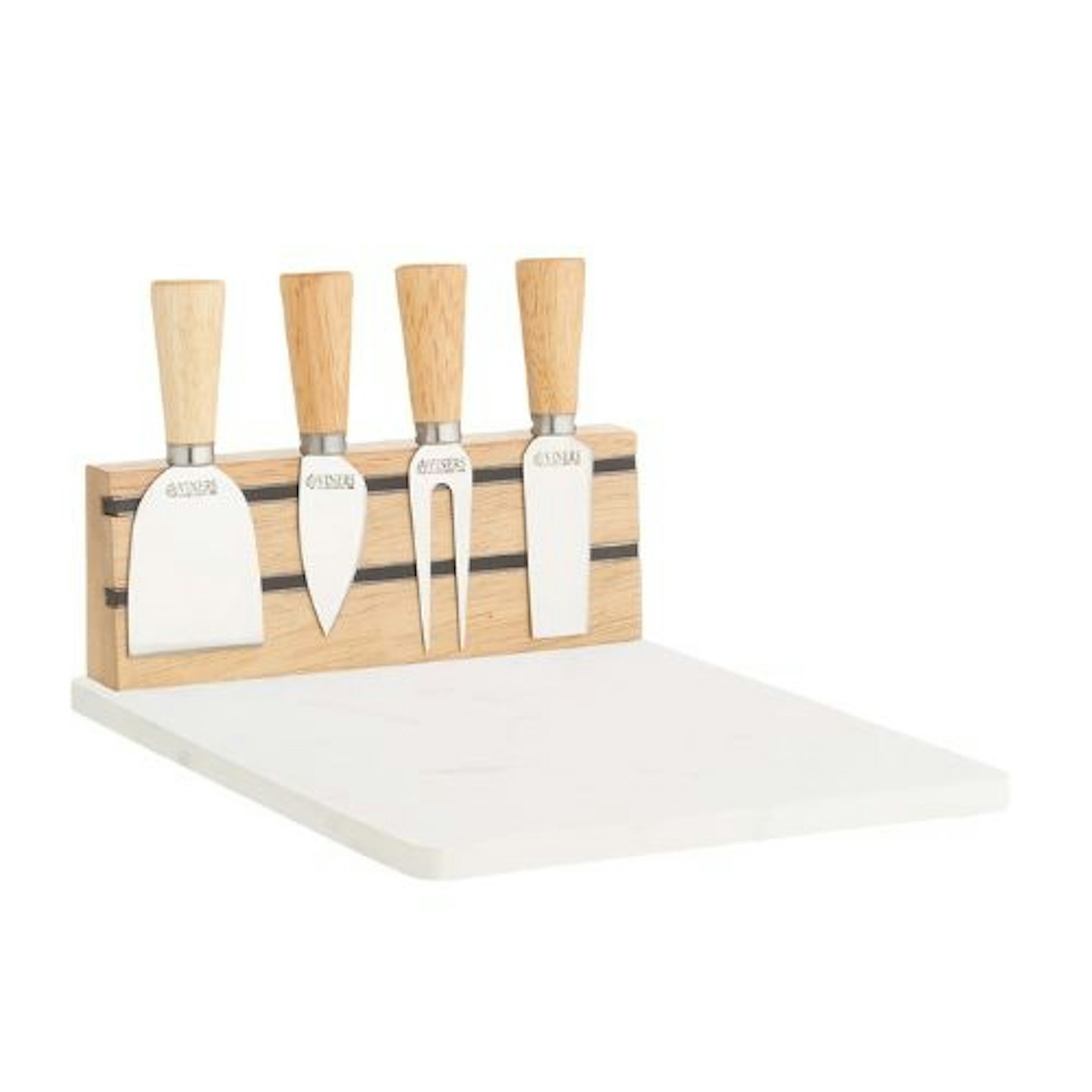 5 of 5
Viners 5 Piece Cheese Serving Set
Thinking of bringing a cheese board to the party? This set will see you right through - and beyond.
FAQs
How do I create a country-themed snack board for Eurovision?
The traditional way to watch Eurovision is with a feast of dishes from the competing countries. But, figuring out what to put out for the Big Day can get confusing and may take some research. We've got some advice with the help from ultrafast grocery delivery brand, Getir - who have launched 'Taste of Europe' bundles to help with your European feast.
Experts at Getir say, ''Country-themed boards and platters are a fun and memorable way to engage your guests for a night of Eurovision celebrations at home. But big or small, they must have variety - packed full of different flavours, colours and textures to satisfy both the eyes and the tastebuds."
France - is known for their love of cheese. Camembert will serve you well. Red wine will take you straight to Paris.
Italy - is unique with a penchant for artisan bread, hard cheese and Prosciutto. Beer and pizza are fab, too.
Germany - is very meat-centric, so let them be the star of the board. Don't forget pretzels and savoury snacks.
Spain - is famed for their tapas, filled with traditional foods with cured chorizo, tangy cheeses and sickly churros.
UK - is an easier cuisine to tackle. Think beige foods such as sausage rolls and Jaffa Cakes for something sweet.
How many shows will there be?
There are a total of nine Eurovision shows.
First Semi-Final: Monday 8 and Tuesday, May 9
Evening Preview Show - Monday 8, 20:00 BST, Afternoon Preview Show - Tuesday 9, 13:30 BST, Live TV Show - Tuesday 9, 20:00 BST
Second Semi-Final: Wednesday 10 and Thursday, May 11
Evening Preview Show - Wednesday 10, 20:00 BST, Afternoon Preview Show - Thursday 11, 13:30 BST, Live TV Show - Thursday 11, 20:00 BST
Grand Final Friday 12 & Saturday, May 13
Evening Preview Show - Friday 12, 20:00 BST, Afternoon Preview Show - Saturday 13, 13:00 BST, Live TV Show - Saturday 13, 20:00 BST
The Evening Preview Show is also referred to as the Jury Show where the international juries cast their votes.
The Afternoon Preview Show is a full run-through of the show that's more family-friendly because of the time it takes place and gives the performers another chance of rehearsing.
The Live TV show is one that viewers from around the world get to see and they can cast their votes.
Who is the UK entrant for Eurovision 2023?
2022's UK entry saw Sam Ryder take runner-up with Space Man with 466 points - which made a change from our abysmal nil points in 2021. But, for 2023, singer-songwriter Mae Muller has been announced as the UK's entrant.
Mae, 25, will perform her track: I Wrote a Song during the competition in May. Hopefully, Mae will earn us a few douze points from neighbouring countries.