Unless you have been living under a rock for the past few years, you will have heard about the CBD phenomenon that is sweeping through the country. In fact, CBD is now legal everywhere in the UK, so if you're interested in learning more, then read on.
We have all the information you'll need pertaining to CBD, including information on:
• What CBD oil is
• How CBD differs from THC
• CBD oil in the United Kingdom
• What brands of CBD oil are best in 2023
If you're looking to purchase CBD oil, you'll want to read through our article, which details how you can choose the best CBD oil UK product possible.
You'll want to consider where your CBD is sourced from. Is your concern that you want to buy from the UK, but you don't care if the hemp plant was grown elsewhere, like Colorado? Or, do you care most about taste and format, while the fact that the oil is UK-based is just a convenient side note?
Regardless of your preference, we're confident you'll find a CBD oil product that you'll love somewhere on this list. Additionally, you're sure to learn quite a bit about CBD oil if you read through this article in detail. First, let's take a look at what CBD oil is and how it differs from its molecularly similar peers.
What is CBD?
Every cannabis plant contains a series of cannabinoids (CBD, CBDA, CBG), or mind-altering chemical compounds native to the plant itself. Cannabidiol, or CBD, is the second most active ingredient in cannabis and is quickly proving popular in the UK.
When a person uses CBD oil, they experience a range of effects related to the triggering of cannabinoid receptors in the human brain via the cannabinoids, leading to the entourage effect. However, CBD completes this process in a way unlike that of its psychoactive peer: marijuana. Thus, CBD oils are associated with wellness and positive health effects.
In addition, the variety of CBD-dominant oils available today in the UK market has expanded greatly since the early days of the CBD oil boom. CBD oil is now produced in a variety of shapes, sizes, and forms, so consumers can choose exactly what works for them.
What are the different types of CBD Oil?
There are a number of different oil types on the market. All legal CBD oils will be made from licenced Sativa strain Hemp plants. Here we look at them and their attributes:
Golden Oil
The purest CBD oil you can buy. More expensive yet you are buying the best. The oil is filtered, at great expense according to the Reactive Plus guys, maintaining a Full Spectrum of attributes, (Flavonoids, Terpenes and all the Cannabinoids including CBD), yet losing all the impurities associated with Raw Oil through the filtration process. Filtration also removes the need to use any unpleasant chemicals that can be used in the distillation process.
Raw Oil
This type of oil is basically the whole plant, including all the impurities, (Lipids, waxes, Chlorophyll). It is Full Spectrum, yet packed with impurities, (lipids, waxes, Chlorophyll). It also carries a very strong taste that is not always to the liking of the user.
Distillate Oils
These make up the majority of CBD oils that you will find in the UK marketplace, about 90% of it. The Raw oil goes through a distillation process, (hence the name), to isolate the CBD Cannabinoid as well as remove the Raw Oil impurities. This processing tends to lose a lot of the goodness that you will find in the Full spectrum oils, though enough of them are left to class these oils as Broad Spectrum. They are cheaper in price than the Golden oils, yet are not as packed with the same level of Cannabinoids, Flavonoids and Terpenes.
Isolate Based Oils
The most processed oils, further distilled than the Broad Spectrum Distillate Oils, are the Isolate based oils. These are made from crystalised CBD isolate and contain none of the other elements that accompany the CBD Cannabinoid in the other oil types. They are illegal with special certification from the FSA in the UK and the EU, though many companies are selling oils with Isolate in them due to importing from the USA where it is legal. Isolate oils are much cheaper than the higher quality oils as you would imagine.
How do I take CBD Oils?
There are a number of products on the market that contain CBD, some are mere novelties. Here we look at how you can take CBD and explain the levels of bio absorption, (body absorbing the CBD), with each way.
Sublingually
Using tincture droplets or tabs that absorb under the tongue. This is the best way to take CBD, in the opinion of our friends from Reactive Plus, with quick absorption into the system, (about 5 mins), and little loss of product in the "application process".
Capsules
Easy to do and if they are made from cellulose totally Vegan/Vegetarian friendly. Capsules take a couple of hours to absorb into the body and last about 6 hours, (same as a tincture droplets). The capsule casing should slow down the digestion so the CBD has a chance to enter the system. You will lose some of the oil value as your digestive system will not absorb it all, yet you will still have around 70 per cent of the oil's value.
Vaping
This is huge and a fast growing market. There are controversies, usually due to impurities in the vape E Liquids people are using, or from allergic reactions. It offers the quickest bio absorption, (instant), yet you will lose large amounts of the oil value through exhaling. Each puff also loses oil as you won't inhale all of the vapour that is puffed. People usually use vaping as a top up to their Tincture or capsule dosage.
Novelty
You can buy edibles and creams, though the actual bio absorption of these is not very high. Sprays and bath bombs are also popular as the market diversifies into a wide range of products. Teas and coffees can offer some value if oil is added, though again you lose a lot of the value through digestion like you do with the edible sweets and pills. Though you would not use these products as a main dosage, they can be useful to top up your dosage and may add a little more fun.
Let's take a look at the best CBD oils to try in the UK.
Best CBD Oil UK: The Top Brands Reviewed 2023
1. Blessed CBD
Blessed CBD is our top pick for the #1 pure CBD oil in the UK, partially because of its superior quality compared to its peers, and partially because of the CBD company's commitment to source only the best and cleanest ingredients for its manufacture.
Blessed CBD is a top respected CBD oil brand in the UK, and has been recognised as such by the community. In addition to a number of excellent reviews, a wide variety of publications have touted Blessed CBD oil as the best CBD oil brand in the UK, including:
Blessed CBD is a brand we believe consumers can trust. In fact, the brand was founded on the principle that other brands weren't transparent or trustworthy with their products. Thus, the founders put their best foot forward to create a superior product that consumers can trust.
Blessed CBD is a UK brand, meaning only UK consumers get to buy this, despite many from other European markets also showing interest. And although the oil is manufactured in the UK, the hemp is brought in from the United States from a crop in Colorado that refrains from the use of pesticides and herbicides. The result is an all-natural product that comes in only the highest quality.
Consumers should know that Blessed CBD's products (CBD gummies, capsules, cream and oils) all go through rigorous third-party lab testing in order to ensure that the oils contain the proper (listed and legal) amount of CBD, do not exceed THC volume amounts, and are controlled and reliable high quality products. Here, third-party lab results are key and to further prove their transparency, Blessed CBD are also members of the Cannabis Trades Association.
Finally, it's important to note that Blessed CBD is made in small quantities to ensure high quality products. That means the product is fairly priced to reflect the value you're receiving as a consumer. But that doesn't mean it's more expensive – in fact, shipping is free anywhere in the UK for any size order at a next day shipping speed. Just another reason we love the brand!
If you're looking for the best CBD oil in the UK, you have to try Blessed CBD's range of products.
2. Vibes CBD
Vibes CBD is a new player to the growing CBD industry, but they're already impressing consumers across the UK, with many customers calling Vibes CBD the "best CBD oil" they've tried. Us? We love this brand for its unique extraction process, product variety, and excellent customer reviews.
The unique carbon dioxide extraction process allows for the pull of clean and potent CBD for users. And since each batch is tested by a third party, consumers can rely on the product information and know they're getting a high-quality CBD product.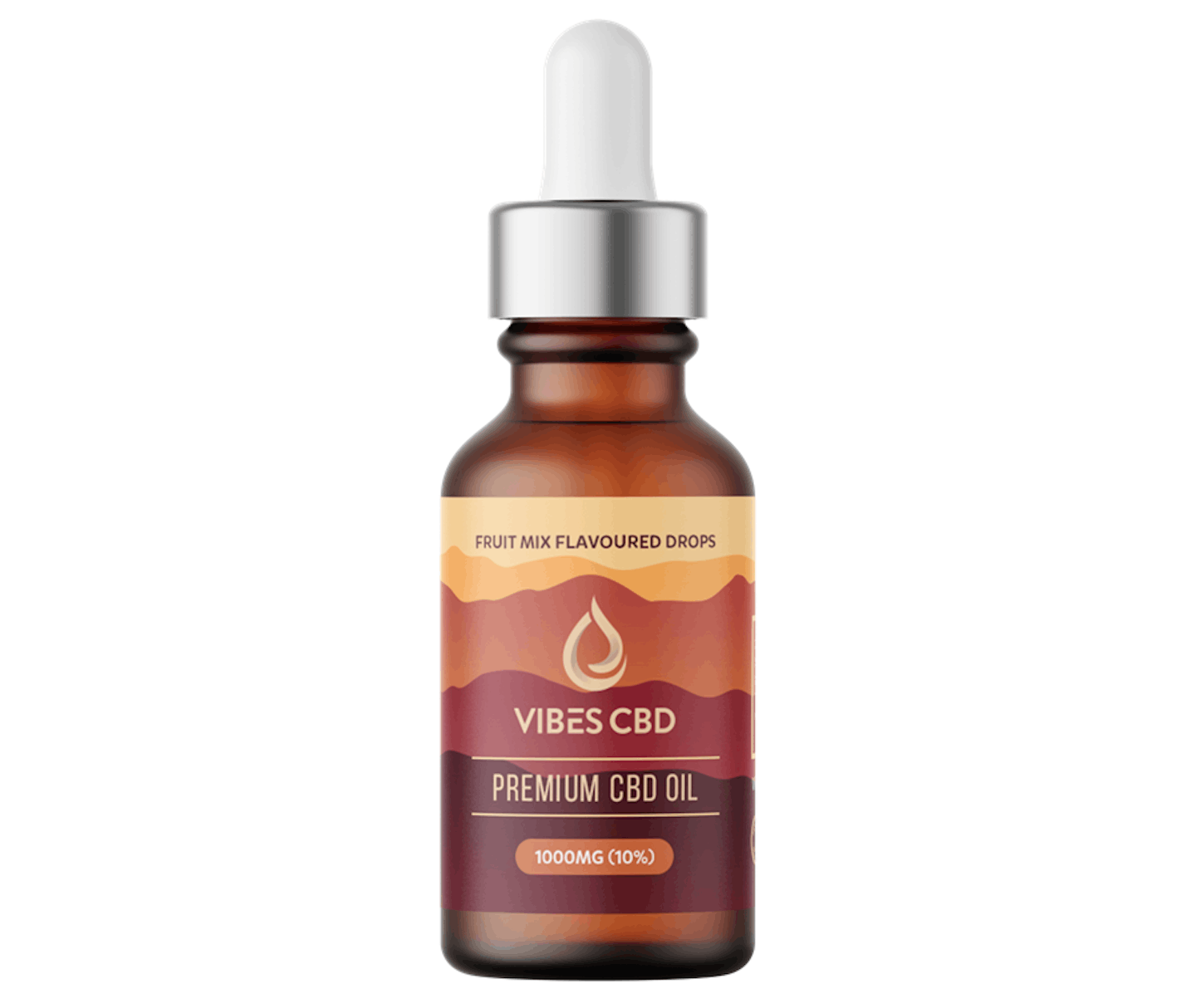 Vibes CBD sells both CBD oil and CBD capsules in varying sizes. The oil comes in a daily format at 1000 or 2000 mg doses, and in a delicious fruity mix flavour. And although the CBD capsules don't range in dose, they're a great alternative for people who don't like the taste of the oil or who prefer to swallow their CBD whole. Here, the terpene profile and flavonoids are key.
All in all, we're confident that consumers who choose to purchase from Vibes CBD won't be making a bad decision. Of course, this is all down to preference, but the unique process of using the supercritical co2 extraction to pull CBD from the hemp plant, combined with the product variety, makes Vibes CBD one of the best companies selling CBD oil to UK consumers.
If you don't like the natural taste of pure CBD oil, then we certainly recommend trying the fruity mix flavoured CBD oil drops by Vibes CBD!
3. Excite CBD
Excite CBD is a great option for consumers looking for one of the best CBD oil and topical products in the United Kingdom. In fact, Excite CBD is made from European-grown hemp plants, rather than the United States (or other countries) imports.
Given that Excite CBD sources from Europe, consumers can rest assured that they'll receive the lowest possible dose of THC content in every CBD oil dose. Although some THC content does leak into the CBD oil extraction process, the amount is 0.02% or less in European-sourced CBD.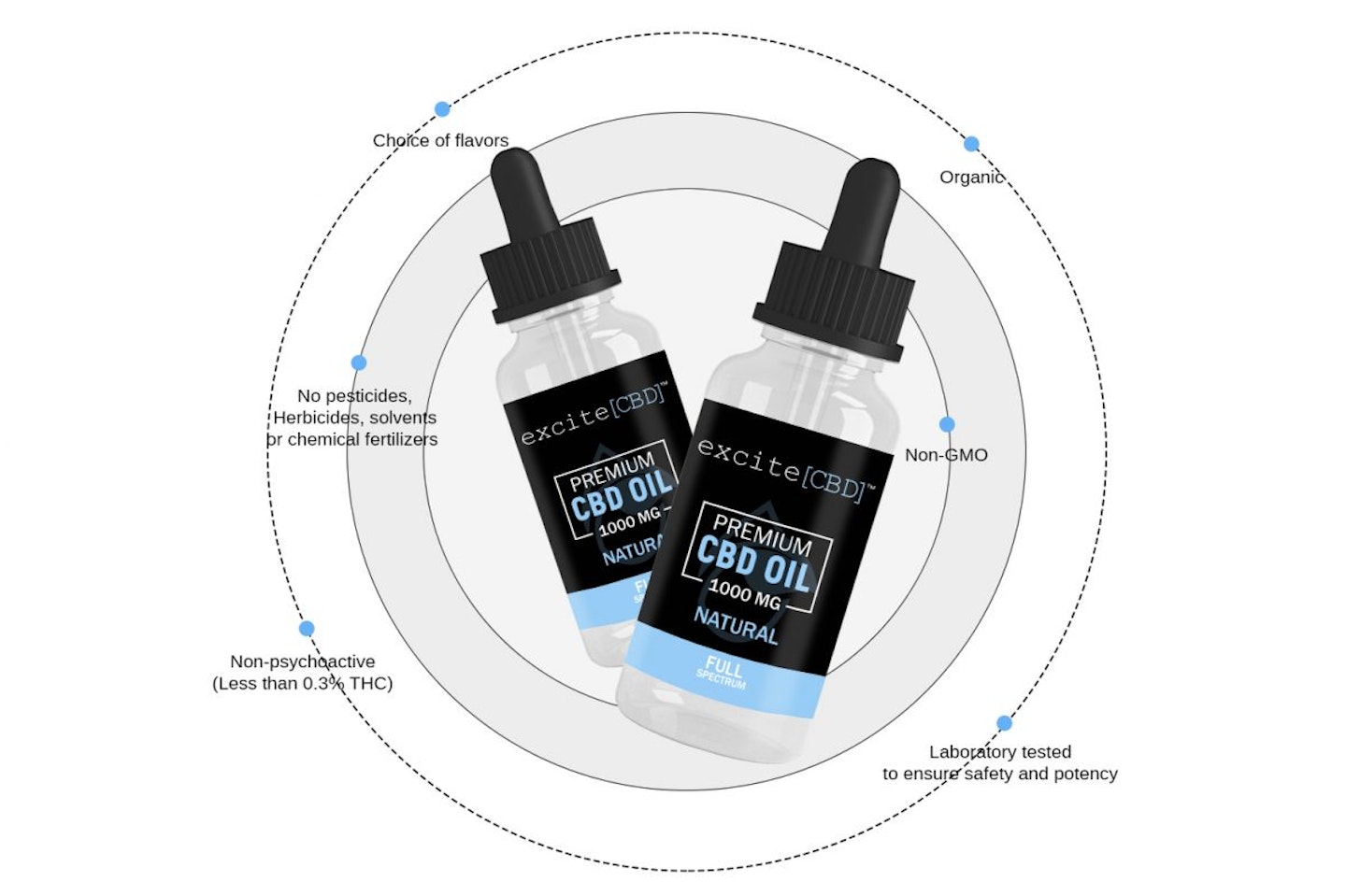 Excite CBD makes CBD tinctures that range in dose size from a 10ml bottle to 1000 mg bottle, in addition to CBD capsules, CBD vape oils (for vaping via vape pens using CBD e-liquids), and a variety of edibles and food supplements. However, consumers report that their flavoring options leave something to be desired, perhaps because of the additives.
Finally, Excite CBD offers free educational material for consumers who want to make sure they're well-informed. They even have a pamphlet and webpage for curious or eager-to-learn consumers.
We love their range of products, accessible website, and low THC content. The hemp CBD oil makes Excite CBD a worthy brand to try.
4. Elixinol
Elixinol is a leader in the CBD industry run by founders that have been in the CBD market for more than 25 years. And although it's a United States CBD company, Elixinol does ship to the United Kingdom. However, shipping can take 2-3 weeks.
The primary financial backer for Elixinol is a hemp activist, so consumers can rest assured that the CBD company knows its products well. And that's further supported by the wealth of information available on the Elixinol website. In fact, the CBD company even runs an education page.
Consumers looking for USA grown and operated CBD will love this CBD company and their broad spectrum product. The CBD oil offered by Elixinol is some of the most concentrated (thus, strongest) cannabis oil on the market, and they come in two flavors: natural and cinnamint. (In this case, we don't really mind the additives.)
Although this CBD company can't boast a strong focus like other companies on this list (they sell a variety of other products such as a skincare range), they can say that they're an innovator in the field. That's one of the reasons we know Elixinol is another brand worth looking into.
5. Exotics CBD
Exotics CBD is a London-based CBD company offering the highest quality broad spectrum cannabis oil available without import. If consumers want a local product (or at least more local than overseas) then they'll love Exotics CBD.
Made by the same team that runs the "CBD olie" brand Nutra CBD, Exotic CBD uses medical-grade carbon dioxide in the extraction of CBD, meaning consumers can rest assured that their product is some of the cleanest on the market. On top of that, the strict selection of cannabis plants from which their cannabis oils are sourced makes Exotics CBD a top choice for CBD oils in the UK for 2021.
If consumers are looking for some of the most potent (40%) CBD oil on the market without going over the legal limit of THC content within the oil, then Exotics CBD is definitely the way to go. They even let you choose the carrier oil: either hemp seed oil, coconut oil or MCT oil.
Of course, the CBD company sells a variety of other products including CBD vape liquids (for vaping via vape pens using CBD e-liquids), CBD edibles (food supplements), CBD capsules, and more.
6. CBD Life UK
If you're looking for one of the best broad spectrum CBD creams and CBD oil brands in the United Kingdom today, then you'll want to pay serious attention to CBD Life UK.
Although their products are less common than the CBD oils that are widely marketed today, they're just as (or maybe even more) effective. Rather than typical CBD oil drops (administered in dropper form), CBD Life UK sells either liquid aqua drops (water infused with CBD in dropper form) or a hemp oil spray mixed with olive oil.
If consumers choose the aqua drops, they'll use the product 30 minutes or so after eating a meal. The taste isn't great, but the effects are definitely noticeable.
On the other hand, consumers who opt for the olive oil-based spray will enjoy 80 servings of 5 mg of CBD each, which can be sprayed on food or directly in the mouth.
Finally, CBD LIfe UK sells edibles, which consumers tend to love. In fact, the edibles, or food supplements, might be even better than the drops and the spray! Users can buy a pack of five cbd gummy rings, each ring containing 25 mg of CBD. Of course, the fillers and extra sugar might upset some buyers.
7. Holistic Hemp Scotland
If you're looking for one of the best CBD oil brands in the UK, then you'll want to tune into Holistic Hemp Scotland, a CBD company that sources from small independently-owned and operated UK farms.
This Scotland-based CBD company sources from growers of cannabis who stray far from the use of pesticides, herbicides, and fertilizers. The result is a clean, organic hemp product with none of the nonsense that other successful brands come with.
Additionally, Holistic Hemp harvests hemp plants, dry them naturally, then extracts the CBD at low temperatures (in contrast to their peers that use high temperatures like Provacan, thus damaging the molecular structure of the cannabis oil) and low pressure. Here, hemp extract is a serious matter!
Holistic Hemp sells both CBD oil tincture and a CBD paste, which is a fairly unique product on the market. Consumers who buy CBD oil tinctures will enjoy 500mg of cannabinoids. And consumers who elect for the paste instead will love both the 15% and 26% options.
We love the low temperature and low pressure hemp extraction methods that Holistic Hemp provides. Overall, the technique is part of what enhances the product flavonoids and terpenes for consumers.
Some other brands which didn't quite make our list, but worth looking into are GoldBee, Hempura and Love Hemp.
How do you choose the best CBD oil UK?
It's important to understand the differences between all of the pure CBD oils and what makes them better or more appealing to you. Similarly, consumers should evaluate CBD products overall in order to know what they're putting their money into.
The first important thing to check when it comes to CBD products is the extraction method. Low-quality brands use cheap ways to extract the oil, like ethanol extraction. Some of these cheap ways could be toxic or leave a chemical residue. Consumers should always try to find companies or brands that have pure CBD oil extracted safely for their CBD products.
The second thing to check is where the CBD oil was extracted in order to create a CBD isolate. If the field that it's extracted from is affected by any sort of contagion, it's important to know because it could get consumers sick. There are different companies and brands located in different areas, so do your research and find some in safe environments.
The last thing to check is customer reviews and third-party test results. If you really want the best CBD oil on the UK market, then reading what other people have to say could make it or break it for you. The best way to know if the CBD oil is good or not without testing it is by reading up on how others who have tried it think about the product.
Is CBD oil legal to buy and use in the UK?
As of 2021, CBD oils have been legalised as nutritional substances in the United Kingdom. The CBD oils and products that were allowed to be put on the market had to have no more than 0.2% THC content and brands must also not make medicinal health claims.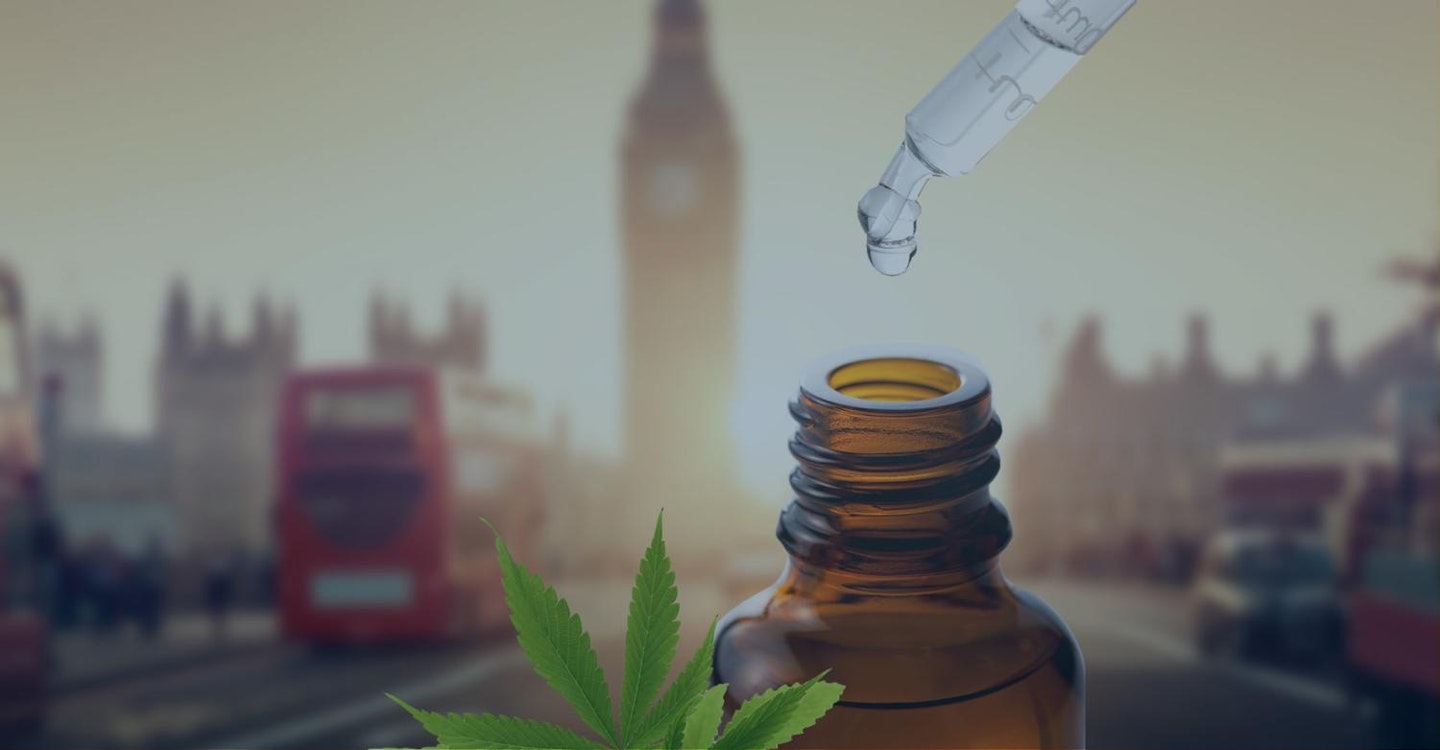 A new regulation from the FSA goes into effect from March 2021, which means CBD brands must now obtain a valid application submission for a novel foods license. Without this, CBD oil brands can no longer remain on high street shelves in the UK. This license is now required for most forms of CBD (oils, edibles, capsules).
What does the World Health Organization say about CBD?

In 2017, the World Health Organisation concluded that CBD oil is neither addictive nor an immediate health risk. As such, the World Health Organisation stated that CBD oil should not be a scheduled substance and shouldn't be heavily restricted internationally.
The World Health Organisation has also concluded that there are a wide variety of potential health benefits of CBD. It has a high therapeutic value and can help those with epilepsy, pain, insomnia and seizures. The World Health Organisation has research indicating that pure CBD products have medicinal potential, but not to any specific degree.
What is the difference between CBD and THC?
Marijuana contains THC (tetrahydrocannabinol), which is a generally intoxicating chemical compound that motivates users around the world. On the other hand, CBD oil is an extract from a cannabis plant (such as the cannabis sativa-L plant) that does not have psychoactive properties, thus it is not regulated in the same way that marijuana is.
Although these compounds are both hemp extracts from the same plant, legal CBD oil contains less than 0.02% THC content in the UK. And although both compounds affect the endocannabinoid system of the human body, CBD oil does not allow a user to experience a high.
Both THC and CBD attach chemically to cannabinoid 1 (CB1) receptors in the human brain. However, CBD does so only in negligible amounts. On the other hand, the binding action of THC gives it its psychoactive status.
Both THC and CBD are sometimes used in prescribed medical settings, however, the reasons for their prescription seriously vary. Similarly, the side effects are wildly different based on the difference in the way receptors bind to the compounds.
And although both CBD and THC can show up on drug tests, CBD remains legal everywhere in the United Kingdom. Still, it's important to note that employers are allowed to ask their employees not to use CBD, even though it is legal.
The CBD oil UK craze will continue to grow
CBD oil has trended up in many world regions, including the UK. Of course, not all companies are made equal, and not all CBD products deliver the same potency that consumers want.
If you're looking for some of the best full-spectrum CBD oil in the UK, or you're just hoping to find a reliable high quality CBD oil company in the UK, then you'll want to try either Blessed CBD or Vibes CBD.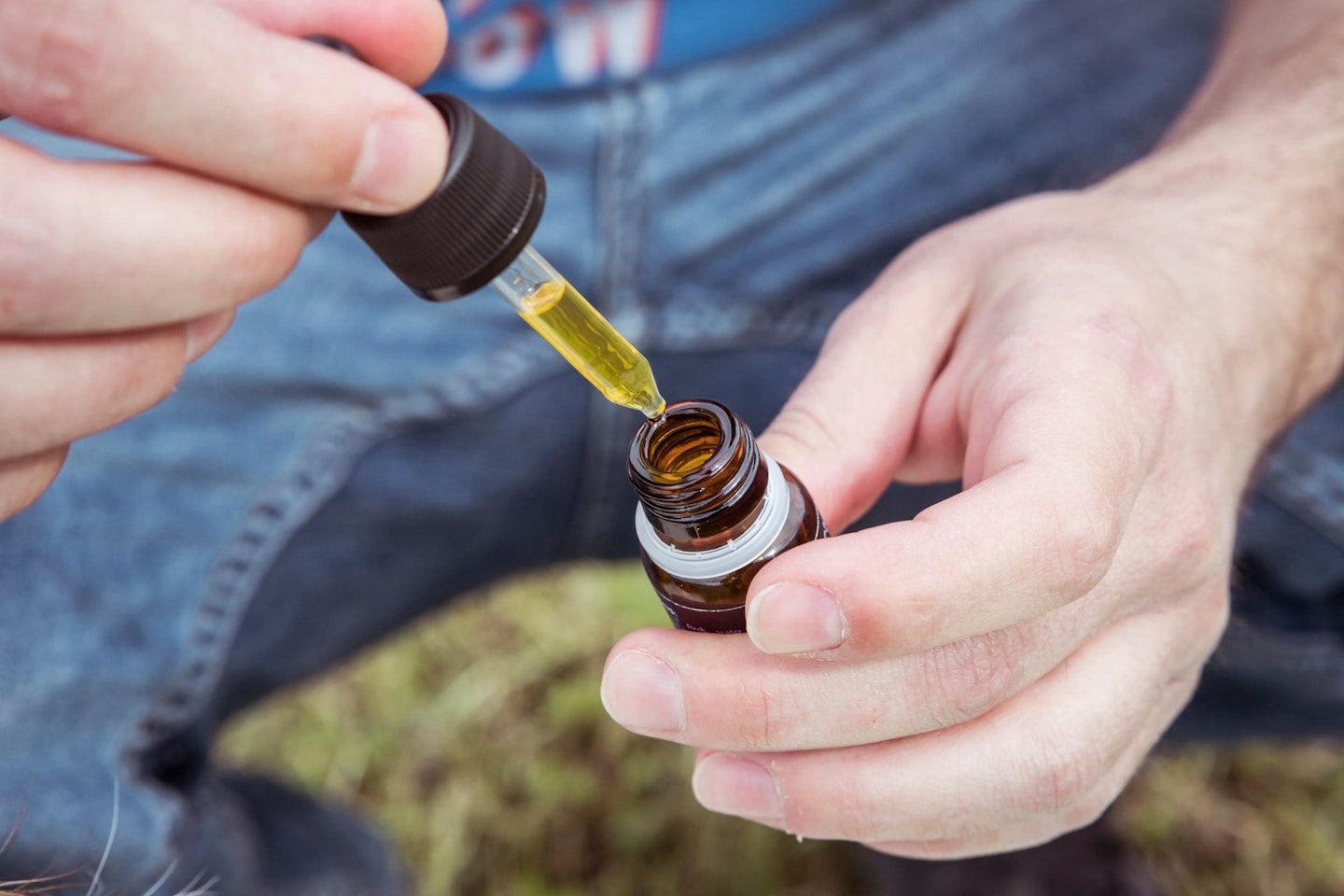 Now, more than ever, it's important to investigate the product(s) you're buying as a consumer of CBD oil, or a person interested in buying CBD oil for the first time. Important things to pay attention to are:
• Import location(s)
• Third-party lab testing of the product (and associated lab reports)
• Product-types, forms, and dosing
• Potency as an organic hemp product
• The co2 extraction process
• The phytocannabinoids in the products
• Whether or not a product is non-GMO
• Flavonoids and terpenes of each product
• THC volume guarantee
• CBD dosage and price of shipping
• Overall consumers reviews
This buyer's guide should most certainly help you learn more about quality CBD oil in the UK, and will also serve as an excellent guide as you make a decision about which CBD oil you might be interested in purchasing.
If you live in the UK, pay special attention to what is available near you, and the shipping speed your product might receive. It's always a good idea to order in bulk if you can.
CBD oil in the UK is a trend that isn't going anywhere any time soon. We suggest trying it out to see what it can do for you!
In Partnership with Blessed CBD