There are so many brilliant halloumi recipes you can make with this unique and tasty cheese. Although many people aren't keen on its squeaky texture, it's become very popular in recent years, and is a particularly popular food during the summer months as a lighter alternative to meat.
The texture and flavour makes it a brilliant cheese to add to salads, burgers and wraps as it's much chewier than other cheeses, making it an ideal recipe for vegetarians.
It can be eaten both raw and cooked and there are a number of ways you can cook it, either under the grill or in a pan until it's beginning to turn golden brown.
Halloumi recipes
Whether you're new to halloumi or want to expand your halloumi recipes, we've compiled a list of some of our favourite halloumi recipes to inspire you in the kitchen.
Halloumi veg traybake with chilli-honey drizzle
There's nothing easier than a traybake that you can pop into the oven to save you time in the kitchen. This is ideal for anytime of year as a side dish or lighter main event for a summer lunch. You can find the full recipe on Waitrose.com.
Halloumi burgers with sticky chilli sauce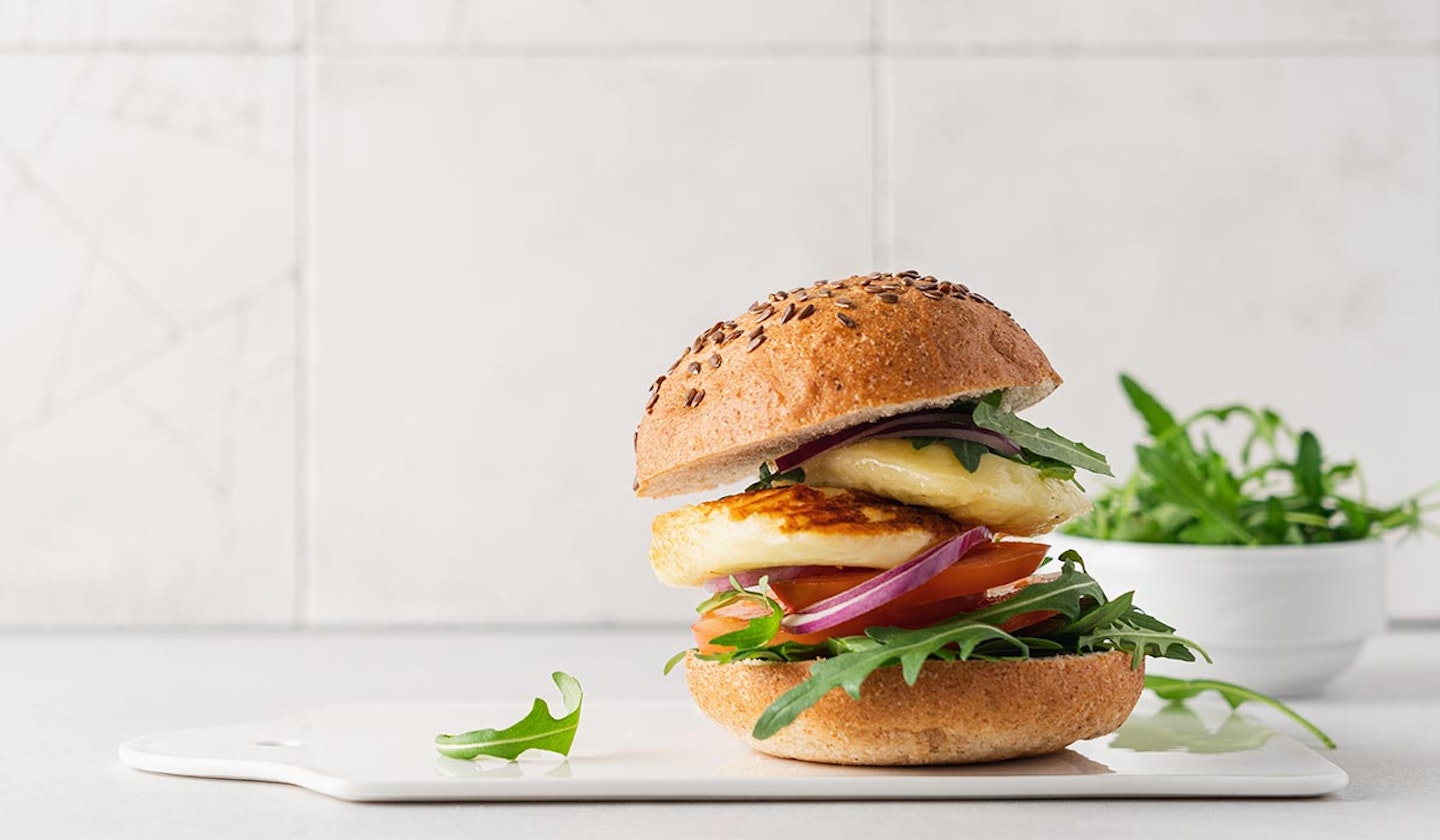 If you're keen to cut down on meat but still love a burger then these classic halloumi burgers will hit the spot. They also make ideal barbecue food if you need to cater for veggies and can be easily cooked on the barbecue. You can find the full recipe on Kitchen Sanctuary.
Halloumi fries
Swap out your regular fries for these extra special halloumi ones. You can cook them in the air fryer for a healthier option or a regular oven if you don't have one. We'd also recommend enjoying these fries with a tangy tomato dip. You can find the full recipe on Feel Good Foodie.
Golden harissa-dressed halloumi salad
Halloumi works brilliantly in salad, and its salty flavour paired with sweeter tastes is a match made in heaven. This salad uses a slow cooked pepper and onion mixture with a spicy harissa paste for added kick. You can find the full recipe on Gousto.
Sesame halloumi flatbreads
For an easy flat bread recipe, try these halloumi flatbreads with yoghurt and slaw. They're brilliant for a lighter lunch meal idea or served alongside rice or chips for a bigger dinner. Find the full recipes on Sainsbury's.
Grilled halloumi peppers
If you're a fan of Mediterranean style dishes, then give these stuffed peppers a try. Drizzled with a tasty honey dressing and served alongside crunchy salad, this dish is full of flavour and a variety of different textures. Find the full recipe on Rowse Honey.
Halloumi couscous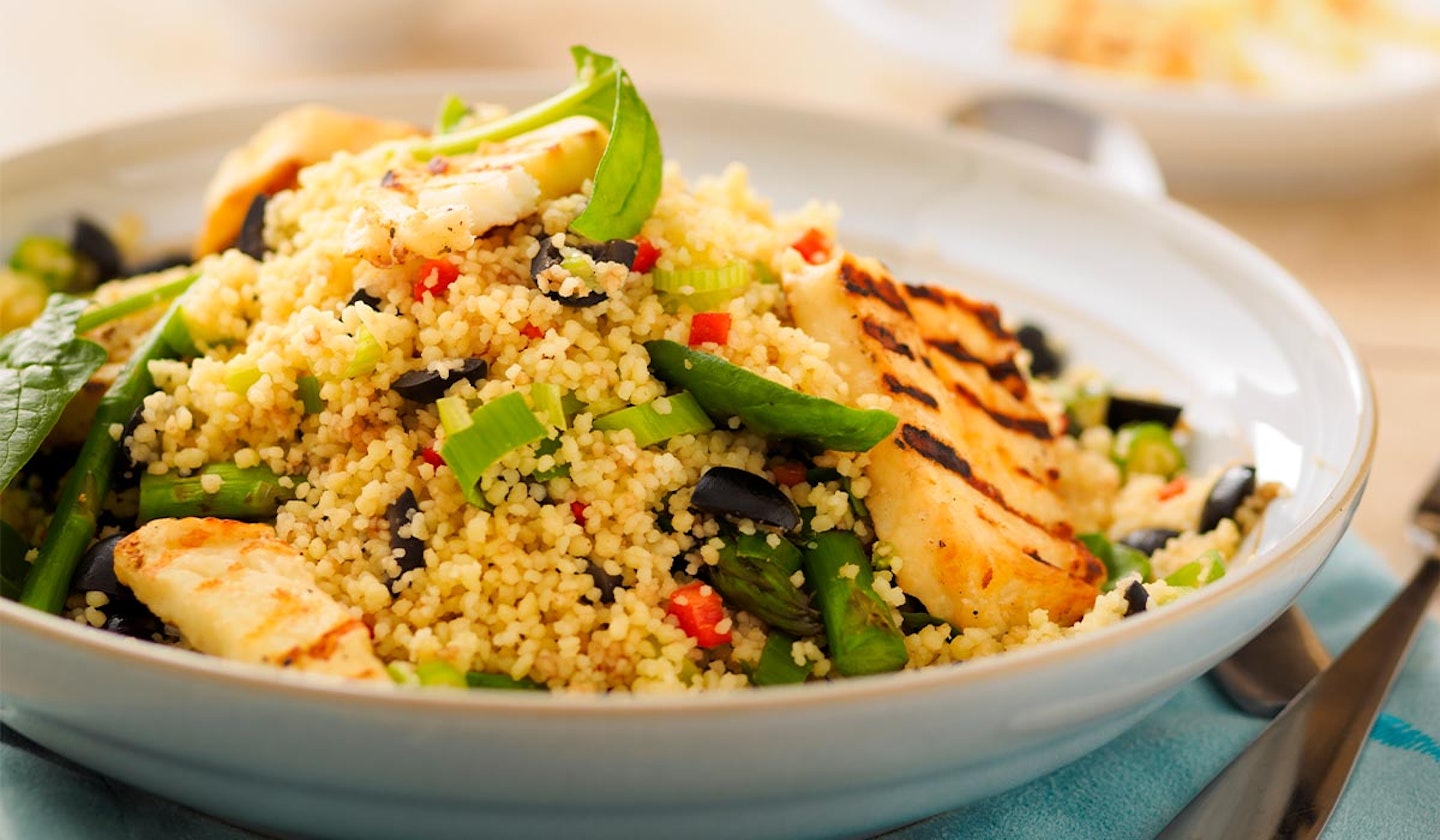 If you want something both nutritious and filling for dinner, then try this halloumi couscous dish that's easier and quicker to make than you think. Find the full recipe on A Mummy Too.
Smoky tomato and halloumi bake
This Spanish inspired dish bakes in just 30 mins and is an easy mid-week meal to throw together. You can eat this dish on its own or you can serve with a warm, crusty baguette and plenty of butter, which is an ideal option for cold winter months. Find the full recipe on the Happy Veggie Kitchen.
Grilled halloumi pittas
Pittas make an excellent lunchtime treat, and they pair very well with some grilled halloumi and fresh, chopped vegetables. You can use white or wholewheat pittas as they both work well and you could serve with fresh salad or slaw to bulk the meal out more. Find the full recipe on Better than Bouillon.
Mediterranean halloumi rice
For an easy vegetarian meal idea that's packed full of flavour, try this halloumi rice dish cooked with vegetables for a healthy option that'll fill you up. You could even serve some tortilla crisps and salsa on the side as a fun extra. Find the full recipe on Tilda.
How to make halloumi cheese recipe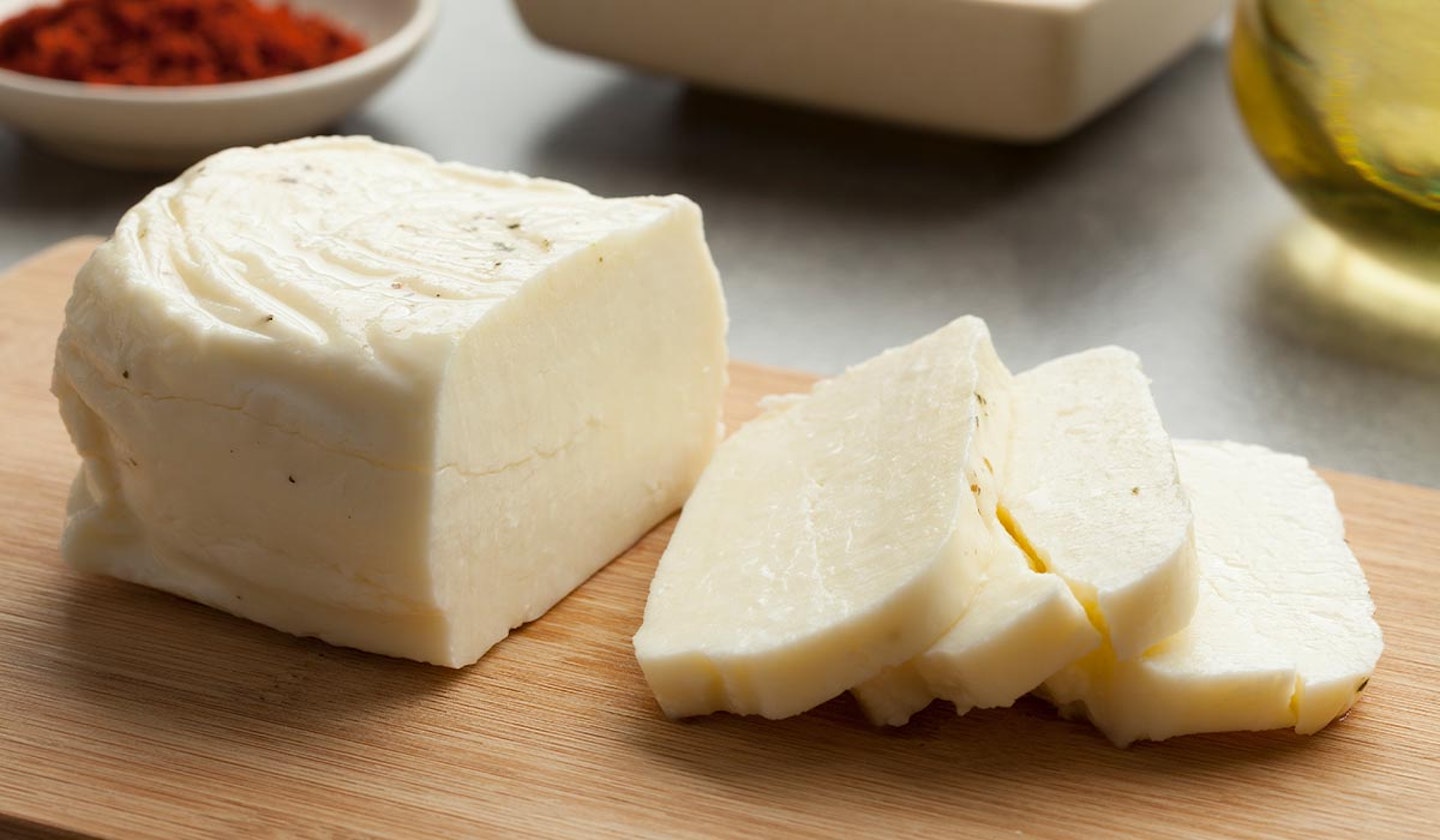 While the halloumi you can buy from the shop is delicious and easy to come by, making your halloumi from scratch is easier than you think.
Not only is it a fun activity to have a go at with the grandchildren during the summer holidays, but seeing your cheese come together is great fun to watch.
On your first go, it's good to start small so you don't waste too much milk. We found this recipe from beerandcroissants.com that only requires five ingredients.
Equipment
Thermometer
Double boiler
Spoon
Ladle
Sharp knife
Muslin or cheesecloth
Colander
Bowl
Baking tray
Wire rack
Two heavy cutting boards
Weights
Ingredients
2L milk (unhomogenised)
30ml Water (distilled)
1.0ml Rennet
Salt
Mint
Method
Heat the milk to 32°C and put the 1ml of liquid rennet in 30ml of distilled water.
When the milk reaches temperature, start to stir it before adding the rennet and water. After one minute of gentle stirring, turn off the heat and put the lid on the saucepan.
Leave it to rest for 40 minutes. After this time, the milk should have set into curds. Gently put a knife in it and raise it up to check it's worked. If not, give it more time until it's set.
Once the curd is set, cut it into 2.5cm cubes with a sharp knife. Cover and rest for five minutes then stir the curds gently and bring the heat back up to 40°C. Once it reaches temperature, turn the heat off and stir the curds.
After 20 minutes, leave to rest with the lid on for 10 minutes. After this time, the curds should have sank to the bottom.
Line a colander with a muslin cloth and place this over the top of another bowl. Empty the curds and whey from the pan into the colander and let it sit for a while.
The curds should start to appear more solid. Once fully drained, place the solid curds on a chopping board, lightly shape and flatten and wrap in the muslin. Place the other board on top and put a 2kg weight on top.
After 10 minutes, take the board off and turn the curd over repeating the above process and leaving for 20 minutes.
Remove the muslin and cut the cheese and cut into squares. Then re-heat your whey back up to 90°C to allow any remaining curd to raise to the surface.
This next step is very important as its what gives your halloumi its heat resistant properties so that it doesn't melt. To do this, heat the whey up to 97°C and lower the halloumi carefully back in the whey. Turn the heat off, put the lid on and leave for 45 mins.
Remove from the whey and drain on a wire rack. Once drained, mix together salt and chopped mint leaves and roll the halloumi in the mix before storing in a vacuum packed seal.
How to grill halloumi cheese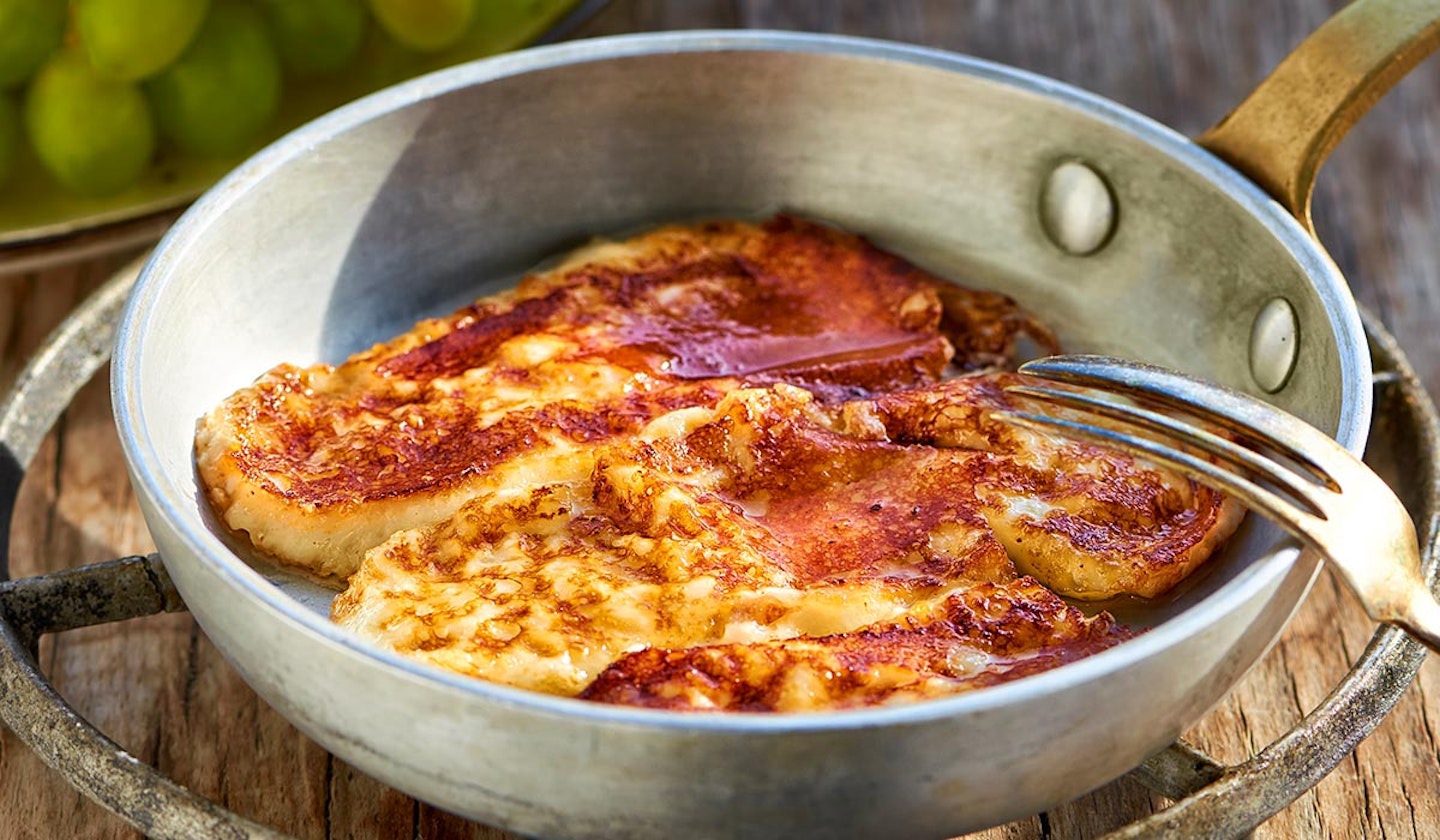 Cooking your halloumi is very easy if you cut it thick enough. Start by cutting your halloumi into thick pieces (about an inch thick) so they don't fall apart. Heat your grill or pan up to a medium to high heat and cook the cheese for three minutes per side until it goes a lovely golden brown.
Lorna White is a Senior Digital Writer at Yours.co.uk and MotherandBaby.com. She was previously a writer at Yours Magazine writing features and news stories before joining the digital team. Lorna loves the great British countryside and likes to spend her spare time out and about in her home of Nottinghamshire walking her dog, Pippin.