Finding the right vegan chocolate is a challenge, especially when it feels like there's only dark chocolate on offer. Now, more than ever, there is simply no excuse for vegans to be missing out on a great treat like chocolate. Whether you are looking for a birthday gift or are looking to gift a plant-based friend something delicious to show how much you care - here are the best vegan chocolate gifts for a dairy-free sweet tooth.
This delectable selection is perfect if you're out of present ideas for your vegan friend; chocolate is always a reliable solution. Perhaps, you're just after a luxury nibble for yourself – I mean, why not? We need chocolate now - more than ever.
Best vegan chocolate gifts at a glance:
• Our top pick: The Vegan Chocolate Set by COCO - view on Bloom & Wild
• Best letterbox gift: H!P Chocolate: Letterbox Vegan Tasting Pack- view on Love Cocoa
• Best chocolate box: Hotel Chocolat Unbelievably Vegan Sleekster - view on Hotel Chocolat
Whatever the occasion, Yours has compiled a list of the most delicious vegan chocolate boxes, ideal for gifting. Truffles, hot chocolate, or vegan hampers, this list is choc-a-block with temptation.
The best vegan chocolate gifts
Best dark chocolate gift
Description
This moreish, vegan-friendly dark chocolate selection is from COCO, a company where creativity and
Pros
Gourmet gift
Based in Edinburgh, Scotland
Made from single-origin South American cacao.
Best chocolate box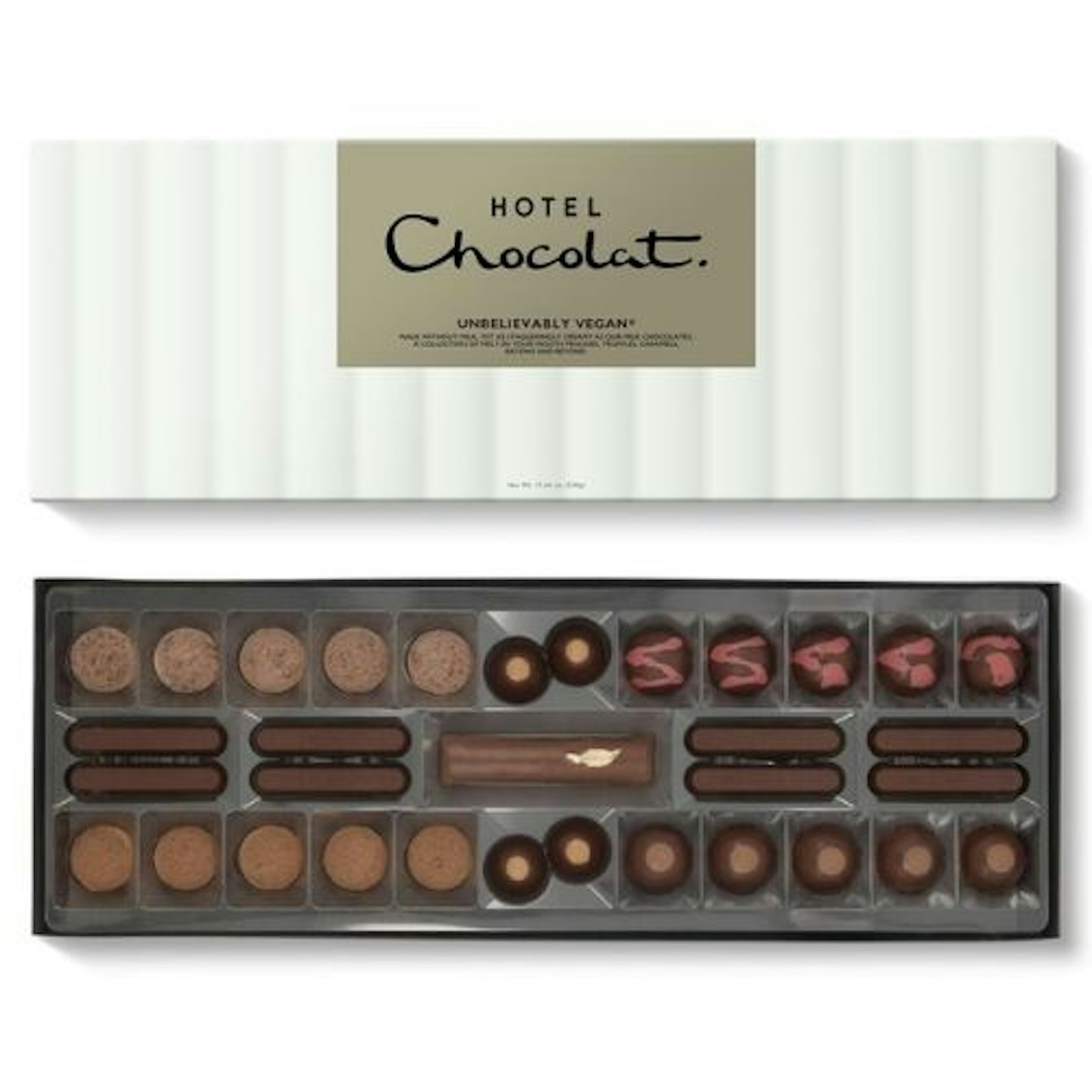 Hotel Chocolat
Description
This set from the luxury brand Hotel Chocolat is simply fabulous. The Vegan Sleekster set boasts
Pros
Made with Nutmilk for creamy taste
A collection of 33 melt-in-your-mouth pralines, truffles, caramels and batons.
Best selection box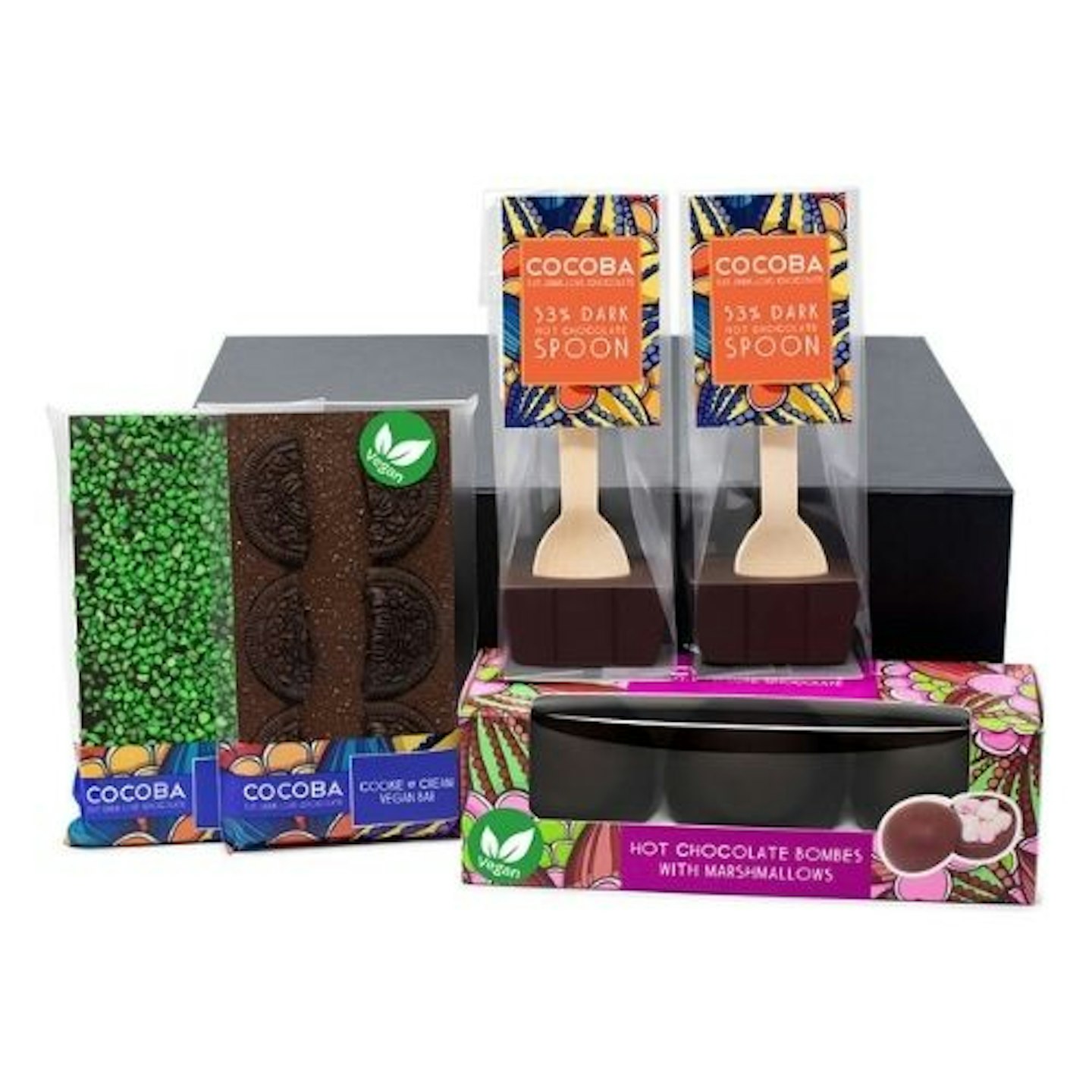 Not on the High Street
Description
This delightful gift box from Cocoba is the perfect gift for your vegan loved one. It has some
Pros
Comes with hot chocolate spoons and five delicious chocolate bars
Fun gift
Best corporate vegan chocolate gift
Description
Send a selection of our delicious, ethically-sourced, handmade chocolate bars to treat your team,
Pros
Comes with truffles and bars
Ethically sourced
Best nut milk vegan chocolate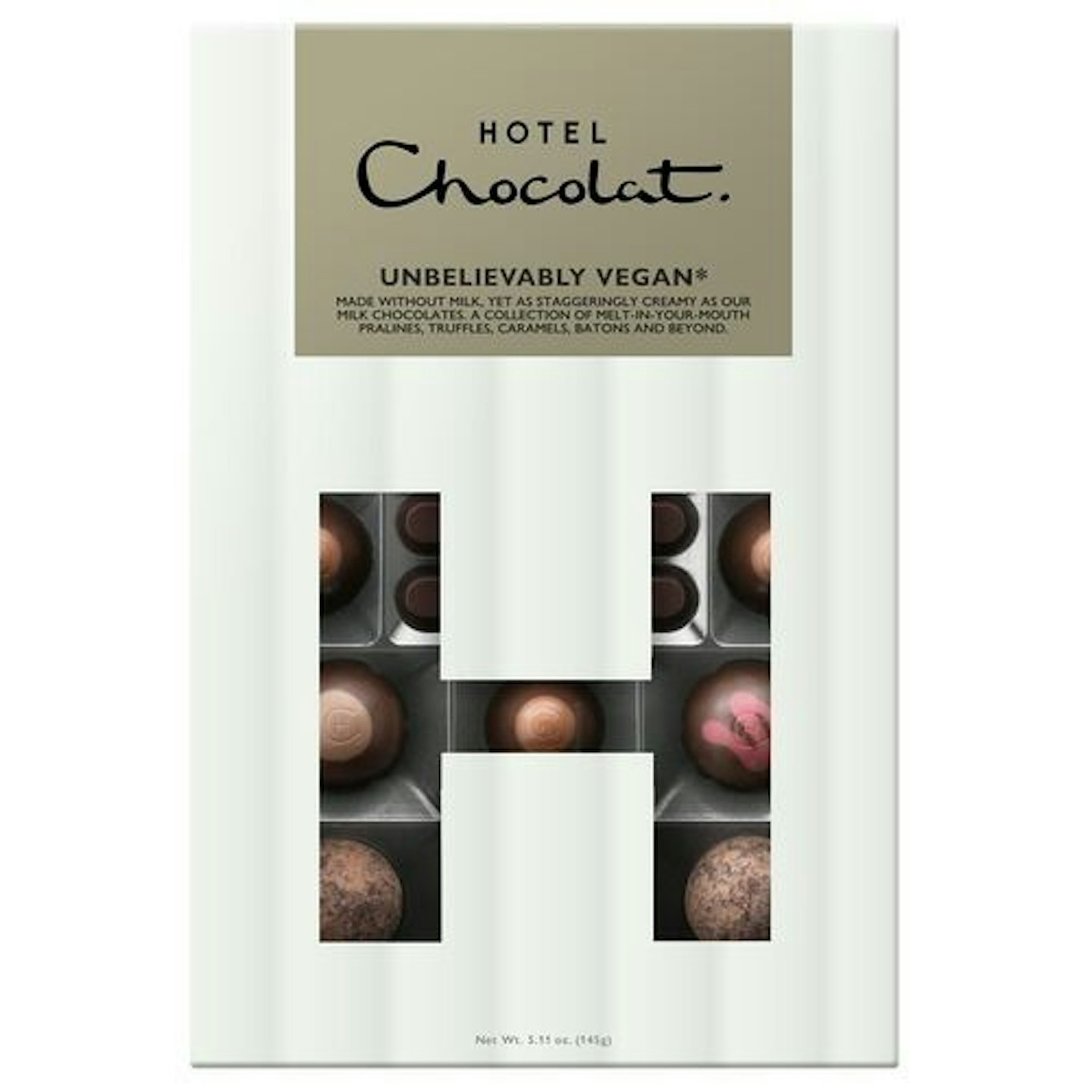 Hotel Chocolat
Description
In a set of 14 chocolates, Hotel Chocolat showcases its new, creamy plant-based range, which is
Pros
Great value
creamy vegan chocolate
Best letterbox gift
Description
Featuring five favourites from H!P, these oat milk Chocolate flavours in one delicious
Pros
Made using 41% single-origin, ethically sourced Colombian cocoa
In plastic-free packaging
Oat milk to replicate milk chocolate
Five flavours
Cons
Some flavours have gluten
Best vegan hot chocolate
Description
Gnaw's Hot Chocolate Shots are perfect if you are a fan of the popular drink, or know somebody who
Pros
Comes in three flavours
The new packaging uses 70% less plastic
Cons
Only three hot chocolate shots
Best vegan chocolate peanut butter gift
Description
Ideal for gifting, this selection box from Love Raw is packed full of vegan chocolate treats.
Pros
10 of every flavour 
Wafer flavours and peanut butter cups
Best festive dark chocolate gift
Description
Proudly handcrafted in Dorset, Chococo is home to a tonne of vegan-friendly chocolate gifts - so
Pros
Handcrafted with 72% Ecuador dark chocolate
This chocolate is a 2023 Gold Great Taste Award winner
Mellow and earthy flavour with purple-fruit notes
100% plastic-free packaging
Free gift message
Best vegan chocolate cupcakes
Description
If cakes are their treat of choice, spoil them with this vegan mini cupcake box. These dreamy
Pros
Bite-size cupcakes
12 pieces in 1 box
Handmade
Best vegan chocolate truffles
Description
Chocolate that's so good that one of our writers shared she chooses these over 'normal' chocolate,
Pros
Organic ingredients
Five truffle flavours
Beautiful packaging
Cons
Some may find the flavours too rich
Best vegan chocolate gifts FAQs
What chocolates can vegans eat?
If you're not a vegan yourself, it can be difficult to know what chocolates are suitable for vegans. Vegans can enjoy any chocolates that are made without any animal-derived products, such as dairy, eggs or gelatin. As a result, you'll find that vegan chocolates are suitable for people who are lactose intolerant too.
Here are some popular options which may help you find the best vegan chocolate gifts, but always make sure to check the ingredient list before you buy to ensure it's truly vegan and free from any sneaky animal-derived ingredients or traces.
Dark chocolate: Many dark chocolates are vegan-friendly as they typically contain a high percentage of cocoa solids, cocoa butter, and sugar.
Vegan chocolate: Several brands now offer vegan chocolates made with plant-based milk alternatives such as almond, soy, oat, or rice milk. These chocolates mimic the creamy taste of traditional milk chocolate without using any dairy ingredients.
Raw chocolate: Raw chocolates are often vegan as they are made from unroasted cocoa beans, which retain more of their natural nutrients. They are sweetened with natural sweeteners like agave syrup or coconut sugar
Is vegan chocolate gluten-free?
Vegan chocolate can be gluten-free, but you shouldn't assume it is. Vegan chocolate is free from animal products such as milk and dairy, while gluten-free chocolate is free from wheat, barley, or malt. Pure chocolate is gluten-free, but added ingredients or flavours could introduce gluten into the mix.
To ensure that vegan chocolate is also gluten-free, you should read the product label carefully. Many manufacturers now provide information on allergens, including gluten, to help consumers make informed choices.
Piper Huxley is a Homes, Garden and Wellness Product Writer for Yours, an all-rounder who will write on anything from décor to wellness. When not scouring the net for the best home bargains, Piper is listening to a musical soundtrack and tending to her houseplants.