Whether you're young, old, a fitness fanatic or a total newbie, it's never too late to jump on a yoga mat and try some yoga for beginners.
Yoga is a brilliant practice for the body, mind and soul. It boasts a wealth of physical and mental benefits, from reducing stress to strengthening your body and helping you feel more at peace with oneself. Even the practice of eye yoga has some brilliant benefits for the body and eye health. The origins of this practice date back more than 5,000 years to India. There's so many different styles of yoga you can try, too, from Yin yoga — if you're looking to improve joint mobility and flexibility — to aerial yoga – which involves traditional yoga poses but with the support of a slinky hammock. It's just about finding the right style for you.
If you've never tried yoga before, it can feel quite daunting, especially if all you've seen are super flexible yogis performing some very impressive-looking poses. But you don't let this put you off, as you don't have to be super flexible to engage in this practice. "The main purpose of yoga, no matter which style you choose, is to calm the mayhem of the mind," says Chatty Dobson, Yoga Teacher & Owner of FLEX Chelsea. "It teaches us patience, endurance, how to find peace in discomfort, and most famously – flexibility, strength and muscle toning."
The best bit? You can do yoga practically anywhere, and there are plenty of yoga apps for beginners and YouTube tutorials to help get you started if you don't feel ready to attend a class. In this handy yoga for beginners guide, we break down the benefits of this ancient practice, the best poses to get you going, and the appropriate attire to wear.
What is yoga?
Yoga is a range of movements that unite your body, mind and breath. The practice has a long, rich history, originating from ancient India more than 5,000 years ago. The word 'yoga' is derived from the Sanskrit word 'yuj', which means 'to yoke' or 'to unite. It's a blend of physical and mental exercise, and today, there are many different styles of yoga, including Yin Yoga, all of which focus on physical posture, breathing exercises and spiritual contemplation.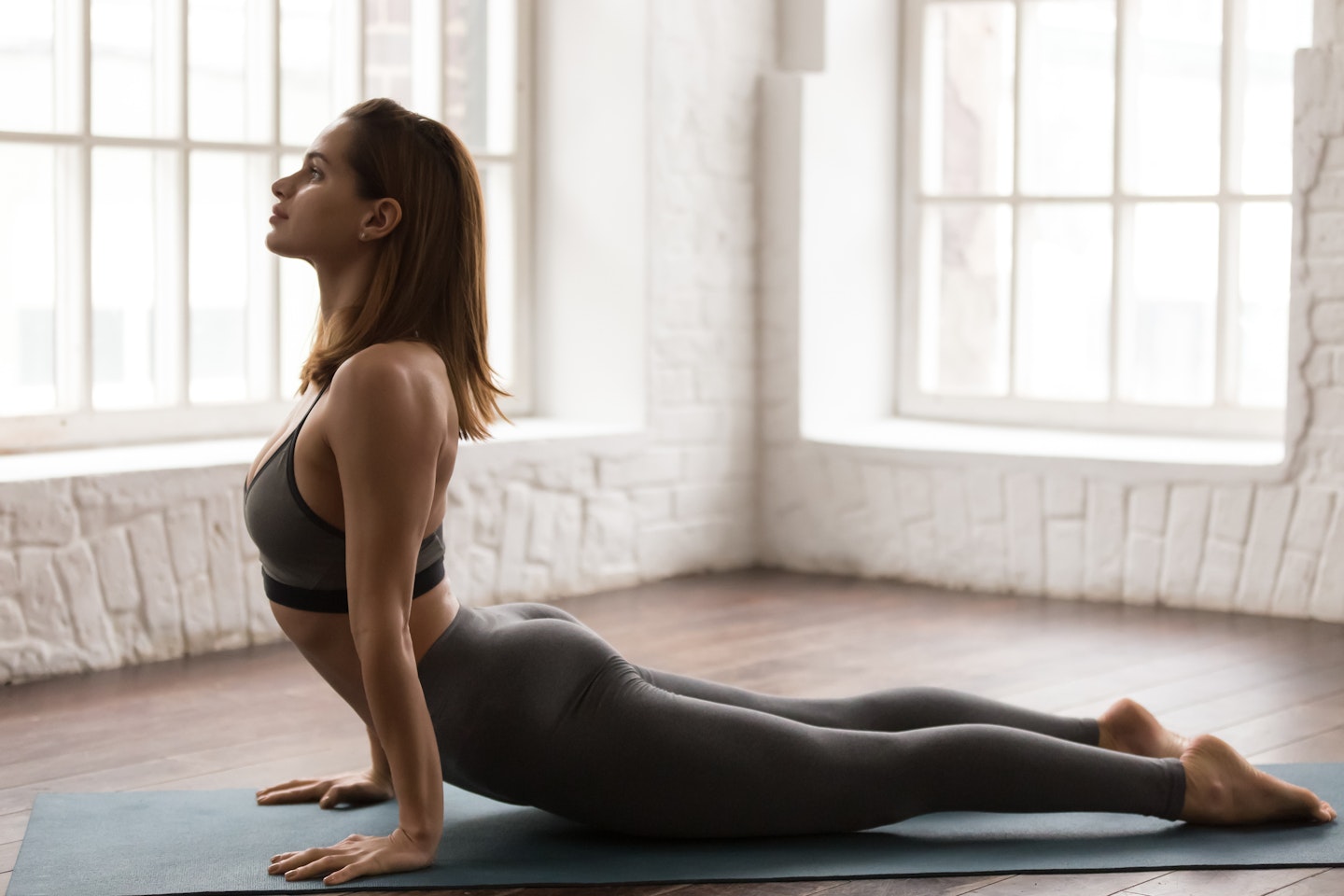 The benefits of yoga
• It will keep your mind active, healthy and strong
• Boost your immune system
• Improve flexibility, strength, stamina, mobility, range of motion, and balance which can be a brilliant benefit of yoga for runners
• Prevent conditions such as diabetes, heart disease, and auto-immune disorders
• It can help you to get a better night's sleep
• Help heal and help common aches like neck or back pain
• Increase happiness and wellbeing and reduce depression
• Lose weight and change your body shape
• Improve and maintain the health of muscles, joints, and organs
The best type of yoga for beginners
Yin yoga: This slow-paced style of yoga targets your deep connective tissue, ligaments, joints and muscles. Its poses are held for a longer period (this can be up to 10 minutes) to really help stretch and lengthen your muscles. It's great for any pent-up tension.
Hatha yoga: This gentle style of yoga focuses on posture and breathing. You will hold different poses for a longer period while focusing on your breath, giving you the opportunity to become familiar with each pose.
Restorative yoga: As the name suggests, this style of yoga is a very calming practice that aims to help release tension from your body and mind, helping you feel fully restored afterwards. It requires you to hold poses for even longer than the conventional yoga class with the support of props, such as a yoga block.
Vinyasa yoga: This style of yoga is more active but still gentle and is where you flow from one yoga pose to another using breath. It's very fluid and is a great stress reliever or mood booster.
Yoga poses for beginners
As you're a beginner, you won't want any moves that are too difficult. Here's three that Chatty recommends for the yogi beginner:
1. The rag doll
Stand with your feet shoulder-width apart, take a nice deep bend in the knees, catch hold of opposite elbows, and gently sway side to side. Relax the neck, the jaw and the forehead. This will slowly stretch out the hamstrings, lower back and neck. Make sure the knees are bent though, as you'll get much more benefit.
2. The tree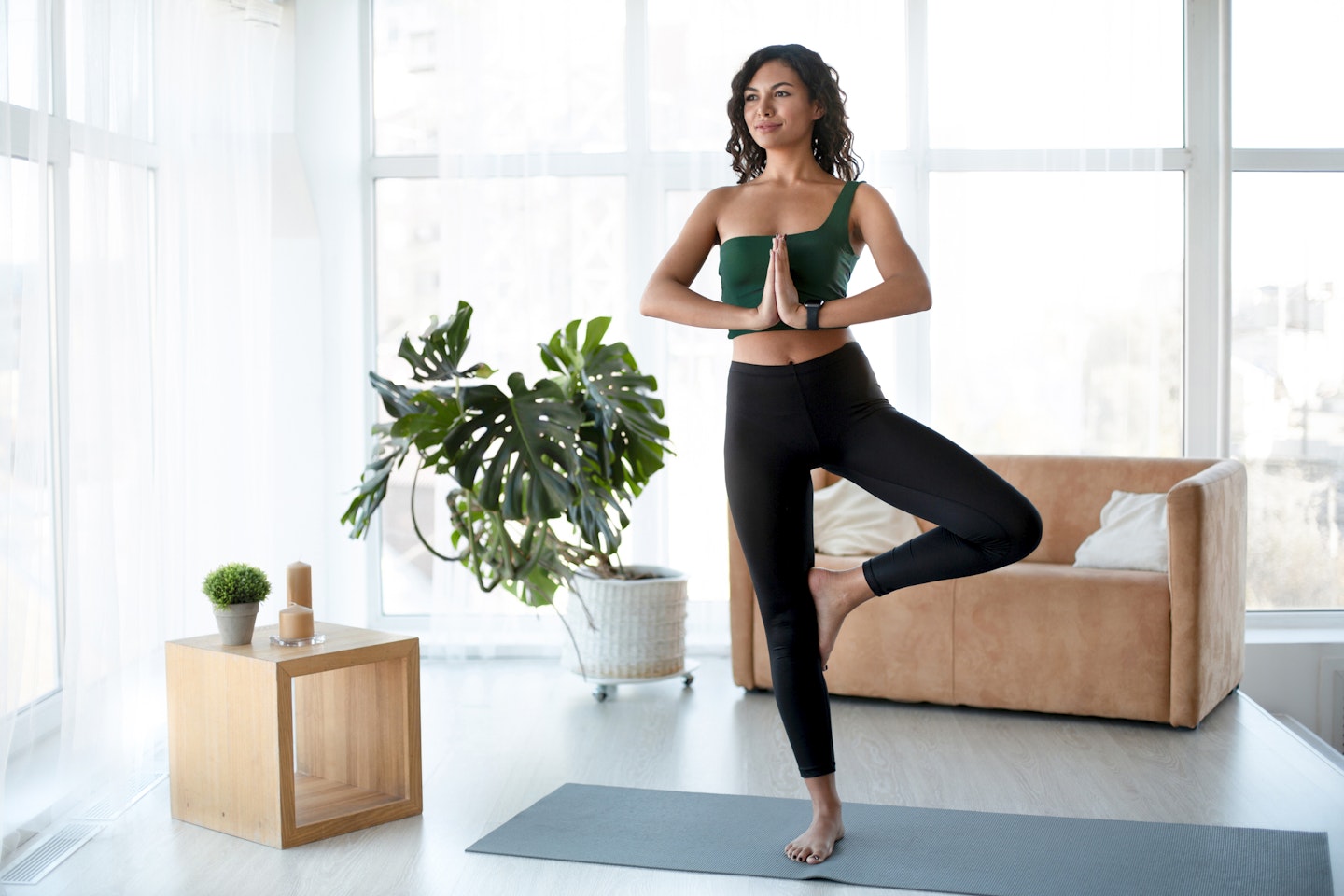 Standing on your left leg, bring the sole of the right foot to your inner left ankle, calf or thigh. Push the foot into the leg, the leg into the foot and feel a solid connection. You can have your hands in prayer at your chest or reach your hands high to the sky. Hold it for 10 breaths, then repeat on the other side.
3. The warrior
Stand with your feet one leg apart — front foot faces forwards, back foot slightly turned in. The front arm actively reaches forward, and the back arm actively back. Make sure your shoulders are above your hips, not forwards of them (you're not surfing). Engage your feet, your legs, your core, and your shoulder blades, reach long with your fingertips, and relax your face. The more points we have to focus on our bodies, the less we have to focus on our minds.
Yoga essentials for beginners
You want to feel comfortable during yoga so that you're able to move freely and perform the poses. Avoid anything loose-fitting, as you don't want your clothes flapping around in your face while doing your poses. A pair of gym leggings are usually best, along with a supportive sports bra or sports top.
Yoga is one form of exercise you don't need to splash the cash on in terms of equipment, but one item Chatty does recommend buying is a yoga mat: "It definitely helps to have a decent yoga mat, as cheap ones tend to have bad grip which will can lead to shoulder pain and possibly injury". Remember to remove your shoes and socks so that you have a better grip on the mat.
Best yoga mat for grip
Description
Made from sustainable, vegan rubber, this 'extreme grip' yoga mat promises to hold you and your
Pros
Non-slip grip
Five colours to choose from
Eco-friendly rubber
Cons
The colour of the mat can rub off onto your skin
Best for being super stretchy
Description
Made from 92% polyester and 8% spandex, these SINOPHANT high-waisted leggings are super soft and
Pros
Super soft
Opaque material
Wide range of colours
Best bra for yoga
Description
This CRZ yoga sports bra has been specifically designed with yoga in mind – it's super soft,
Pros
Medium support
Wide range of colours and designs
Breathable, smooth fabric
Cons
Small fitting, recommend sizing up
How often should you do yoga?
Unlike the gym, where rest days are important, you can do yoga as often as you like. "With so many different styles, from slow, restorative yoga to power flow to absolute stillness, you can pick different things for different days and different times," says Chatty.
Yoga for beginners on YouTube
While there's plenty of yoga books you can buy to help you master the practice, there's also some great YouTube instructors who you can follow along at home.
1. Yoga with Adriene
With over 11 million subscribers, there's no denying the population loves a little yoga with Adriene. The YouTube sensation became hugely popular during the lockdowns and has a range of yoga videos for just about everything. Whether you're after a morning routine, bedtime, or something long or short, you can be sure Adriene has a video for it.
2. Yoga with Kassandra
Kassandra has a brilliant bank of videos, from Yin Yoga to Vinyasa Yoga. Some of her videos are as short as five minutes, whereas others range to 15 and even 90!
3. Psychetruth
If you're keen to follow a range of classes, then Psychetruth have a great section of videos, one for each day, dedicated just to beginners. They also have yoga videos dedicated to pain relief, weight loss and muscle toning too.
The best DVDs for beginners Yoga
Maybe a DVD is something you are more likely to use. If so, here are three choices of DVDs to get you started on your yoga journey.
Best for Beginners
Description
There are 8 routines that range from 10 to 60 minutes in length to help you to build strength and
Best for breaking a sweat
Description
Jillian Michaels, a winning trainer on The Biggest Loser, combines yoga power poses with her
Best overall
Description
This DVD is hosted by Jessica Smith, who has 20 years of experience, is a certified yoga teacher
Why not get inspired and join the fun on the Fit Mind 50 challenge?
Join our challenge of trying 50 new things by signing up for the Yours Fit Mind 50 challenge. It's designed so anyone can do it anywhere, and it's free.
You can also join our Facebook group here! The FitMind50 group is a friendly space where anyone who has signed up for the FitMind50 Challenge can share success and inspiration, congratulate and support one another.