Gym leggings are a go-to not only for working out but for comfort too. When you're working out at the gym, you want to feel your best so you can power through your session and achieve your fitness goals. But there's nothing worse than wearing gym clothes that make you feel uncomfortable and self-conscious. The biggest culprit for this? Gym leggings.
Gym leggings that are see-through, fall down at the waist, lose their elasticity in the wash, or fit awkwardly to your body shape are the worst, especially considering most come with a higher price tag than your other workout clothes. While there are plenty of gym legging styles and brands on the market, sadly not all are created equal.
To help find the best gym leggings for you, we've pulled together a list of the best from top brands, reviewers' favourites, and ones we've tried and tested ourselves.
At Yours, we want you to feel confident as you move, so we've found the best for every type of gym legging: high-waisted, cropped, sustainable, size-inclusive, squat-proof, 'no-leak', and more.
Best gym leggings
Best all-round gym leggings
Description
From weightlifting to running a marathon on the treadmill, these Sweaty Betty gym leggings will
Best affordable gym leggings
Description
At under £20, these Ewedoos Yoga Pants with Pockets are affordable without compromising on quality
Best no-leak gym leggings
Description
If you're worried about your period or pesky bladder leaks, these gym leggings are the solution
Best yoga leggings
Description
The Goodmove Go Balance High Waisted Yoga Leggings are simply a dream. Expertly made to smooth,
Best running leggings
Description
If you're a keen runner and want to invest in the best leggings for your endurance training at the
Best scrunch bum gym leggings
Description
Scrunch bum Slimbelle Seamless Leggings accentuate your cheeks with seam placement to give your
Best gym leggings for style
Description
Style is subjective, but we're pretty sure everyone will be a fan of these! Available in black and
Best compression gym leggings
Description
Under Armour has a whole wealth of great leggings, and these compression leggings help to deliver
Best high-waisted gym leggings
Description
Available in a bunch of cool colours, these Gymshark gym Vital Seamless 2.0 leggings will mould to
Best sustainable gym leggings
Description
TALA has become a favourite on social media for its sustainable gym wear that's functional,
Best gym leggings for comfort
Description
Speaking of comfortable leggings, these CRZ YOGA Women's Naked Feeling High Waist Leggings also
Best maternity gym leggings
Description
If you're pregnant, these comfortable Nike One Women's Maternity Leggings will fit snuggly over
Best gym leggings for recovery support
Description
As well as offering comfort, support, and style, these high-waist Kymira Sport Infrared leggings
Best gym leggings with pockets
Description
Perfect for running, spinning, HIIT, yoga, and more, these Pour Moi Energy Mesh Panel Sports
Best gym leggings for inclusive sizing
Description
Thankfully more and more brands are becoming size-inclusive, and so we're glad to see gym wear
Best petite gym leggings
Description
These Adidas Techfit Long Leggings come in a range of petite sizes so you'll be sure to find your
Best squat-proof leggings
Description
These Gymshark Flex High Waisted Leggings, available in a host of beautiful pastel colours as well
Best cropped gym leggings
Description
Another pick from Marks & Spencer, these Goodmove Go Move Cropped Gym Leggings are perfect if
Best gym leggings for sculpting
Description
These Spanx Active Booty Boost High-Rise Stretch-Jersey Leggings from SPANX are perfect for
How do I choose gym leggings?
If you don't already have a style or certain requirements in mind, there are some key factors that will help to narrow down to exactly what you want.
Size
Most importantly, you need your gym leggings to fit! Check the brand's size guidelines before buying as sizes can differ across brands (infuriating, we know). We'd also recommend checking the reviews of customers, as this will give you an indication if you need to size up or down.
Material
Most workout leggings are made from synthetic fibres like polyester and nylon, due to their sweat-wicking properties and ability to stretch. They dry out quickly, aren't susceptible to over-stretching, and are lightweight. You may also see the addition of Spandex, Lycra, or elastane, which puts the stretch into your workout gear.
For lighter activities like yoga, you could probably get away with cotton leggings, which are breathable and comfortable. However, as they do absorb moisture, they aren't really suited to heavy workouts.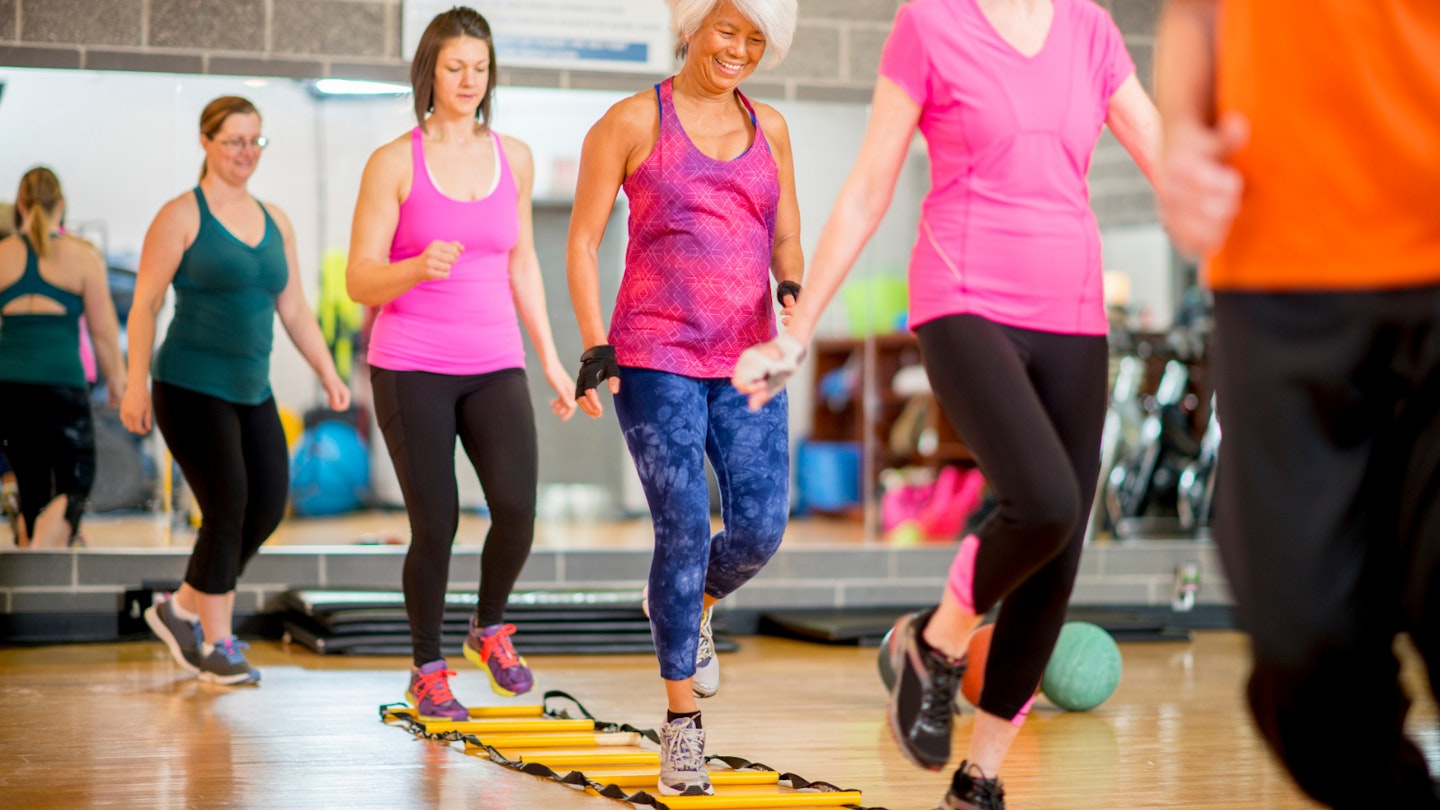 Style
This is completely down to preference with so many choices available. From experience and exploring the market, high-waisted leggings are the most popular and are more supportive. If you're petite or have shorter legs, you may want to either opt for petite gym leggings, or leggings 7/8 in length.
Budget
Leggings can really vary in price, so if you have a budget, try to stick to it! We've included leggings from a range of price points, with prices between £9.99 and £108.
Popular articles to read next