When you're looking to buy the best treadmill for your money, there are a few things you'll want to consider. One of which, is the amount of space you have for your new toy to live. After all, treadmills take up a lot of room and this may limit what you can buy, depending on the floor space you have to play with. But one treadmill that aims to make this problem easier is the WalkingPad X21 Foldable Treadmill.
Offering a range of speeds from 1-7.45MPH, the X21 is a thin, foldable treadmill that promises to fit anywhere in the home. Here's how Features & Reviews Editor Emily Gilbert got on when she took it for a spin over two months.
WalkingPad X21 overview
Pros
Folds compactly into two
Can be stored in an upright position
One-touch operation
Removable phone holder
Cons
Doesn't come with a drink holder
No incline
Testing the WalkingPad X21
My husband and I have been considering a treadmill for a while. However, the two things that have always put me off is how much space in our home it will take up and if it'll end up as a clothing horse, gathering dust. That's why the WalkingPad X21 immediately caught my attention while browsing the internet. A treadmill that folds in two and can be hidden away when not in use? Sold!
There was very little to do when the WalkingPad X21 arrived in its large cardboard box as it came already assembled. After lugging the box to the top floor of our townhouse, it was simply a case of removing it from the box, unfolding it and screwing on the detachable phone/tablet holder and inserting the safety key before plugging it in.
I can't say I was originally bothered about how our chosen treadmill would look but even I stood back and admired the sleek aluminum alloy and ABS plastic frame.
I loved that the console is built into the Walking Pad X21's horizontal handrail. The LED screen that disappears when the treadmill is not in use adds a stylish touch and shows metrics including speed, time, calories and distance. The centre dial is pushed down to start, pause or stop and turned clockwise or counterclockwise to adjust the speed. of the belt. It's incredibly slick and straightforward to use. It's worth noting that the handrail can't be removed, so you won't be able to use the X21 as an under-desk treadmill.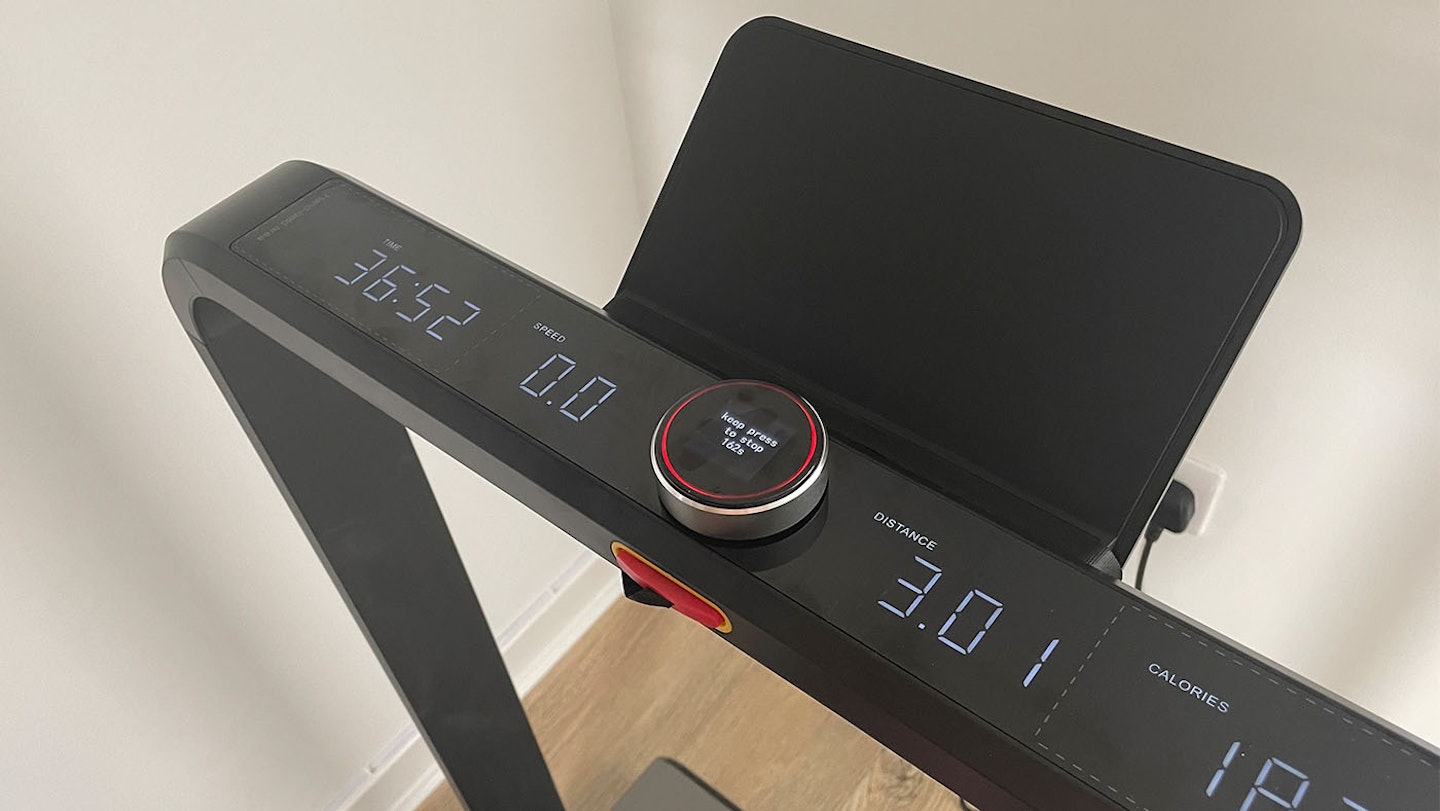 There's a safety key (to be attached to your clothing) that sits plugged into the middle of the handrail which works well, plus a removable device holder to prop your phone or tablet. What I do feel is missing from the X21 is a drinks holder. Every time I want to take a sip of water, I have to pause the treadmill to hop off and grab my water bottle. You can't buy one from WalkingPad separately either so I'll most likely be looking to source a third-party one
As the main selling point of the X21, unfolding and refolding the treadmill was as smooth an experience as you could hope for and we were impressed with how compactly it folds together. You simply lift the bottom half of the deck, fold it on top of the top half of the deck and fold the two of these together underneath the handrail which puts it into a standing position. This takes the length from 1420mm to just 225mm, a great size that we were able to store in numerous places around our home.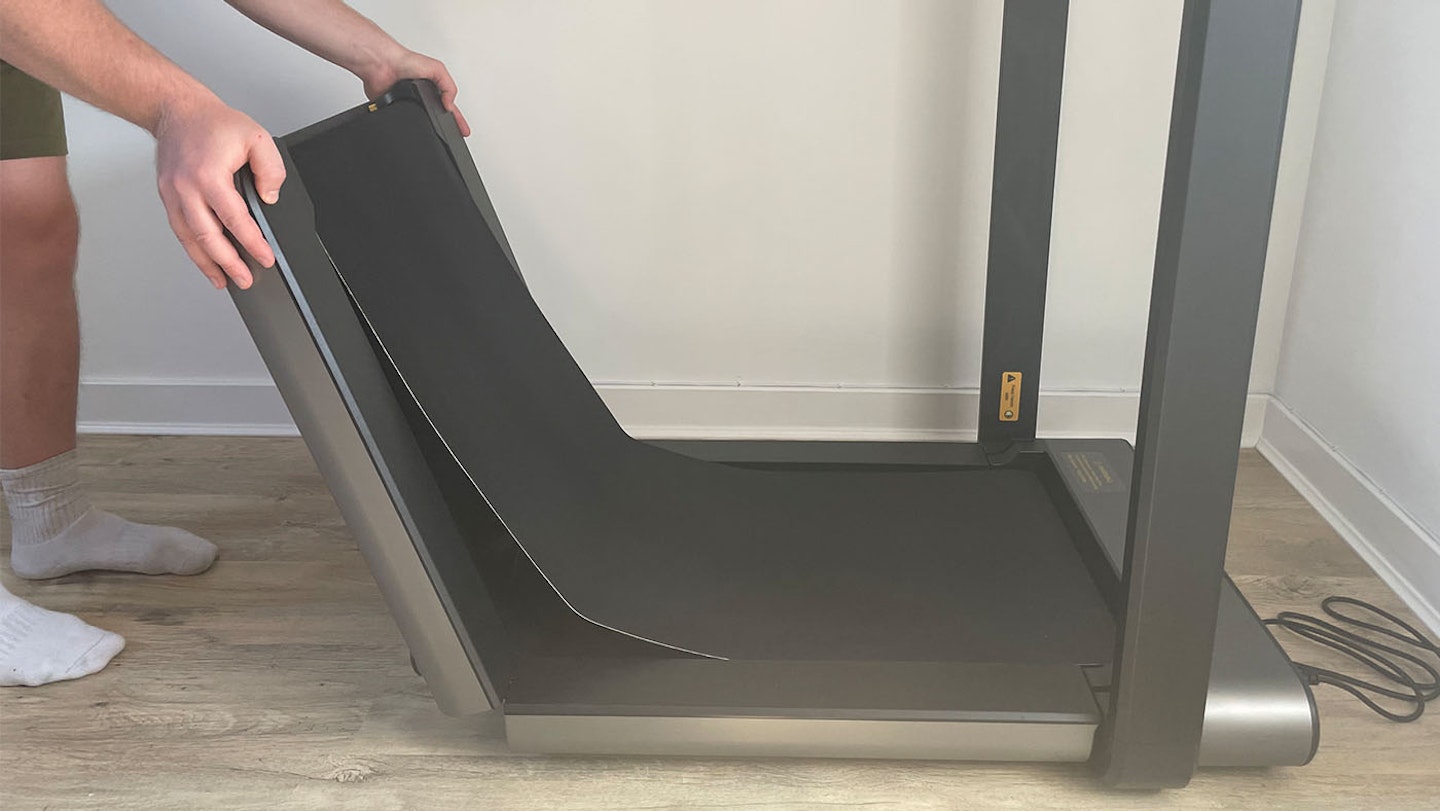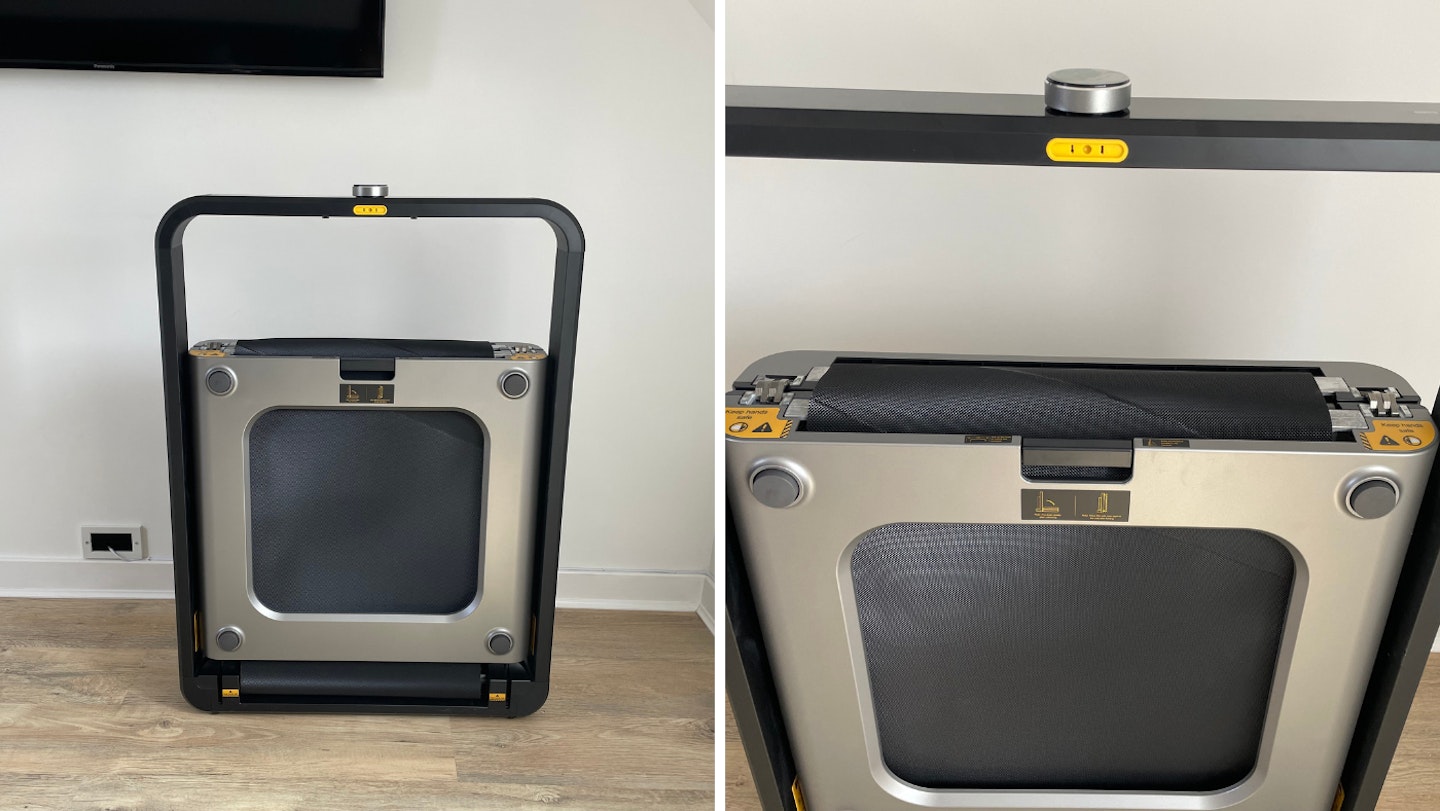 Its weight of just 93lb is something to shout about too. Despite how lightweight this treadmill is, it's also really solid once unfolded, something that I was admittedly concerned about initially.
Having seen a few reviews commenting on being able to feel the fold hinge when using the X21, we anticipated experiencing the same but this just wasn't the case for either of us. It just wasn't noticeable and thus, did not affect the performance.
The brushless motor generates just 75dB of noise at maximum speed meaning you can use it at full speed without disturbing anyone downstairs whether that's a neighbour or family member. As I like to use the WalkingPad X21 early in the morning while my husband sleeps, this was a huge plus for us. A treadmill is always going to generate sound but this one is pretty low.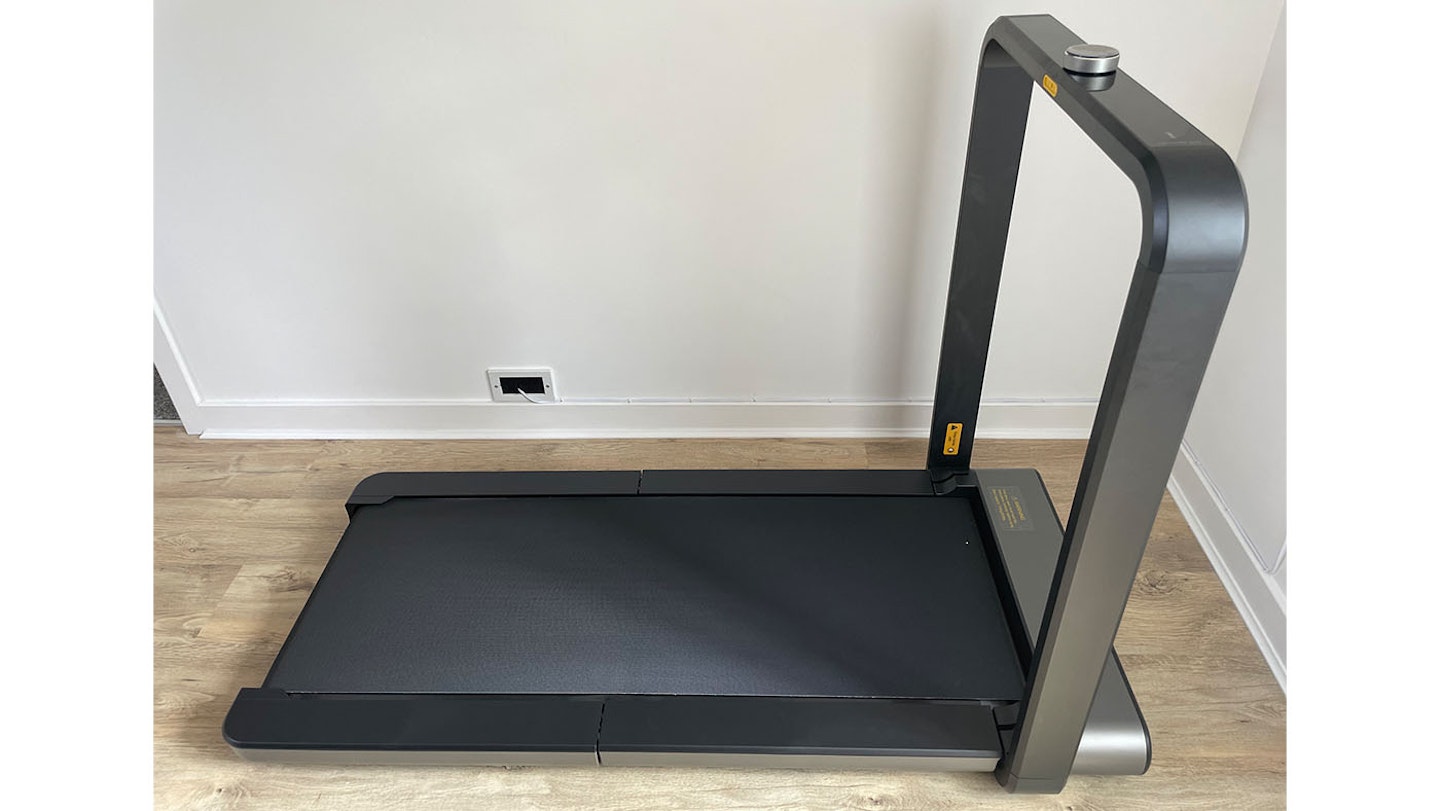 The maximum speed of the X21 is 7.5MPH is unlikely to be enough if you're a serious runner but as a novice, it's been more than enough for me and I've loved using the WalkingPad X21 which has quickly become part of my fitness routine at least three times a week. My husband is a regular gym-goer and while he prefers a treadmill with an incline option, he is more than satisfied with using the X21 in between his gym sessions or if he's short on time.
There is a free KS Fit App you can download which connects to the treadmill via Bluetooth to enable you to see your statistics as well as adjust the speeds and start and stop the X21 but we found this wasn't something we personally used much.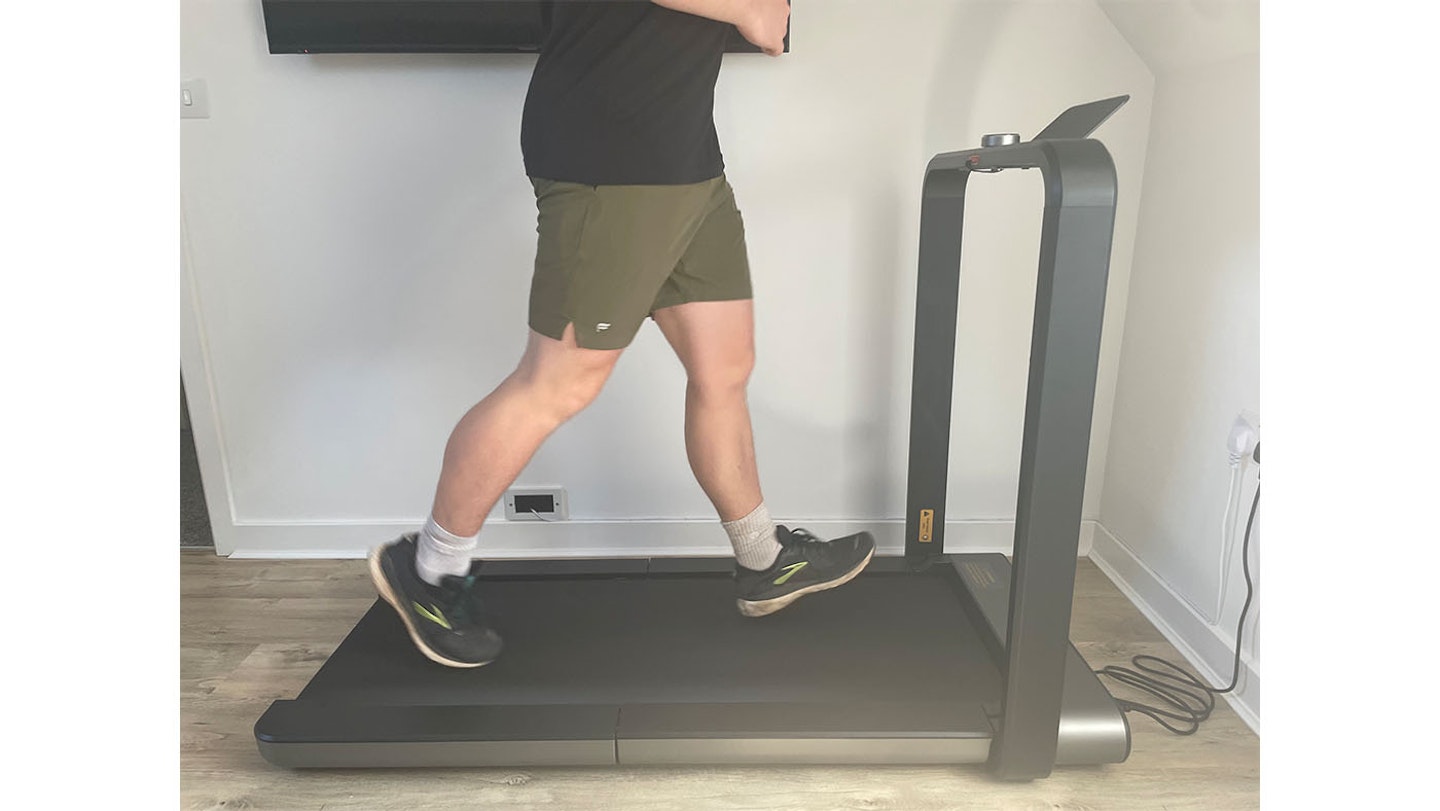 Final verdict
If you're limited with space or are after a treadmill that you can hide away when not in use, I'd highly recommend the WalkingPad X21. It's slick, stylish, compact and easy for anyone to use. Bar the lack of drinks holder, there's very little to complain about with the X21 but that said, those who run regularly will most likely want more features such as an incline and a higher speed. In that case, the Echelon Stride may be a better option, offering up to 10% incline and up to 12 MPH speed but you will pay more for these features as a result. For those like me who want to increase their exercise, get their steps in and do a bit of running, the X21 will be a great fit.
Features & Reviews Editor Emily Gilbert has been a journalist since 2016 and has worked across a variety of specialist and lifestyle brands both in print and online. Specialising in travel content and product reviews, Emily is the first to know about all the exciting new releases, her favourite being gadgets for the home.
A Print-Plus magazine subscription to Yours includes FREE UK delivery to your door, PLUS unlock a world of extra rewards and benefits including freebie prize draws and discounts from brands you'll love on our Yours app. Subscribe to Yours today!