The Google Pixel tablet is the first tablet with a charging speaker dock included, plus it features Google AI for smooth streaming, high-quality video calls and more, making it so much more than an android tablet. As an added bonus, it's currently on a Black Friday deal so you can save £100! With a powerful processor, it can handle anything you throw at it whether you're browsing, streaming, gaming or using apps. The 11" screen with adaptive brightness is perfect for streaming your favourite entertainment and editing photos and videos. When you snap it onto the dock, the tablet transforms into your smart home hub. In Hub Mode, the screen stays on so you can always see notifications, control your smart home, or display your favourite photos. And when you need your tablet again, just pick it up – it'll be charged and ready to go.
Pros
Multi-tasking made easy with split-screen mode
Dock is charger and speaker in one, with seamless connectivity to the tablet
Cons
Hub mode could be improved
Testing the Google Pixel Tablet
I'm a tablet first timer – it's not something I've ever had in the house before so honestly I wasn't sure how much I would use it, but after being walked through many of the functions of the Google Pixel tablet I was really excited to give it a go.
As an android tablet, the Pixel Tablet is a pleasure to use. We've been planning a holiday recently so I've been using it in my downtime while watching TV. It's so handy to have a larger screen than my phone, and not have to go through the palaver of getting my laptop out and finding it's not charged etc. The tablet is docked in our living room so I can just reach over and grab it – easy. I've linked it to my fingerprint so it's simple to login, and you can also set it up to be activated by voice commands but this isn't something I've linked.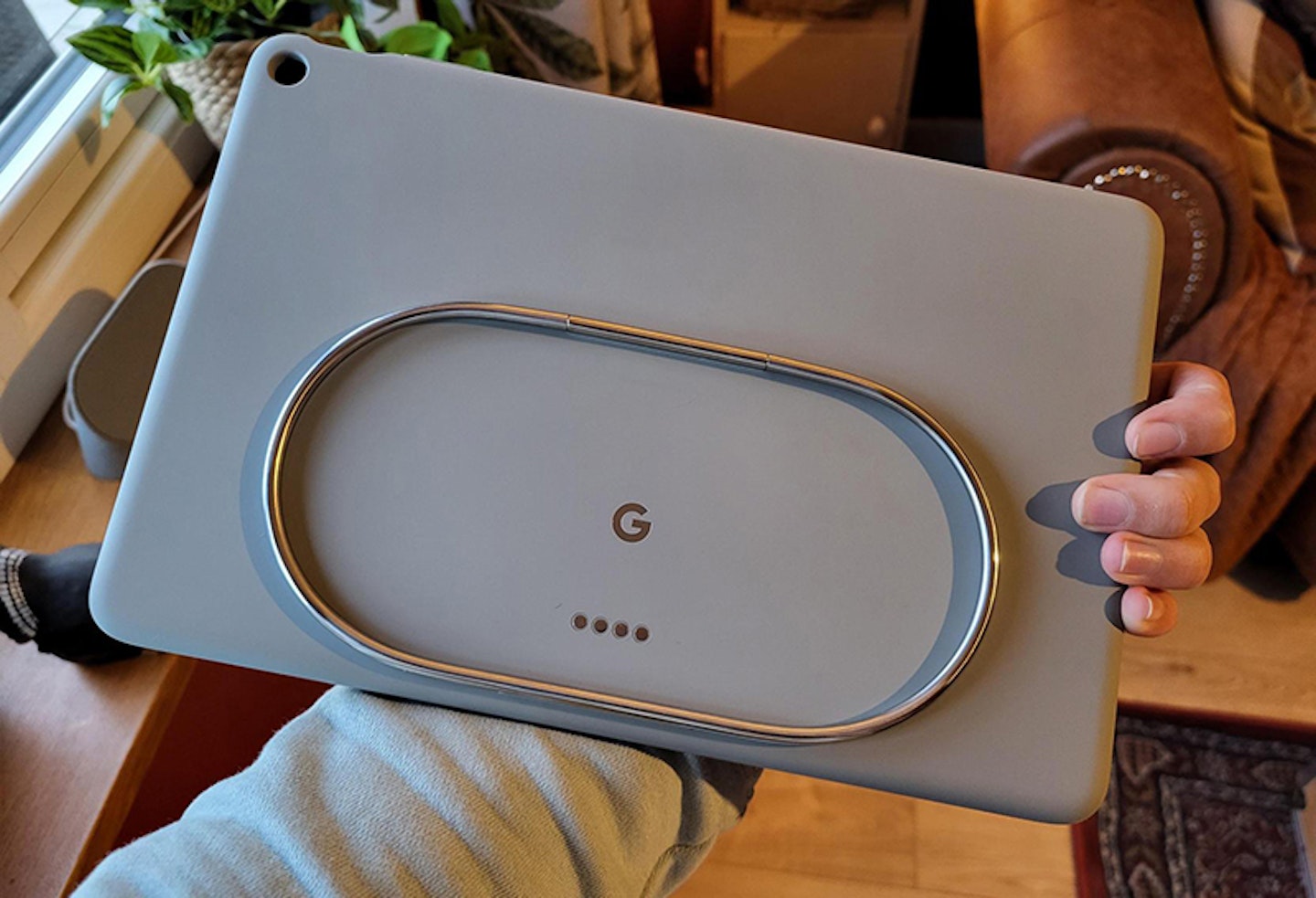 The case is very tactile and feels nice to hold, the tablet isn't overly weighty and is a good size for having more functionality than a phone screen, but still easy to transport. The tablet case is sold separately but I'd definitely recommend it as an additional purchase, you can still pop it on the dock while it's in its case too. The screen quality is great, as you'd expect, making the Google Pixel tablet perfect for watching streaming services or YouTube, and the built-in kickstand on the tablet case is brilliant for this. It also has a pretty decent camera, although I still tend to use my phone for this.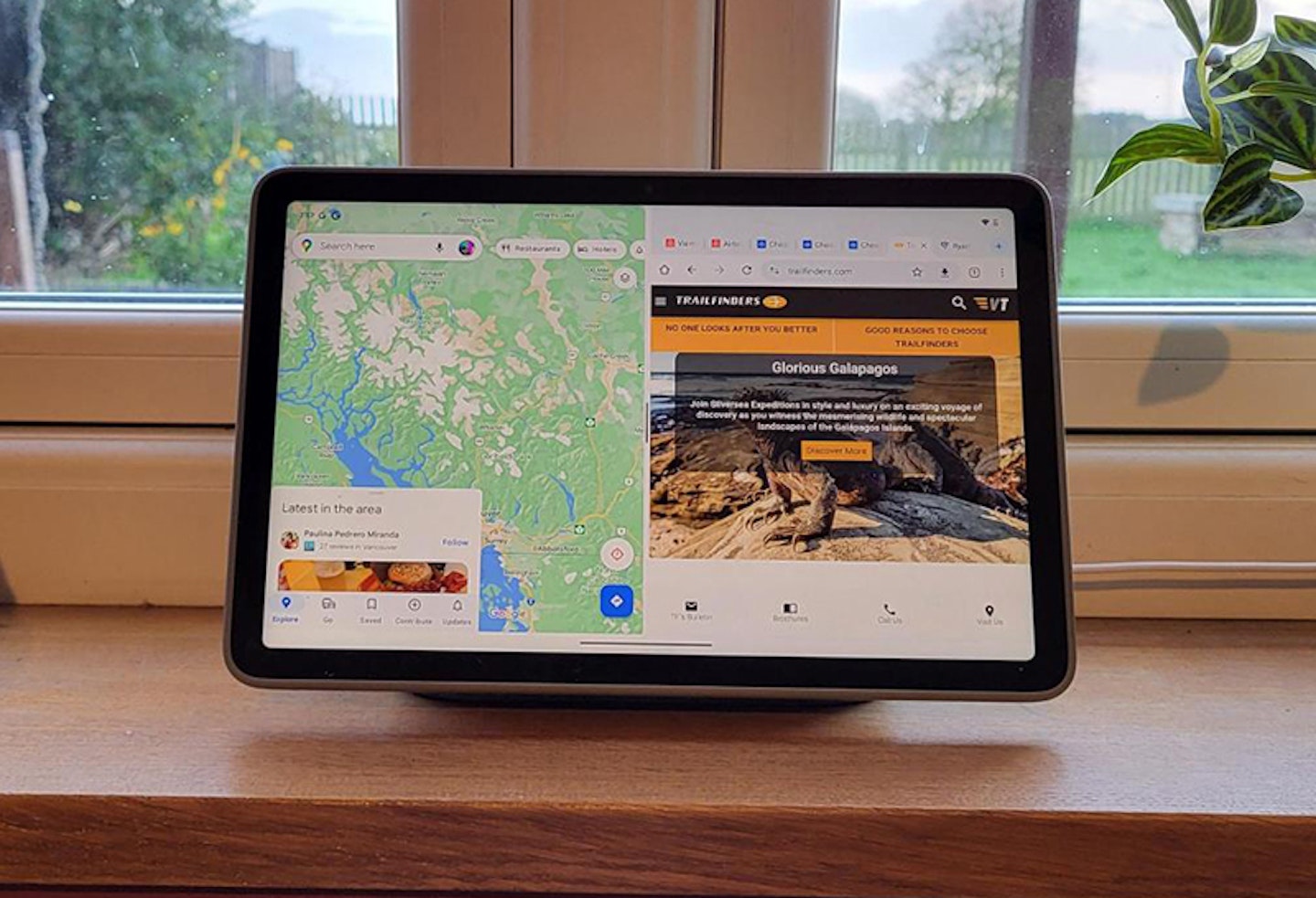 My favourite feature by far is the split screen mode, so you can have multiple screens open at once. It's perfect for multitasking and this has been especially handy when looking at Google maps and also in Google looking at a specific holiday route, or if I'm on the train quickly checking work emails while also finding files to forward on. I mostly use the tablet at home rather than on the go, and this is where the Pixel tablet excels.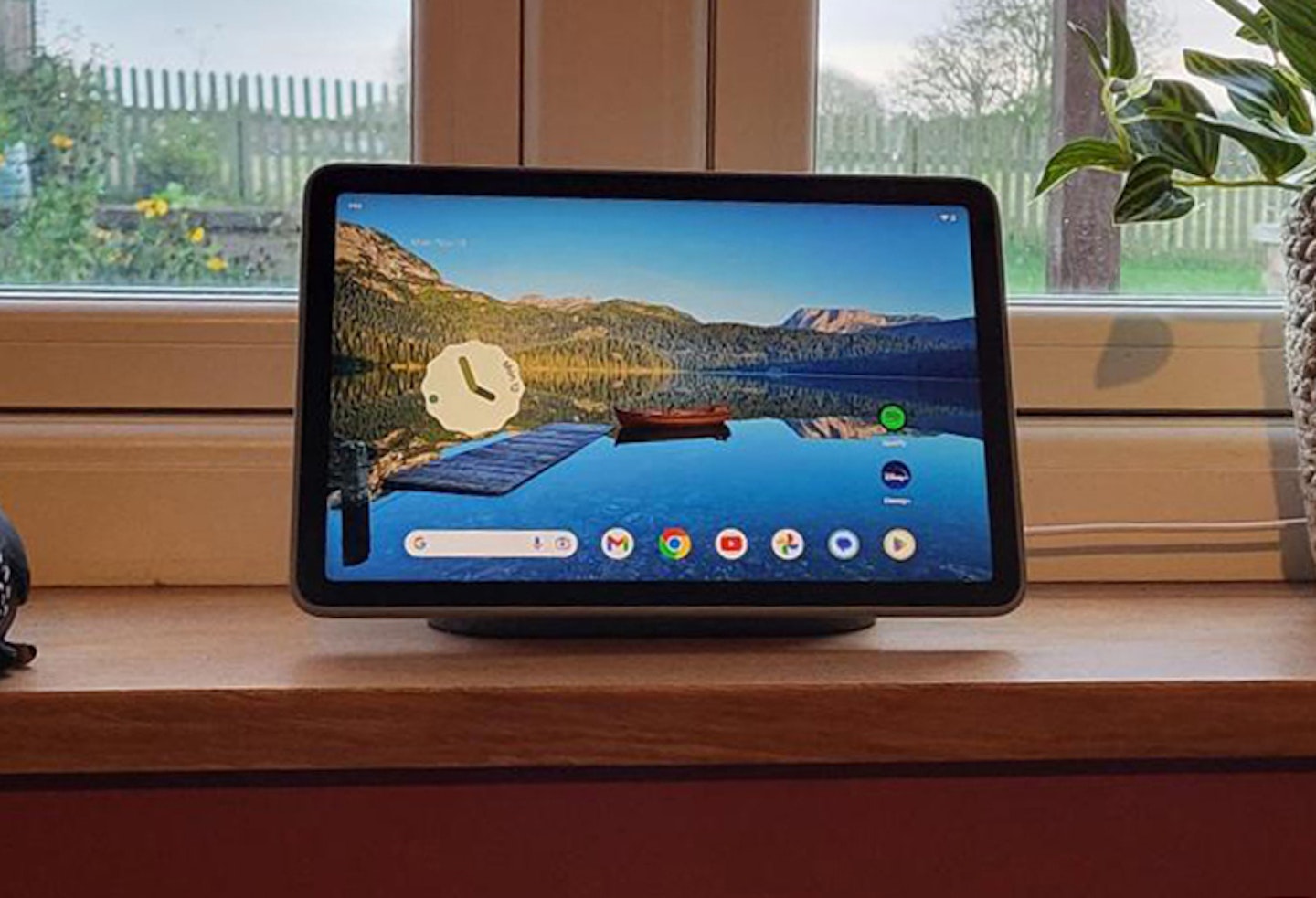 When the tablet is docked it doesn't just sit there and collect dust, there are additional functions you can set in motion, for example using it as a hub for smart home devices. When docked we mostly use ours as a digital photo frame and I've set up a selection of my favourite images from Google Drive to slideshow through when it's in docked position. It's a lovely reminder of old memories.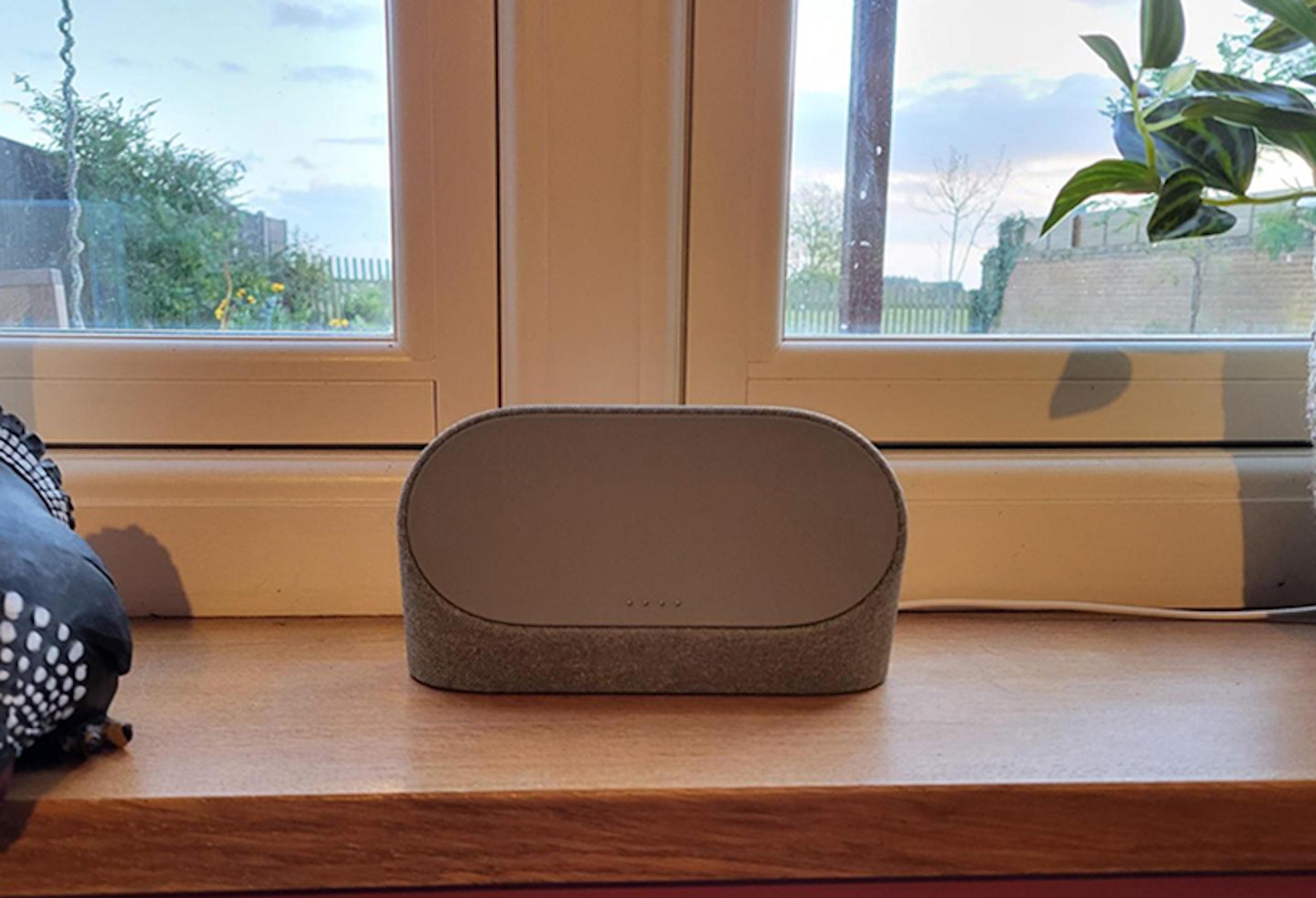 The dock comes with the tablet and also works as a speaker and a charging point, it smoothly clicks into place with a magnet so there's no faffing trying to fit it onto a plug or anything like that. It's also quite aesthetic to look at so even if the tablet isn't docked it just looks like a modern speaker on the windowsill. When playing music it automatically and seamlessly switches from playing on the tablet to playing from the speakers when you dock it, and the sound quality is brilliant. We've got into the habit of bringing the tablet and speaker into the kitchen when we're cooking and using it from there to play our favourite songs and so we can find and follow recipes. You can also purchase additional docks separately if you wanted to have them in multiple rooms, rather than moving the dock itself, however it's quite easy to manoeuvre and as long as it's charged you don't have to worry about bringing the plug along too.
It's very user-friendly, my nieces and nephews have enjoyed using it when they come to visit so it's a perfect tablet for grandkids or children too.
Final thoughts
If you're looking for a tablet for casual use around the home then the Pixel tablet is hard to beat in terms of functionality, aesthetic and being user-friendly. Since the case doesn't have a screen cover, I personally don't like to take it out and about too much and prefer to stick to my laptop in these instances. We mostly use ours in the living room or the kitchen, and the portability of the dock works well for us for how we have found it fits best into our lives. I think the home screen when in docked mode could be a bit more refined, perhaps with certain touchscreen functions you can do without logging in, for example checking the weather etc. It's basically just a digital clock otherwise, but we do love the photo feature as mentioned above. It would also perhaps be good if the dock had some kind of smart functionality when it's not connected to the tablet – but to be honest ours lives as a pair most of the time.
There are many more functions of the Pixel tablet that I haven't even tried out myself yet, and I think the diversity of functions this product has is its main selling point – however you live, the Pixel tablet will fit into your life.
Google Pixel tablet FAQs
Does the Pixel Tablet have a mobile plan option?
While you can set it up to connect to your phone so you have access to your calls and texts, the Pixel Tablet is only available with Wi-Fi connectivity so you can't get a mobile plan option.
Can I purchase a Pixel Tablet without the Charging Speaker Dock?
You can only purchase the Pixel Tablet with the Charging Speaker Dock, however you can purchase additional Charging Speaker Docks separately.
Can the Pixel Tablet charge with a regular USB-C cable?
Yes, in addition to charging your Pixel Tablet with the Charging Speaker Dock, you will also be able to charge your Pixel Tablet with a USB-C cable.
What is Nearby Share and what devices can it work with?
Nearby Share allows you to quickly and securely share photos, videos, contacts, links and more between your Pixel Tablet and nearby Android phones and laptops.
Can the Charging Speaker Dock pair with any Bluetooth audio device?
No, the Charging Speaker Dock only works with the Pixel Tablet when it is docked.
Can I control my Nest devices with the Pixel Tablet?
Yes, in addition to controlling your Nest devices and other compatible smart home devices with the Google Home app, you can also control your home with the Pixel Tablet's home control panel.
Stephanie Spencer is the Deputy Digital Editor of Yours.co.uk. Having worked across a variety of topics, from travel and food to pharmaceuticals, she also has a particular interest in mental health and wellness. She has a house full of pets with two dogs and two cats.