Whether you're heading off on a long road trip or a quick ride to the local park or the vet, having a car harness for dogs is a must-have for any responsible paw-rent. It's actually a legal requirement to keep your dog suitably restrained. By ensuring your furry friend is reasonably secured while travelling with your pet, you not only minimise distractions for yourself but also prioritise the safety of everyone inside the car.
Unlike regular harnesses used for walks and other outdoor activities, a car harness for dogs is specially designed to ensure your pet's safety while travelling in a vehicle. These harnesses are crafted to be stronger and more durable than walking ones, often using materials similar to those used to make actual car seat belts so they're super strong. With ample padding, your hound will not only be comfortable but also well-protected in case of any unexpected incidents or sudden braking during the journey.
Best car harness for dogs at a glance:
• Best overall: EZYDOG Drive Car Harness – view on Amazon UK
• Best car harness for large dogs: Kurgo Enhanced Strength Tru-Fit Dog Car Harness – view on Amazon UK
• Best budget car harness for dogs: SlowTon Dog Car Harness Seatbelt Set – view on Amazon UK
The clever design of car harnesses for dogs involves attaching them to your car's seat belt or their own doggy seat belt, keeping them safely secured in one place. This prevents them from hopping around seats, trying to catch glimpses out the window, or even attempting to join you in the driver's seat out of excitement or anxiety.
When selecting the perfect car harness for your four-legged companion, there are a few things you'll want to consider. It's vital to choose one that is not only strong and secure but also adjustable for a custom fit. To help you make the right decision for your furry friend, we've curated a list of the best car harnesses for dogs that prioritise both safety and comfort, so you can embark on your journeys with peace of mind, knowing your beloved pooch is protected and cosy throughout every adventure. We've also got all the safety information you need to know and other tips for car journeys with your pooch in our FAQs section.
The best car harness for dogs
Best overall
Description
Crash and safety tested to ECE Regulation 21 standards, the EZYDOG Drive Car Harness is just what
Pros
Vehicle and crash safety tested
Made from the highest quality materials
Cons
Reviewers found the initial fit adjustments to be fiddly
Best car harness for large dogs
Description
If you've got a big boy or girl to keep safely secured in the car, we'd recommend giving the Kurgo
Pros
Adjustable and comfortable fit
Includes a seat belt tether to attach to your car seat buckles
Cons
May not be suitable for dogs that exceed the maximum weight limit of 34kg
Best budget car harness for dogs
Description
Next up we have the SlowTon Dog Car Harness Seatbelt Set, which offers great value for money as
Pros
Great value for money
Choice of four sizes and 15 colours
Cons
Some reviewers felt the material could be more durable
Best car harness for dogs set
Description
Another option with plenty of colours to choose from is the Nasjac Dog Car Harness with Seat Belt.
Pros
Comes with a seat belt included, as well as a harness
Adjustable for the perfect fit
Cons
Some reviewers found the sizing guide confusing to find the right size for their pup
Easiest to use car harness for dog
Description
Looking for a car harness that is simple and straightforward to use? Take a look at the CarSafe
Pros
Lightweight fabric
Cushioned and breathable
Best car harness for small to medium breeds
Description
Tested to FMVSS 213 child restraint systems standards, the 3 Peaks Crash Impact Tested Dog Harness
Pros
Tested to child restraint standards
Very padded
Cons
Not as many sizes compared to others on our list
Best branded car harness for dogs
Description
Last by no means least is this RAC Car Harness. Not just for breakdowns and recoveries, the RAC
Pros
Adjustable
Made by a well-known brand
Cons
Chest area isn't as wide as other harnesses on this list
Our verdict: what is the best car harness for dogs?
If you're wondering what is the best car safety harness for dogs, we think the EZYDOG Drive Car Harness is the overall top dog when it comes to keeping your pooch safe and secure in the car. It's engineered to last as it's made with strong, high quality materials, like webbing used to make actual seat belts and aluminium alloy Tri-Glide buckles. Not only is it super strong, but it's also amazingly comfortable for your pooch too, with an ultra-padded chest plate, which is also contoured so it will mould to your dog's shape for a more custom fit.
FAQs
How does a car harness for dogs work?
Dog car safety harnesses items work much like a seat belt for a human. Dogs do not have the same body shape as us of course and so they are designed to fit securely around your dog's chest and legs to strap them safely and comfortably into the car.
What should I look for in a car harness for dogs?
A good harness will ensure that in the event of an accident, the harness will stop the dog from travelling forwards or across the vehicle and will distribute the weight of the dog evenly across the straps so that they do not 'cut into' your dog.
Are all dog harnesses suitable for car restraint?
As we touched upon at the beginning of this article, a car harness for dogs is made from sturdier materials and has extra padding compared to regular walking harnesses. This is so it can handle the impact of any sudden stops or accidents and keep your canine companion comfortable during long journeys, as well as reduce the risk of injury in case of a collision. For this reason, not all dog harnesses are suitable restraints for travelling in the car.
To make sure your hound is suitably restrained, you'll need to use a car harness alongside a doggy car seat or seat belt that you can attach to your dog to make sure they're safely buckled in.
Are car harnesses safe for dogs?
When used correctly, car harnesses for dogs are extremely safe for your pooch to use while travelling in your vehicle. However, there are a couple of guidelines you'll want to take note of to make sure your hound stays safe at all times.
Your chosen harness should be snug but not too tight, allowing them to get into a position that is most comfortable to them, whether that's sitting, standing or lying down. You can find out more about getting the perfect fit in our how-to-measure a dog for a harness guide.
Ensure the connection to your dog's designated seat belt or car seat is super secure and cannot be easily undone by your pooch standing or laying down on it. This is to stop them from becoming a distraction to you while you're driving.
Regularly inspect the harness for signs of wear and tear and replace it if it's looking damaged.
By taking these precautions, you can help ensure that your dog travels safely and comfortably during car journeys.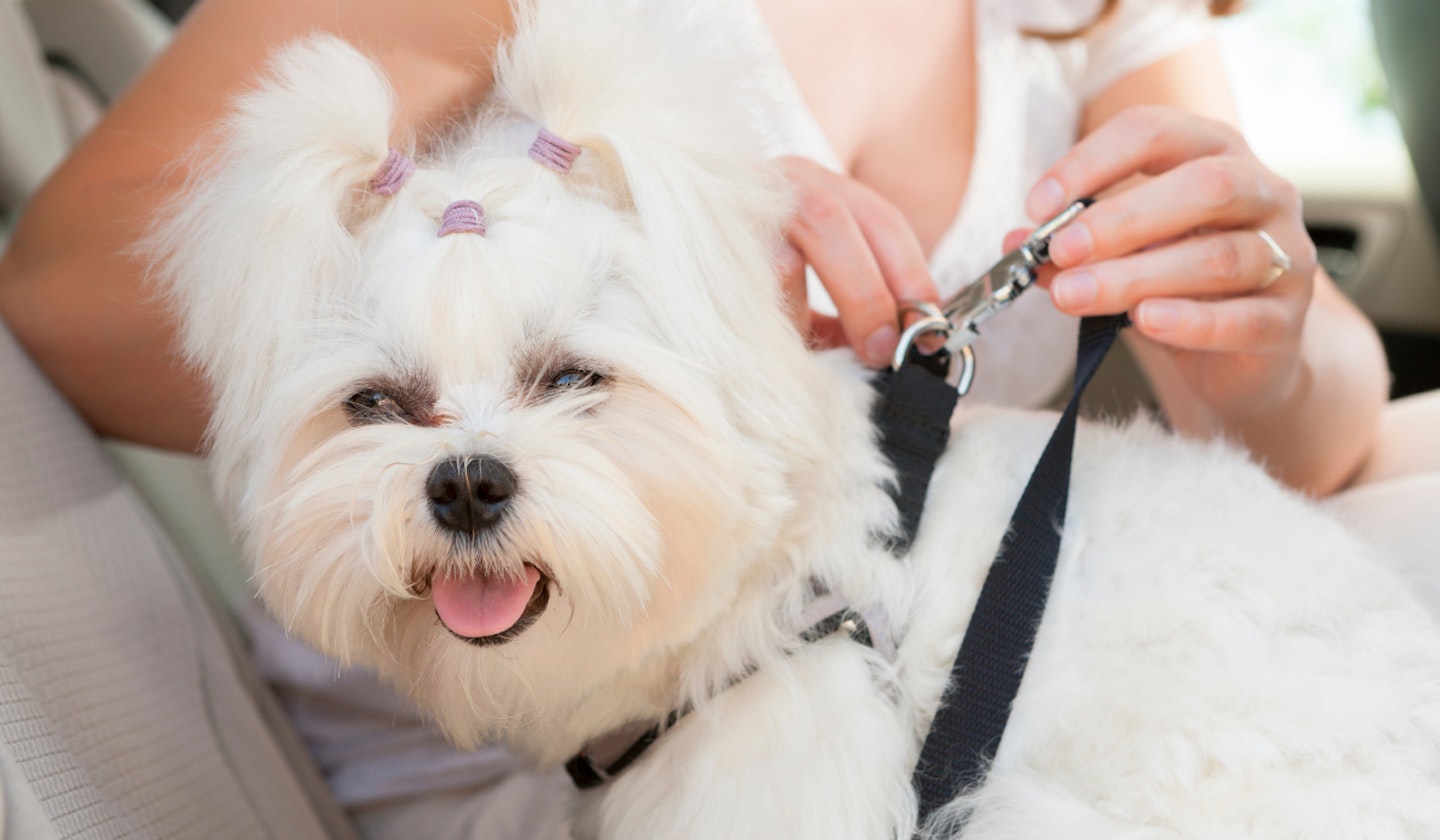 How to introduce a dog car safety harness to your pooch
It's important to introduce the dog car harness slowly and with positive reinforcement of calming and accepting behaviour. You want to make the wearing of the harness a nice experience, not one to be feared.
Start by simply letting your dog interact and sniff the harness, progressing onto laying it gently on their back so they get used to the weight and feel of it, before building up to them wearing the harness unclipped before fastening it around your dog.
This process is best carried out away from your car initially in a setting that your dog feels comfortable in until they're completely happy and then you can progress to using it on short trips in the car building up to longer trips over time.
Dog travelling tips
Dog Behaviourist and Trainer, Adem Fehmi, tells us how to ensure your dog travels safely in the car.
Acclimatise your dog to your vehicle
First things first, ensure your dog is confident and happy travelling in your car. Whether you ask your dog to jump into the car, pick them up or even use a ramp, ensure that you build up to this slowly and reward your dog for completing the action calmly. Remember, travelling in a car is not 'natural' for a dog and so we must teach them slowly that it is nothing to be fearful of. Once your dog has mastered getting into the car, practice securing them safely in or with your chosen device (more on how to do this shortly), turning the engine on and then perhaps also the radio. Calming music on the radio can be useful at this stage.
Allow your dog to get used to each part of the routine before introducing the next. Once your dog is comfortable with this, you can then commence taking short journeys, building up to longer journeys over time. Some dogs will take to travelling in a car quickly whilst others may need more time to build their confidence. Remember to work at your dog's pace and reward the progress they make with a tasty treat.
The safest way for your dog to ride in your car
To begin, it is important to consider where you will position your dog in the car. In most cases the back seat or boot of your car is the safest place for your dog to be positioned, however, it is important to consider your individual car, the needs of other passengers, and of course your dog's needs.
If possible, it is best to seat children and dogs away from each other and to have your dog in a position where they are not likely to distract you from driving. It is also best to position your dog somewhere that they cannot stick their head out of an open window. Although this might look like fun for your dog, debris can easily fly into their eyes and cause a nasty injury or infection. In the event of an accident, there is also no barrier between your dog and the outside world and the things that might be hurtling towards them!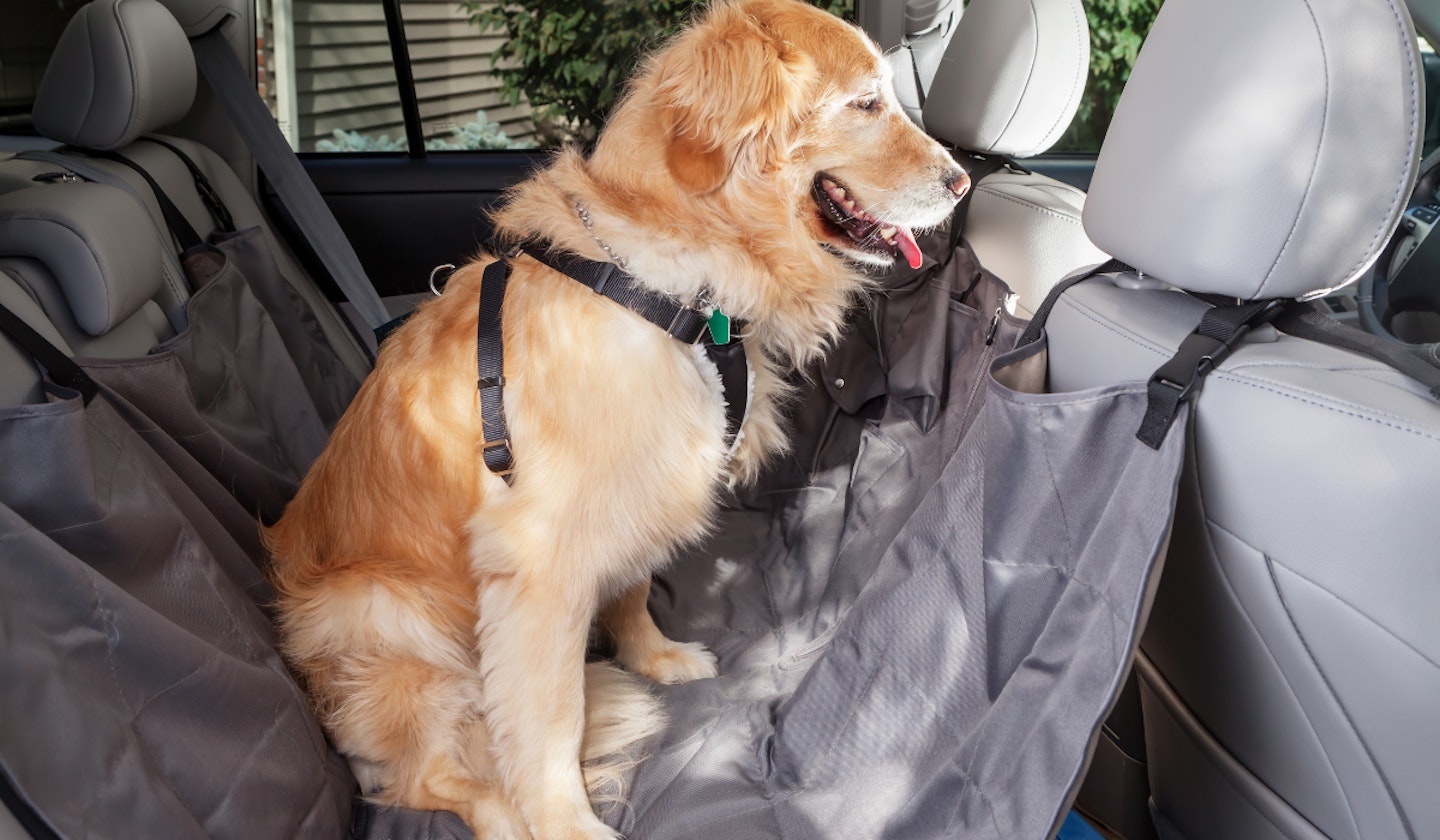 Other ways to secure your dog in the car
As well as using a dog car safety harness to keep your pooch safe while they ride along with you, there are plenty of other options you may want to consider too.
Dog crate or cage
Dog car crates are best placed in the car's boot due to their size and shape, providing a secure space for longer journeys. Some crates are crash-tested for added safety, making research important for selecting the right one. For van or truck travel, customisable crates with lockable openings are available, allowing you to secure your dog while leaving the vehicle open for ventilation. Introduce the crate gradually to help your dog get accustomed to this type of space.
Carry case or box
Dog carry cases or boxes can often feel small and more enclosed, but this design can be useful for first trips home with a young puppy or anxious small dogs. When using them in the car, ensure they are securely fastened to prevent sliding or movement during sudden stops or accidents. Introduce the case gradually, similar to crate training, and consider using it as a comfortable bed area at home first to familiarise your dog with it before travelling.
Dog hammocks
Dog hammocks are fabric devices that create a secure space across the back seats of your car, allowing your dog to stretch out comfortably. They offer the benefit of soft 'walls' while leaving the boot available for storage. They are best suited for older or less mobile dogs as they may find it easier to jump in as going through the back seat is often much lower than the boot opening. You'll want to ensure your chosen hammock allows your dog to be clipped or strapped in using a seat belt or other restraint so they stay secure for the duration of your journey. It's worth noting that they may not be suitable if you plan to have human passengers in the back of your car too as they span the entire width.
Dog guards
Dog guards act as barriers between the top of your back seats and the car's roof, preventing your dog from climbing over the seats and becoming a flying missile in case of an accident. They are helpful for larger dogs that need the entire space of the boot to stretch out or when travelling with multiple medium-sized dogs. However, while these devices keep your dog from moving between seats, they do not fully secure them within the boot's cavity.
Rosie Floyd is a Pets, Homes and Garden Product Writer for Yours, specialising in home appliances, décor and furnishings, as well as all things dogs. After completing her Journalism & Media degree from Coventry University back in 2015, she started her career writing about must-visit holiday destinations, moving on to creating content around outdoor living and garden buildings, before joining the team at Bauer.