With the recent approval of multiple coronavirus vaccines in the UK, vaccination scam attempts are also becoming more common and are likely to continue as scammers look to take advantage of the rollout to so many people.
Some fraudsters are even going as far as injecting people with fake vaccines in exchange for money. One such shocking incident happened to a 92-year old woman who was injected by a man claiming to work for the NHS. He charged her £160, which the man said would be refunded by the NHS.
A spokesman for the Department of Health said: "NHS England will never ask for bank details, Pin numbers or passwords, when contacting you about a vaccination.
"Any communication which claims to be from the NHS but asks for payment, or bank details, is fraudulent and can be ignored. It can be reported to police via Action Fraud.
"You will never be charged for the vaccine."
Read on to find out how to spot a vaccination scam and what to do if you suspect you're being scammed.
How you will be contacted for your coronavirus (COVID-19) vaccination
The NHS will let you know when it's your turn to have the COVID-19 vaccination.
The vaccine is being offered for free at larger vaccination centres, pharmacies and some local NHS services such as hospitals or GP surgeries. You will be contacted by text, letter or email.
If you don't book your vaccination in after receiving a reminder you may be contacted by phone by the NHS Immunisation Management Service. This call will be from 0300 561 0240.
How to spot a vaccination scam
The COVID-19 vaccine is free of charge on the NHS. However, some people are receiving fraudulent calls and text messages offering the COVID-19 vaccination.
In some cases, people are asked to press a number on their keypad or to send a text message to confirm they wish to receive the vaccine. Doing so is likely to result in a charge being applied to their phone bill.
In other cases, callers are offering the vaccine for a fee or asking for bank details.
Some scams are easy to spot by looking at the phone number or the email address that the email has come from. There may also be spelling mistakes in the correspondence.
The NHS will never ask for:
• your bank account or card details.
• your pin or banking password.
• copies of personal documents to prove your identity such as your passport, driving licence, bills or payslips.
Examples of vaccination scam texts and emails: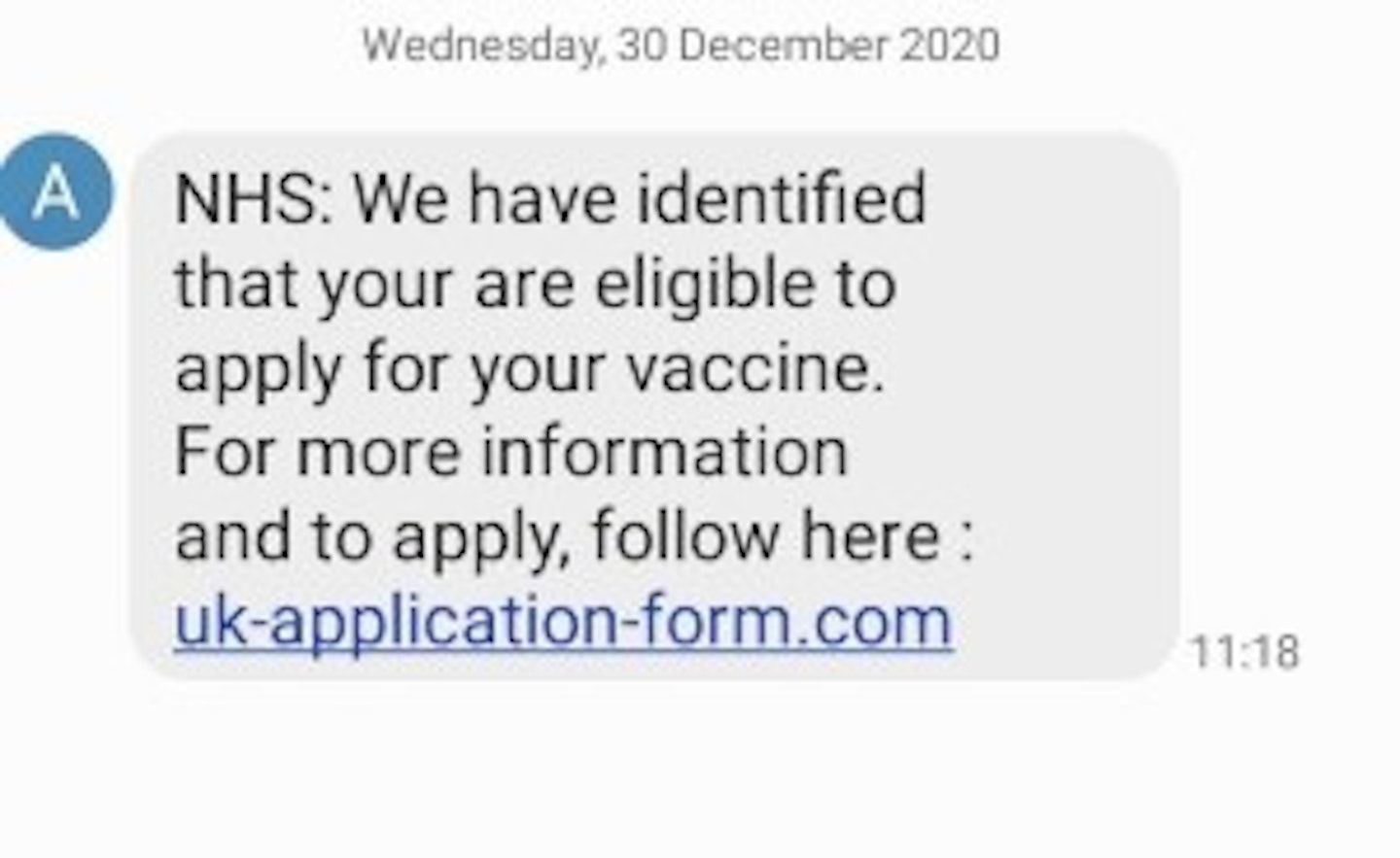 While this text seems legit at first glance, the grammar error of 'your are' is the first red flag. If the link is followed it takes you through to a pretty convincing fake NHS website that asks for your personal details. Note more spelling mistakes here too: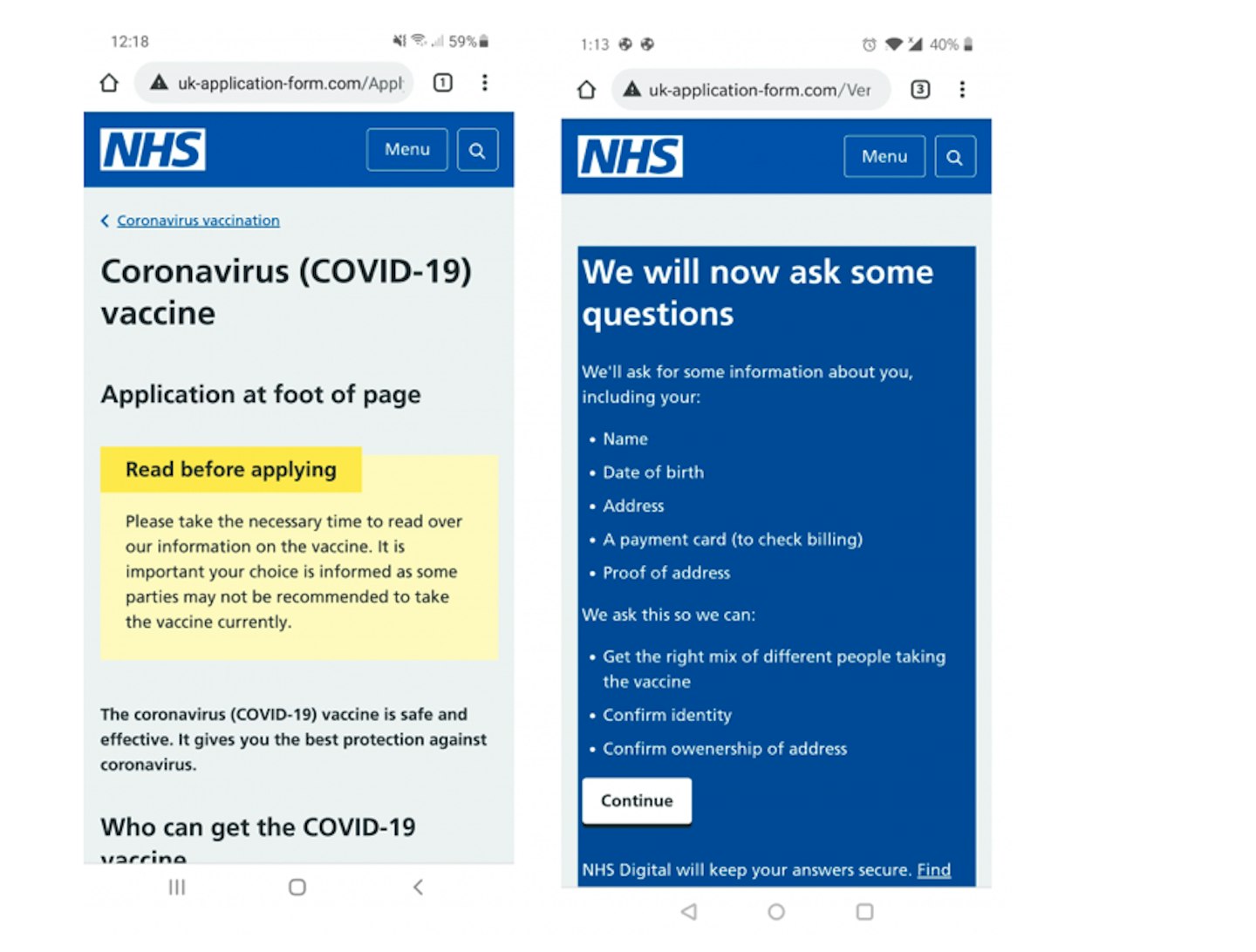 Fortunately the recipient of this text became suspicious when the website asked for his bank/card details in order to 'check his identity' and didn't continue.
The below email is another example of a vaccination scam. While the sender comes up as NHS-UK, the actual email address is not an official NHS contact.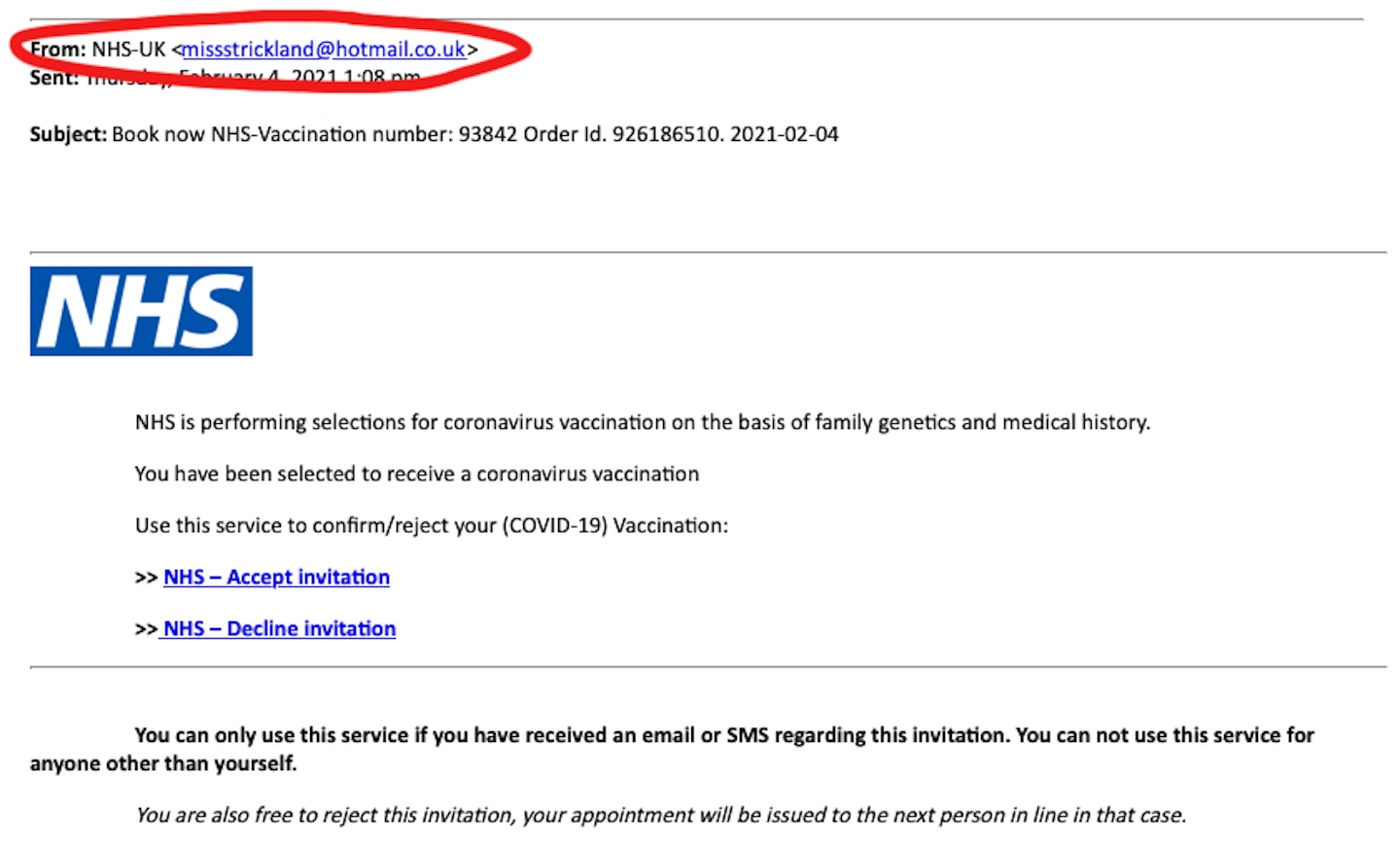 The wording in this fraudulent email is also pushing you to click the link quickly so that you don't lose your vaccination slot.
What to do if you think you're being contacted by a scammer
Scams can come in many forms and can be an incredibly sophisticated crime, making it more difficult to distinguish genuine messages from the fake. A common scam currently circulating is an Energy Bills Support Scheme scam, which is conning people via text message.
If you are suspicious about an email you have received, forward it to report@phishing.gov.uk.
Suspicious text messages should be forwarded to the number 7726 which is free of charge.
Remember:
• Don't click on links or attachments in unexpected texts, emails or instant messages.
• Challenge every request for your personal details.
• It doesn't matter what they say or what they know about you, don't respond to unexpected phone calls. Hang up, take five then verify their claims via a trusted method (such as the usual website or official phone number).
If you think you have been a victim of fraud or identify theft, report it to Action Fraud on 0300 123 2040.
Read more popular articles