If you're looking for a lock that combines smart connectivity with a high level of security, look no further than the Ultion Nuki Plus smart lock. The specially designed Ultion lock and handle bring Nuki smart home security functionality to UK doors, including PVC and composite doors, with a security level found only with Ultion. The heart of the Ultion Nuki is a 3-star PLUS Ultion lock, and the Nuki unit has the highest AV security rating, with three stars.
Being smart gives control from your phone, a Bluetooth keyfob and even a wireless keypad with fingerprint recognition. Like an invisible doorman, Ultion Nuki can also be set to unlock your door when you arrive home without even having to reach for your phone, and then lock a few minutes later. You can control your Ultion Nuki smart lock from a range of smart home technology apps including Alexa, Ring, AirBnB and Google Home. Whichever way you go, you still have the comfort of a key.
If you have regular visitors who need access to your property such as carers or dog walkers for example, you can set up keypad codes that unlock the door only on specific days and times give access to regular visitors without compromising your security.
With Ultion Nuki you can keep your current outside handle, or choose from 7 colours of outdoor handles, so it's smart on the inside as well as the outside. Plus fitting Ultion Nuki is so easy it doesn't come with fixings. The three screws in your current handle and lock are all you need.
Pros
Multiple locking and unlocking options
Easy to install and straightforward app
Rechargable battery
Cons
Door can get out of sync with smart lock and need to be recalibrated
Testing the Ultion Nuki Plus smart lock
Our first encounter with an Ultion Nuki Plus smart lock was actually while staying at at Airbnb, so when I found out more about all the features this lock has to offer I was looking forward to using it in my own home.
Firstly install, we actually ended up getting an expert to come help us fit it as we couldn't figure out how to get our existing escutcheon lock (which has no handle) off of our door. However, I made sure to watch the installation and it was so easy once I saw how to get our lock off. The kit comes with multiple options to install whether you have a handle or not, plus a QR code to scan that takes you straight to an easy-to-follow fitting guide. You don't need any drills or specialist equipment, even the installer who kindly came to fit it for us only used the tool that came with the Ultion Nuki. The adjustable design of the Ultion Nuki handle also means that should you change your door, or move house, you can continue to use it on the new door without needing to buy a new handle. Plus, as we already had an Ultion lock on our door, we were able to keep the same keys!
As it was I was glad to have an expert on hand to show me exactly how to set up the app and walk me through some of the features. Again they have digital guides which are really clear but if you're not that tech savvy I'd advise to get an installer to help you fit the Ultion Nuki just for the advice on the app setup, he was very knowledgeable and friendly. He also set up our keypad for us, which is secured using a 3M sticker so it's really secure without having to use drills etc.
The app is completely free, there's so subscription or anything like that to worry about, Ultion Nuki don't even charge for sending additional electronic keys.
I was dubious about how much we'd use the smart lock features, but we do use it every day. The main feature we use is the interior tap to lock/open - we've set ours up to lock after a single tap and unlock after a double tap, but all of these preferences are customisable via the app. We decided not to have ours 'lit up' all the time to save the battery, but it lights up when in use - so a flashing full circle means locked, a flashing broken circle means the door is open, when in standby mode there's no light, but you can set it to be lit up.
When arriving home you can set your door to auto unlock when it senses you are near but we've deactivated that as we have dogs, we'd be worried they'd figure out how to get out! But I can see how it would be a handy feature when coming home with shopping or lots of bags after picking up from the school run. We do use the unlock feature on our phone, which you tap to open. It's a bit easier than rummaging around with your keys to get them facing the right way up to pop in the lock. It's also great if you're heading out for a run or dog walk and you don't want to be carrying everything - you can just take your phone along and know you can still get back into the house. We also like to use the phone locking at night time, for example if we've gone up to bed and forgotten to lock the door we can do it from our phones, or easily check if we have locked the door or not.
It's also handy that you can still use your key, so even though it's a smart system it's not taking away the manual functionality. We don't have Alexa or any smart home systems like a Ring doorbell, but we do also have a keypad with our smart lock. You can share your house code with family, for example when my parents visited to look after the dogs we were able to give them the code rather than hiding a key and worrying about if they'd be able to find it or if it would get lost. We could also have had them call us and unlocked the door for them wherever we were.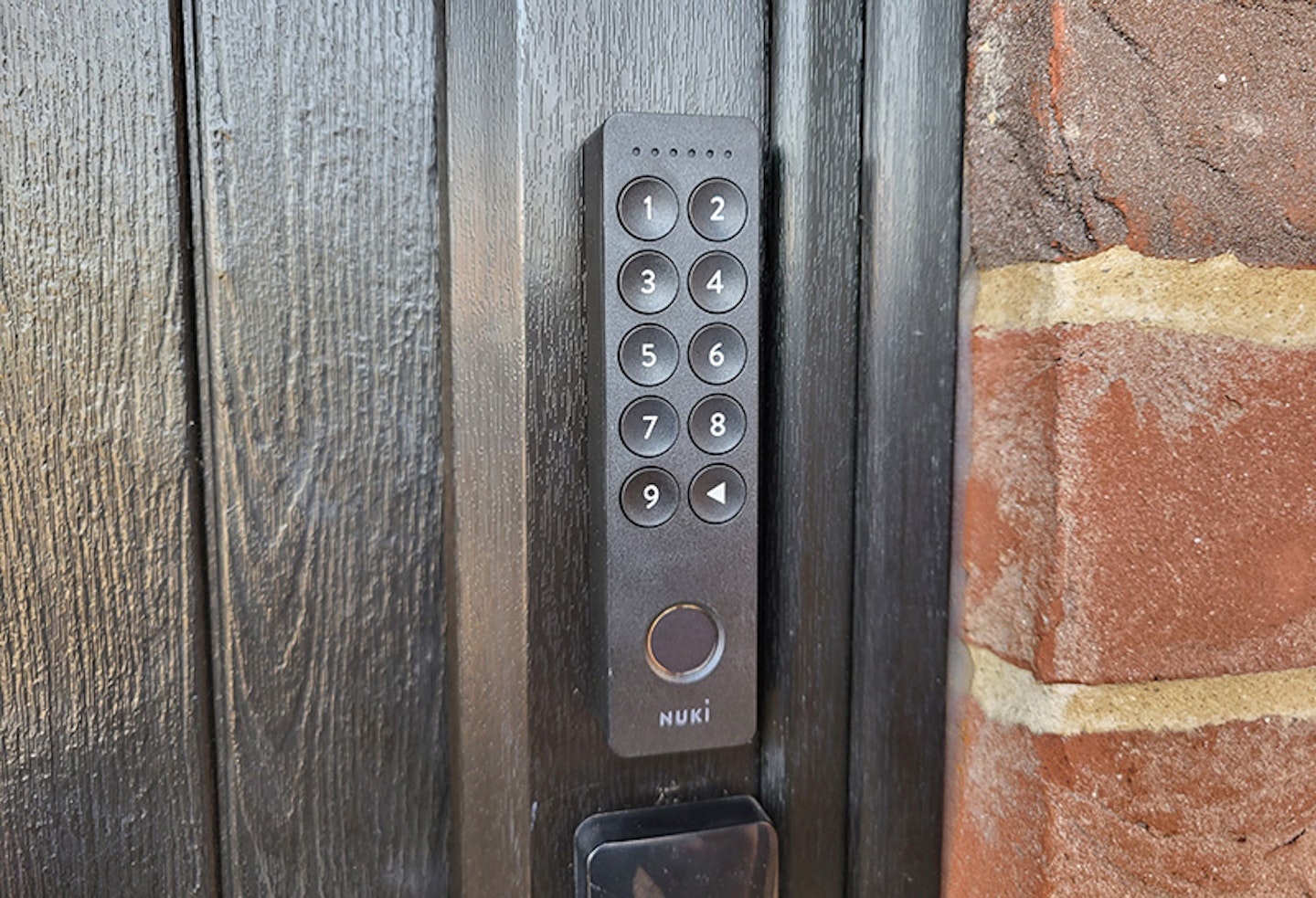 You can even set up key codes that will only work at certain times if you have regular visitors or if you have guests staying for example, which gives an added level of security as you know they'll be able to get in, but no-one else will. The keypad feature is what we used at the Airbnb we stayed at, we were sent a digital access code which worked for the duration of our stay - when new guests arrived they'd be sent a new code, so it's completely secure and seamless.The activity log on the app is handy if you do have lots of people coming and going as it shows exactly when the door was opened etc.
The battery pack is rechargeable, and if you have a plug nearby your door you can leave it plugged in. We don't so have to take ours off for charging, but it's really easy to take the battery back out and pop it back in again. Charging from completely empty to full takes 10 hours so it's easy to do overnight. You have to charge it fully before you install, and one charge will give up to 6 months battery life. The app tells you when the battery is running low, and you can still lock it manually with your key if you do get caught out by the battery needing some more juice.
Final thoughts
I don't know if it's because we still use our key sometimes or if our door is on the heavy side, but we do have to calibrate the lock every now and again or else it seems to get stuck when using the keypad or phone, but this is simple to do on the app. If it does get stuck it works on the second go, but it's just a bit annoying to have to put the code in again. It has definitely made me feel more secure as it's often just me at home with the dogs, I now have a lock I can control with the touch of a button! Even know I'm still learning about new features, such as night mode, it really is such a clever system.
FAQs
How secure is the smart lock?
Ultion Nuki features the 3 star plus Ultion cylinder, and carries a £2000 security guarantee. There is no security standard that this locking mechanism has not passed. All communication with Ultion Nuki lock is protected with state-of-the-art end-to-end encryption commonly used in online banking. It is also regularly inspected and certified by independent security institutes. The Nuki Smart Lock achieves the highest AV-TEST available (level 3).
I need to lift the door handle to lock my door, will an Ultion Nuki smart lock still work?
Ultion Nuki was designed with this type of door in mind. All Ultion Nuki unlocking features work with your door. When you pass through the door lift the handle as normal and all locking features are available.
What happens if there's a power cut, or my wifi cuts out?
You're never locked out (or in) with Ultion Nuki. Being Bluetooth and battery powered you can still control the door whilst at home using your phone, wireless keypad, wireless fob or even your key. Only remote connections that rely on the internet and power will be affected.
How does auto-lock work?
The auto-lock function is set on a timer from the app. The timer starts whenever the door is unlocked, and it will automatically lock itself again once the timer expires.
The Ultion Nuki also features a Night Mode. Just set the time it should start at night and the time it should end in the morning. It will automatically lock at the start of Night Mode and enable energy saving mode until the morning.
Auto lock can also be set to only work during Night Mode if you need to keep the door unlocked during the day, if you're a business owner for example. You can even set schedules to lock and unlock at certain times.
Is Ultion Nuki compatible with my smart home?
The Ultion Nuki can be integrated with Apple Homekit, Google Home, and Amazon Alexa. This enables you to lock and unlock via voice commands, add the lock to routines, and operate the lock from their respective apps.
The lock can also be connected to many other Smart home systems, such as IFTTT, Ring app, and Homey
Custom smart home systems are also accommodated with an an open API enabling integration of into lots of different use cases.
Plus, you're still protected if you combine Alexa/ Google Home with Ultion Nuki. During the Alexa/ Google Home setup you will be prompted to set up a passcode. Alexa then asks for the passcode whenever an unlock request is made. The code is not required when you lock the door.
Stephanie Anthony is the Deputy Digital Editor of Yours.co.uk. Having worked across a variety of topics, from travel and food to pharmaceuticals, she also has a particular interest in mental health and wellness. She has a house full of pets with two dogs and two cats.