It's easy for our shower heads to get a little build up of limescale and dirt from time to time, especially if you live in a hard water area, which is why it's so important to know how to clean a shower head properly to keep your walk-in shower sparkling.
Having a dirty shower head that's got limescale build up can also cause a weak flow of water and in some cases cause water to shoot off in different directions. If you've noticed this happening during your morning shower, then it's time to give your shower head a good clean with our top cleaning tips.
The good news is that when it comes to how to clean a shower head properly, there's often no need for strong chemical cleaning solutions. Many natural and DIY eco-friendly cleaning solutions should easily do the job and help you keep on top of any build up.
How to clean hand held shower heads
Begin by removing the shower head from its holder and unscrewing the shower head. This should come off fairly easy.
You'll then need to submerge the shower head in white vinegar. This is the most affordable, natural and effective natural cleaning solution you can buy and works a treat on shower heads. Simply pop some in a bowl (enough to cover your shower head when submerged) and leave it to work its magic.
After 30 minutes to one hour (we'd recommend an hour for the best results) rinse it thoroughly in cold water. Note that brass shower heads should not be submerged for more than 30 mins.
Wipe away any remaining limescale with an old toothbrush and cloth before giving them another rinse with water and wiping with a soft cloth.
Turn on the shower to flush out any remaining limescale and run for a minimum of 30 seconds before showering.
How to clean wall or ceiling mounted shower heads
While many wall mounted shower heads are difficult to remove, some do have a quick release mechanism so we'd advise looking up your shower to see if it has this function. If it does remove, you can follow the above steps of submerging the head in white vinegar.
If it doesn't have this function, don't worry. Simply grab your white vinegar and a plastic bag (that won't easily rip) that can fit around your shower head. Fill the bag with white vinegar so that it submerges your shower head when secure.
To securely attach your plastic bag to your shower head, use a few elastic bands or tape (duct tape works well) just make sure you don't use anything that will leave a mark.
Leave to soak for at least 15 to 30 minutes before carefully removing the bag.
Use an old toothbrush to scrub away the remaining limescale, give it a wipe and run the shower for at least 30 seconds before having a shower.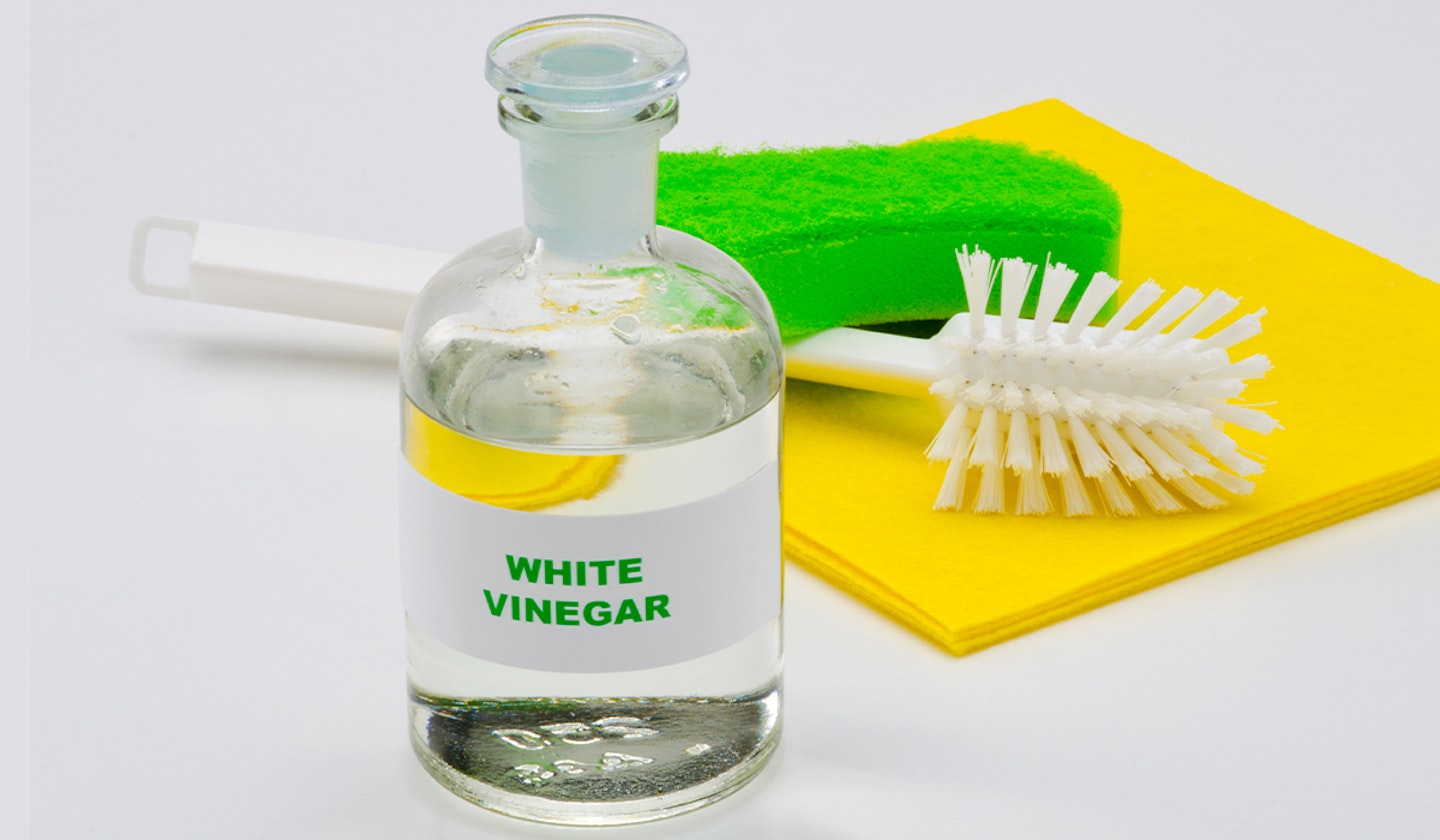 How to prevent limescale buildup
If you're struggling to keep up with the cleaning of limescale, then it's understandable why you might want to consider some preventative measures. While there's not much you can do to prevent build up on the shower head other than regularly cleaning, some who live in areas of hard water can find that salt softeners help limescale build up on shower screens, tiles and taps.
These can also help combat dull hair, dry skin and dry hair as well as reduce the amount of limescale build up in your shower.
How often should you descale a shower head?
We'd recommend cleaning your shower head around once per month to keep on top of limescale build up on the shower head. If left much longer, it could cause water blockages and low water pressure. If you do live in a hard water area, you may find you need to clean more often.
How to clean a shower head with baking soda
White vinegar isn't the only natural cleaning solution that'll work on your shower head. Baking soda has many uses and also works a treat if you haven't got any white vinegar and you don't need a plastic bag for the baking soda method.
Mix baking soda with water to make a paste before popping on some washing up gloves and spreading the paste across the shower head and allow to sit for 15 minutes. If you leave it on for too long, it can be tricky to remove so we'd advised not leaving any longer than this time.
Lorna White is a Senior Digital Writer at Yours.co.uk. She was previously a writer at Yours Magazine writing features and news stories before joining the digital team. Lorna loves the great British countryside and likes to spend her spare time out and about in her home of Nottinghamshire walking her dog, Pippin.