It's something many of us have only dreamed of - transforming an ordinary garden into our very own oasis with a stylish and inviting garden bar idea.
Imagine inviting friends and family over to unwind in your personal garden bar and sitting back and sipping your favourite beverage without even having to leave your premise. Heaven!
Even if it's simply making use of an unused garden shed to create a garden shed bar rather than a custom-built design, a garden bar will elevate your outdoor space, leave a lasting impression on your guests and provide countless moments of enjoyment and relaxation after a long, hard day. What more could you want?
The possibilities really are endless which is why whether you're dreaming of a tropical escape, rustic retreat, or a modern haven, we have a plethora of garden bar ideas to inspire you to finally make your dream a reality.
Garden pub ideas
Tropical oasis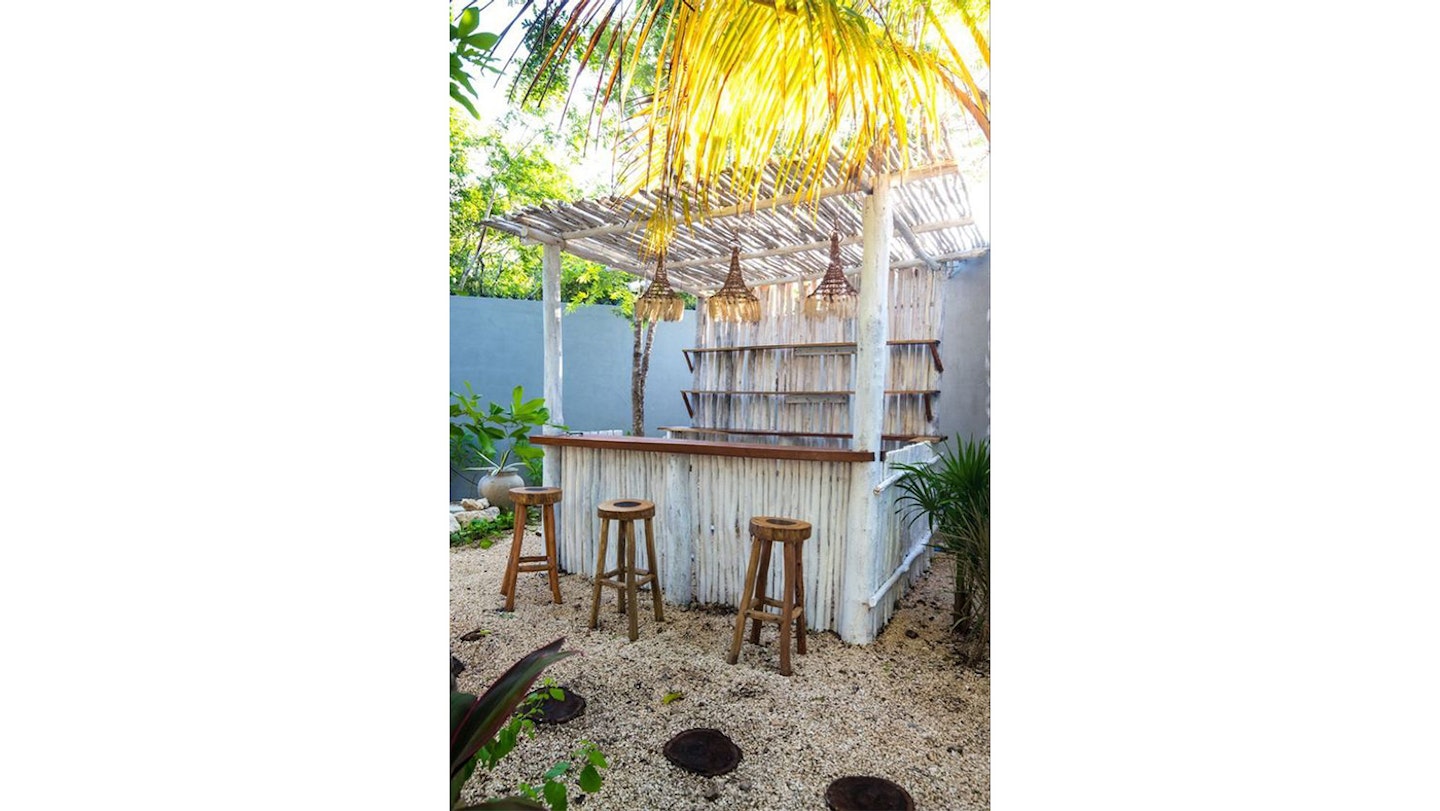 Transport yourself to a lush tropical paradise with a garden bar designed as a vibrant oasis. Construct a bar with a thatched roof to evoke a beachside hut and use bamboo accents throughout the space. Enhance the tropical vibe with vibrant colours like turquoise, lime green, and hot pink. Add potted palms and tropical plants and hang string lights or paper lanterns for a magical ambience.
Moroccan magic garden bar idea
Transport yourself to the captivating world of Morocco with a garden bar inspired by its rich culture. Use mosaic tiles in vibrant colours for the bar counter or tabletop. Incorporate ornate lanterns with intricate metalwork for lighting. Use rich and warm colours like deep red, orange, and gold for upholstery, cushions, and curtains. Add plush floor cushions with Moroccan patterns and textures for seating. Hang colourful tapestries or textiles for a luxurious touch.
Rustic retreat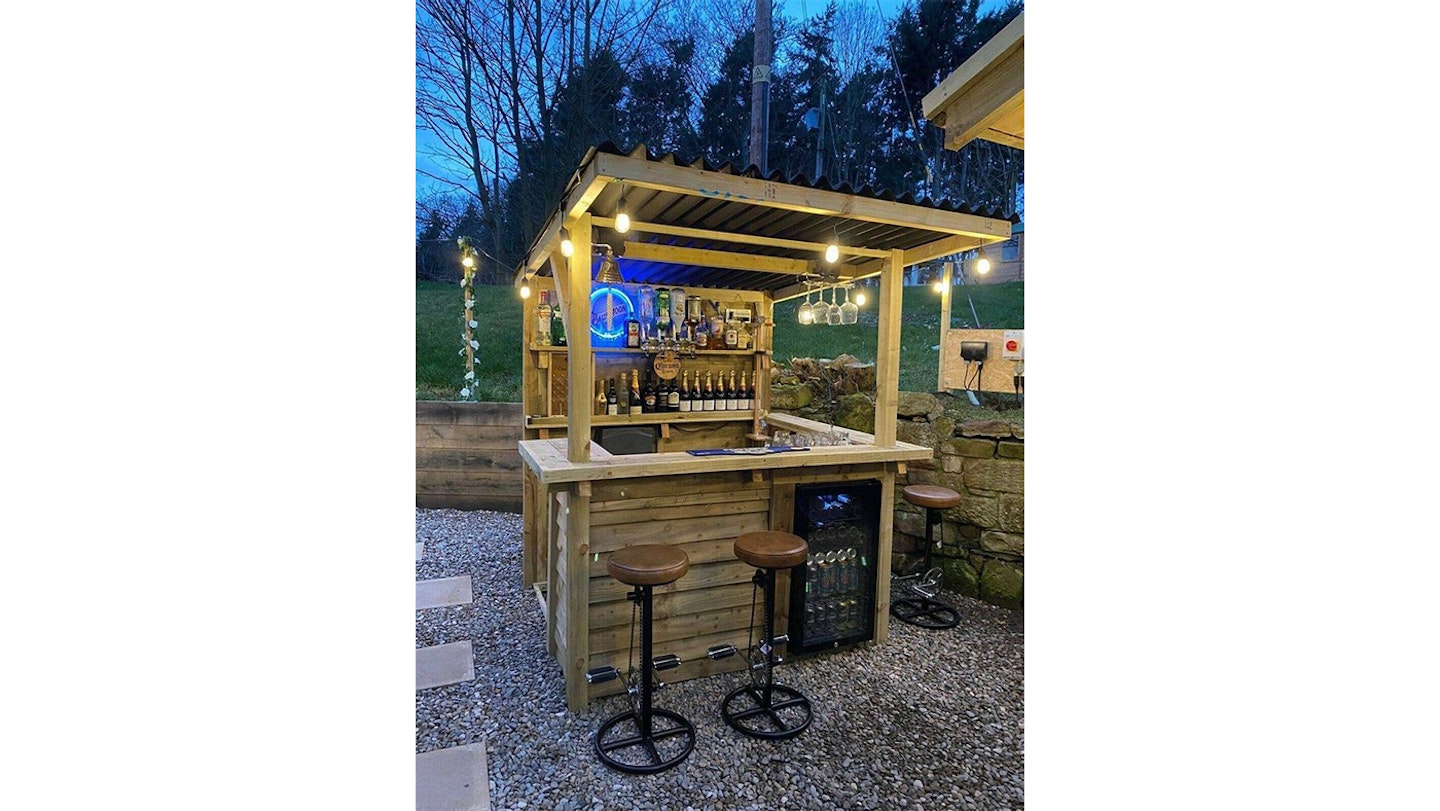 If you'd prefer a more rustic aesthetic, use reclaimed wood to construct the bar counter and shelves. Incorporate vintage touches such as whiskey barrels repurposed as tables and hanging lanterns with Edison bulbs for warm lighting. Choose earthy tones like browns, greens, and warm neutrals for the overall colour scheme. Add comfortable seating with cushions and blankets, and adorn the space with natural elements like potted herbs and wildflowers.
Mediterranean escape
Design a garden bar inspired by the charm of the Mediterranean. Use white-washed walls or stucco finishes to create a clean and bright backdrop. Opt for terracotta tiles on the floor and incorporate vibrant blue accents in the form of cushions, textiles, and accessories. If you're able, consider installing a pergola or canopy with draped fabrics for shade and an intimate atmosphere. Complete the look with potted herbs such as basil, rosemary, and lavender to infuse the air with delightful aromas.
Zen garden bar idea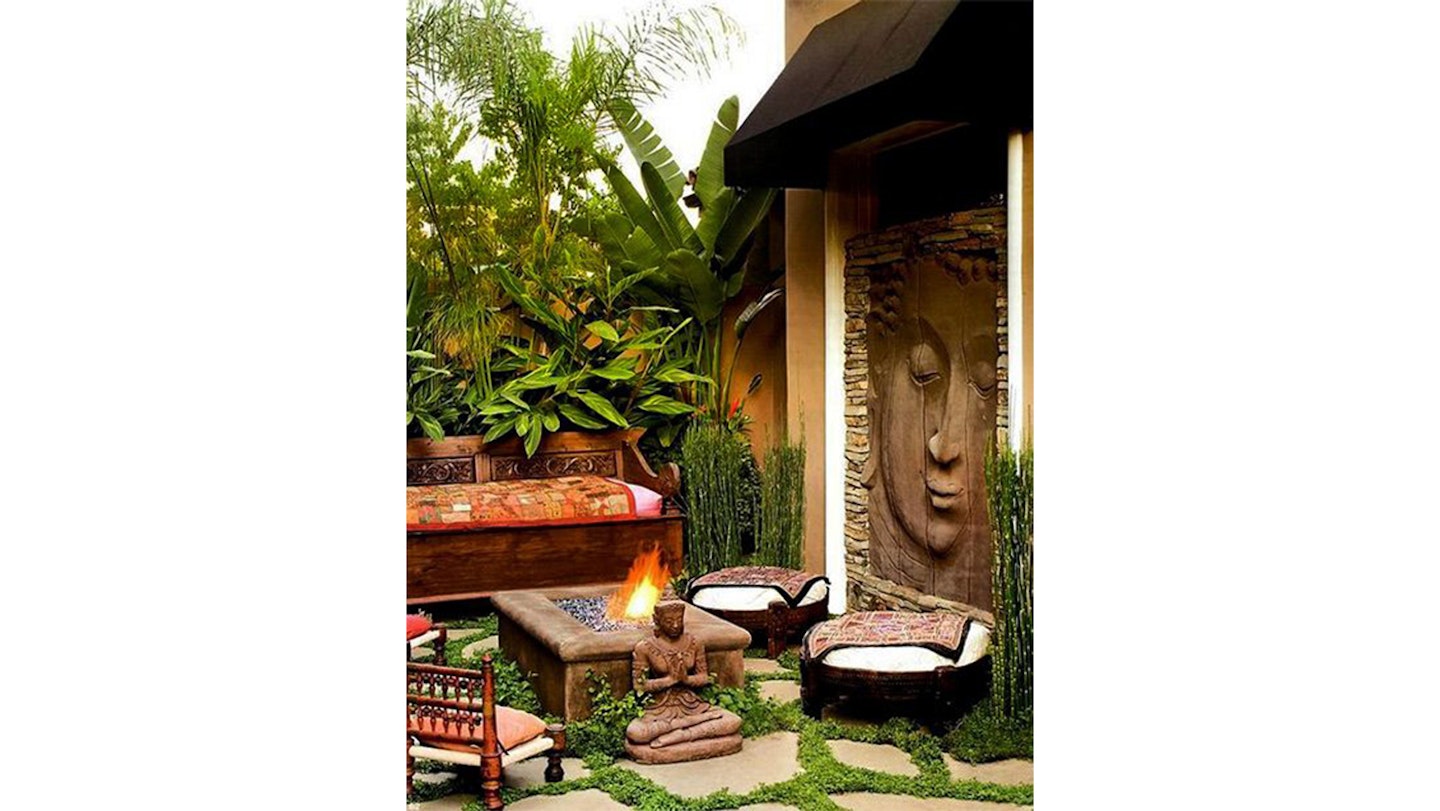 For a tranquil and serene garden bar, why not take some inspiration from Japanese Zen gardens? You'll want to keep the design simple and minimalist for this one. Use bamboo screens for privacy and separation and incorporate stone pathways with small pebbles and sand for a meditative effect. Choose low seating options like floor cushions or bamboo stools and include a small water feature, such as a bamboo fountain or a miniature Zen garden. Add bonsai trees or bamboo plants to enhance the Zen atmosphere.
Industrial chic
For an urban and contemporary garden bar to enjoy your homemade gin, embrace industrial-chic aesthetics. Use metal and concrete materials when constructing the bar, with exposed brick walls for added character. Choose sleek and minimalist furniture with clean lines and incorporate industrial-style lighting fixtures. Go for a monochromatic colour palette with shades of grey, black, and metallic accents. You can even add some greenery with potted succulents or ornamental grasses.
Make use of wooden pallets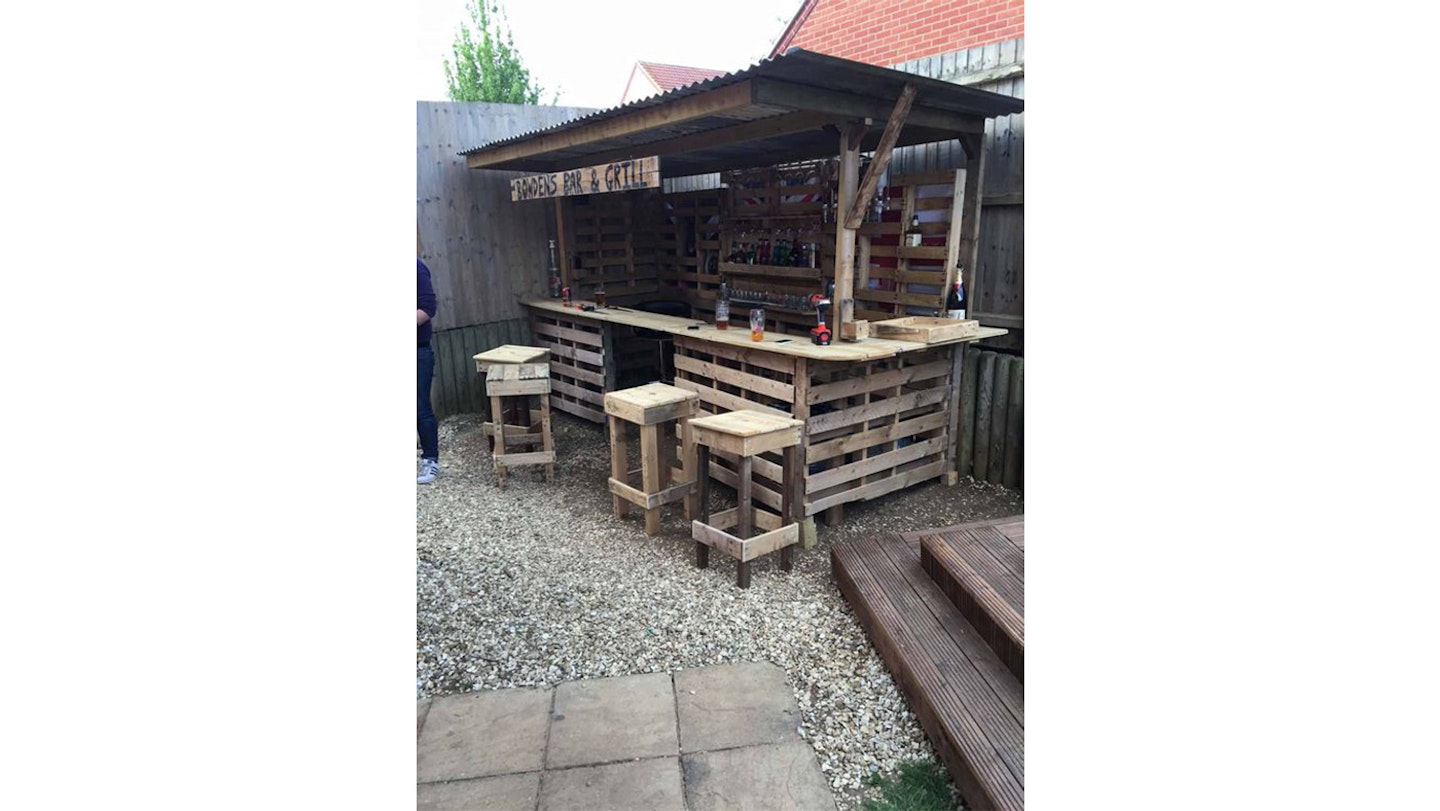 We all know that unused wooden pallets can be transformed into all manner of things (such as a DIY planter box) and one popular use of them is to create a cost-effective garden bar. We love this one from 1001pallets.
English garden bar idea
Create an enchanting garden bar with a traditional English garden theme. Incorporate wrought iron furniture with ornate designs and adorn the bar area with climbing roses and flowering vines if you've got green fingers. Choose floral patterns for cushions, tablecloths, or curtains and install soft outdoor lighting such as fairy lights or vintage-style lanterns to create a magical ambience.
Bohemian garden bar idea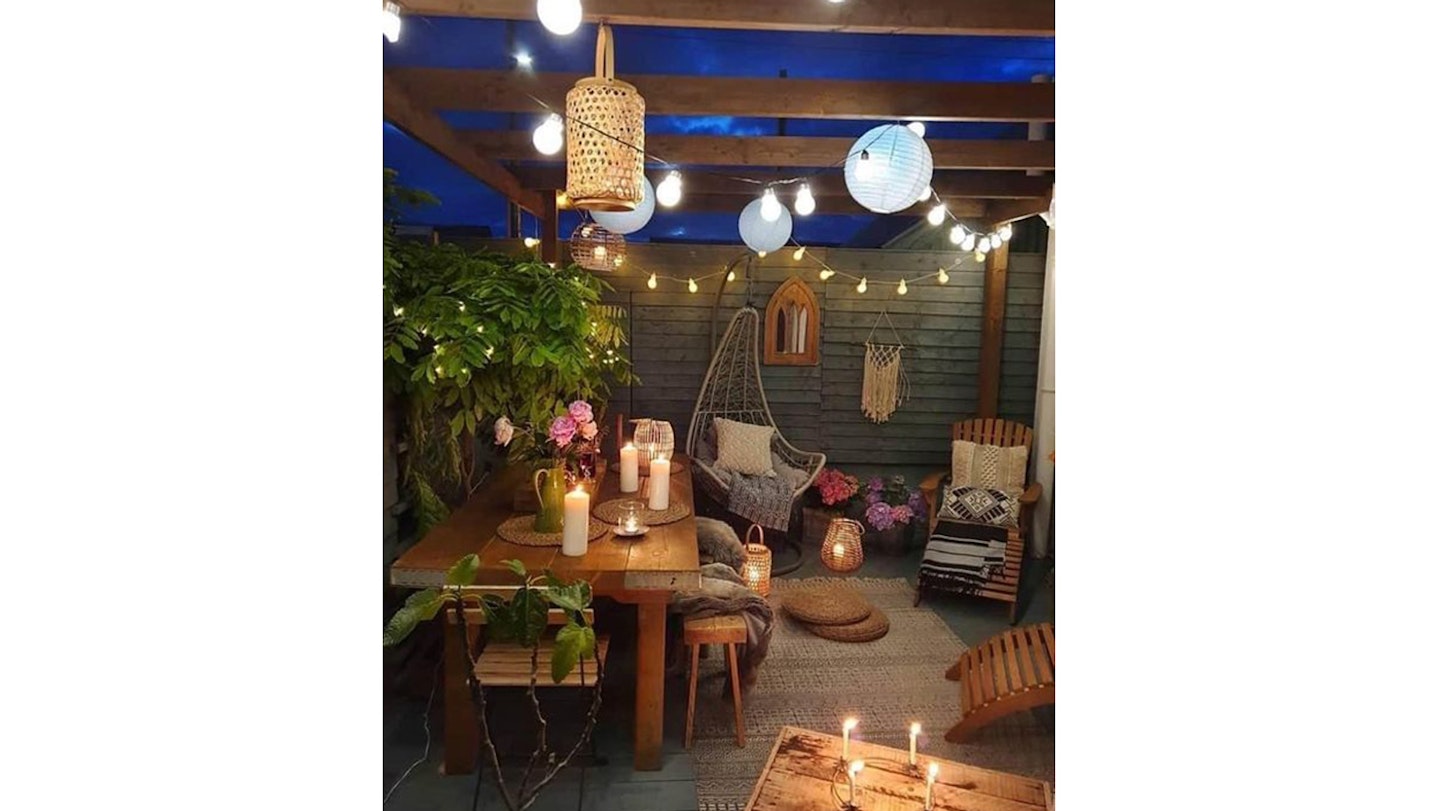 Embrace the free-spirited and eclectic nature of bohemian style in your garden bar by using colourful fabrics with intricate patterns for upholstery, cushions, and curtains. Set up low seating options like pouffes and floor cushions for a relaxed atmosphere. Hang tapestries, dream catchers, and string lights for a whimsical touch and incorporate natural elements like hanging plants, macramé plant hangers, and wicker furniture. Don't be afraid to mix and match textures and patterns for a visually captivating space. Don't forget to stock up on your favourite craft beer!
Modern minimalism
Design a sleek and minimalist garden bar with clean lines and a contemporary feel. Opt for a bar counter with a glossy or matte finish in a neutral colour such as white, black, or grey. Choose modern and minimalist bar stools or chairs with metal or acrylic frames. Keep the overall design simple and clutter-free, with minimal decoration. You can add pops of colour sparingly through accessories like cushions or artwork.
Create a fold-down garden bar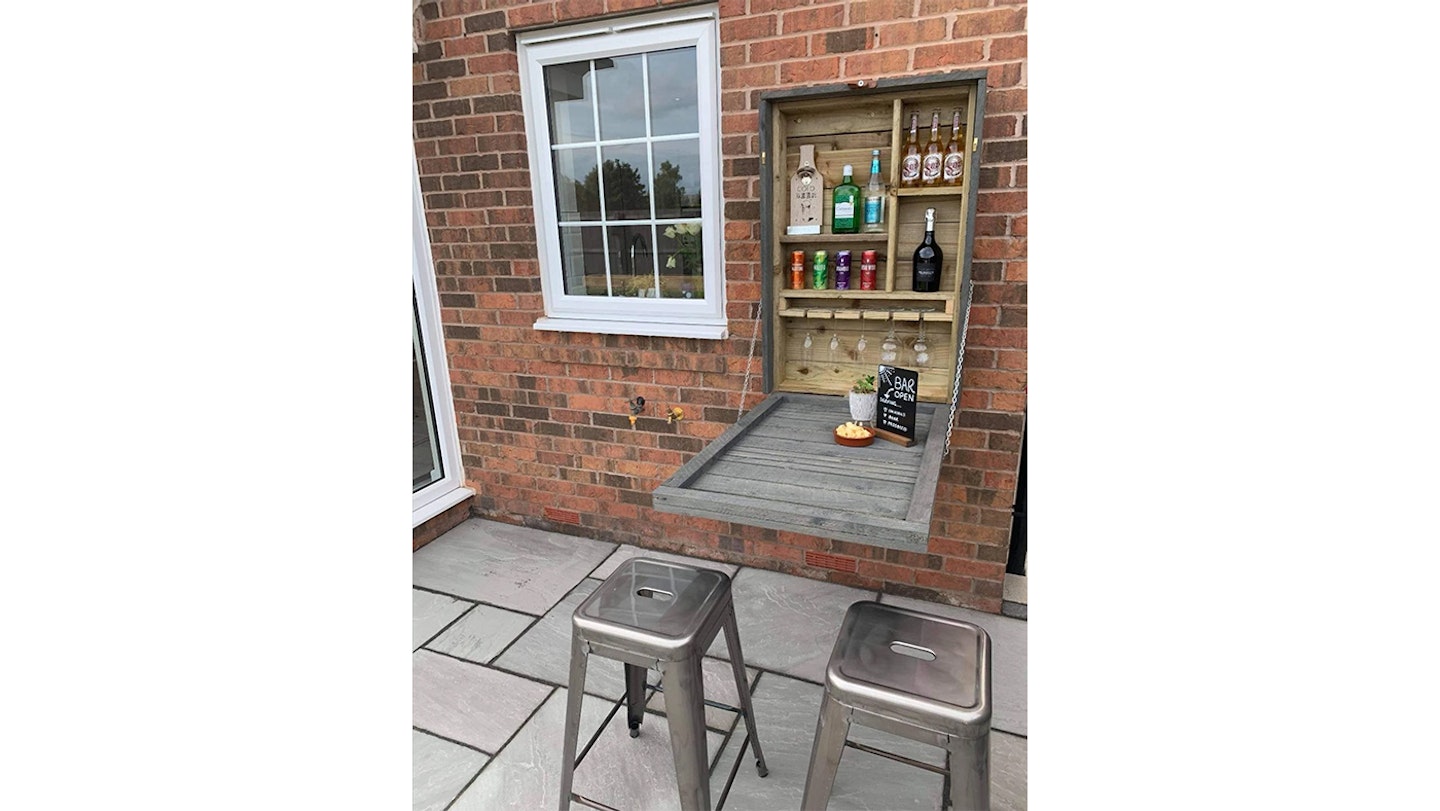 A wall-mounted fold-down garden bar is a fantastic space-saving solution as it can be easily folded up when not in use. With this garden bar idea, you can enjoy the convenience of a compact bar, allowing you to maximize your available space while still having a dedicated area for outdoor entertaining. You can make one yourself out of wooden board or buy one like the above from Etsy.
Coastal charm garden bar idea
Evoke the essence of the coast with a nautical-inspired design. Use weathered wood or white-washed finishes for the bar counter and furniture. Incorporate rope accents in the form of handles, curtain ties, or decorative elements and choose a colour palette of whites, blues, and sandy neutrals. Hang fishing nets or nautical flags as wall decor and enhance the coastal feel with seashells, driftwood, and potted coastal plants like succulents or grasses.
Garden bar FAQ
Can you have a bar in your garden?
Yes, you can. For the majority of garden bar ideas, you do not require planning permission but for some large-scale bars or ones that require multiple floors, will have a raised area such as a balcony or if your home is a listed property, then you are advised to contact your local authority for guidance on if permission is required.
What should I put in my garden bar?
Whatever you want! While we've provided lots of decor inspiration above, you may also want to add drinks on tap, garden bar signs, a dart board, personalised coasters and of course, plenty of glasses or melamine/plastic alternatives.
Features & Reviews Editor Emily Gilbert has been a journalist since 2016 and has worked across a variety of specialist and lifestyle brands both in print and online. Specialising in product reviews, Emily is the first to know about all the exciting new releases, her favourite being gadgets for the home.