Finding the best toaster for your kitchen doesn't have to be a tricky task. And yet, in the UK, it seems like we have too many choices. We're here to help lessen the load, so you'll be replacing your beloved toaster in no time. You'll be back to enjoying warm, freshly toasted bread in the mornings, no matter your spread of choice. Whether you're a one-slicer or like to push the boat out with two, we've got you covered.
In our round-up, we've handpicked a wide range of toasters for you to choose from. Only the best two and four-slice toasters have been picked, respectively, to cater to your needs as a household. Are you grazers – or are you toast fanatics? Plus, we've sprinkled in some of our favourite toastie makers for all of you grilled cheese lovers and matching kettle and toaster sets for those after a coordinated look in the kitchen.
Best toasters UK at a glance
• Our favourite: De'Longhi Luminosa Four-Slot Toaster
• Best four-slice toaster: Cookworks Pyramid 4 Slice Toaster - Almond
• Best kettle and toaster set: Russell Hobbs Inspire White Kettle and Toaster Set
• Best two-slice toaster: Tower Bottega 2 Slice Stainless Steel Toaster - White and Rose Gold
Before you get started, there are a few things to consider. Namely, the number of slots suitable for your household and the features worth having. Most toasters come equipped with reheat, defrost and cancel functions, but you may appreciate high-lift, so you're not dangerously fishing your freshly cooked toast out of the slots at breakfast, or bread-type settings if you're partial to other treats, such as a bagel or a slice of rye bread. You can find out more in our FAQs section further below.
Best toasters UK: tried and tested
Four-slice toasters
First, we have four-slice toasters, which are equipped to handle toast lovers and larger households.
Best for a sleek, polished finish
Description
Sleek never looked better. Russell Hobb's best-selling four-slicer comes in this moody Midnight
Pros
Efficient and stylish
Smart features
Variable browning function
Best two-slice toaster
Description
With a self-centring function for even toasting, this stylish white and rose gold two-slice
Pros
Tidy cord storage
Adjustable controls
Stylish and practical
Our favourite
Description
Convenient and intuitive, this Lumiosa electric toaster from De'Longhi is tasteful, and cooks
Pros
Rich matelassé finish
Integrated controls
Has a matching kettle
Cons
The extra lift could be higher
Best four-slice toaster
Description
Cook up your toasted favourites with this Cookworks four-slicer, which comes in several styles. We
Pros
Independent slot operation
High-lift function
Wide, adjustable slots
Cons
Can get really hot
Crumb tray can leak
Best for a pop of retro
Description
If you're looking for a pop of retro, we love this Dunelm four-slicer. Not only is it surprisingly
Pros
Stunning design
Has high-lift facility
Removable crumb tray
Best budget four-slice toaster
Description
Perfect for busy families, we like this Spectrum Brushed Stainless Steel Four-Slice Toaster. It
Pros
Good value four-slice toaster
Compact and stylish
Quick and user-friendly
Two-slice toasters
Ideal for a smaller household, we recommend a two-slice toaster. You won't be compromising on quality, either.
Best premium two-slice toaster
Description
We love this 'A Bit More' two-slice toaster from Sage. Coming in a sleek silver, this handy
Pros
Large slice capacity
Innovative auto functions
Easy clean and use
Cons
Fruit bread needs less toasting than the pre-set button
Best kettle and toaster set
Description
This Russell Hobbs set is designed with premium textured high gloss plastic and is currently
Pros
Variable temperature
Lift and look feature
Illuminated water window
Cons
 Some designs are out of stock
Best value toastie maker
Description
The Salter Deep-Fill Sandwich Toaster & Waffle Maker can help you to make delicious sandwiches,
Pros
Multi-purpose
Easy to use and clean
Good value
Cons
Cannot handle metal utensils
Toasts one panini at a time
Our verdict: Which is the best toaster?
For the two-slice option, we love the Tower Bottega Toaster in White and Rose Gold. It's easy on the eyes and has plenty of smart features to help your bread cook evenly, to perfection - or however you desire. Homes and Gardens Writer, Rosie Floyd, recommends this two-slicer - as it's super practical and clean-up is minimal.
If a four-slice toaster is on your radar, we recommend the Cookworks Pyramid Toaster in Almond. Parenting and Lifestyle Writer, Hannah James, vouches for this toaster. A mother of three, Hannah relies on this trusty four-slicer to help out with the morning school run - and all mouths are full and smiling. It's good value, too.
Looking for a sleek, stylish kitchen? Investing in matching appliances helps pull everything together. The Russell Hobbs Inspire Kettle and Toaster Set is smart, reasonably priced and decked out with some good features, such as the 'Lift and Look'. After all, there's nothing quite like a cuppa and a slice of toast.
Hankering after a decent grilled cheese is less than ideal when you don't have a sandwich toaster to hand. That's why we love the Salter Deep Fill 3-in-1 Snack Maker, as it can handle that, no problem - and more. Now, we have to be careful about where our pennies go. So, why not curb that coffee shop craving with the panini press function? Plus, it has waffle capabilities if you like something sweet.
FAQs
How do I find the best toaster?
Choosing a toaster might not seem that difficult, but there are a good few things you should be looking for when finding the best toaster to grace your kitchen sideboard. We've made sure to list these factors below for you to consider:
Slice number: After all, your chosen toaster will be determined by your household's toast intake. Two or four-slice toasters are the most common variations.
Crumb trays: Every good toaster has a removable crumb tray. Not only is this feature important for keeping your toaster clean but makes sure your kitchen is safe, too.
Watts: This will determine how quick and powerful your toaster is - the higher the wattage, the more powerful it is.
Design: This will mostly be down to personal taste, and you may want a design that works with the look of your kitchen. We recommend getting a super-smart, matching toaster and kettle set.
Size: Not only will you need to make sure it fits on your countertop, but you'll also want to watch out for the size of the bread slots. Wider slices of bread (like Warburtons) may not fit in all toasters, and you want it ready to go with any slice.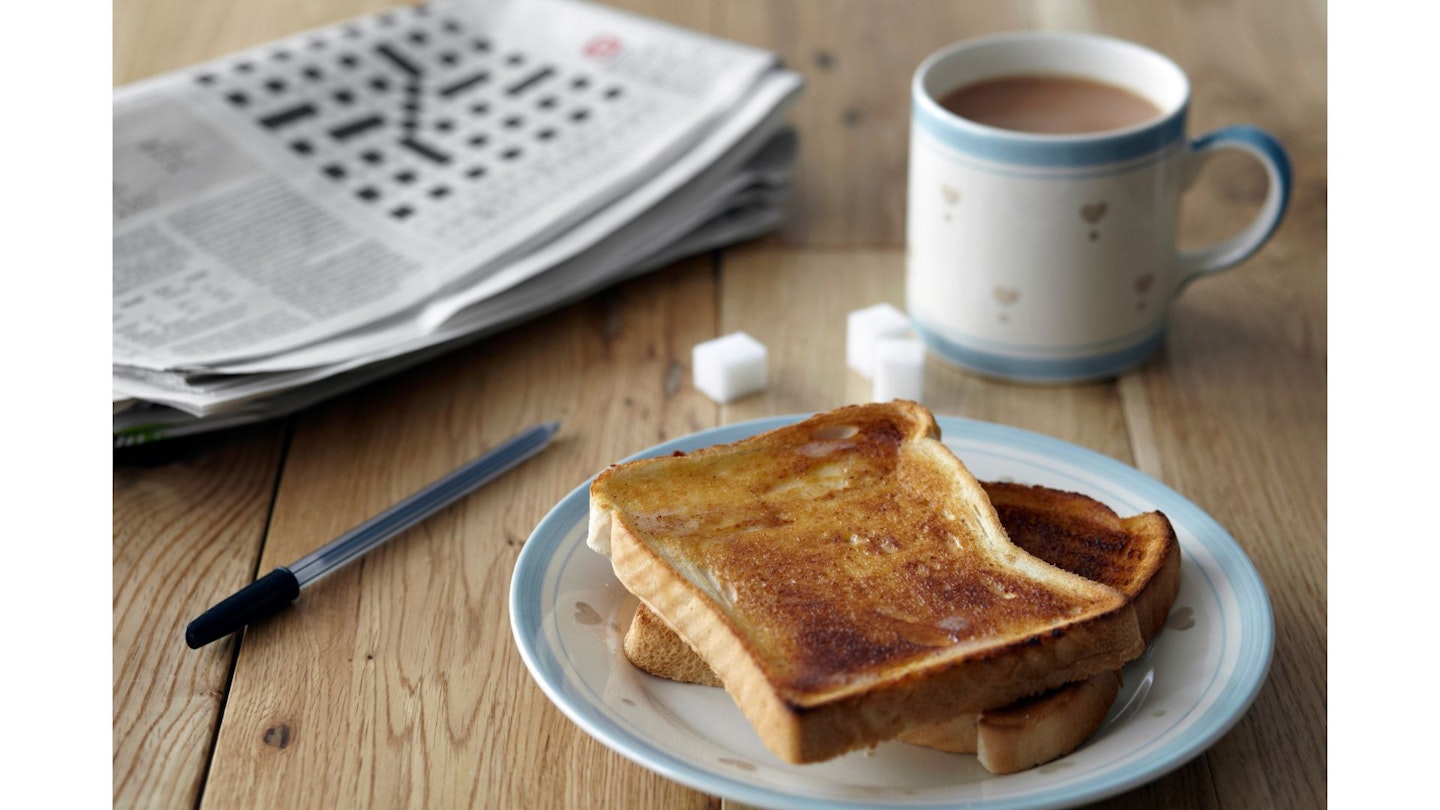 Settings: These include reheat, defrost and cancel. For example, a defrost button can come in handy if you pop a loaf in the freezer for bread emergencies – which are very common.
High lift: You don't want to be dangerously fishing your freshly cooked toast out of the slots at breakfast. Good toasters will have a high-lift function to make it easier.
Lift and look: This is a cheeky extra that some toasters may have. It means you can take a peek at how the toasting is going without having to cancel the whole process. That would be a right kerfuffle.
Bread-type settings: This unique function comes in handy if you're partial to other treats, such as a bagel or a slice of rye bread. Your toaster will adjust its heat and time accordingly – so everything is toasted to perfection.
Variable browning shades: This can be determined by a little dial on the front of the toaster, so you can select your preferences there. You can expect around six levels to choose from to find your shade.
Dual controls: A less common feature, but it's set to impress and saves energy, too. For a four-slice toaster, you can choose to toast only two slices at a time without using all two slots and, on certain toasters, can alter the level of browning for each.
Should I get a 2 or 4-slice toaster?
Ah, yes, the age-old question. Well, this is all down to how much toast you're wanting to make at once. If you're a larger household and typically get through lots of bread daily, a four-slicer is a no-brainer. If anything, it's recommended. However, a four-slice toaster does have some drawbacks. Not only do they take up more room, but they are generally more expensive.
On the other hand, two-slice toasters are best for households on the smaller side, who don't eat toast that often. All of this aside, it is ultimately your choice. You can get good deals on both – and you will get the same crunchy goodness, too.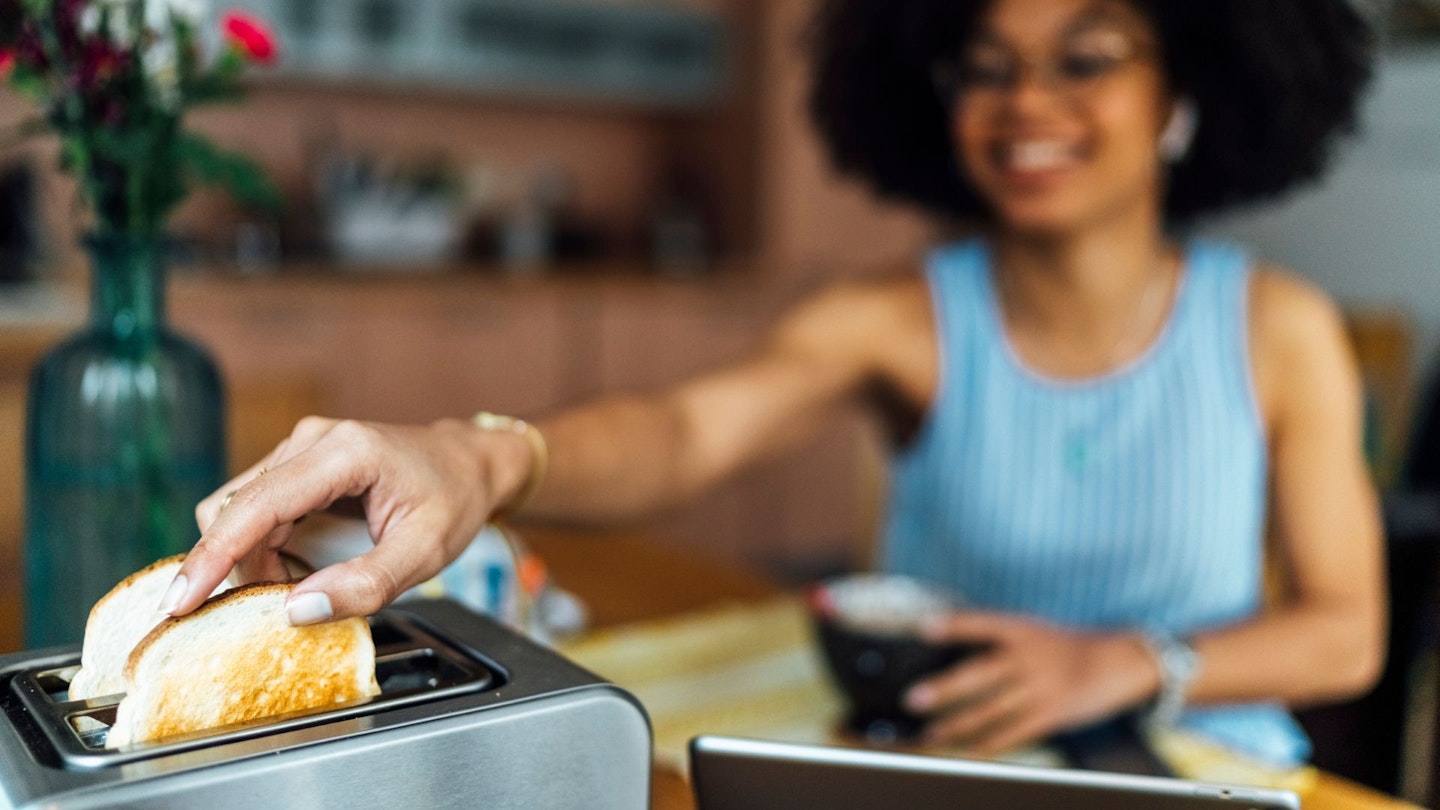 Are more expensive toasters better?
You can't go wrong with spending an extra £10 on a toaster, as the quality seems to improve as you spend more. But this is not always the case. Though swanky, expensive toasters impress with their innovative features and cool design, it's best to look at the specifications and customer reviews.
How we tested the best toasters UK
In this piece, we've included testimonials from our lovely team at Yours. For our tests, we conducted thorough research into features and specifications and looked at a product's reputation. Here are the criteria we explored to compile this round-up.
First, we tested the speed of our toasters. After all, when you're rushing around like a headless chicken in the morning, you're going to want a speedy appliance that you can rely on. Our picks across the board take between two to three minutes, which is around the average browning time.
Next, we had to consider how well the bread has been toasted, namely how even. Upon inspection, we found that the appliances managed to brown at least three-quarters of the slice, which – again – is average. Of course, you can ensure golden-brown goodness with the variable browning controls.
Ease of use is important to us at Yours. You don't want to be fussing around with a fiddly appliance. Luckily, our choices have clear instructions, functional buttons and dials, which are easy to understand. Everything is clearly labelled. Plus, clean-up is no bother with a crumb tray.
Lastly, if bread isn't the only carb you like to enjoy warmed-up, then this is for you. When testing, we varied our slice sizes to see if they can be cooked evenly. Plus, we've toasted the odd bagel and crumpet for the same reason. Our picks accommodate a variety of bread, no matter their shape.
Piper Huxley is a Homes, Garden and Wellness Product Writer for Yours, an all-rounder who will write on anything from décor to wellness. When not scouring the net for the best home bargains, Piper is listening to a musical soundtrack and tending to her houseplants.