If you're looking to make the most out of your garden, an outdoor kitchen is the perfect addition, particularly if you enjoy hosting, as you'll be able to prepare wonderful meals that will wow all of your guests. Plus, they can be used all year round!
A task like this may seem like a big challenge, but there are many simple and affordable ways you can create something to be proud of. From BBQs and pizza ovens to sinks, outdoor kitchen units and shed bar conversions, there are so many ways you can turn any-sized garden into an outdoor kitchen space that will not only look great but be fully functioning, too.
Editor's Choice:
•Best portable outdoor storage: Keter Unity XL Outdoor Table and Cabinet - Buy now from Amazon
•Best wood shed bar: Shiplap Pressure Treated Garden Bar - Buy now from Shedstore
•Best family BBQ: 6+1 Burner Gas BBQ - Buy now from VonHaus
•Best plancha: Argentine Iron Griddle - Buy now from Etsy
It doesn't need to be extravagant either; if you create a budget and a plan of pieces you like, you can easily make the outside cooking area of your dreams. Simply think about what styles, textures an materials you like and it will soon all piece together.
With a plethora of garden kitchen ideas to choose from, it can be overwhelming, so we've whittled it down to some of the very best for you to peruse.
The best outdoor kitchen ideas 2023
Outdoor cooking pieces
Best family BBQ
Description
Every outdoor kitchen needs a BBQ right? You won't be disappointed by the VonHaus burner as it has
Pros
Clear temperature display
Transportable via the wheels
Cons
Some say assembly can be time-consuming
Best multi-fuel pizza oven
Description
Available in bone and olive colour options, this gas and wood fired pizza oven is stylish as well
Pros
Low maintenance and easy to clean
Safe-touch outer jacket
Cons
Cooking floor could be slightly wider
Best plancha
Description
Unlike regular grills, iron planchas are much more durable and are therefore suitable for outdoor
Pros
Cover included
Durable and handmade with care
Best for outdoor heating
Description
Warm both your food and your garden space with this La Hacienda chimenea. Mad the traditional way
Pros
Affordable price
Easy to use
Cons
May have to top up regularly with wood
Best portable outdoor kitchen
Description
Not after anything permanent? Check out this Salamanca camping kitchen! It's easy to transport and
Pros
Sink included
Space to store gas bottle
Cons
Not designed to be a permanent fixture
Best wood shed bar
Description
Become the "hostess with the mostest" when you install this brilliant bar in your garden. Made
Pros
Thick frames
Never needs retreating
Cons
Shed installation is available, but costs more
7. Xander - XL FridgeBar
Best bar for sheds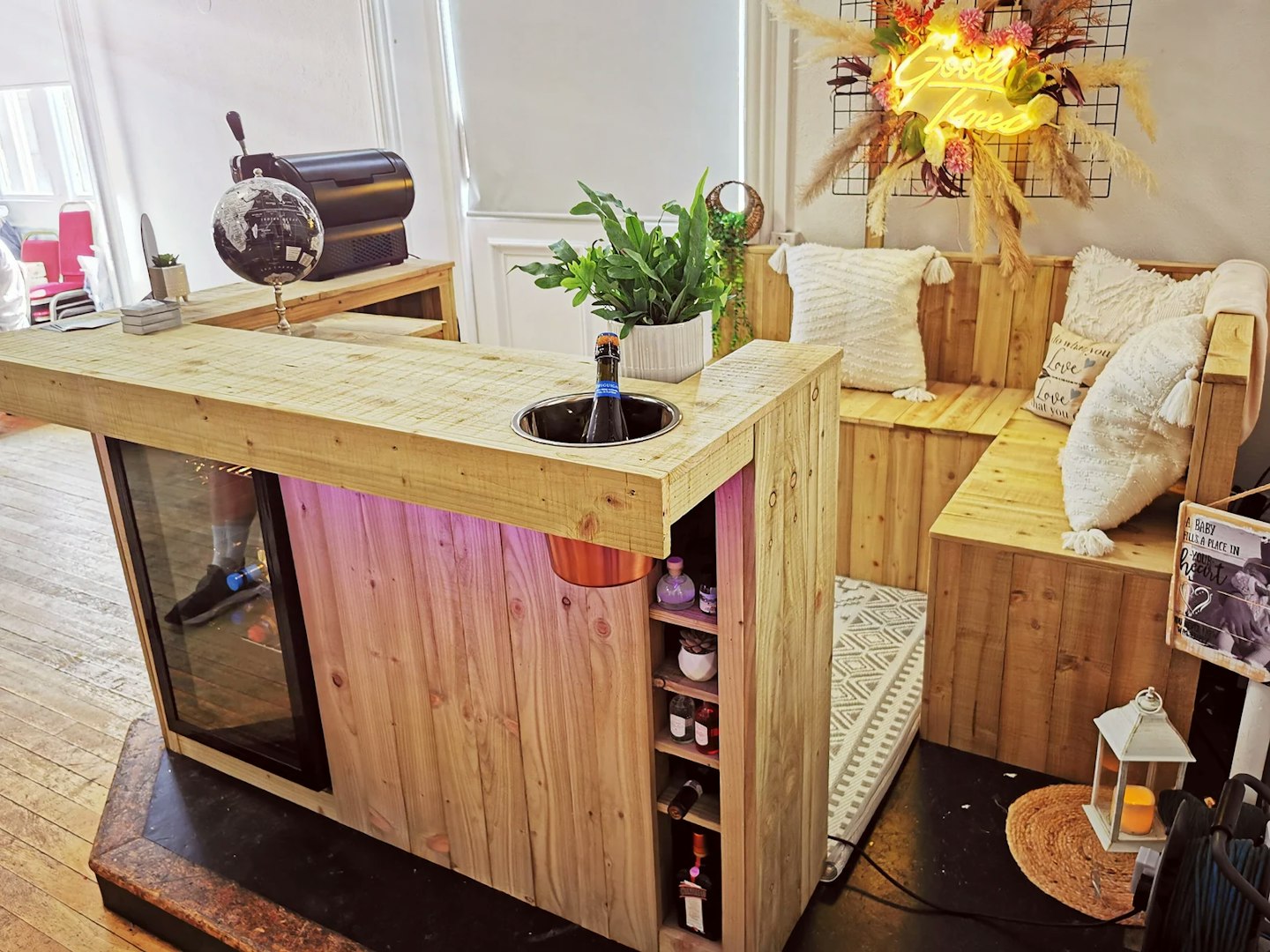 Description
If you don't have much space in your home to store alcohol and soft drinks, it's worth investing
Pros
Suitable for both indoor and outdoor use
Can be built either front or backwards facing 
Cons
Fridge not included (only an in-built space for it)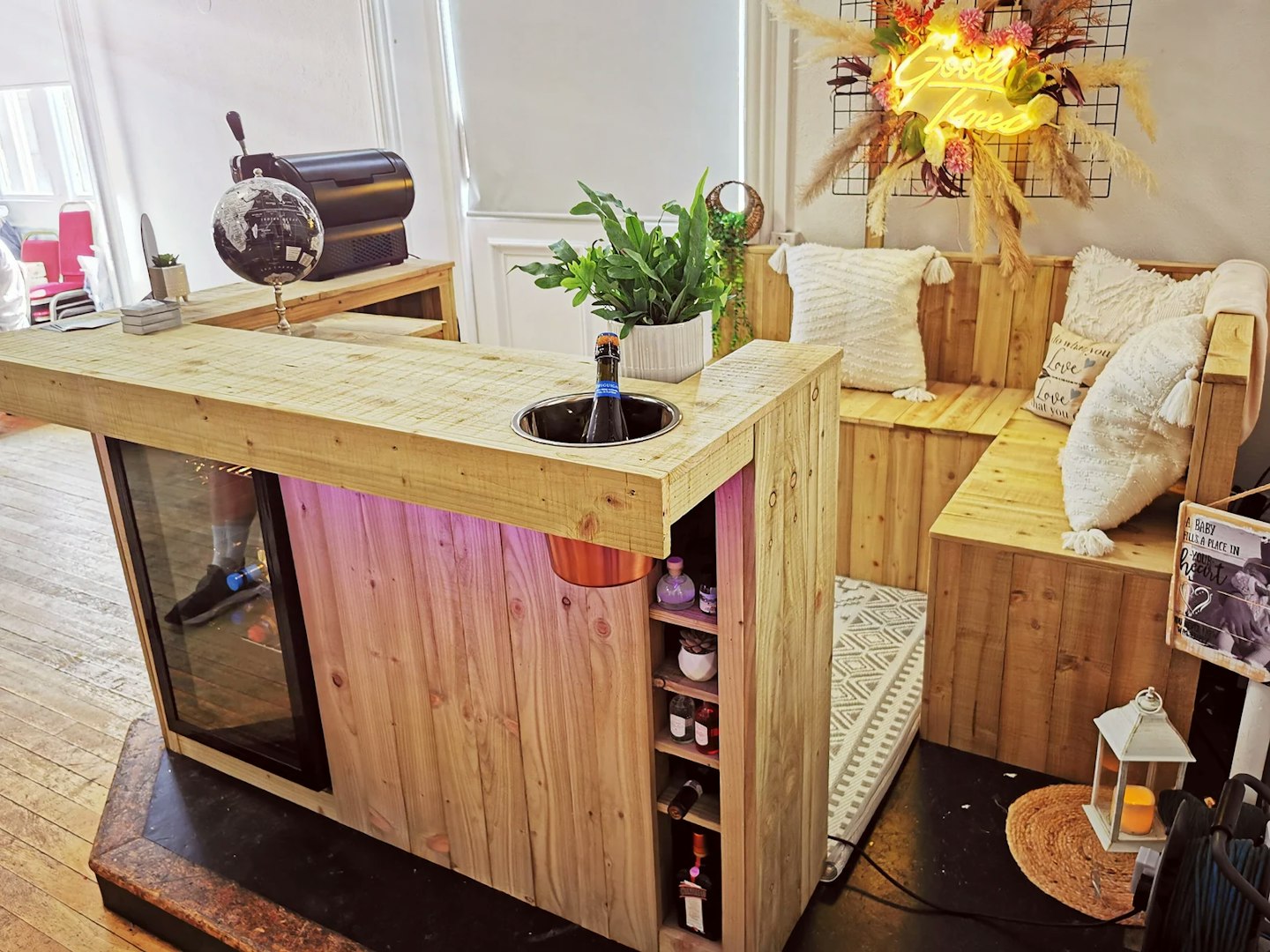 The best outdoor kitchen storage
Best portable outdoor storage
Description
With a stainless steel surface and lockable storage space, this cabinet will become your go-to
Pros
Adjustable legs
54 gallons of storage space
Best outdoor kitchen equipment
Description
Create the ultimate outdoor kitchen space with Draco Grills' fridge and sink combo. You'll be able
Pros
Rust-free surface
Easy to control through digital thermostat
Cons
Not the most stylish of drawers
Best outdoor kitchen accessories
Best garden lighting
Description
When the time comes to complete your outdoor kitchen area, you'll want to add some fairy lights to
Pros
Bright colours
Durable design
Cons
Have to buy the CoreConnect plug separately
Best for garden signs
Description
A fun gift for those who love BBQing. It can be hung outside and it has pre-drilled holes which
Cons
No varying diameter/size options
How much does an outdoor kitchen cost?
This depends on what items you're purchasing and how much you're willing to spend. To make sure you don't go over your budget, it's important to plan. To save money, try incorporating pieces you already have into the kitchen, or have a go at some DIY and do up some old pieces or recreate some new ones from scratch.
Things to consider when making an outdoor kitchen
Plan - This is the most important aspect to consider when creating an outdoor kitchen. Conduct plenty of research into what products you could buy and take a peek at social media garden makeover accounts and other apps such a Pinterest too see what other people have done. You can make your plan as basic or specific as you'd like, with measurements, drawings and lists.
Budget - Once you have a rough idea of what items you'd like in your new outdoor kitchen, you need to work out how much money you're willing to spend on certain products. Bigger items such as outdoor ovens and patio heaters may cost a lot, but if you buy the right one and look after it well, it should last for a long time.
Size - Don't forget to take measurements of your garden before you go ahead and purchase products! Remember, online (and in this article) there are plenty of large and small outdoor kitchen ideas top suit every-shape and size garden.
Storage - So you don't have to keep traipsing in and out of the house, you may want to invest in some decent garden storage to keep all of your cutlery and utensils safe. It may also be worth investing in an outdoor fridge or freezer to store extra food and drink, or some spice racks too.
Usage - If you're having second thoughts about whether or not you should purchase something like an outdoor oven for example, think about how much you're likely to use it. If you'll fire it regularly, you're bound to get you money's worth.
Material - The type of material you choose will affect it's durability. Depending on what you're buying, there are different options to choose from including stainless steel and wooden options.
Style - To make your outdoor kitchen look super smart, don't forget to match it to your garden furniture, or purchase a new seating area so that you and your guests can sit down and enjoy your meal.
Installation - Some big-dollar pieces may need to be put together or wired into the electric and gas. If you don't think you're up to this, many products come with the option for installation, although this may cost extra. You could also employ someone in the trade to do it for you.
What material should I use for my outdoor kitchen surface?
Outdoor grills should be made out of something durable like stainless steel as it heats up quickly but takes longer to rust or stain. Don't use metal for the non-cooking surfaces as they may become extremely hot or reflect the light which can be dangerous.
Instead, opt for something like cement or a natural material like hardy stone, as it's resilient and shouldn't show up many knife marks or scratches.
Arabella Horspool is a Commercial Content Writer for Mother&Baby at Bauer Media. She's a bookworm who enjoys cooking and spending time with her many pets.