Whether you're a seasoned gardener or just starting to consider some garden ideas for your green paradise, efficient garden storage ideas are the key to transforming chaos into harmony.
If you're looking for ways to keep things organised, we've rounded up 25 useful garden storage ideas, each one designed to enhance the functionality of your outdoor oasis. From cleverly repurposed items to purpose-built structures, these solutions will suit gardens of all sizes and styles, from sprawling landscapes to cosy balconies.
Garden storage ideas
Outdoor storage bench
An outdoor storage bench serves the dual purpose of providing seating and concealed storage. The bench is typically made of weather-resistant materials like resin, wood, or metal. Lift the seat to reveal a spacious compartment to store gardening tools, cushions, gardening gloves and other essentials. It's a practical and space-saving addition to your garden or patio.
Garden tool shed
While it may be the most obvious garden storage idea, you can't go wrong with a garden shed! A garden tool shed is a standalone structure designed specifically for storing gardening equipment and supplies. It comes in various sizes and styles, with options for windows and ventilation. There are loads of DIY shed storage ideas which provide ample space to store larger tools like lawnmowers, rakes, shovels, and wheelbarrows, keeping them organised and protected from the elements.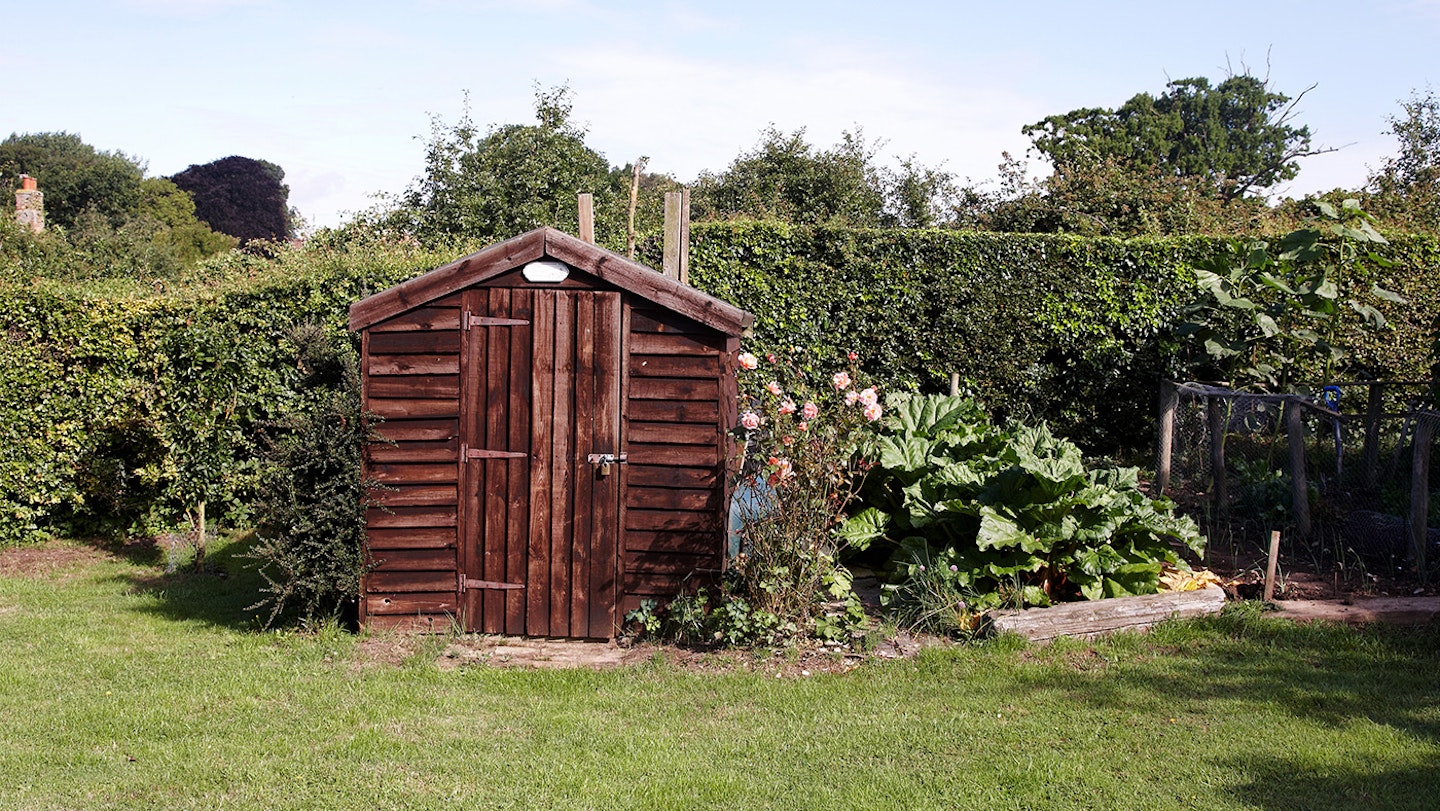 Garden storage cabinet
Garden storage cabinets are compact and versatile, providing enclosed storage for smaller gardening tools, seeds, and supplies. Choose a cabinet with adjustable shelves or drawers to accommodate items of different sizes. They come in materials like plastic, metal, or wood, designed to withstand outdoor conditions.
Pallet garden organiser
Repurposed pallets can be transformed into a vertical storage unit, perfect for tight spaces. Securely attach the pallets to a wall or fence and use the gaps between the slats to store small pots, tools, and gardening accessories. It's a cost-effective and creative way to maximize storage while adding a rustic touch to your garden.
Rolling garden cart
A rolling garden cart, also known as a garden trolley or wagon, is equipped with wheels and handles for easy mobility. It typically features shelves, drawers, or compartments to store tools, bags of soil, seeds, and other supplies. The cart allows you to transport items conveniently around your garden while minimising strain on your back.
Storage box
Garden storage boxes like this one are durable and weather-resistant containers with a hinged lid, providing a stylish way to store outdoor accessories. Use them to store cushions, blankets, gardening boots, and small tools. Some boxes also have built-in wheels for easy moving.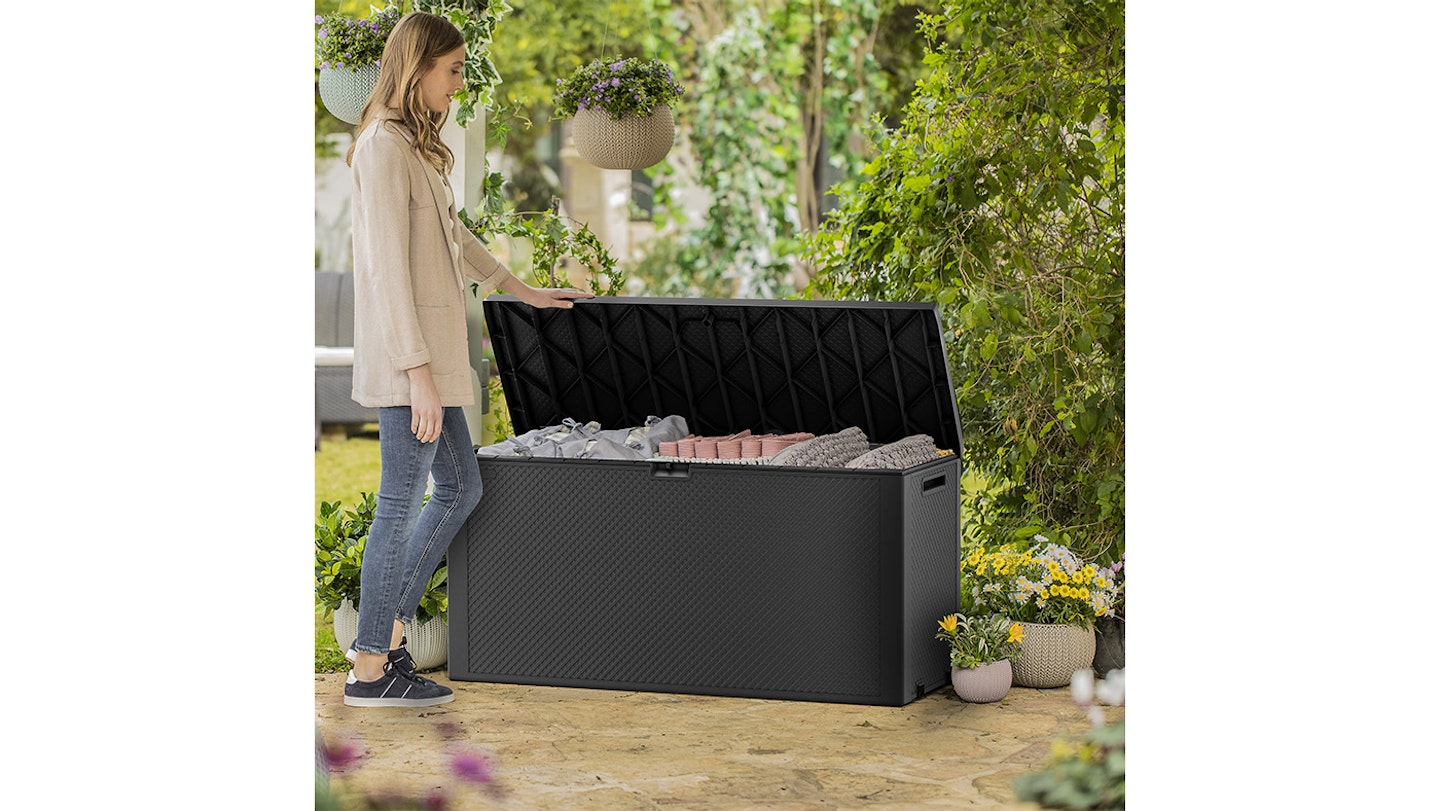 Wall-mounted hose reel
A wall-mounted hose reel keeps your garden hose neatly coiled and prevents tripping hazards. The reel can be installed on an exterior wall or a garden shed. Opt for a reel with an automatic winding mechanism for effortless hose storage and retrieval.
Compost bin
Composting is an eco-friendly way to recycle kitchen scraps and garden waste. Garden or kitchen compost bins come in various sizes and materials, including plastic, wood, and metal. They provide a designated area to decompose organic matter into nutrient-rich compost, which can be used to nourish your garden plants.
Potting bench with shelves
A potting bench is a practical workstation for gardeners to repot plants and perform other gardening tasks. Look for one with built-in shelves underneath the work surface to store pots, soil, hand tools, and seed packets, keeping everything within easy reach.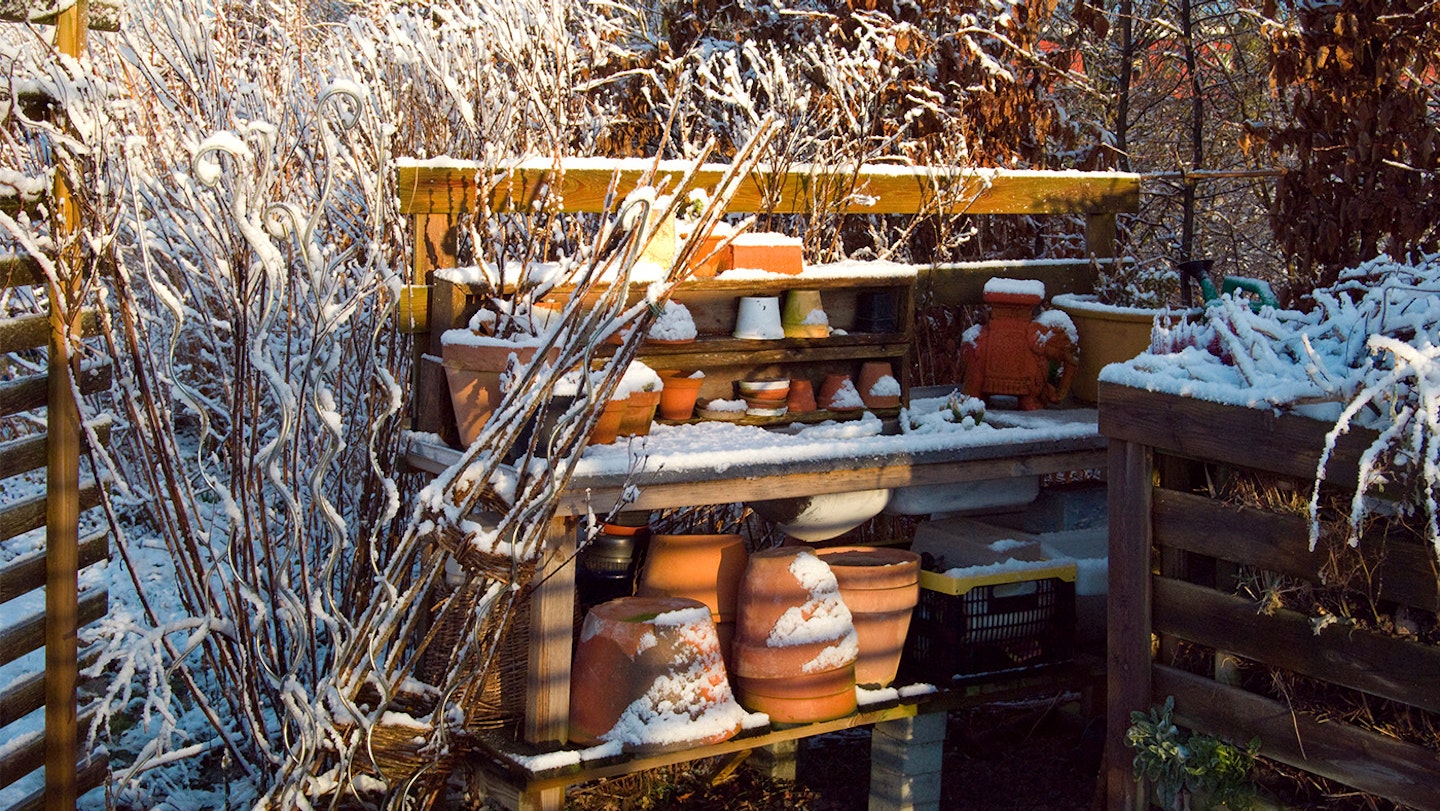 Stackable storage bins
Stackable storage bins are versatile containers that allow you to create a customisable storage system. They come in different sizes and are made of durable materials suitable for outdoor use. Use them to organise smaller gardening items such as bulbs, plant markers, and fertilisers.
Wheelbarrow storage rack
A wheelbarrow storage rack is a wall-mounted solution that keeps your wheelbarrow off the ground and saves floor space. It typically features sturdy hooks or brackets to securely hold the wheelbarrow in place when not in use.
Wooden crate shelving
Repurpose wooden crates by stacking and securing them together to create practical shelving. The open design allows air circulation, making it suitable for storing pots, gloves, and smaller gardening equipment. You can also paint or stain the crates to match your garden's aesthetics.
Overhead storage rack
If you have limited floor space in your shed or garage, consider installing an overhead storage rack. This garden storage idea perfect for storing less frequently used items like seasonal decorations, large pots, or garden furniture during the off-season.
Wall-mounted planters
Utilise vertical space by installing wall-mounted planters with pockets or compartments. These planters can hold small gardening tools, gloves, and seeds while also adding a splash of greenery to your garden walls.
Garden storage hooks
Install sturdy hooks on the side of a shed or fence to hang larger tools like rakes, shovels, and brooms. This arrangement keeps long-handled tools organised and easily accessible.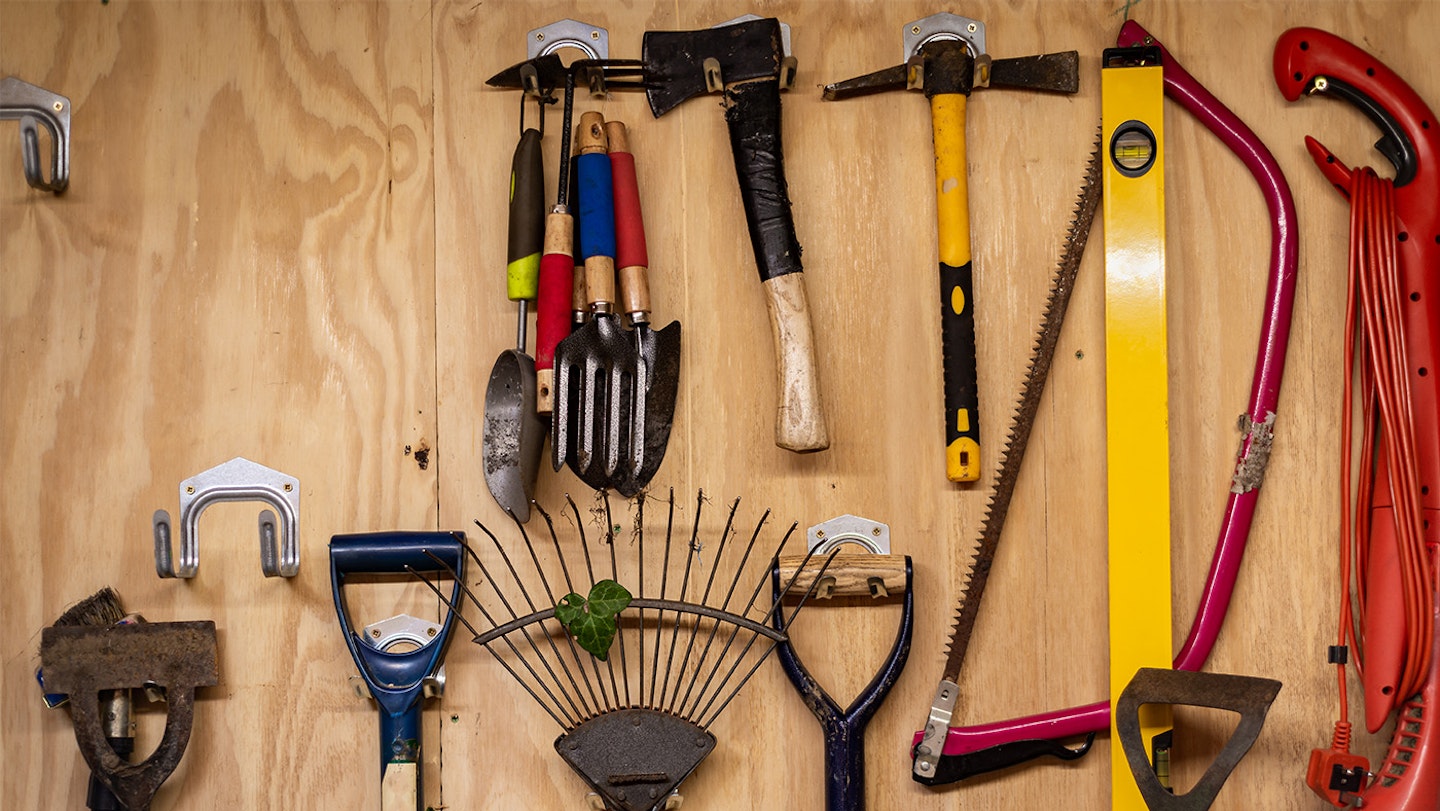 Garden storage station
Create a designated storage station in your garden by combining hooks, shelves, and containers. Arrange everything in a systematic manner, including tools, gloves, pots, and plant labels, for a tidy and efficient gardening experience.
Hanging basket storage
Instead of using them for flowers, use hanging baskets to store smaller gardening items, such as gloves, seed packets, and small hand tools. Hang them under shelves or on a wall-mounted organiser to keep frequently used items at arm's reach.
Garden storage shed with pergola
Combine storage with a shaded seating area by building a garden shed with a pergola extension. The pergola provides a comfortable spot to relax, while the shed offers ample space to keep gardening tools and equipment neatly organised.
Repurposed bookshelf
Transform an old bookshelf into garden storage by placing it in a covered area like a shed or under a roofed patio. Use the shelves to store pots, watering cans, gardening books, and decorative items.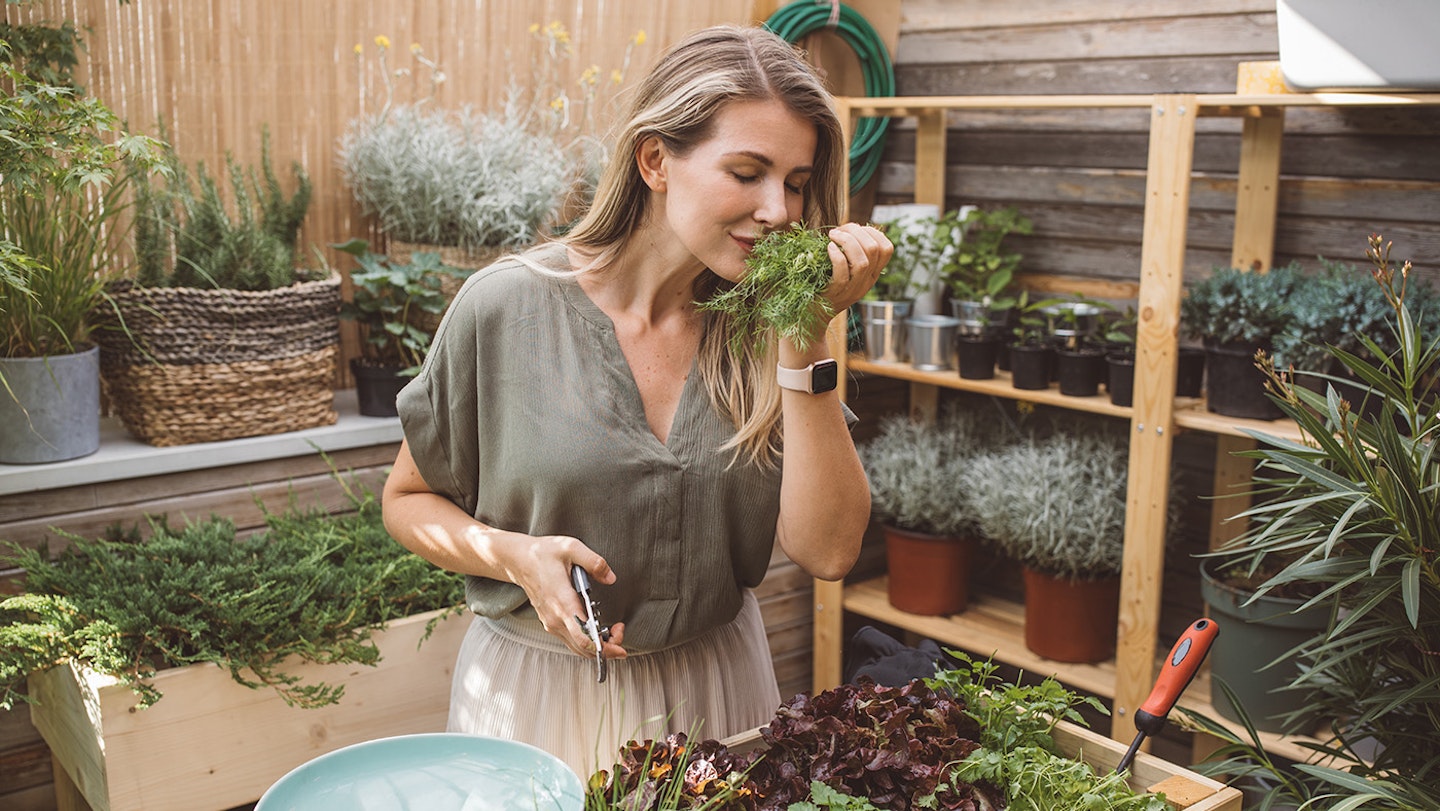 Foldable wall-mounted table
A foldable wall-mounted table is a space-saving solution for small gardens. When needed, you can pull down the table to use as a potting or work area. When not in use, fold it back against the wall to free up space.
DIY garden tool organiser
Create a custom tool organizer using PVC pipes. Cut the pipes into various lengths and attach them to a wooden board or wall. This DIY project keeps your tools well-organised, prevents them from rusting, and ensures easy access.
Garden storage locker
If you have expensive gardening equipment or chemicals that need to be kept secure, consider building a lockable storage locker. This ensures that potentially dangerous items are safely stored and out of reach of children and pets.
Hanging tool organiser
This space-efficient solution involves mounting a pegboard or wall-mounted organiser in your shed or on an exterior wall. Hooks, shelves, and brackets can be customized to accommodate various gardening tools, such as trowels, pruners, shears, and hoses. It allows easy access to frequently used items while keeping your workspace clutter-free.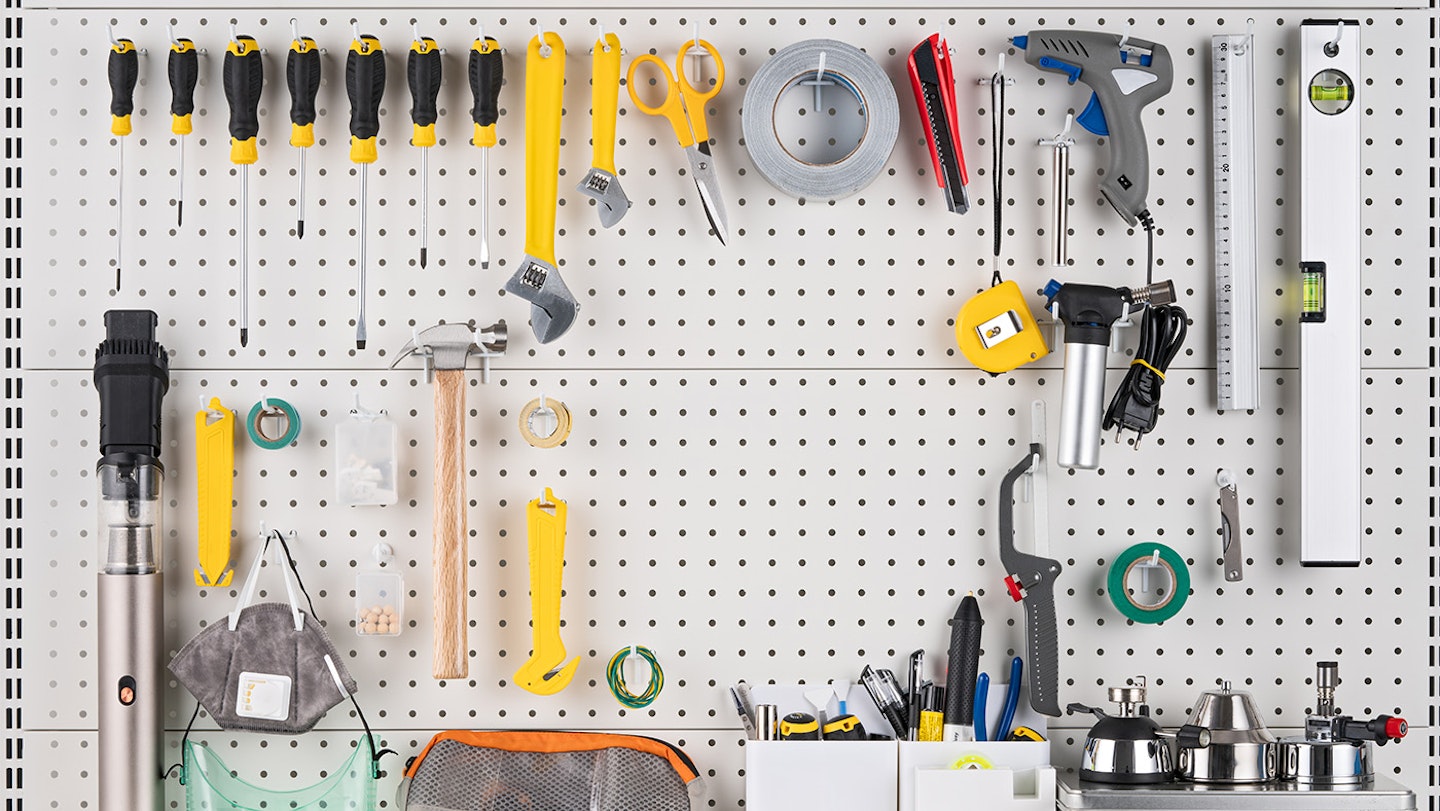 Shoe organiser herb garden
Repurpose a hanging shoe organiser to create a vertical herb garden. Fill each pocket with soil and plant different herbs or small plants. Hang the organizer against a sunny wall, and you'll have a functional herb garden with extra storage for gardening gloves or small tools.
Storage drawer planter
Create a dual-purpose planter with a hidden storage drawer. The planter can hold colourful flowers or small plants, while the drawer beneath can store gardening tools discreetly.
Recycled tires storage
Paint and stack old tires to create an eco-friendly and colourful storage solution for gardening equipment. Each tire can hold a variety of items, and the stacked arrangement provides a unique and eye-catching storage display.
Features & Reviews Editor Emily Gilbert has been a journalist since 2016 and has worked across a variety of specialist and lifestyle brands both in print and online. Specialising in travel content and product reviews, Emily is the first to know about all the exciting new releases, her favourite being gadgets for the home.