Whether it's your first wedding, you're remarrying or you're renewing your vows, choosing a flattering dress as a mature bride can be tough. After all, you want a wedding gown that makes you look - and feel - amazing on your wedding day. But don't worry, Yours is here to help with our pick of the best wedding dresses for older women.
It can be difficult knowing where to begin, especially if you're looking for dresses for a wedding suitable for older women. While certain wedding dresses might have suited you when you were in your twenties, as a mature bride your requirements have probably changed.
The Best Wedding Dresses For Older Women At A Glance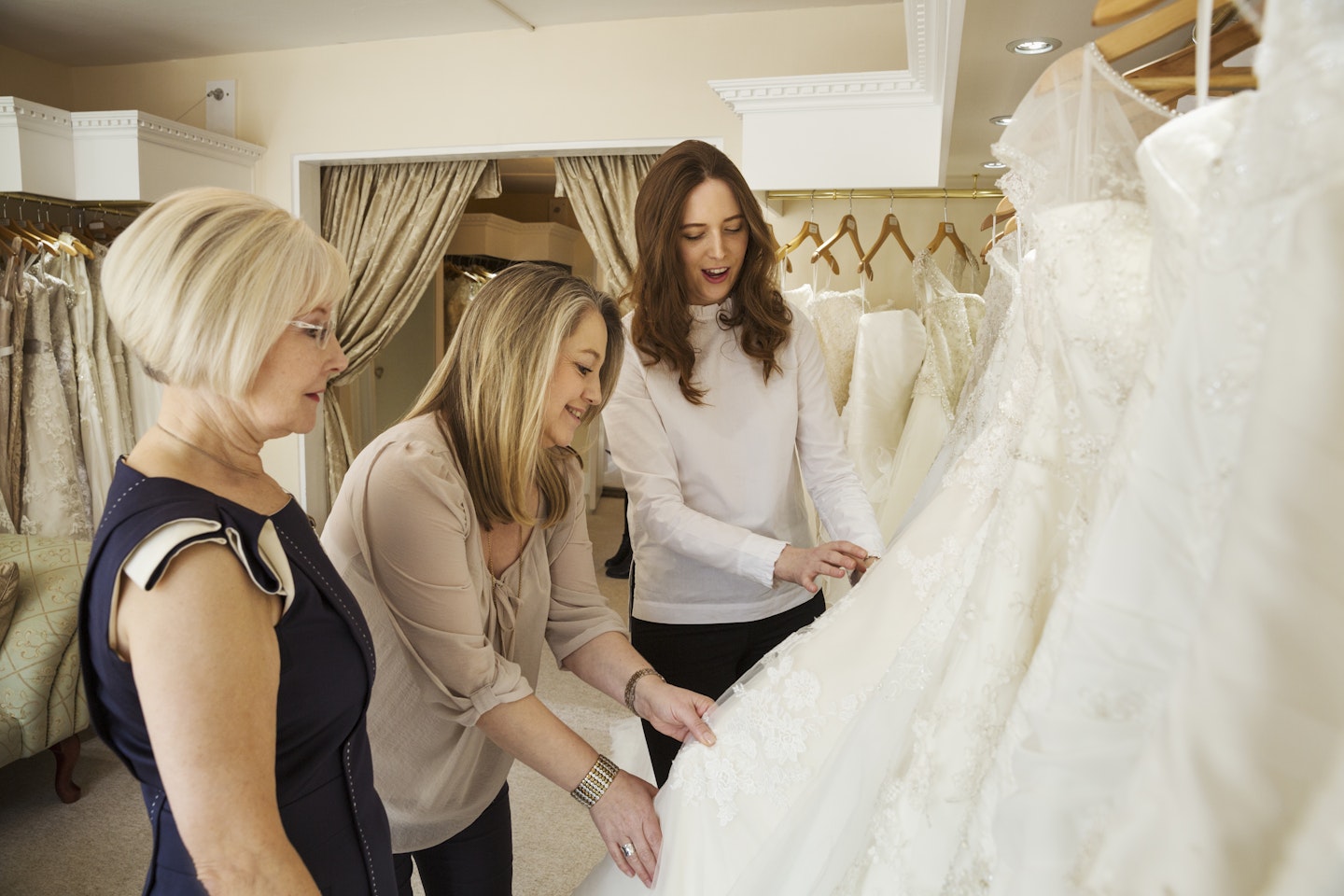 So now you're raring to go, it's time to look at some dresses! Here we've included dresses to suit every body shape and size as well as designer wedding dresses and dresses from the high street.
So whether you want a lace wedding dress, a simple wedding dress or something different altogether, we've compiled the most gorgeous options that will make you feel like a bride.
17 beautiful wedding dresses for older women
Best budget dress for older women
Description
A beautiful choice, this floor-length tulle gown has delicate flutter sleeves, a flattering empire
Pros
Great budget option.
Quick delivery.
Brilliant quality for price-point.
Cons
The reviews mention it's quite long, so it may not be the ideal length for petite brides.
Best bardot dress for older women
Description
Classy and elegant, the Miranda bridal dress in ivory is reminiscent of the 1950s with a fitted
Pros
1950s-inspired design
Clean finish
Smart bardot neckline
Best embroidered wedding dress for older women
Description
If you're looking for a slightly more modern option, however, the Poppy dress in a beautiful shade
Pros
Has a small train
Style of the dress is perfect for both small or large ceremonies
Cons
Some brides might not like the sheer style back
Best abroad wedding dress for older women
Description
If you're going for a paired-back wedding, or even a wedding abroad, this dress is ideal for you.
Pros
Has a high-low hem on the skirt
Ultra-flattering plain bodice
Cons
Some brides may prefer a lower neckline rather than a high one
Best classic wedding dress for older women
Description
The Olivia gown from Ghost is another classic style that'll have you looking and feeling
Pros
Made from an eco-satin material
Empire line shape
Flattering gathered bust detail
Cons
Some people may prefer more detailing at the front
Best embellished wedding dress for older women
Description
Pros
Stands out with lots of fringed detailing
Limited edition piece - created as one of just 150 styles
Cons
Some brides may not be keen on the long leg slit at the front
Best simplistic dress for older women
Description
Yet another beautiful design from Ghost, which has so many stunning styles for mature brides, the
Pros
Features shirring detail on the sleeves so you can move them to a length that suits you
Classic 'fit and flare' style
Cons
Some brides may want their wedding dress to have more embellishment
Best flutter sleeve dress for older women
Description
From Biba, the Bridal Deco Dress takes inspiration from 1920s art deco design. An ivory dress with
Pros
Stunning sequin details
Short-sleeve
Cons
Might be a little on the long side for some brides
Best city wedding dress for older women
Description
You'll feel chic and stylish saying 'I Do' while wearing this lace shift dress. It's got 3D lace
Pros
All over lace detailing
Perfect for a smart city wedding
Cons
Could be slightly longer in length
Best open back dress for older women
Description
Elevate your wedding look with this chic, lace dress from Whistles. The Frances has been designed
Pros
Ivory hue is really complimentary
Flattering side split
Cons
Some mature brides may want a dress with less cut out details
Best floral lace dress for older women
Description
We know this one is a little on the pricey side, but if you can't splash out on a dress for your
Pros
Classic floral lace
Intricate detailing
Arrives in a garment bag with a white satin hanger to keep it pristine
Cons
Very modest with high neckline and long sleeves
Best timeless wedding dress for older women
Description
With its on-trend Bardot neckline and raised front hem, this wedding dress certainly has a modern
Pros
Has a fitted waist
Flattering bardot neckline
Cons
Some reviews mention the zip at the back being quite stiff
Best slimming wedding dress for older women
Description
We think you'll look like a Grecian goddess wearing this little number on your big day. It's made
Pros
Fabric is lightweight
Instant slimming style
Comfortable to wear all day
Cons
Belt pictured is sold separately
Best chantilly lace dress for older women
Description
Boasting details such as capped sleeves, fabric-covered buttons and a softly draped train, this
Pros
Designed to skim your silhouette
Flattering and intricate lace detailing
Cons
Some reviews have mentioned they need to have the dress shortened, so this may be more ideal for taller brides
Best pleated dress for older women
Description
Looking for a long-sleeved wedding dress? This Phase Eight number is a great option. It's a floaty
Pros
Pleated throughout for effortless movement
Responsibly sourced, made from recycled polyester
Cons
Might have too much going on for some brides
Best tuxedo dress for older women
Description
This Coast dress takes inspiration from classic tailoring with its silky, tux-like lapels. It's a
Pros
Perfect for the modern dresser
Could be reworn for formal occasions after the wedding
Cons
Some mature brides may prefer a dress to have sleeves
Description
Champagne-ivory is the colour of this beautiful dress by Maids to Measure. Perfect for brides
Pros
Sleek and slinky
Empire waistline cinches shape
Elegant silhouette
Cons
Some brides may prefer if the dress had no detailing at the back too
Wedding dresses for older women FAQs
What does a mature bride wear?
You are a woman to be celebrated in the prime of your life - searching for a wedding dress is no exception! Don't listen to outdated views on what you 'should' do, just make sure whatever you choose makes you feel like the best version of yourself on the day.
However, after seeing hundreds of brides in my boutique, there were a few things I found that our more mature brides wanted to consider with their search. They were:
Slinky and slender – It could be that it's the second time around, or maybe the idea of it simply feels overwhelming. It's likely you want to steer away from the huge princess skirts and go for something slimline and elegant.
Support for 'the girls' – Wearing a bra probably feels important, check what can be done so that you feel comfortable and supported on the day.
Colour options - Hardly any brides wear white anymore as there's such a wide range of choice available. There are so many stunning colours out there, from ivory to almond or gold. Embrace it and find one that works for you.
Cover up – There are so many options available if you want to keep the tops of your arms covered. A good seamstress can add straps or sleeves to your dress. Or, you can opt for a cute bolero to wear on top
Think outside the box – It may be that a suit or an evening gown would work better for you. Have fun with the choices and don't pigeonhole yourself into thinking you 'should' have something because everyone else does.
What colour should a mature bride wear?
You can wear whatever colour you want! Just because you're a mature bride or it's your second wedding, doesn't mean you can't wear white. So if you find a dress you adore but it happens to be white - go for it!
Should a mature bride wear a veil?
As above, the choice is entirely yours. A woman of any age can wear a veil, and there are so many stunning styles to choose from. Alternatively, you might prefer to go for a fascinator, tiara, headband or something else instead.
Kelly's tips when searching for a bridal dress
We spoke with Kelly Harvey-Welsh, a bridal stylist for the award-winning personal styling service, Styled By Susie to get her tips for your wedding dress search. As the former owner of an acclaimed bridal boutique, Kelly is an expert in all things wedding and loves to help women feel good in what they wear for their special occasion.
RESEARCH THE BOUTIQUES
You know what you like by now, so there's no point trawling all of the boutiques with a scattergun approach, aimlessly hoping to find 'The One'. Do your research and make sure the boutiques you're visiting have a vibe you like and sample dresses that are available to try on.
WHO WILL BE ON 'THE PANEL'?
I'd urge you to really consider who you plan to take with you on your dress search. While I'm sure you have much more freedom on your choices with wedding planning than younger brides, a multitude of mixed opinions can be overwhelming. Keep the 'girls party' for another day and take one person with you that knows you, your style and your wedding vibe well and won't push their style on your day.
STAY RELAXED
It's unlikely you or your 'panel' will burst into tears immediately when you've found your dress so don't put that pressure on yourself. Did you burst into tears as soon as you met your partner hallelujahing that he's 'The One' and violins started playing out of nowhere?! I thought not.
ENJOY YOURSELF
You're getting married and that's amazing. Searching for your wedding dress should be enjoyed so take your time and be confident.