If you're on the hunt for hairstyles for women over 60, don't be afraid to step out of your comfort zone by trying something a little different. Our round-up of edgy hairstyles for over 60s are a fabulous way of radiating confidence, individuality, and a fierce sense of self. Gone are the days when age dictates a certain look; today, women are redefining beauty with hairstyles that speak volumes about their personalities and adventurous spirits.
From stylish short hairstyles that exude vibrancy to elegantly textured bobs that redefine grace, the realm of edgy hairstyles presents a spectrum of possibilities for the modern woman over 60. Whether it's a rebellious undercut, a playful burst of colour, or a tasteful fusion of classic and contemporary, the world of hair has become an art form, and every woman is her own masterpiece.
Whether you're seeking inspiration for your next salon appointment or simply intrigued by the evolution of style, scroll down to discover more.
Edgy hairstyles for over 60s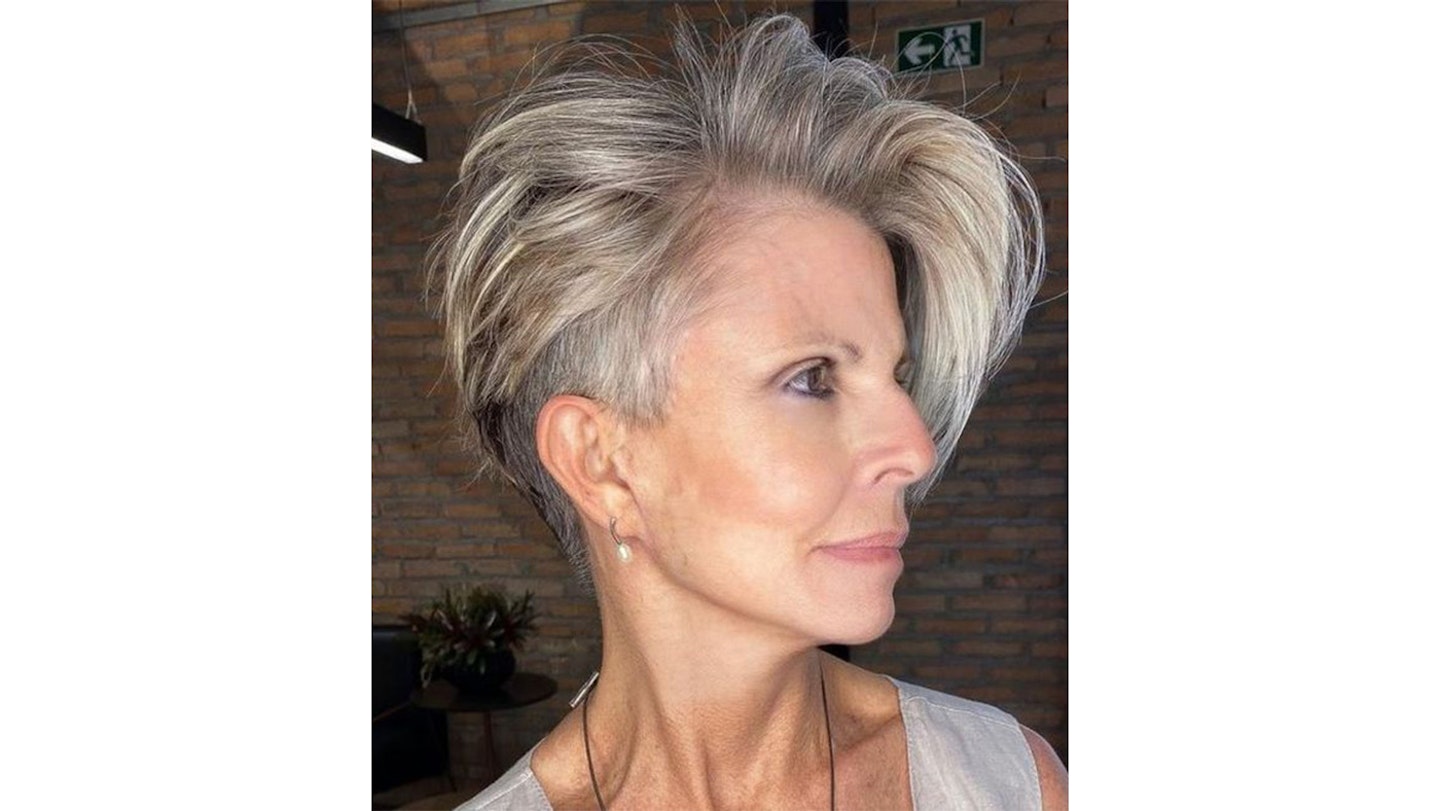 Pixie cut with undercut: A pixie cut with an undercut adds a bold and modern touch. The undercut can be kept subtle or more pronounced, depending on your preference.
How to maintain it
"Maintenance for this look is all about the undercut. If the client wants it really bold, we tend to do the undercut quite sharp and clean off the edges. The downside of that is that around the hairline, especially at the back, you might get a little bit of stubble before you need your hair cut so we always say, every couple of weeks just pop in. As it only takes a moment you don't need to book, and we can clean that off and that just keeps it short.
The products to use very much depend on the hair - blow dry and follow by a paste or a dry paste depending on the texture of the hair as well as the desired end result". - Andrea Dorata, L'Oreal Professionnel Artist and owner of Dorata Hairdressing, Marlow.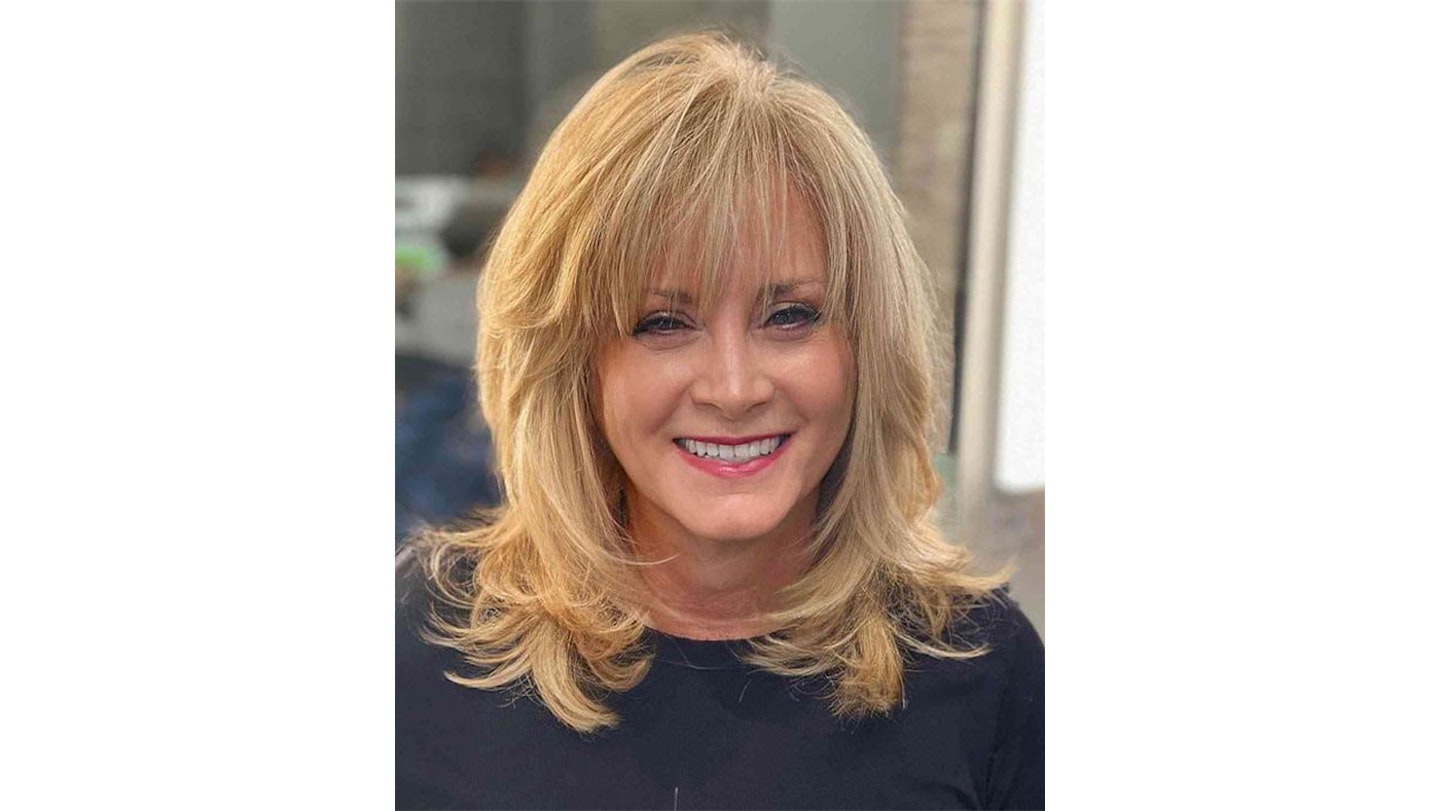 Shaggy layers: A great wash-and-wear haircut, this shag haircut with choppy layers adds texture and movement to your hair, giving you a stylish and carefree look.
How to maintain
"The shaggy look can look very dry if you don't keep the ends trimmed, I recommend 6-8 week trim, the fringe can get very long so check with your stylist if they'll give you a free fringe trim between appts. To get the best out of layers, get volume in at the roots with a volume spray and a little bit of serum to keep the ends shiny." - Karine Jackson – Salon Sustainability Consultant & Stylist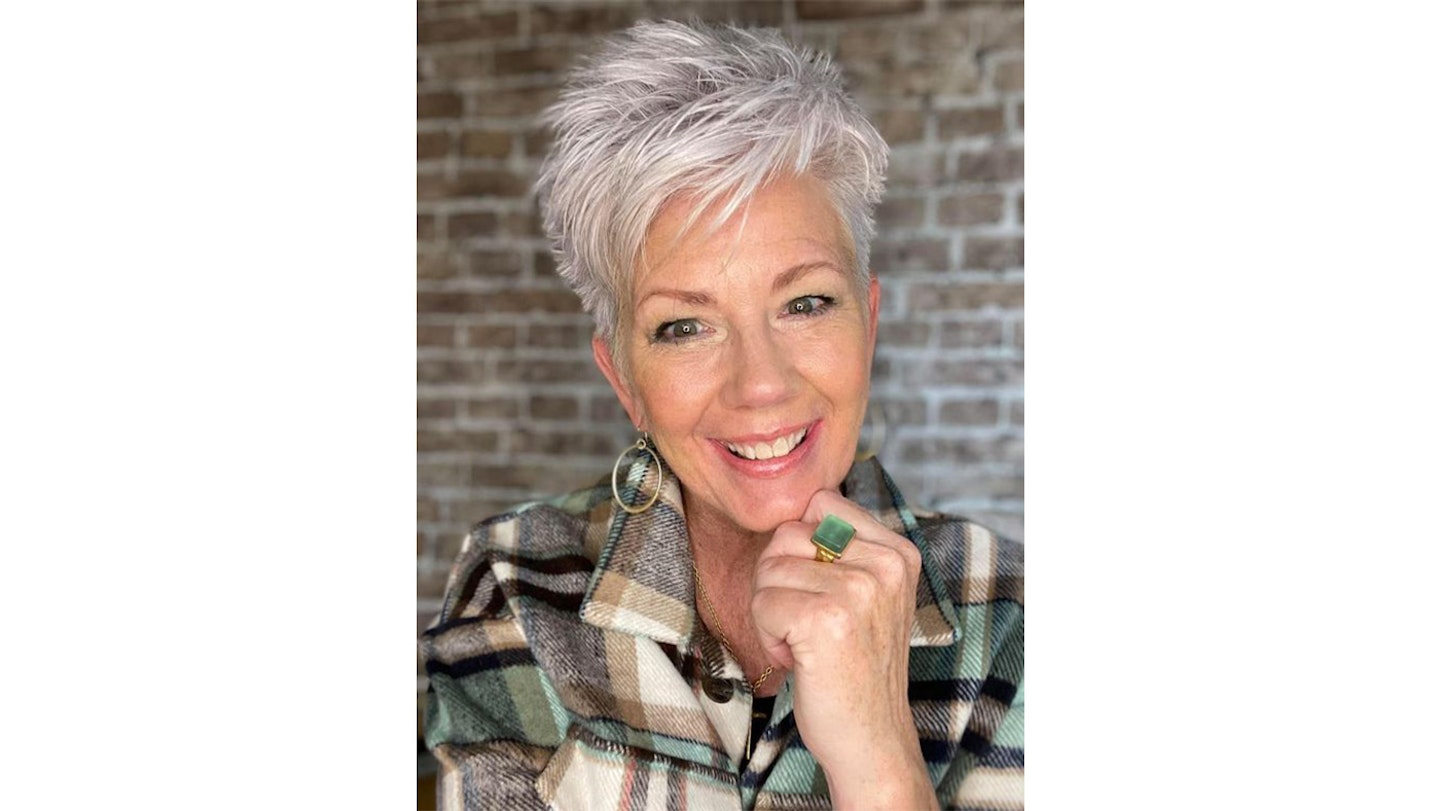 Spiky short hair: Embrace a spiky texture for a playful and edgy vibe. This hairstyle adds volume and character to your overall appearance.
How to maintain it
"This is a popular look and this is all about the details because it can be customised in many different ways, I tend to offer my clients a lot of tweaks on this hairstyle. Again, the hairline all around, including the fringe, really comes into play with this, so we pay a lot of attention to face shape. You could have the fringe area texturized, you could have it blunt and bold, you could do a micro fringe or even take the fringe off and then texturize it. Around the hairline and around the ears you can leave more length and again add texture to add softness. Or for people that want it really sharp, we will take that off and like with the undercut it requires a little bit more maintenance. This is also a haircut that works really well with pre-lightened hair or bleached hair, especially since I find as the hair starts to grow back and you have a little bit of regrowth, it adds a lot of texture through the shadow of the roots.
This is one of my favourite hairstyles actually and one that I recommend often to people, it's easy to style, has volume if you want, and is always flattering." - Andrea Dorata, L'Oreal Professionnel Artist and owner of Dorata Hairdressing, Marlow.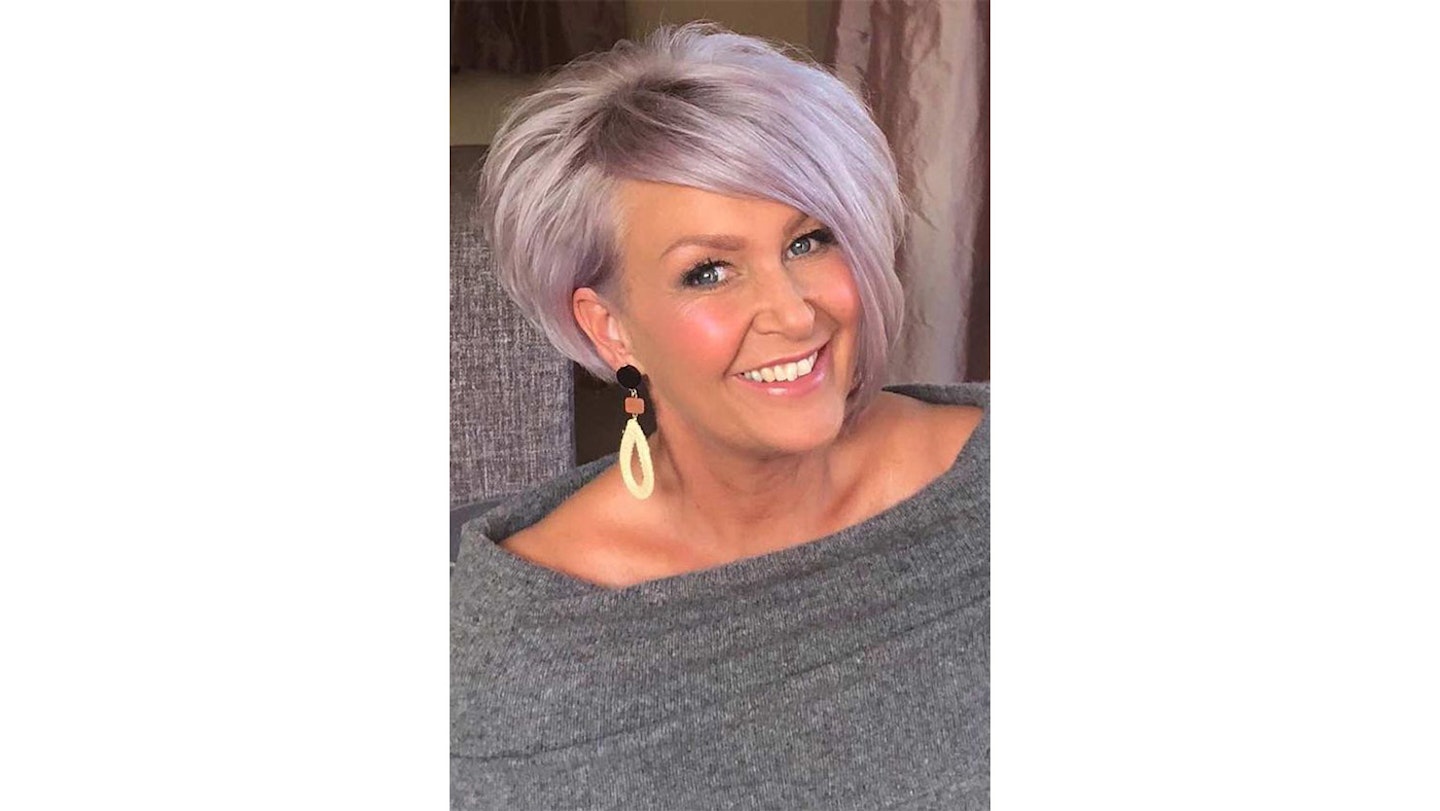 Asymmetrical bob: An asymmetrical bob with uneven lengths can create a chic and edgy look, while still maintaining a sophisticated feel.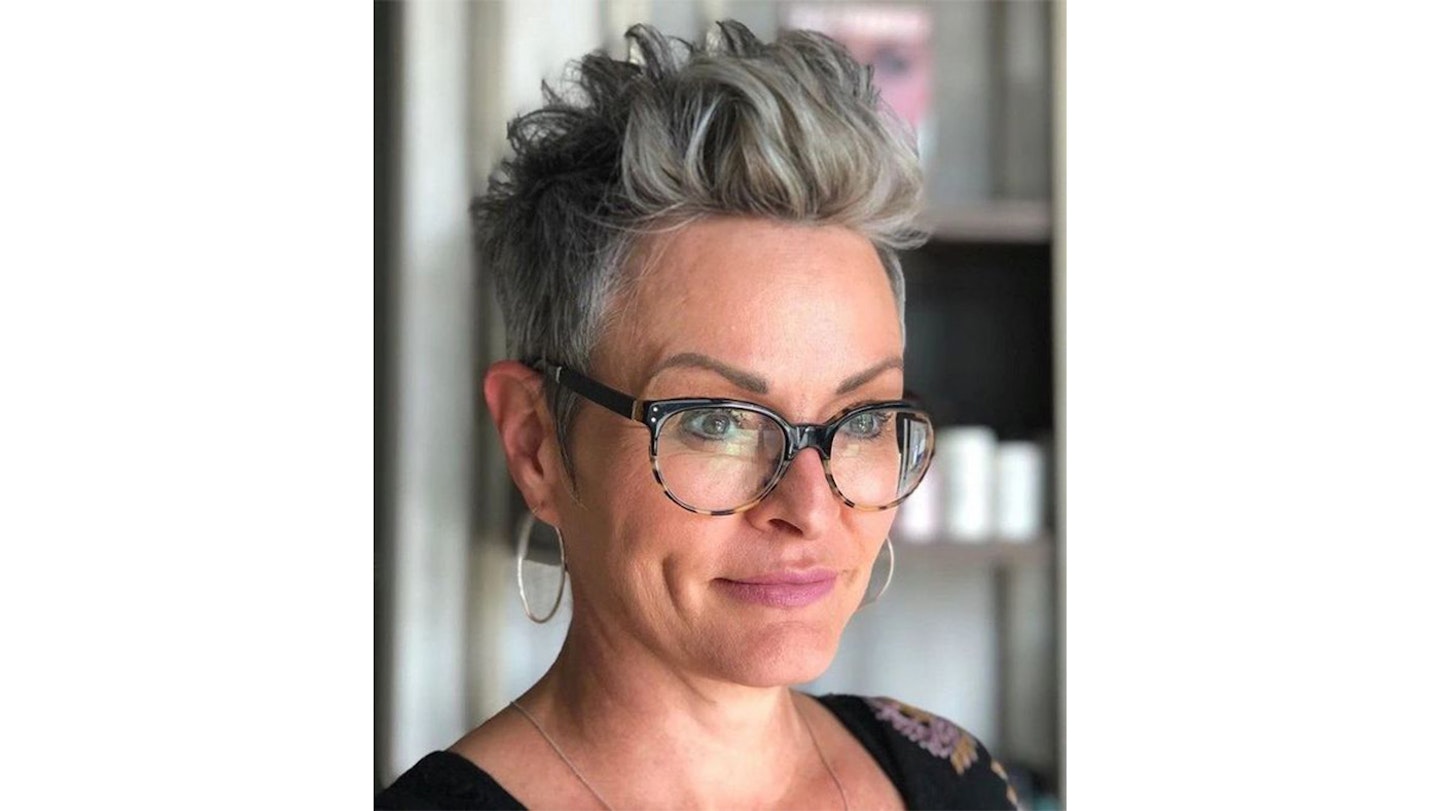 Mohawk-inspired pixie: Combine a pixie cut with a slight mohawk twist by keeping the centre section longer and styling it upwards for a daring and unique style.
How to maintain it
"The asymmetric bob can be made to look asymmetric simply just by tucking it behind the ears. I find this is a particularly nice way to style or cut the hair, like in the picture above as you can see there is a nice earring showing, it adds a good silhouette to the face, and it tends to open up one side of the face a little bit more. It can be worn to look really elegant or classically.
In the picture above, there is a lot of texture paired with an extreme side parting. The extreme side parting is to do with the face shape as it tends to elongate a face, so in my opinion for somebody that perhaps already has a narrow or elongated face, it might not be necessarily the best thing to do. However, the volume at the back usually tends to compensate. Look after this shape with a regular six-week haircut. The products to use include a texture dust powder which gives you a lot of texture and volume, the kind of volume that tends to stay." - Andrea Dorata, L'Oreal Professionnel Artist and owner of Dorata Hairdressing, Marlow.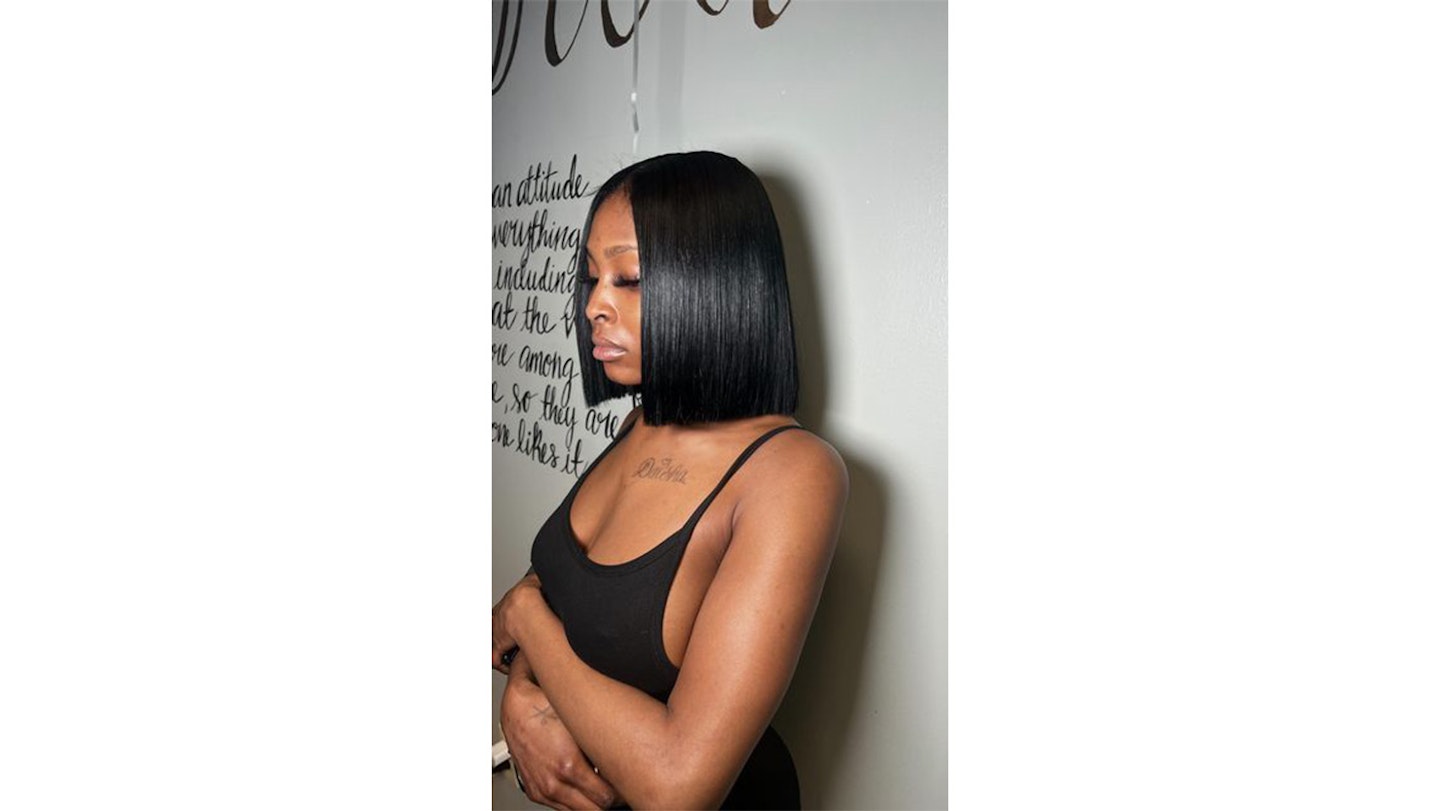 Razor-sharp bob: The sharp, defined edges of this style will give your hair a bold and edgy structure. It offers a clean and contemporary look that's easy to maintain.
How to maintain it
"The slick bob is one of my favourite shapes. We all know the bob is timeless and can be very elegant, but can also be worn quite casually. This is a haircut that requires a regular trim because it's all about that straight sharp line. When cutting, the texture and the density of the hair needs to be considered, as well as your own habits in styling it. We often take people through the process to try to teach them how to maintain it. It's best suited for somebody with straight hair, otherwise it requires a salon blow dry and maybe a top up at home with tongues to get that mirror shine.
The products to use depend on the hair texture but definitely a heat protector, smoothing creams and I'd also recommend a soft spray on this rather than a serum. This is because you don't really want to break up the shape which a serum sometimes can do, but a softening spray will help to control any fly aways". - Andrea Dorata, L'Oreal Professionnel Artist and owner of Dorata Hairdressing, Marlow.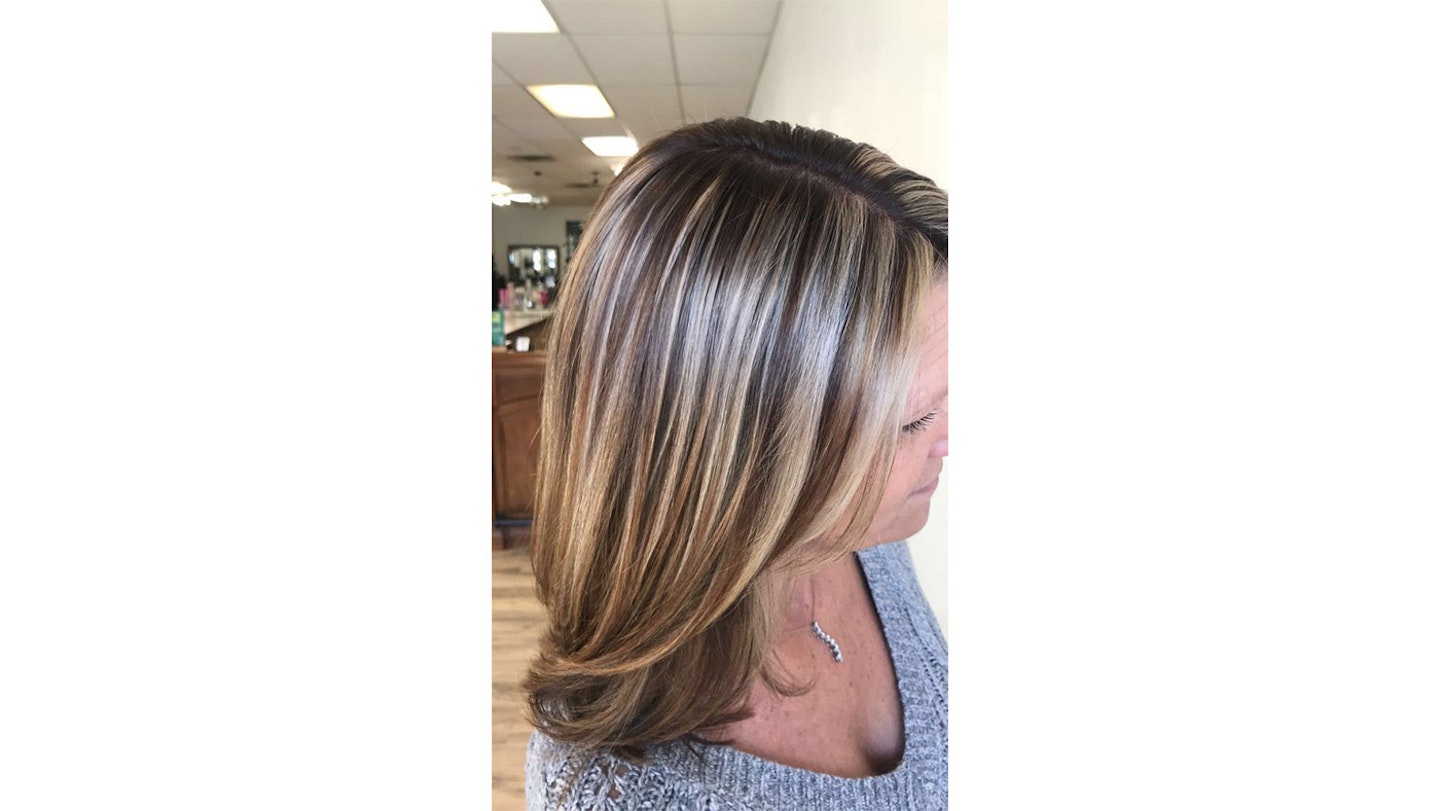 Coloured highlights: Add pops of vibrant colour or highlights to your hair for an edgy and youthful appearance.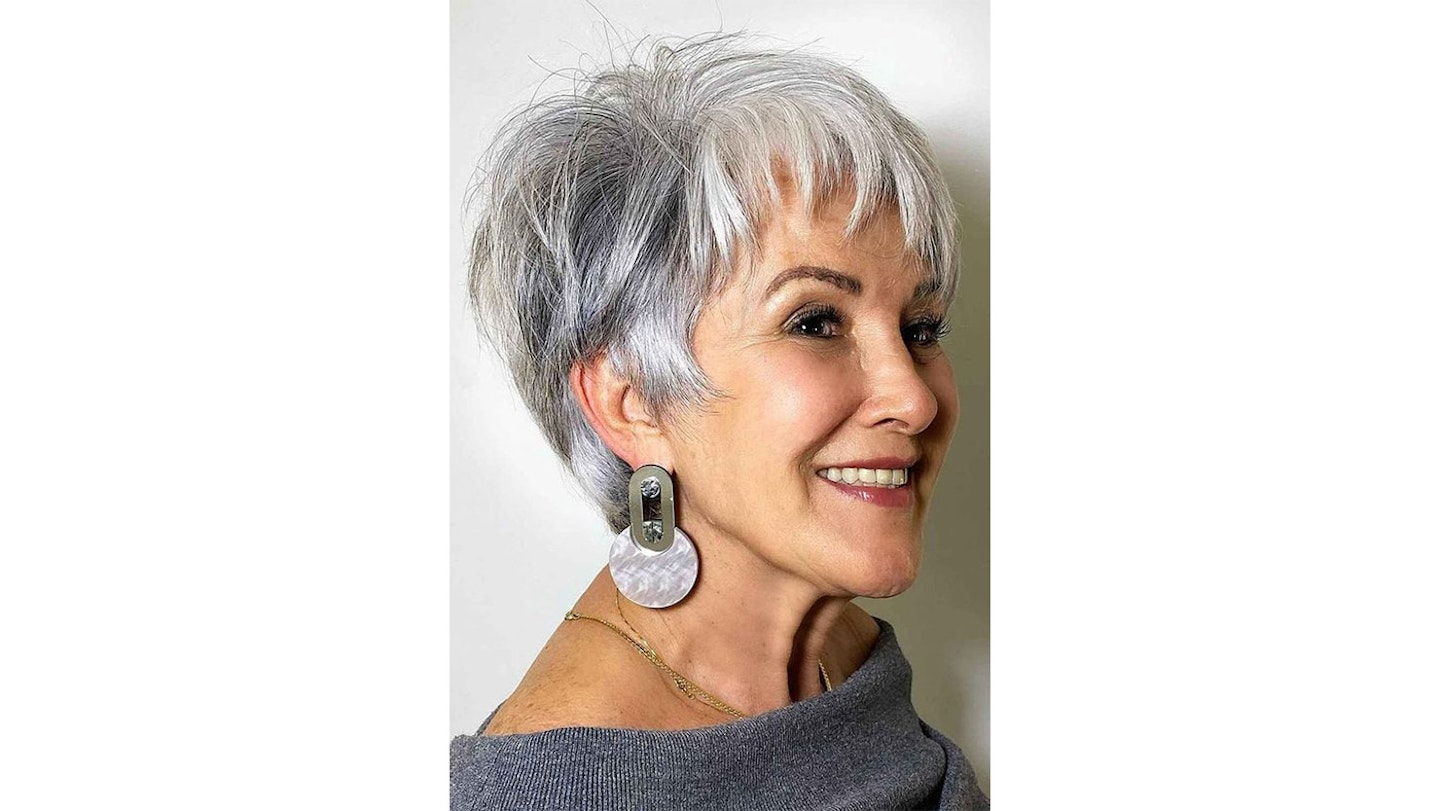 Textured crop: A textured crop cut with layers and a bit of tousle can give you a stylish and effortlessly cool look.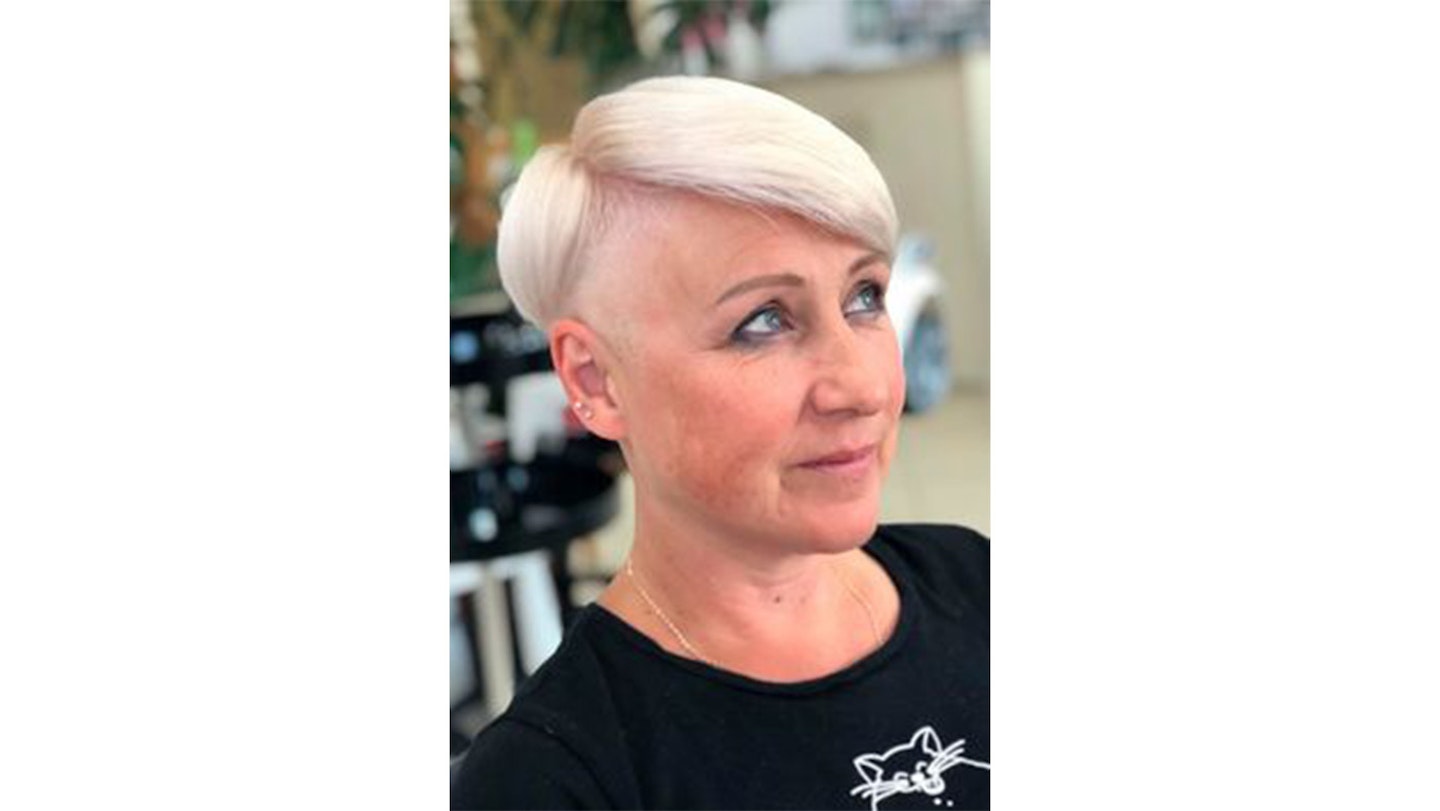 Side-shaved hairstyle: Opt for a side-shaved or undercut style on one side while leaving the other side longer for a striking contrast.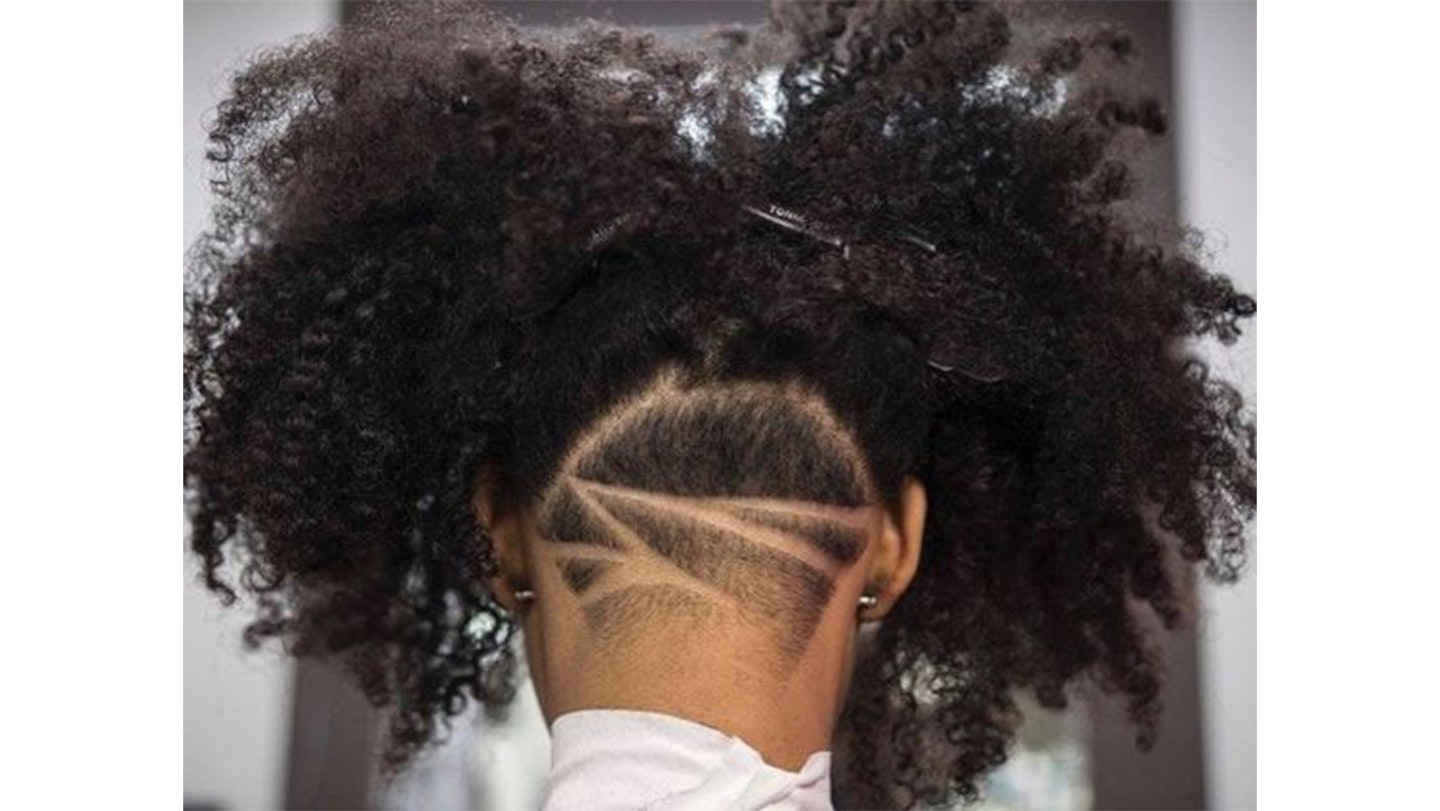 Geometric undercut: Experiment with a geometric pattern for your undercut, such as triangles or lines, to showcase your artistic side. This style adds an extra layer of creativity and edge to your look.
How to maintain
"To keep that looking sharp you'll need the undercut redone every 4 weeks or it'll grow out. Stick to the same stylist because they know how that line works, this is a great look for people with very thick hair; you'll want to keep your scalp well moisturised with it on display like this and be careful of the sun." - Karine Jackson – Salon Sustainability Consultant & Stylist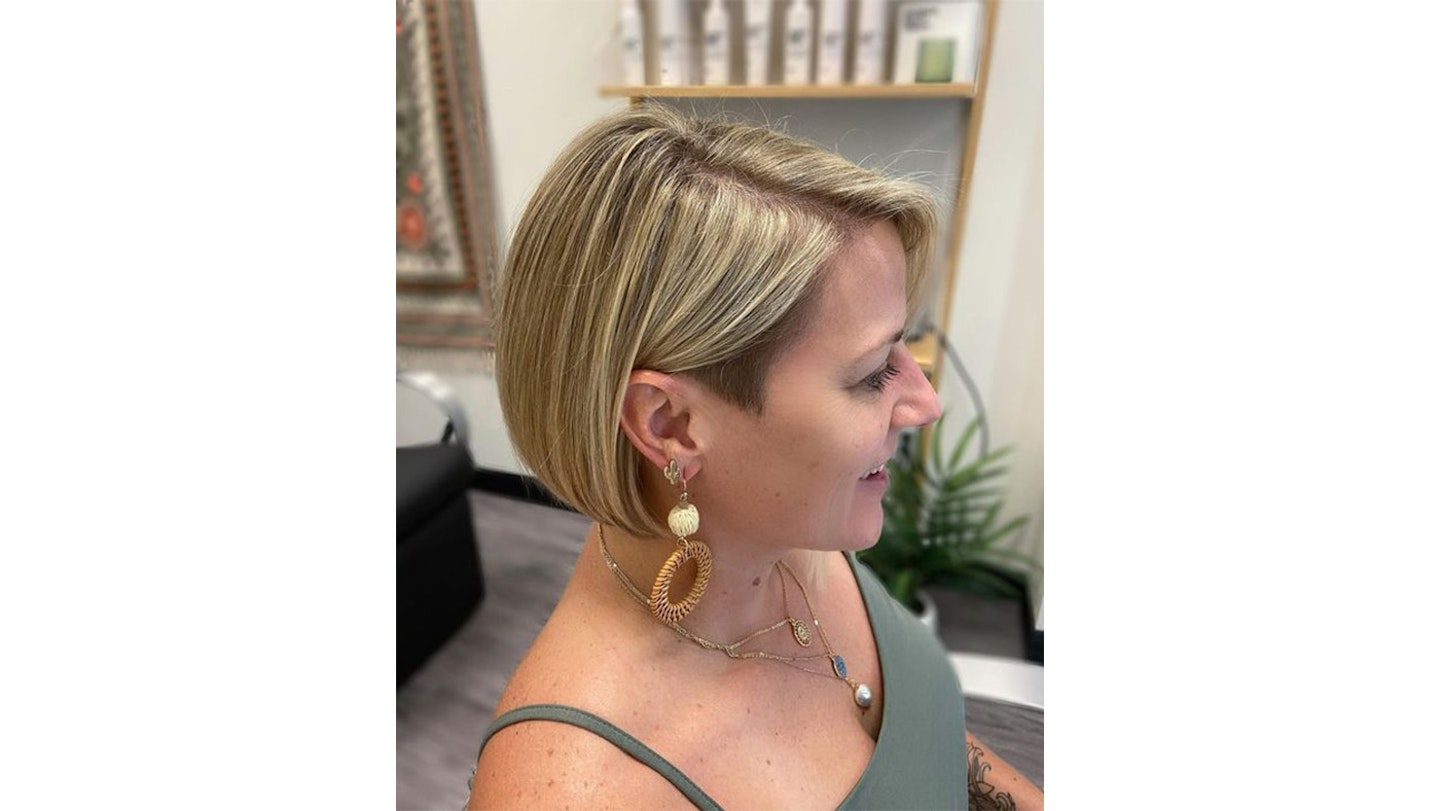 Sleek undercut bob: Opt for a sleek bob haircut with a hidden undercut for a modern twist. The undercut can be revealed when you style your hair up or in a half-updo, adding an element of surprise.
How to maintain it
"For the sleek undercut bob, the undercut is very technical thing that it's important that it's cut to the right height because that serves a purpose. It often allows the hair to sit flatter but also, when it's revealed, it kind of does really add a little bit of edginess to it. In this case you can see the lady has a profile shot and if you follow the line around the ear, where the undercut is, it points towards her cheekbones and the corner of her lips. Personally I would aim the point a little bit further down, just to sit under the cheekbones as this tricks the eye into following that line and creates a really nice silhouette and almost a contouring around the cheekbones, it makes it pop and it slims the face a little bit as well. To maintain it, you need regular 6 week cuts, however, you could start sharp and then let it grow out a little bit softly." - Andrea Dorata, L'Oreal Professionnel Artist and owner of Dorata Hairdressing, Marlow.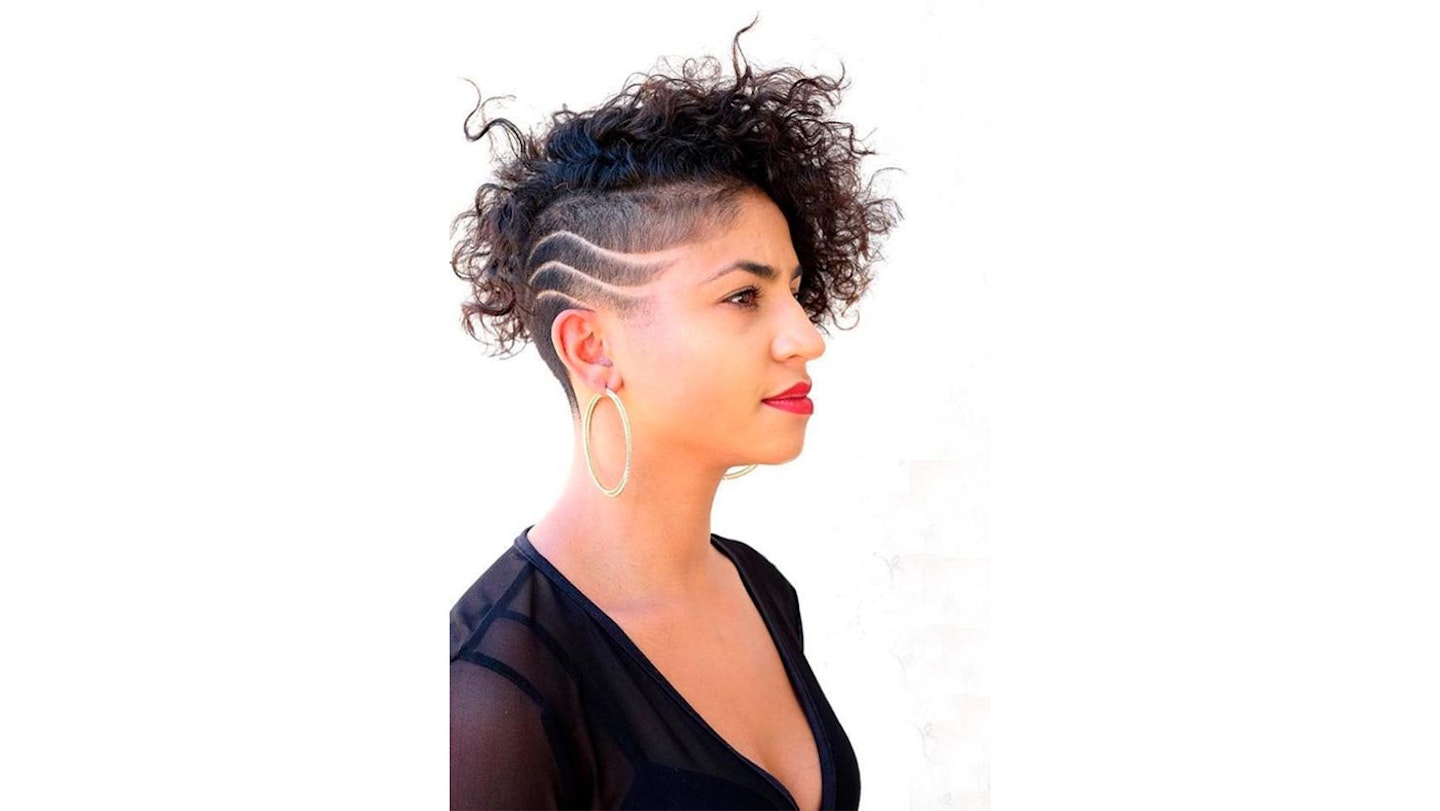 Curly mohawk: Embrace your natural curls and consider a curly mohawk for a unique and energetic appearance.
Style the centre section of your hair upwards to create the mohawk effect while letting the sides remain curly. Alternatively, if you're feeling brave, you could even ask for an undercut on one of the sides.
How to maintain
"This needs regular cuts so that it doesn't look scruffy, and you need lots of product to keep the mohawk high. A firm gel mixed with a cream will give softness with hold, but without the crispness you can get with a gel. Keep your curls hydrated and do a final rinse with cold to keep the curl nice when you wash. Get product in while the hair is really wet and let it dry as naturally as possible." - Karine Jackson – Salon Sustainability Consultant & Stylist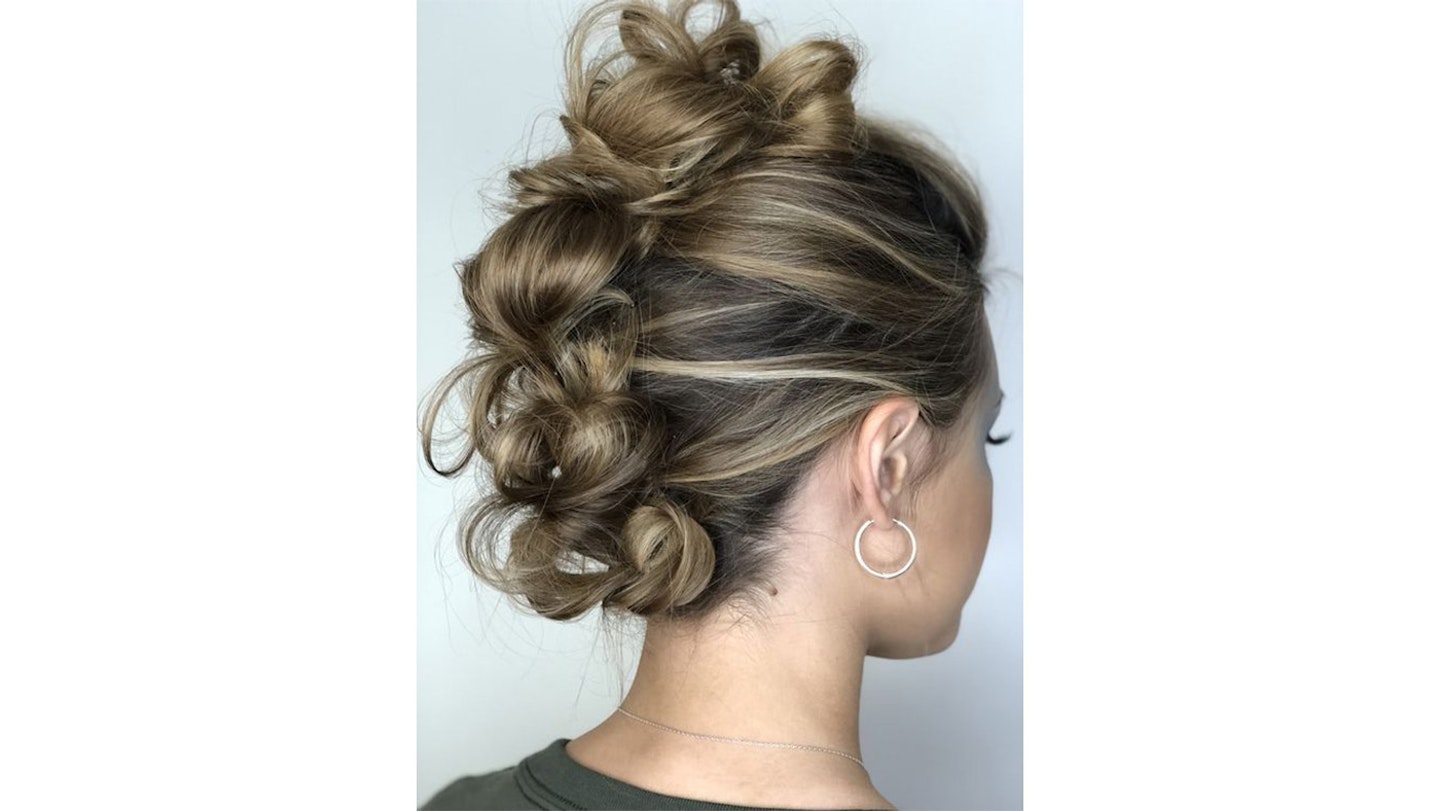 Faux hawk updo: Try a faux hawk-inspired updo by pulling the centre section of your hair into a textured and lifted style. This creates the illusion of a mohawk without fully committing to the shaved sides.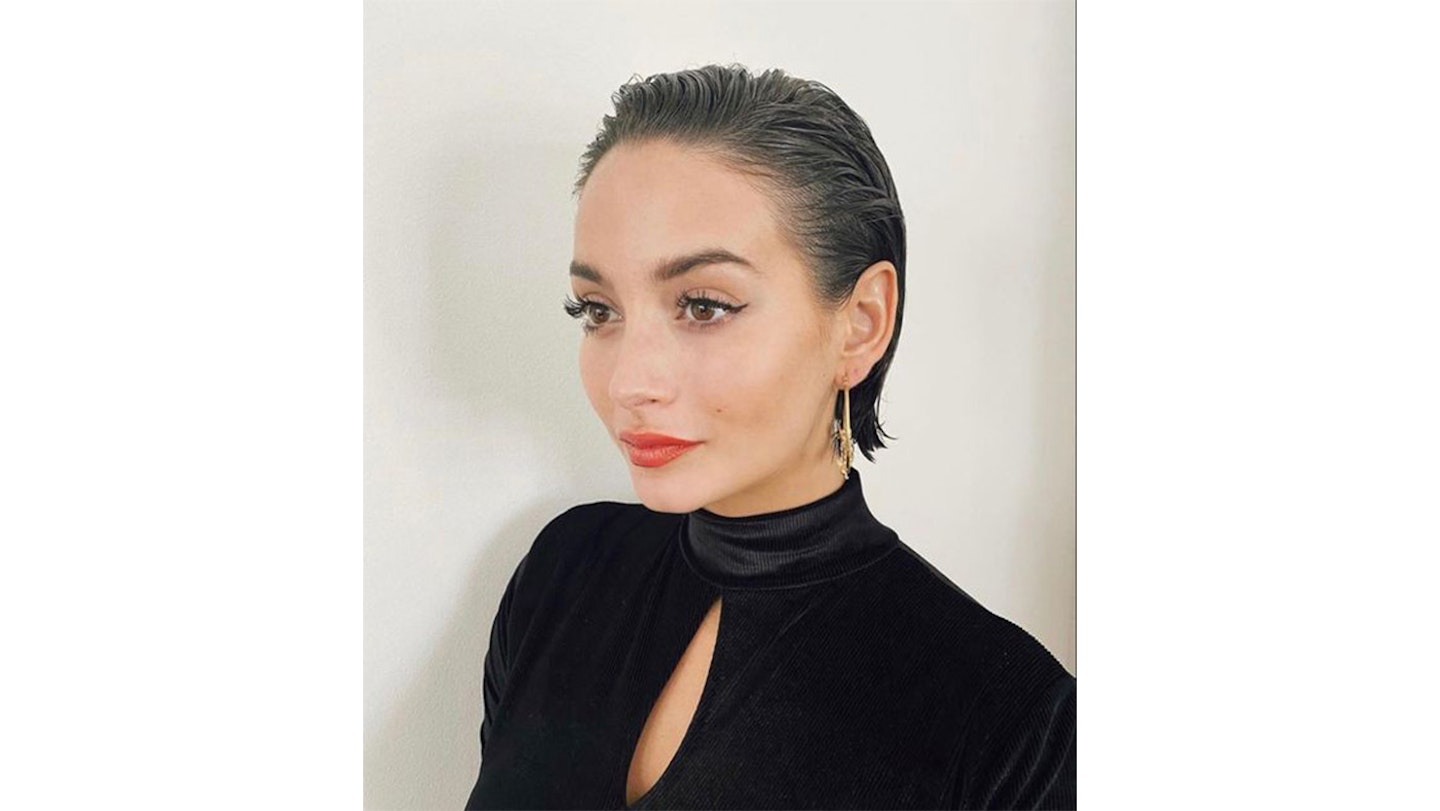 Slicked-back pixie: Style your pixie cut by slicking the hair back for a polished and edgy effect. This look is perfect for special occasions or when you want a sophisticated yet daring appearance.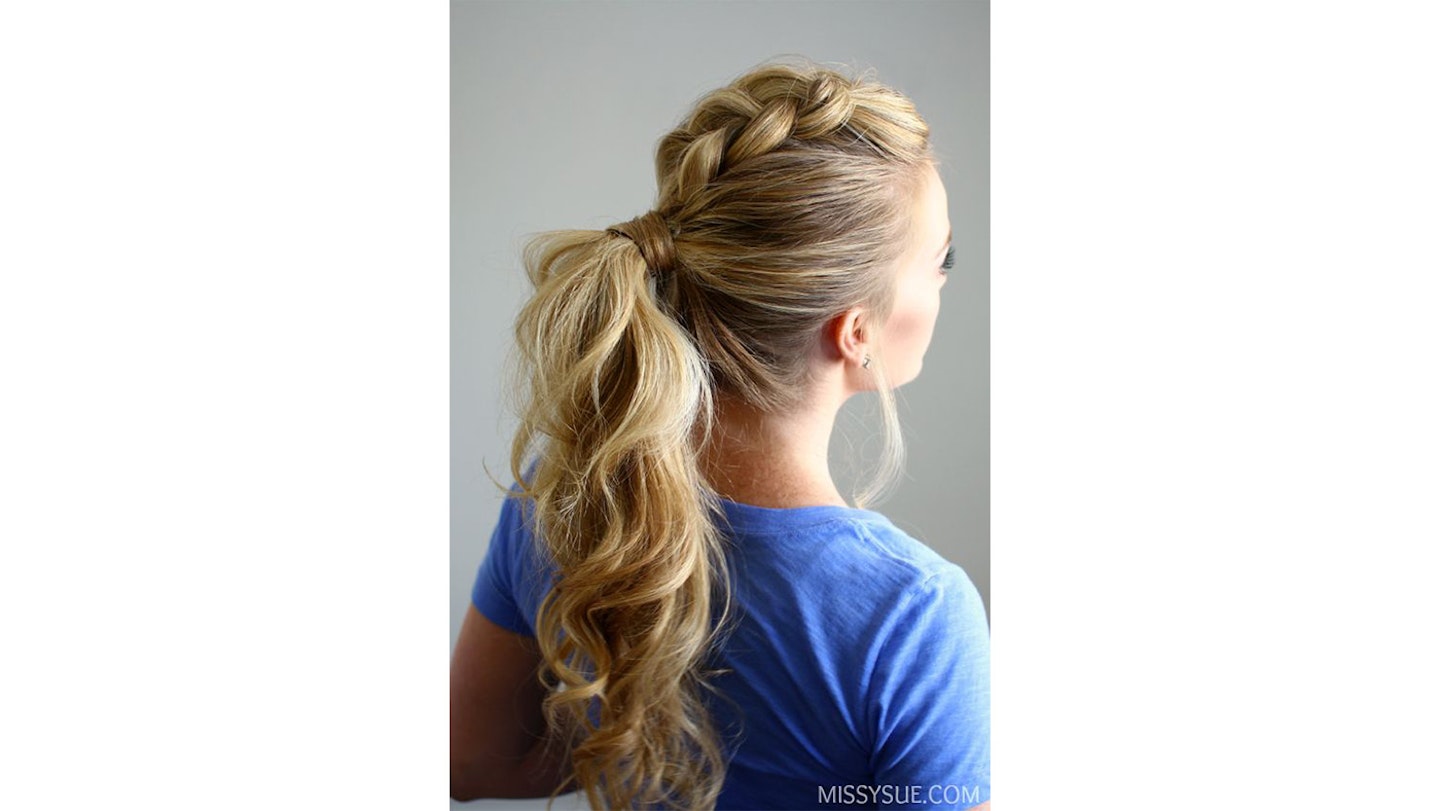 Braided mohawk: Braid the centre section of your hair into a mohawk-inspired style, leaving the sides sleek or textured. This option lets you incorporate a braided element while maintaining an edgy overall look.
How to maintain
"Keep the colour fresh if you're wearing hair like this, highlights or soft balayage give the style depth and texture. Ask your stylist to highlight the underneath of the hair if you're wearing it up like this a lot, sometimes called ponytail highlights, so that hair isn't flat or one colour underneath." - Karine Jackson – Salon Sustainability Consultant & Stylist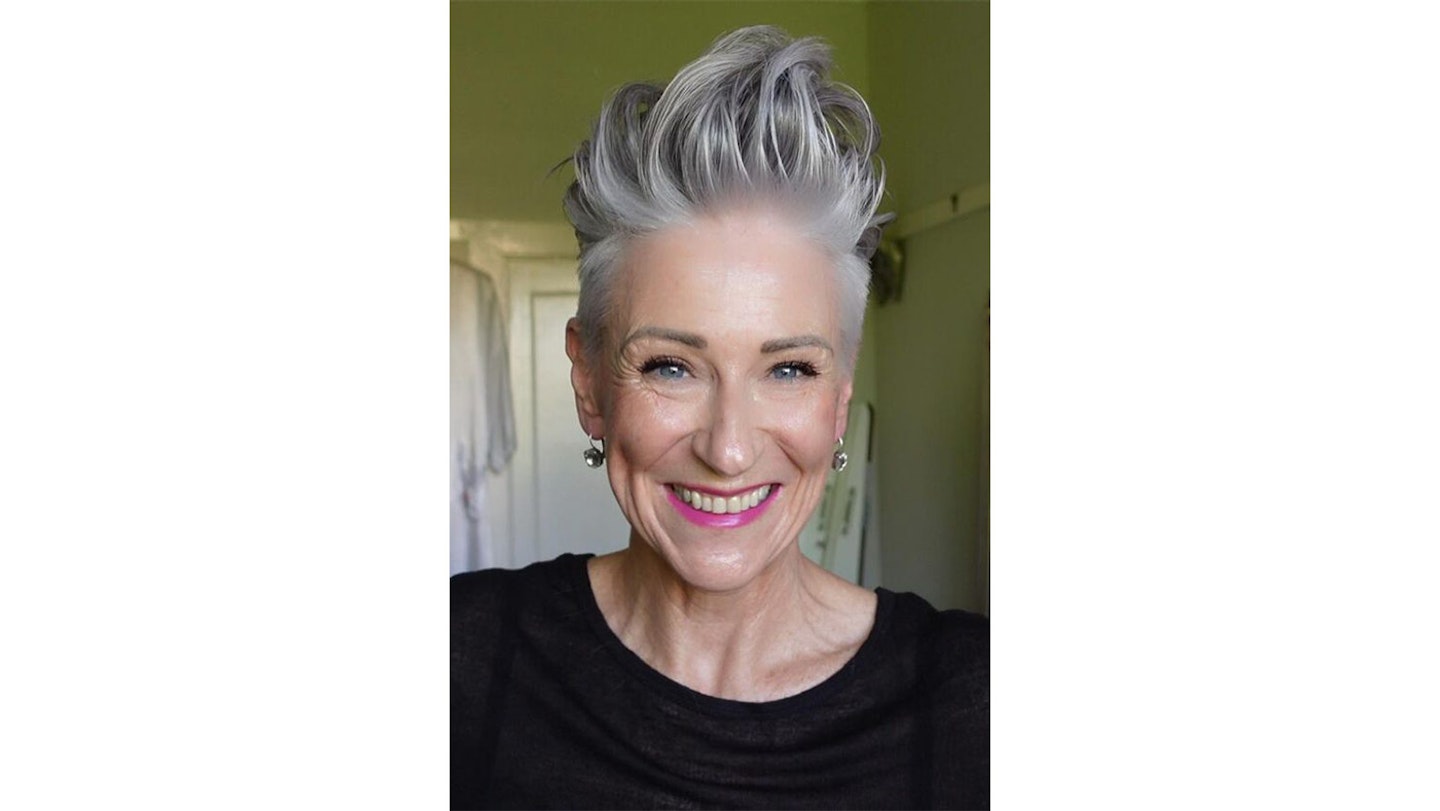 Modern pompadour: Opt for a modern take on the classic pompadour by lifting and styling the front section of your hair. This style adds height and drama to your look, creating a striking presence.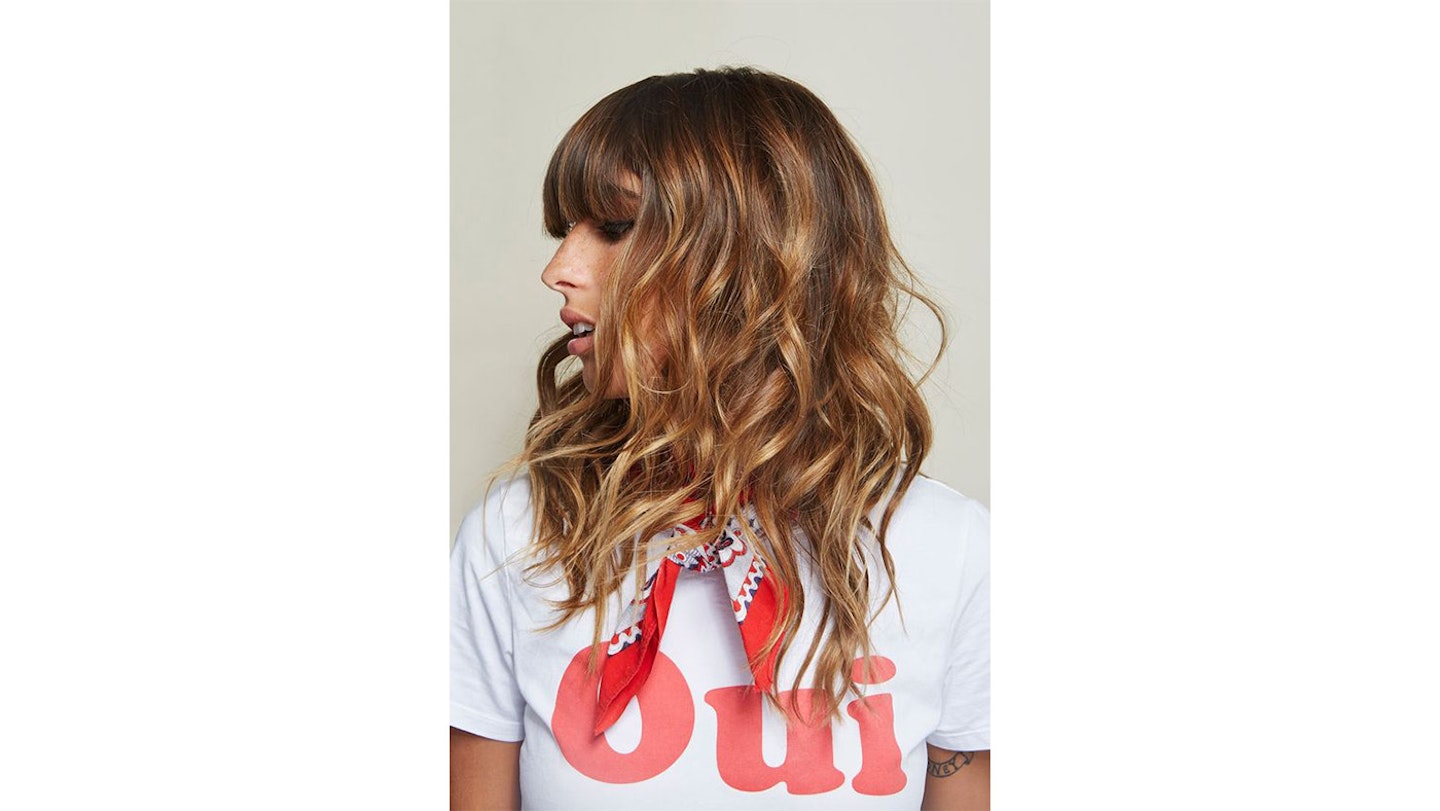 Rock 'n' Roll waves: Create rock 'n' roll-inspired waves by adding texture and volume to your hair for a carefree and rebellious vibe. This style works well with medium-length hair and adds movement to your locks.
Colourful edgy hairstyles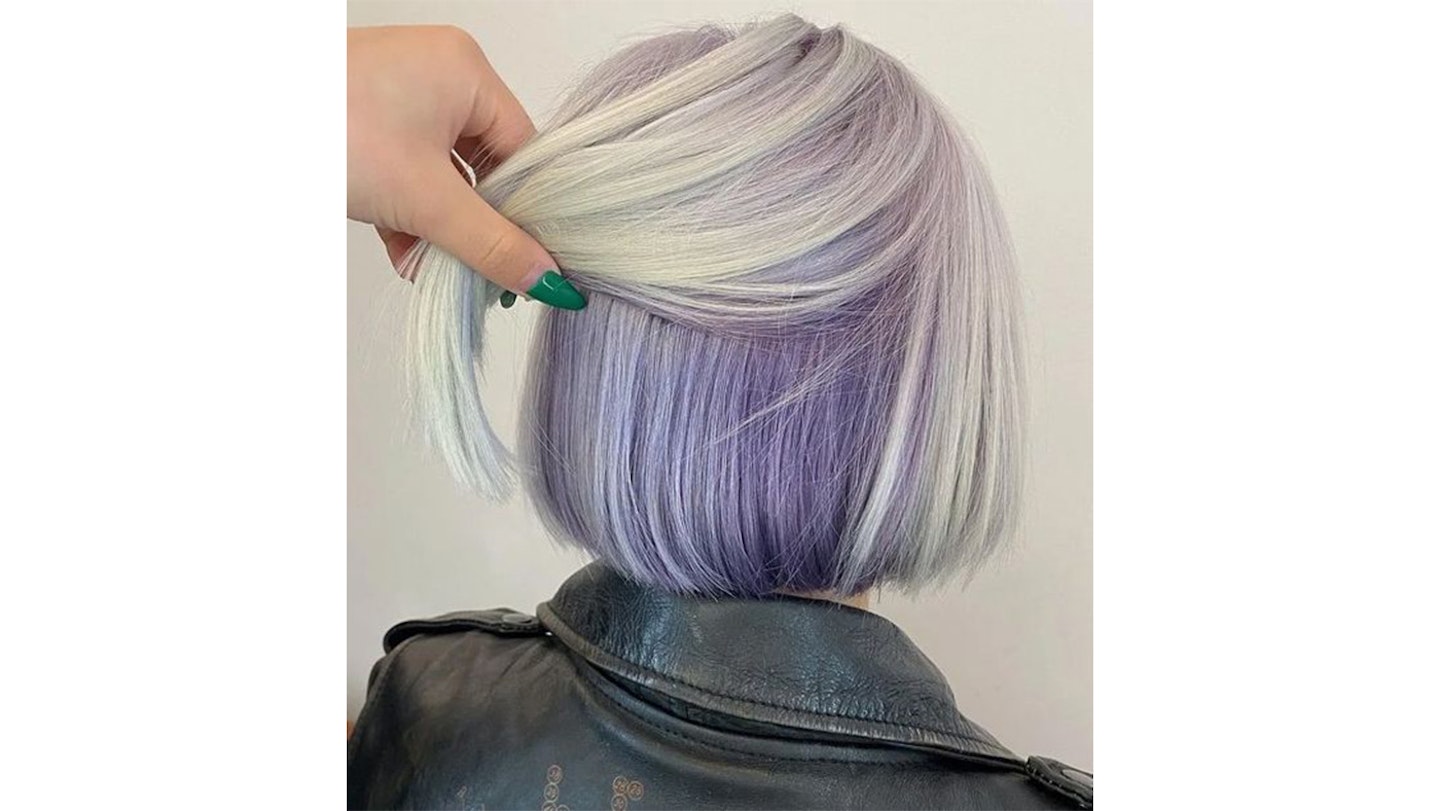 Long grey hair with under colour: Embrace your naturally grey hair and add an unexpected twist by colouring the underlayers with a bold hue like purple, blue, or teal.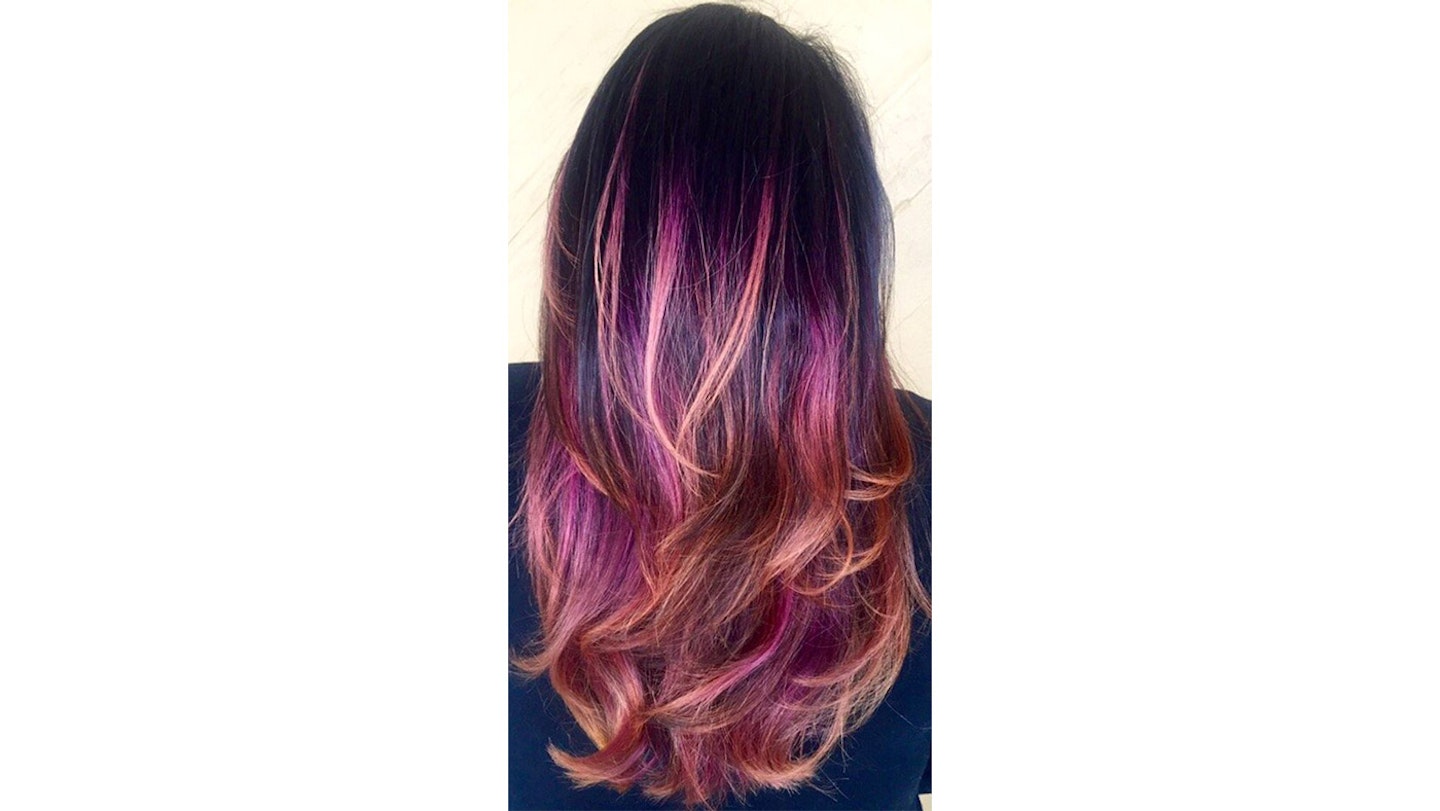 Vibrant ombre: Opt for an ombre colour transition with vibrant shades for a bold and eye-catching look. The gradual colour change from roots to tips adds an element of intrigue to your hair.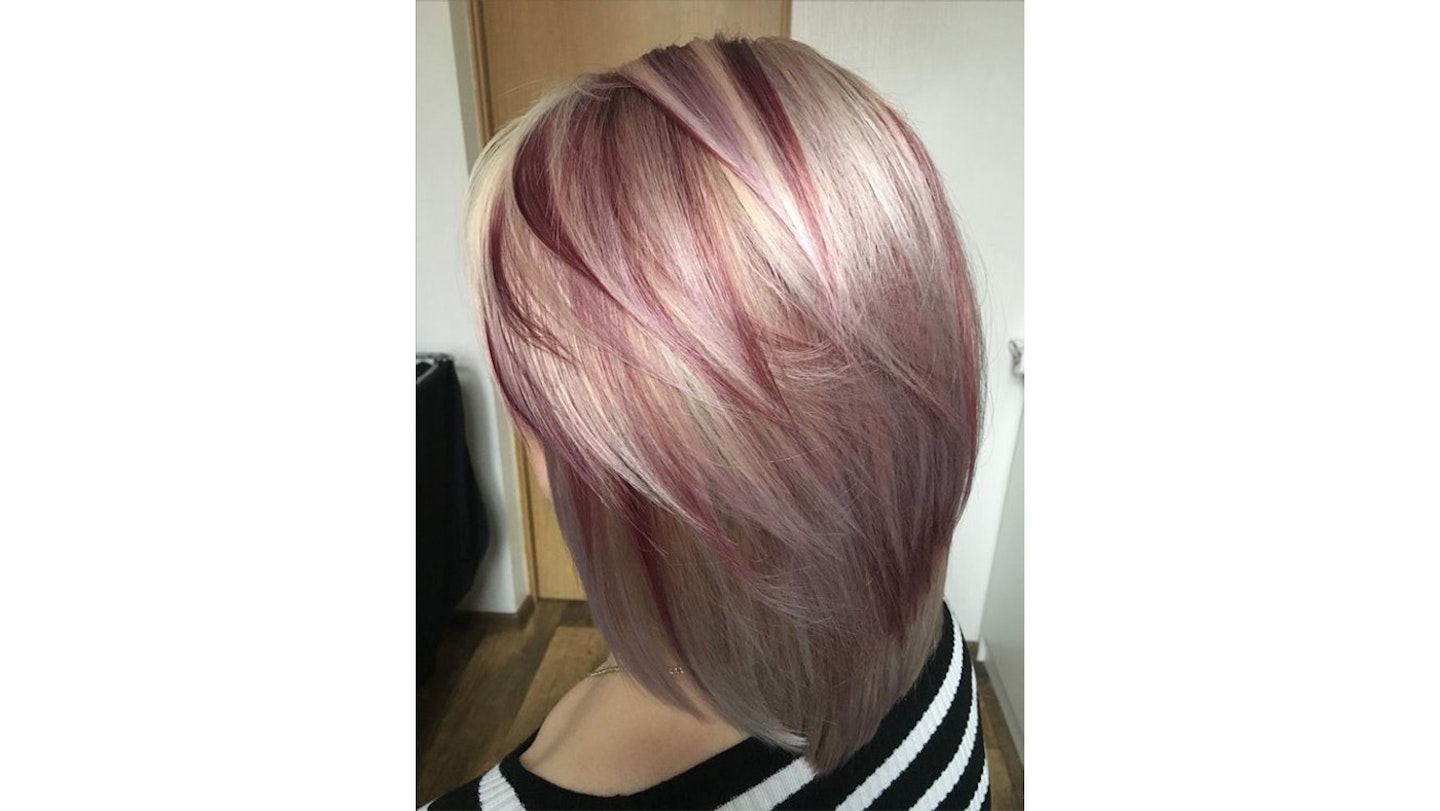 Colourful streaks: Add bold streaks of colour, like neon or pastel hues, to your hair for a playful and youthful touch.
These streaks can be strategically placed for a subtle or attention-grabbing effect.
How to maintain coloured hair
"Brights can look incredible, but it's important to choose a colour technique that's going to suit you. If hair is very pale, silver, or white, I'd look more at pinks and the lilac tones. I would also be more inclined to do hidden colour, so you get pops of colour that come through and enhance the haircut as well as the colour without having to worry about seeing any regrowth. If you've got salt and pepper hair but predominantly more of an iron grey with a few bits of salt, then realistically you're probably going to need some pre-lightening which makes it higher maintenance because you'll have to have that done every now and then. However, you can then have more of a contrast and open up the options of orange and reds.
I don't really recommend going as far as neon if your hair is all grey and it can be tricky to wear because of skin tone which we also lose as we get older, so you don't want a colour that's going to be unflattering. With any vibrant colour it's always going to be high maintenance so again, someone who's grown out their grey and gone natural needs to be aware of the maintenance of it. Choosing a colour range that fades true to tone is always good and you can have a lot of fun with those.
Wash hair in cold tepid water and also try to wash it less - my clients that have vibrant hair generally wash their hair once to twice a week with a good professional colour shampoo and conditioner." - Tina Hollis – Salon owner of T2 Hair & Beauty, Kent and Wella Colour Master
Features & Reviews Editor Emily Gilbert has been a journalist since 2016 and has worked across a variety of specialist and lifestyle brands both in print and online. Specialising in travel content and product reviews, Emily is the first to know about all the exciting new releases, her favourite being gadgets for the home.
To enjoy more regular stories just like this, become a Yours subscriber and become part of our fun and friendly community of like-minded readers.