Unleash your culinary creativity with the WITT Etna Fermo pizza oven, with a U-shaped main burner for rapid heat up, for perfectly cooked pizzas in 90 seconds.
WITT was formed back in 1993, as a distributor for white goods appliances in Denmark, but has over time expanded and developed into a large brand house. WITT's latest venture has been the development of the WiITT Etna Rotate and the WITT Etna Fermo pizza oven.
We tried out the WITT Etna Fermo for ourselves, here's how we got on...
Pros
Sleek design
Cooks pizzas very quickly
Easy to set up
Regulator included (in ours anyway!)
Cons
No temperature regulator
Heavy
Hidden costs
Testing the WITT Etna Fermo pizza oven
The first thing we hadn't expected about this product was its size, the box it arrived in was huge and very heavy. Once we'd unwrapped the Etna Fermo we were impressed by the sleek design, it looks very smart in matt graphite and there are a range of other colour options available too including black, stone and orange. But yes, it is quite a hefty piece of kit, so take that into consideration.
Regarding set up, I read on the WITT website that the gas regulator and hose wasn't included, so we went out to buy one before we unboxed it and started set up, but there was actually one inside the box so worth double checking this before your first use/before you go out to buy a separate regulator! No harm done as we just returned the additional regulator we'd purchased. Other than attaching the gas to the hose, you simply fold out the legs and you're good to go. We don't have a table that can fit the pizza oven, so we're just using it on the floor at the moment. The legs do hold it off the ground so it's fine but long-term we're going to have to buy a table.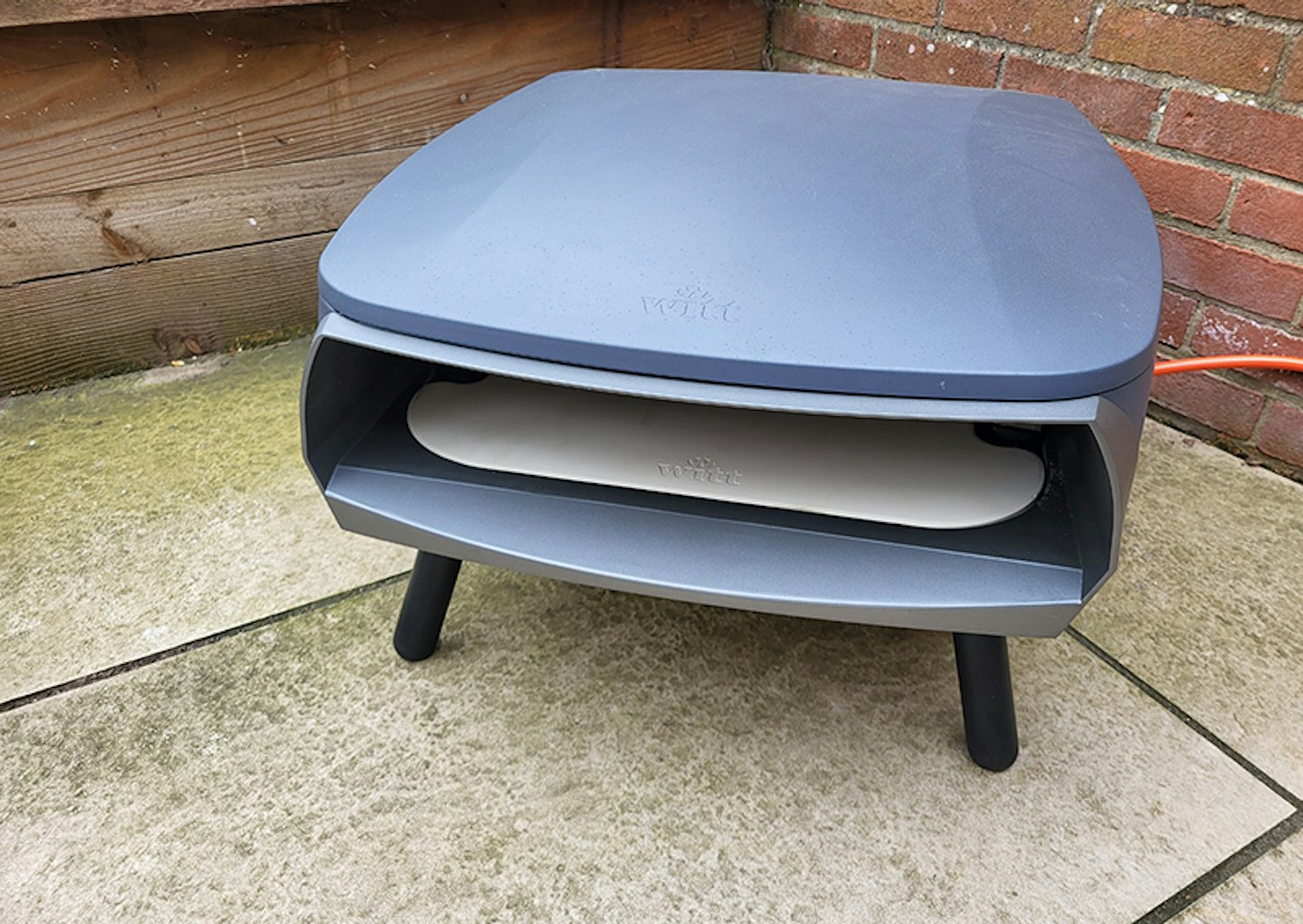 The instructions provided are simple to follow, there's just one knob and it lights like a gas hob so really easy. We did have a little trouble getting the ignitor to spark so we just used a lighter instead and that was fine. The gas lights in a U-shape around the pizza stone, and it does get really hot quite quickly! As per the recommendation we did a burn off before cooking with the pizza oven (let it heat for 30 mins before turning off and letting it cool down again). Then it takes less than 15 minutes for the oven to be ready for pizza. There is no temperature gauge so there's a bit of guesswork involved.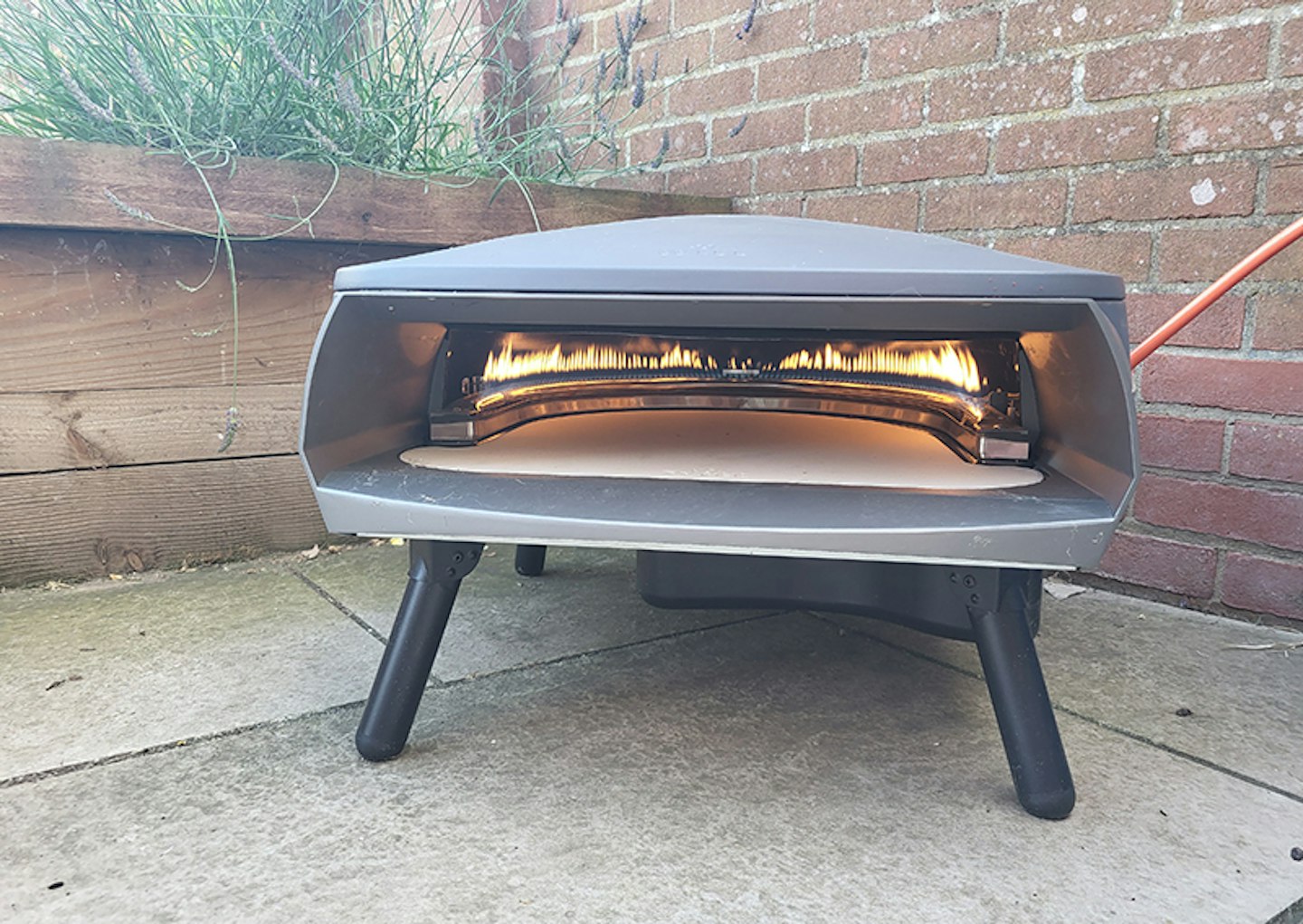 Now this is not necessarily a fault of the pizza oven, more our pizza skills and lack of the right tools – but we had real trouble getting homemade pizzas into the oven. They'd just end up a complete mess. If we did manage to get one in almost still pizza shaped, it would then come apart when we tried to rotate it or remove it from the oven. I don't know if it's because of the low height, hopefully once we have it on a table it will be easier to use. Also we don't own a metal pizza peel, just a wooden one. So perhaps after purchasing some additional tools we'll have more luck.
To be honest I was quite disappointed that it didn't come with a pizza peel for the price, and it also didn't come with a cover. Witt do have accessories available to purchase separately via their website, as well as bundle options, but I would have expected at least the cover to be included.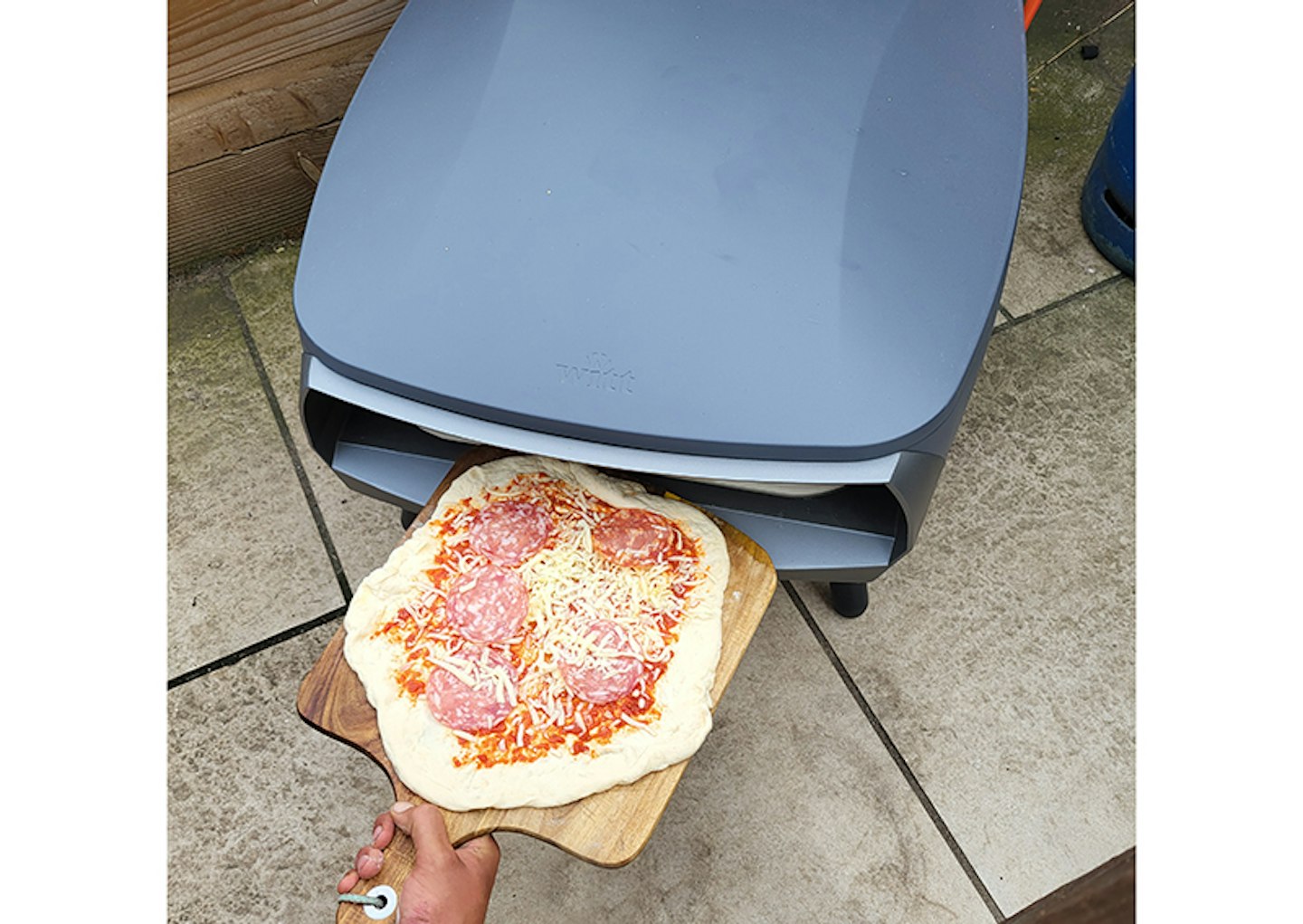 The pizzas we did manage to cook in the pizza oven were ready made ones (so sturdier bases than our handmade ones!) It was a shame we didn't get to have the full experience of cooking our own homemade pizzas, but the shop-bought ones did come out lovely. Cooking them on the stone really gives them an extra flavour you don't get in the oven, and they cook so quickly. The website says 90 seconds and they're not joking, one of our pizzas almost ended up getting cremated because we didn't keep a close enough eye on it!
Final thoughts
It is on the pricier side, and a big investment if you then consider you also have to buy the gas, a table for it and the tools so you can safely get your pizzas in and out. The cover is another additional cost unless you have somewhere undercover to store it, and even then you do need someone to help you carry it as it's quite heavy.
If you have the space and around £800 (this is the WITT bundle price with pizza peel included) to invest in a good gas-fired pizza oven, I would recommend it based on its sleek design and functionality – had we been able to get our own bases to work I have no doubt they'd have cooked quickly and tasted delicious. As mentioned above we're definitely going to have to invest in a table for it and a metal pizza peel and will keep trying to perfect our pizza skills and hopefully will be successfully getting our own pizzas in and out of the pizza oven soon!
FAQs
What kind of gas do I need?
F-gas, LPG, Bottled gas, liquefied gas, propane gas - different names, same product. LPG stands for Liquified Petroleum Gas, which covers a collective term for the hydrocarbons propane and butane. It's standard bottled gas used for both cooking and barbequing in general.
You can get LPG bottled gas at gas stations, hardware stores, campsites, etc.
How long does it take to cool down?
The cooldown time varies due to the ambient temperatures. The ETNA Pizza Ovens is one of the most temperature-consistent pizza ovens on the market with effective insulation, taking approximately one and a half hour to cool down completely.
Stephanie Anthony is the Deputy Digital Editor of Yours.co.uk. Having worked across a variety of topics, from travel and food to pharmaceuticals, she also has a particular interest in mental health and wellness. She has a house full of pets with two dogs and two cats.