The Sage The Custom Loaf Bread Maker is a new generation of bread maker, designed to look sleek and take all the fuss out of making a tasty loaf of bread. With an LCD screen, easy navigation buttons, and a plethora of settings, if you're a lover of all things bread and convenience, this handy gadget could be for you.
Sage is known for its stylish and evolved range of kitchen appliances, and the Sage The Custom Loaf Bread Maker seems to be a reflection of that as it's designed with quick and easy customisation options. From fruit loaves and family favourites like sourdough to more unique bakes like Pizzas and jam (yes, it makes jam too), this contemporary bread maker was designed for the whole household.
It comes at a similar price to many of its competitors, so what sets it apart from other bread makers? Yours Commercial Content Writer, Eve Miller, and her family tested out the Sage The Custom Loaf Bread Maker, making multiple loaves of bread, to see if it was worth it and right for all types of kitchens.
Pros
Easy to use
Versatile design
Looks stylish
Great results
Non-stick metal
Cons
Takes up a lot of counter space
The Sage The Custom Loaf Bread Maker includes
• The Sage The Custom Loaf Bread Maker itself
• 2x paddles
• Instruction booklet
• Recipe book
Testing the Sage The Custom Loaf Bread Maker
The Sage The Custom Loaf Bread Maker was reviewed by being used as it was intended to: in a family kitchen, making some classic, crowd-pleasing recipes. My family consists of three people, but this bread maker can cater to all types and sizes of families.
After the bread maker was delivered, my Dad and I set it up in our kitchen. It was as simple as picking the counter it was going on, unpacking the parts, quickly assembling, and plugging it in. We then picked out a selection of premade bread mixes and bread maker recipes that we wanted to try.
We wanted to try out a few different bread types so we bought sourdough, ciabatta, regular with loaf, dried tomato and parmesan, spelt and sunflower seed mixes, plus tried out a wholemeal loaf and herb and parmesan loaf from scratch. This gave us a lot of opportunities to play with the settings and crust types.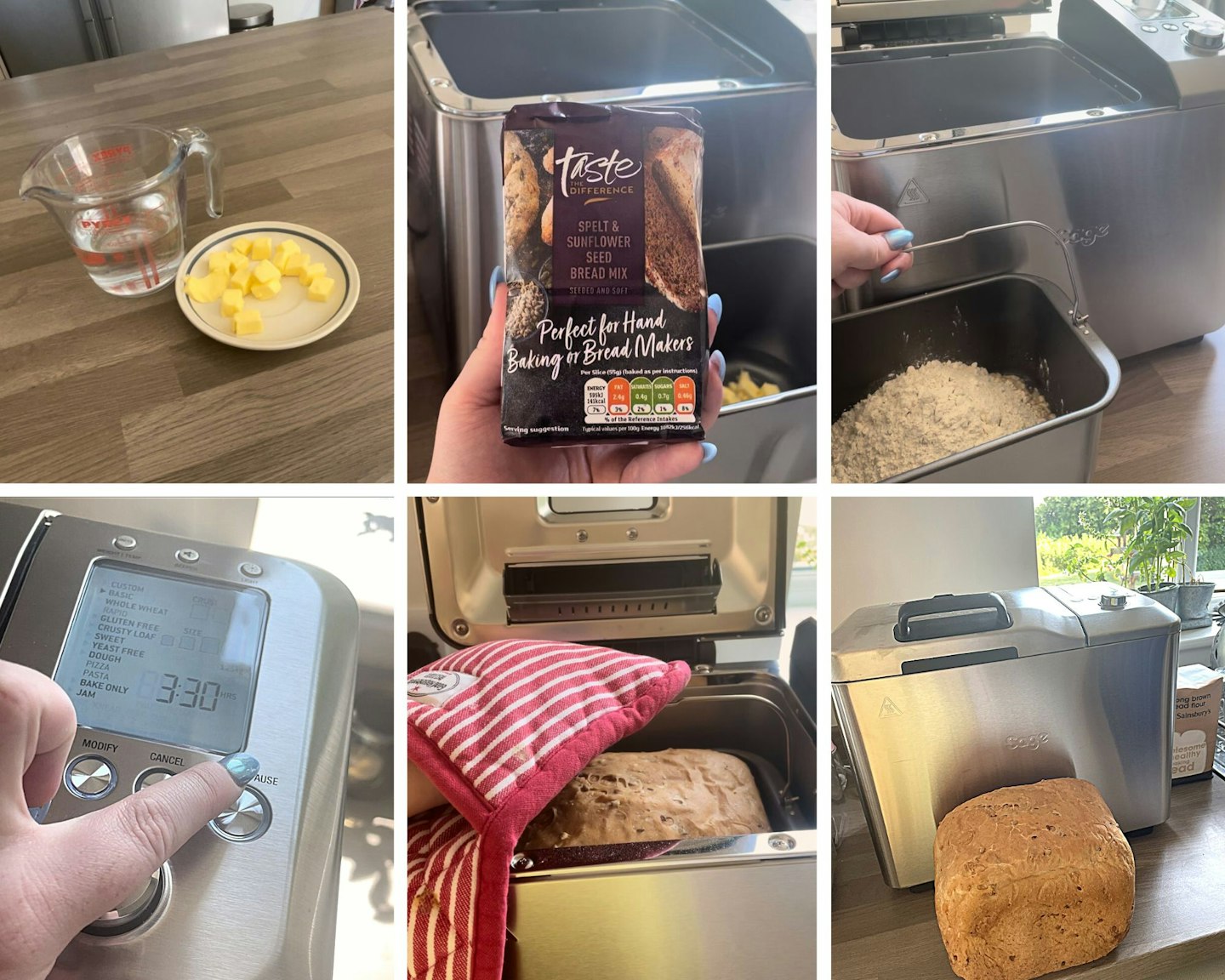 Because of its larger size, we'd say that the Sage The Custom Loaf Bread Maker is definitely a great option for family households, but smaller households may also enjoy this. You can create multiple loaves in a day, all of the different sizes, so as long as your household loves bread, you're onto a winner here. It also can make pizza dough, so a household with children will benefit from this bread maker too.
It isn't pricier than many other bread makers on the market, but we acknowledge that having a bread maker, in general, is more of a luxury purchase. We'd recommend this to those who are more passionate about convenient baking.
We're a family of three adults so the fact we can have delicious bread easily without having to always pop to the shops is fabulous. My mum isn't the most technologically savvy and does struggle with her sight, but she finds using our Sage The Custom Loaf Bread Maker very easy. It definitely feels accessible.
Yes, there are lots of impressive features, and it's fun to try out different crust colours (a darker crust is just heavenly with a sourdough mix), but it's clearly designed to not be overly fussy or complicated, just customisable.
Our only major issue was the size. Our kitchen is a medium-sized room, but because we have other appliances, it was hard to find counter space for such a larger machine. We did have to move a few things around so, if you're limited on space, this might not be the one for you.
What is the Sage The Custom Loaf Bread Maker best for?
Of course, as it's a bread maker, the Sage The Custom Loaf Bread Maker is a standout in the bread-making market, but it also makes jam, pasta, and pizza dough, making it a versatile option for busy homes that just want something baked fresh and easily. Whether you're an experienced baker or just starting out, this machine can help with making all types of bread recipes, from crusty wholemeal loaves to sweet fruit loaves.
We have now experimented with premade bread mixes and a recipe we've found online, and we haven't had a bad result yet. My parents have had breadmakers in the past and just gave up on them because they just couldn't figure out how to get a good loaf from them. They were so pleased to finally found a bread maker they enjoy using.
The fact you can customise your bread's crust and size is great because different bread types definitely require that personalisation. We're savoury bread lovers in this family, so we've been literally eating up all of the loaves we've been making as they have all been delicious.
When it gets to the festive period, my mum is really looking forward to using the fruit and nut dispenser more, as it adds fruit and nuts to your loaf at the exact right time for an even bake. My mum also loves that, even though it has all the bells and whistles, it does the basics just as well."
Design
With the smart LCD display, easy-to-use buttons, timers for convenience, and several automatic settings, I can see that this was designed to be simple but effective. The bread makers that my parents have had in the past were too fiddly and easily put them off, but this looks modern and acts like it too.
It's also quieter than the bread makers we've had in the house previously. Yes, you can hear it working, but it's not too loud and it's worth it when you can smell the bread baking throughout the house. The internal light and display window means you can check on your bread loaf easily, which just adds to the excitement.
We love that it's designed with non-stick metal as the bread comes out easily, even when still hot, and we just wipe it clean between loaves. The handle you use to pull out the bread can get hot, so just be careful when touching it. We use an oven glove to avoid the heat."
Usability
Everyone in my house, myself included, found this incredibly simple to use, and we all have different skill sets when it comes to using kitchen gadgets and baking. I found that you can just get stuck in and have a loaf baking in minutes, no fuss or faff. Even the LCD screen didn't scare my technophobe mum off, so I'm beyond impressed.
Using a premade mix made the experience a lot easier but I will say that using your own recipe may take a little more trial and error. That's not the bread maker's fault, it's just figuring out what's best for certain recipes."
Performance
I can't say that having loaf after loaf of bread isn't a dream situation, but this bread maker has made that dream a lot more accessible. We thought maybe the first loaf was a fluke, but as I've said, we haven't had a bad result yet, which is a testament to how well this bread maker works.
There's a cupboard in our kitchen, where appliances we thought were a good idea but don't get used go, but I don't see the Sage The Custom Loaf Bread Maker going in there anytime soon. We're really enjoying having it.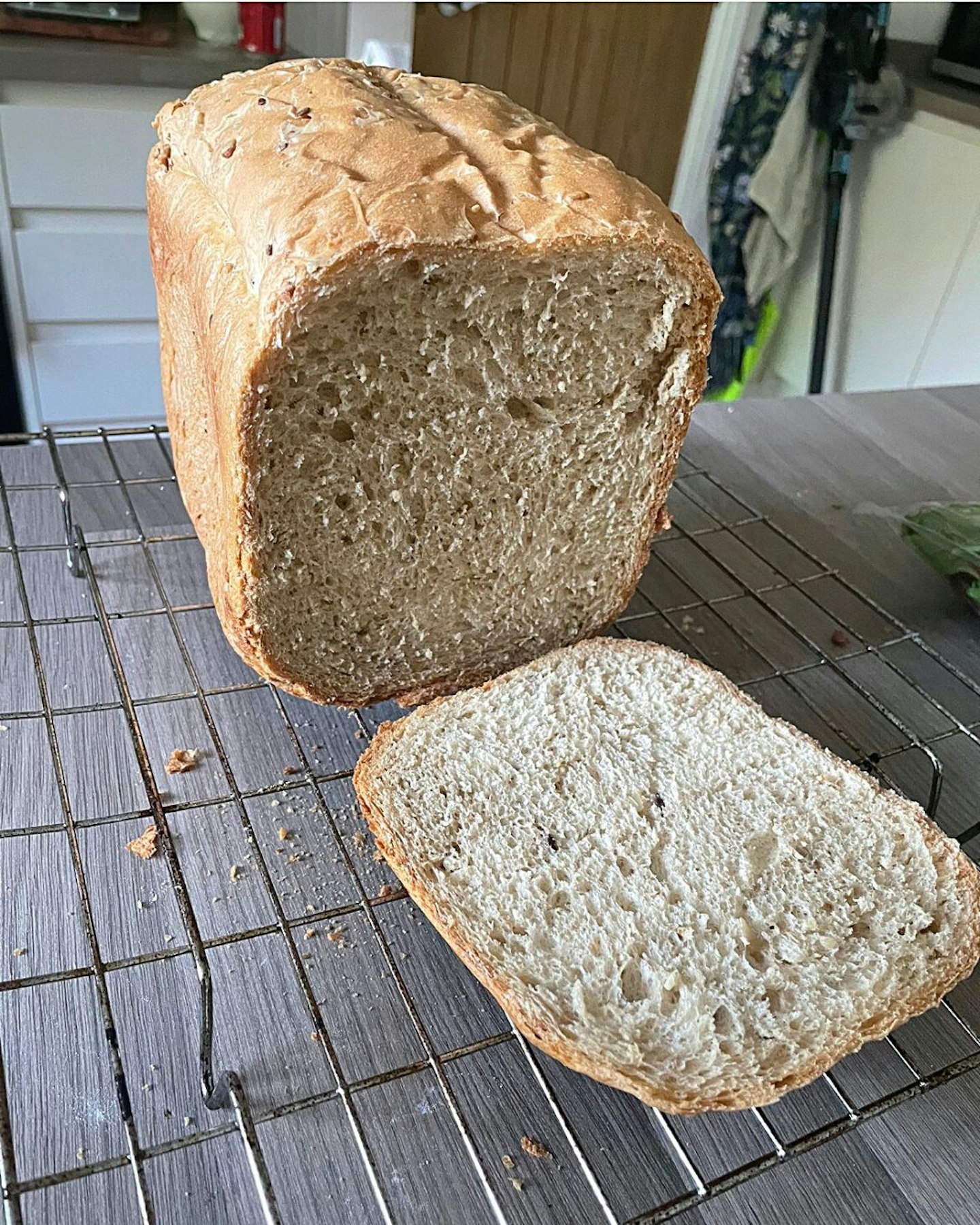 Our final verdict
The Sage The Custom Loaf Bread Maker may be a more luxurious purchase, but it's accessible, modern, and creates tasty loaves of bread. You can use it for a lot of family-friendly bread recipes and the plethora of features makes it a must-have for kitchen appliance lovers. If you have the space for it, we think it would make a great addition to any kitchen, which is why we're giving it a 4.5-star rating.
Alternatives:
Description
With 12 programmes, 3 loaf size and crust options, this affordable bread maker from Russell Hobbs
Pros
Makes jams and cakes
55 minute fast bake time
Description
Thanks to it's 30 automatic settings, you can easily make bread and cakes with this Panasonic
Pros
2 temperature sensors
4 gluten-free programmes
Cons
Comes with a limited amount of recipes
Description
Another compact bread maker that can make smaller loaves fast, this Tower bread maker looks
Pros
Design includes a viewing window
Non-stick coating
Eve Miller is a Commercial Content Writer for Yours and Mother&Baby, working for Bauer Media for over two years. She is passionate about beauty, creative writing, and women's healthcare.