A great solution for your home workouts or chair exercises are resistance bands. Simple, yet effective to keeping fit and healthy.
These literal bands of stretchy latex, rubber or elastic are a cheap and effective tool for increasing your mobility with a full range of exercises that can get you moving every muscle in your body.
You might even feel inspired to try some of the resistance band exercises at the bottom of this article as part of your Fit Mind 50 challenge this year.
Read on to find out what makes them such a great all-rounder and the best resistance bands you can buy to start stimulating your muscles today.
Why should I use a resistance band?
Resistance bands may be small but they're mighty when it comes to the benefits they have in store:
• Use to increase muscle engagement
• Easy to store
• Affordable piece of exercise equipment
• Portable and easy to carry on the go to exercise indoors or outside
• Versatile for a range of exercises and movements
• Use to dynamically stretch for improved mobility
• Tone and build fitness through consistent exercise
• Assist in body weight exercises, such as standing push ups or pull ups
• Use a range of resistance level bands to help build strength where you need, making it great for a training routine or a rehabilitation programme.
The best resistance bands for your workouts
15 best resistance bands
1 of 15
Gritin Resistance Bands – Set of 5
Best all rounderThese resistance bands are durable, portable and great for training – if you don't believe us, look at the 25,000 5 star reviews on Amazon!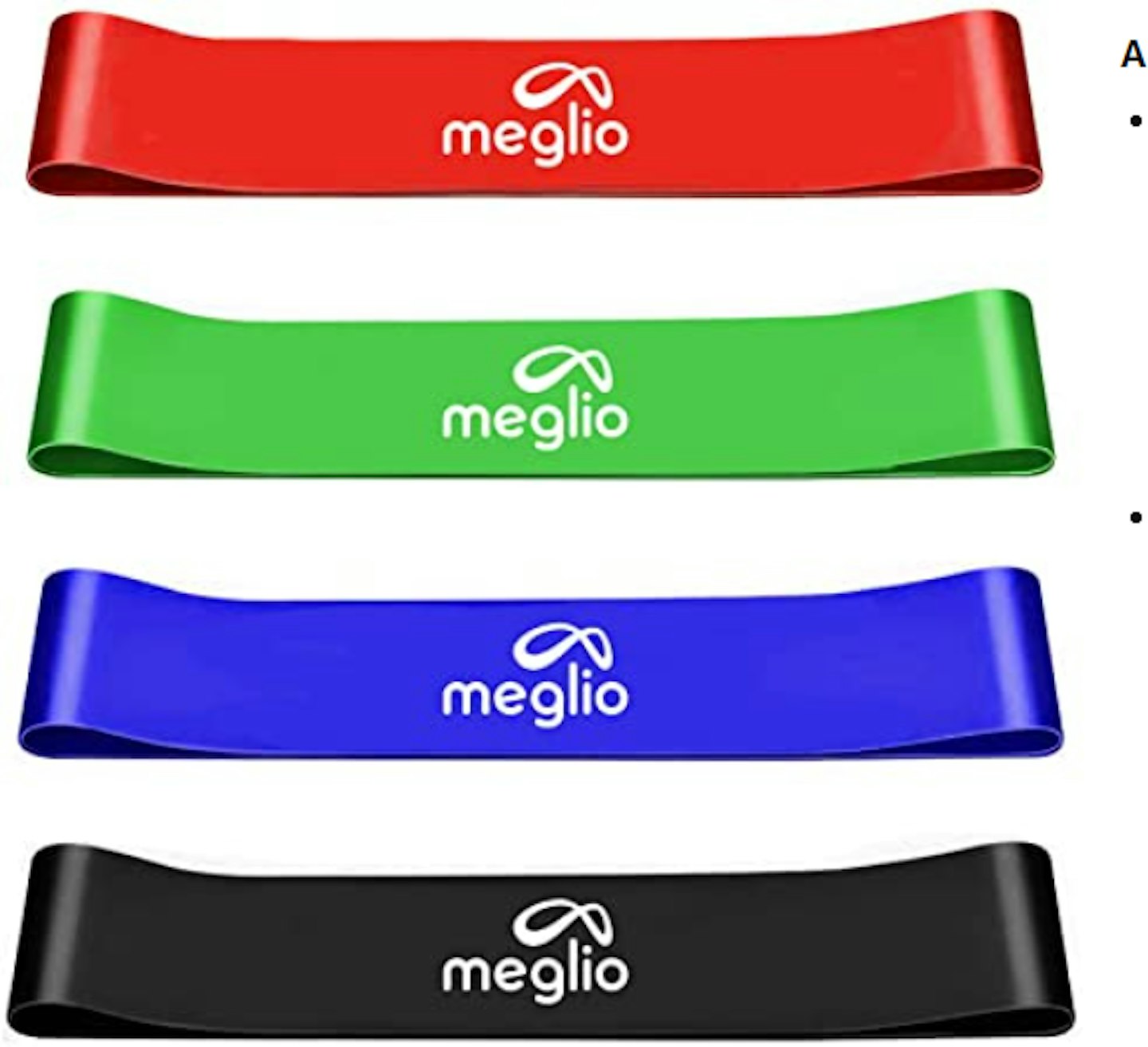 2 of 15
Meglio Latex Free Resistance Bands – Set of 4
Best for health awarenessThese resistance bands are a favourite for physio referrals with many reviewers taking to these to increase their mobility and strength. On top of this, these bands are latex-free which is great news for anyone with a latex allergy.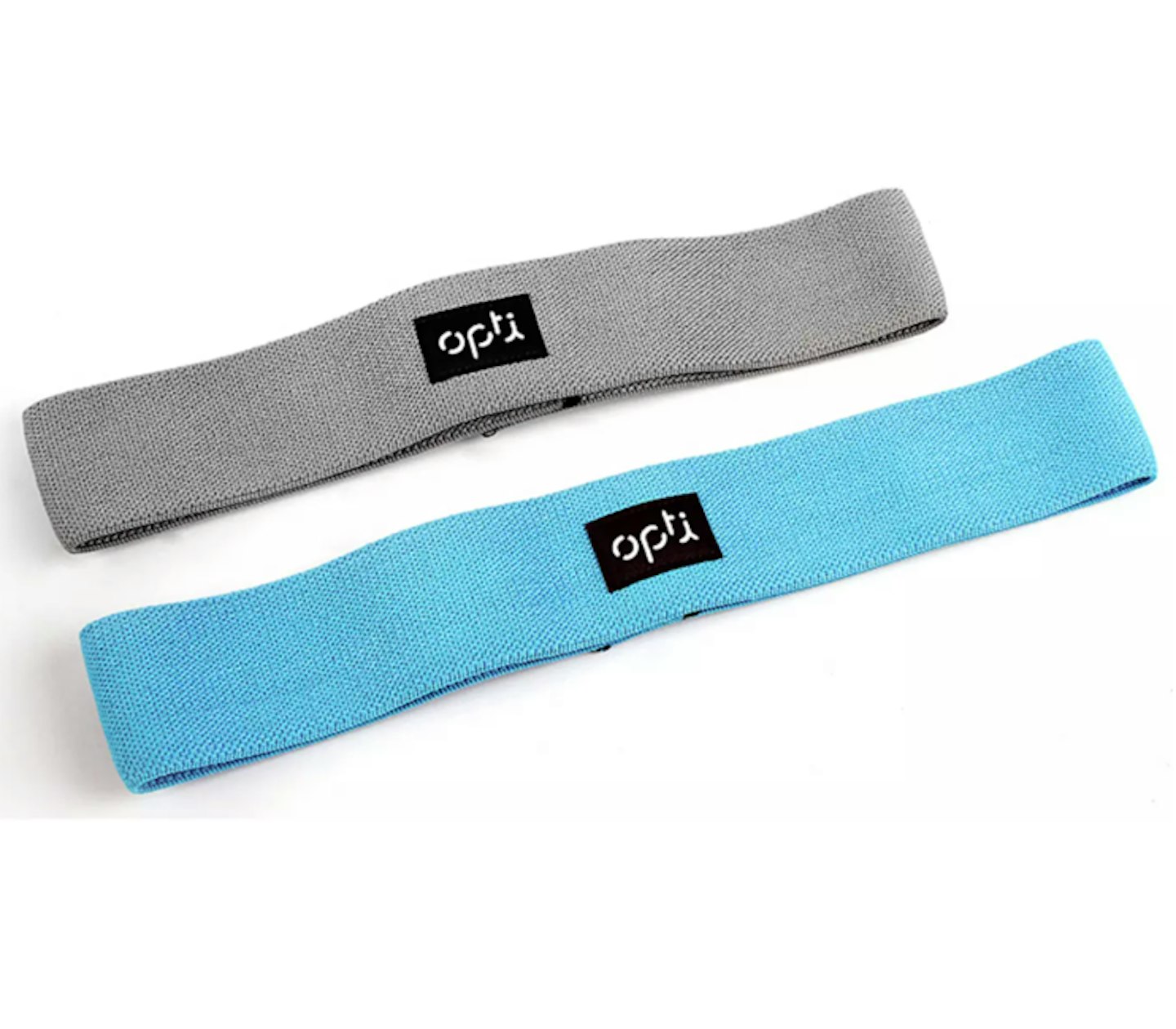 3 of 15
Opti Hip Resistance Bands – Set of 2
Best for hip exercisesThese elastic bands have a good level of resistance and stretch which make them great for lower body exercises.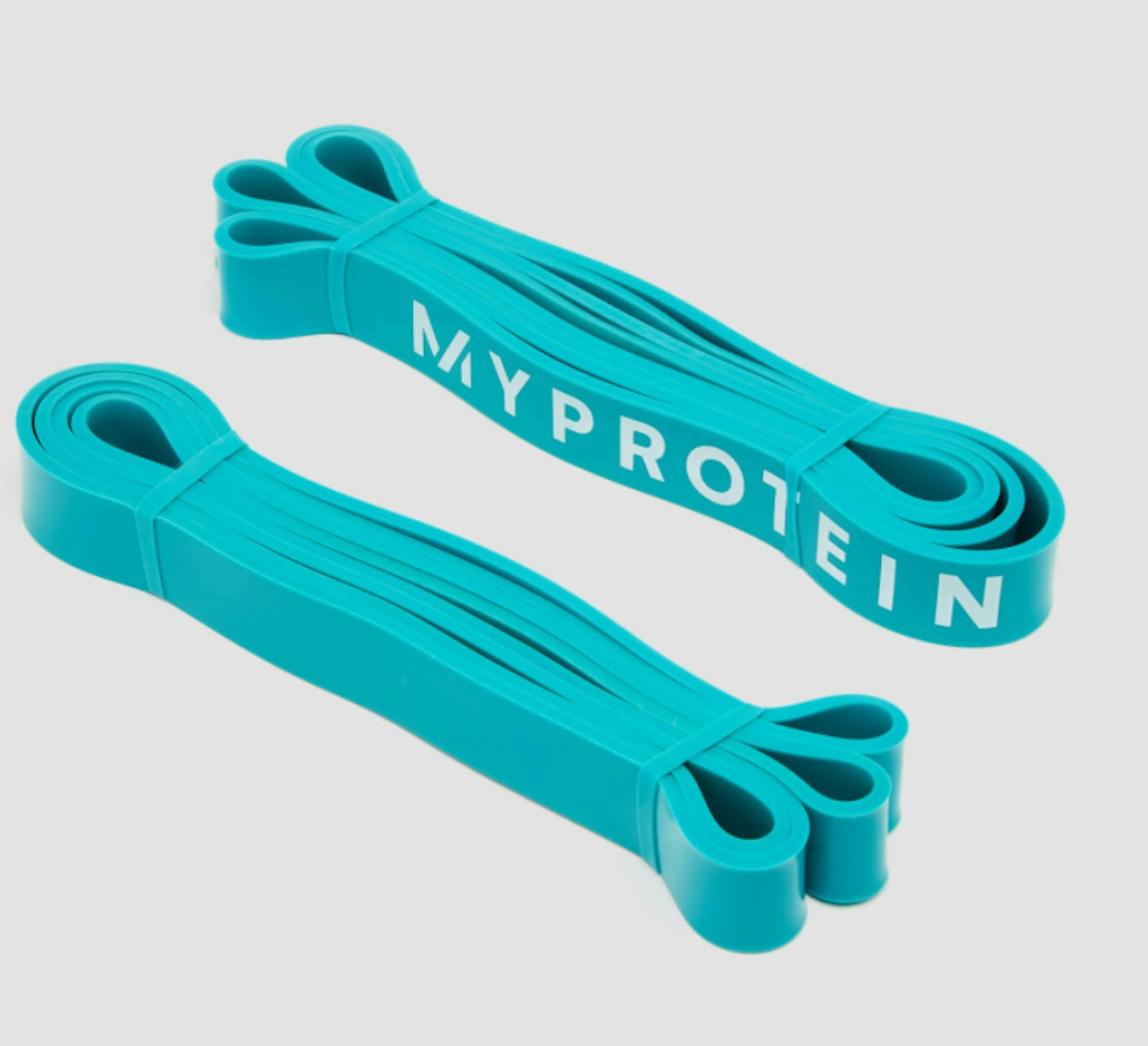 4 of 15
Myprotein Resistance Bands - Set of 2
Best for brilliant valueThis resistance band provides 11-36kg resistance, giving more resistance compared to other bands that you would get at a higher price.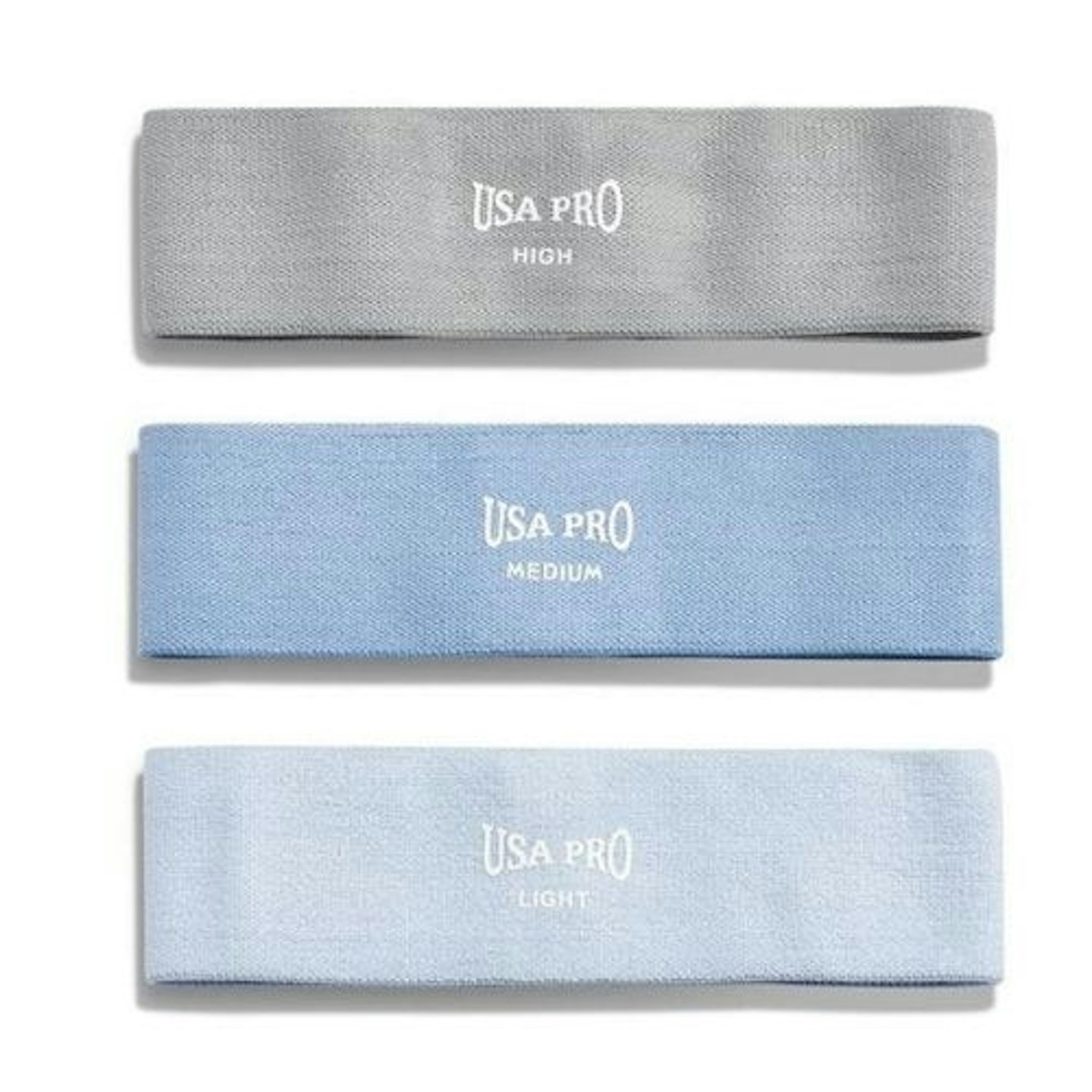 5 of 15
USA PRO Woven Resistance Band Set
Best for style and substanceWith three resistance levels, you can tell the difference between each with a colour-coded system in shades of blue/grey. The bands stretch out after a few uses and are great for core and lower body workouts.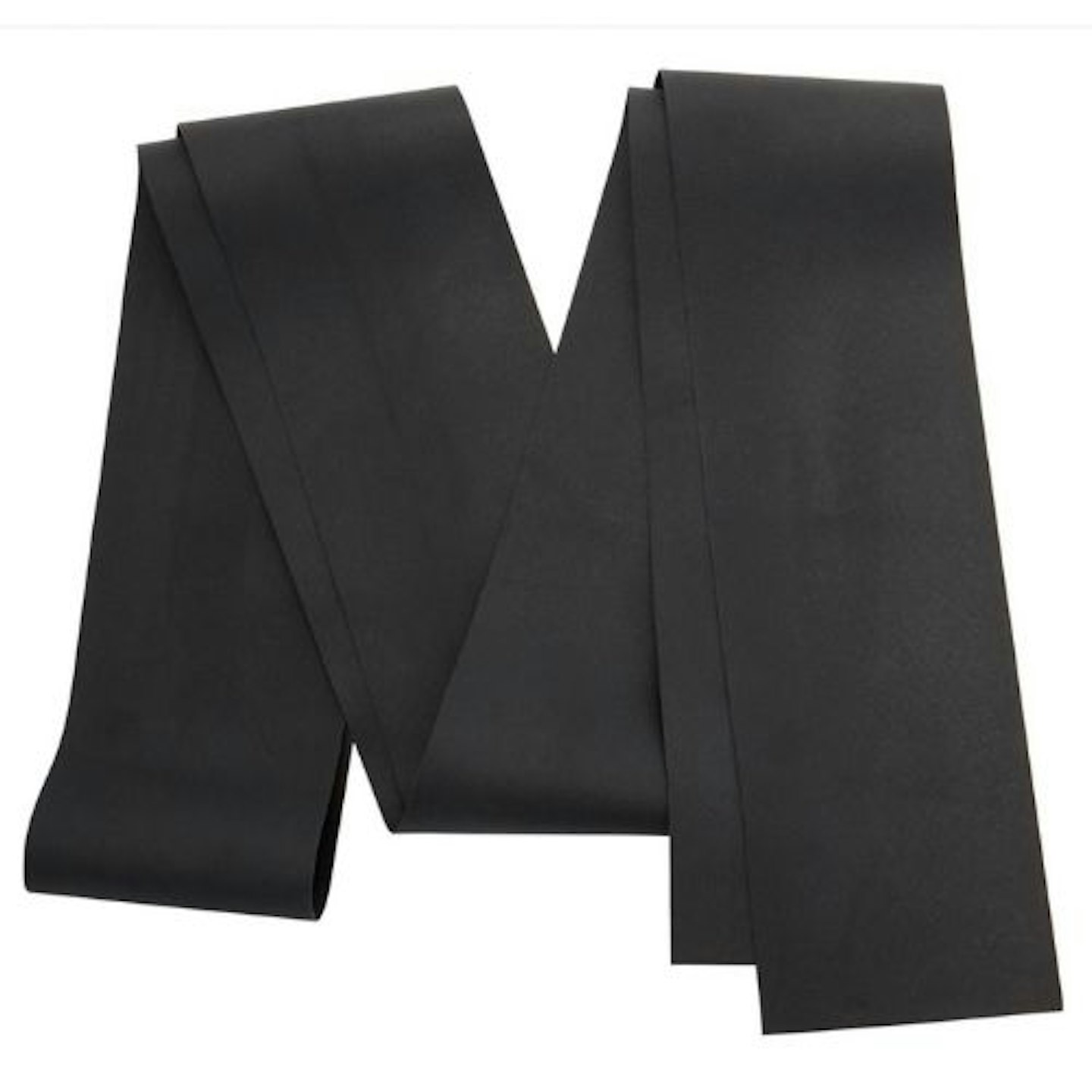 6 of 15
Pilates Rubber High Resistance Band
Best for PilatesThis resistance band is made for Pilates and is great for strengthening your muscles. So much so that it has been recommended by physical therapists with one reviewer buying this on the advice of their physio.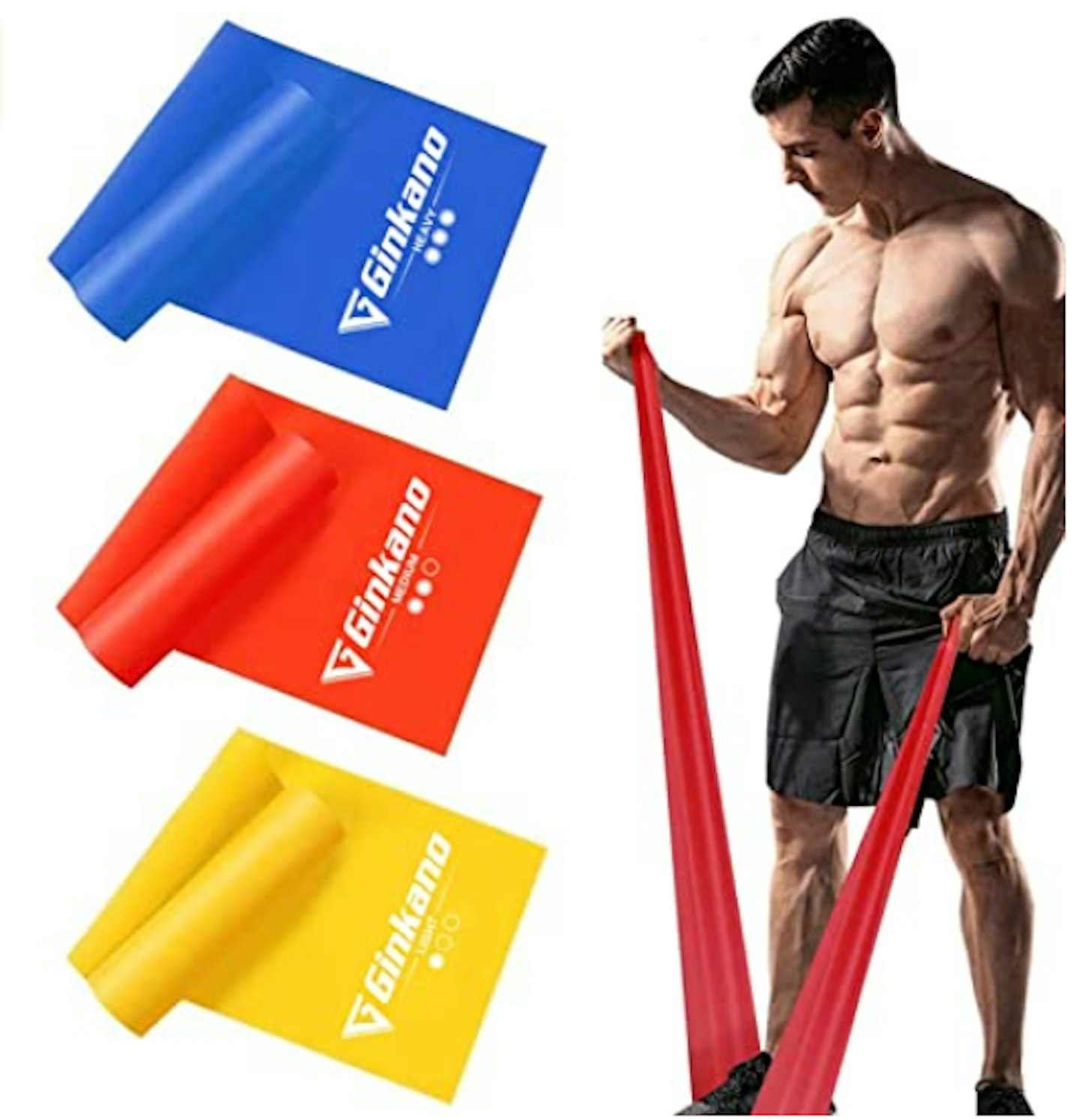 7 of 15
Haquno Resistance Bands Set – Set of 3
Best for the eco-consciousMade from 100 per cent eco-friendly natural latex, these bands have a more natural grip that will work as well as any resistance band with plastic handles. With 3 resistance levels you can try a range of upper and lower body workouts.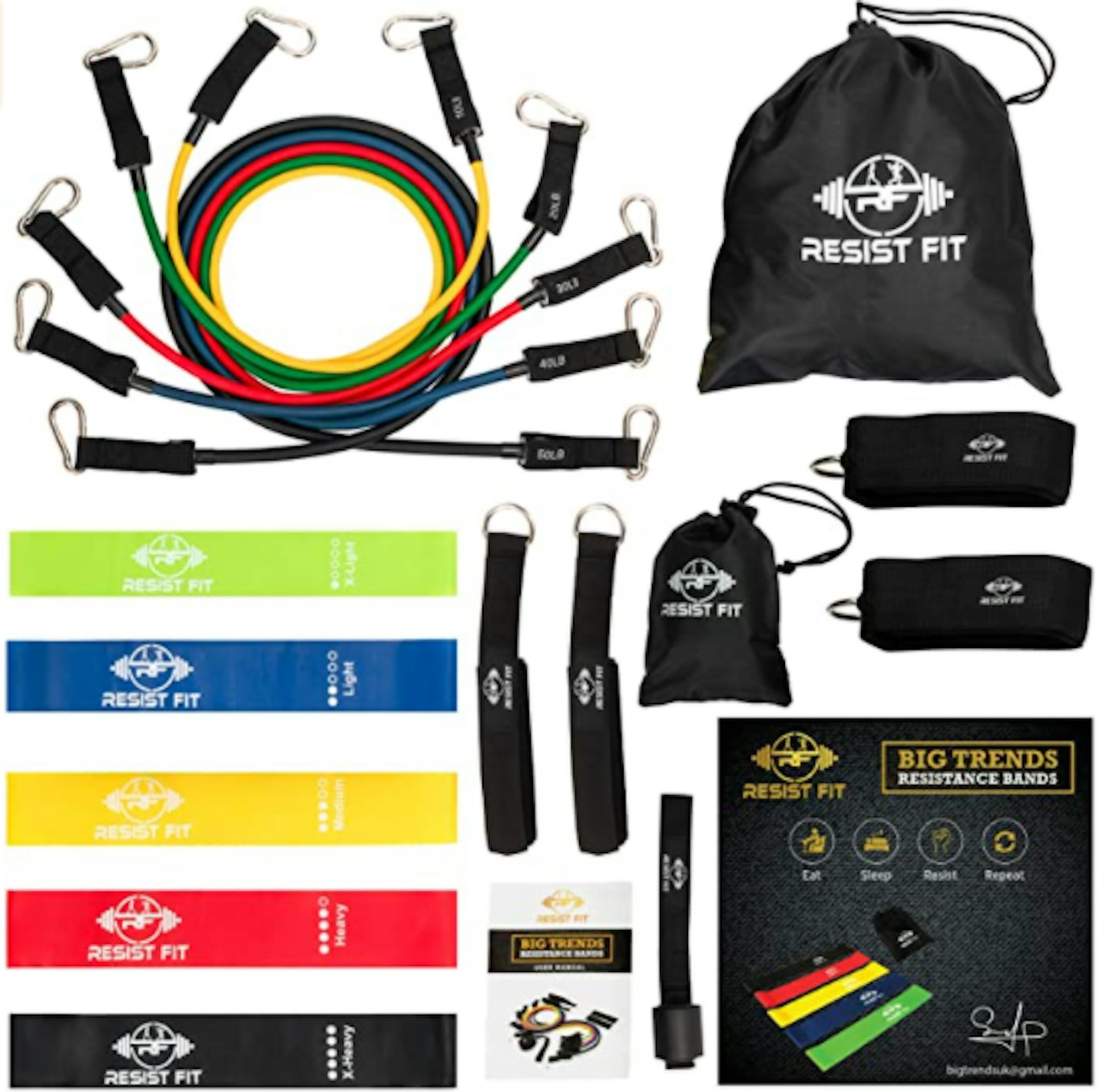 8 of 15
10 Piece Resistance Bands Set
Best for the at-home gym experienceWith a whopping 10 resistance levels available as part of this set, this is perfect for any gym bunny wanting to get strong and fit. With ankle straps, handled resistance bands, door anchors and so much more, you'll be able to work out every muscle in your body.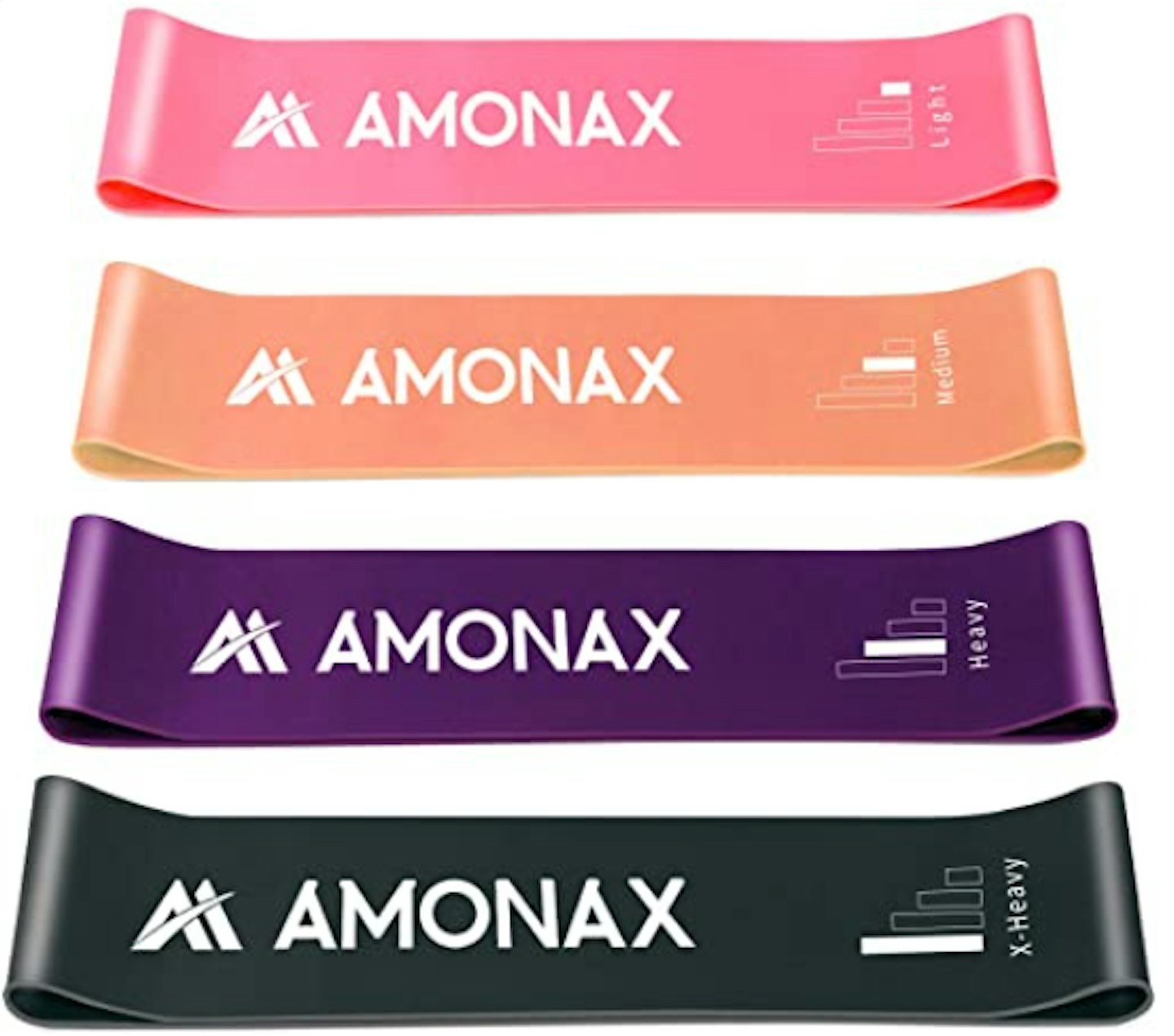 9 of 15
Amonax Resistance Bands Set – Set of 4
Best for durability30% thicker than other bands, these resistance bands are sure to go the distance while still allowing adequate stretch for you to move and feel your workout. They even come with a lifetime warranty so even if they do snap, they'll be replaced!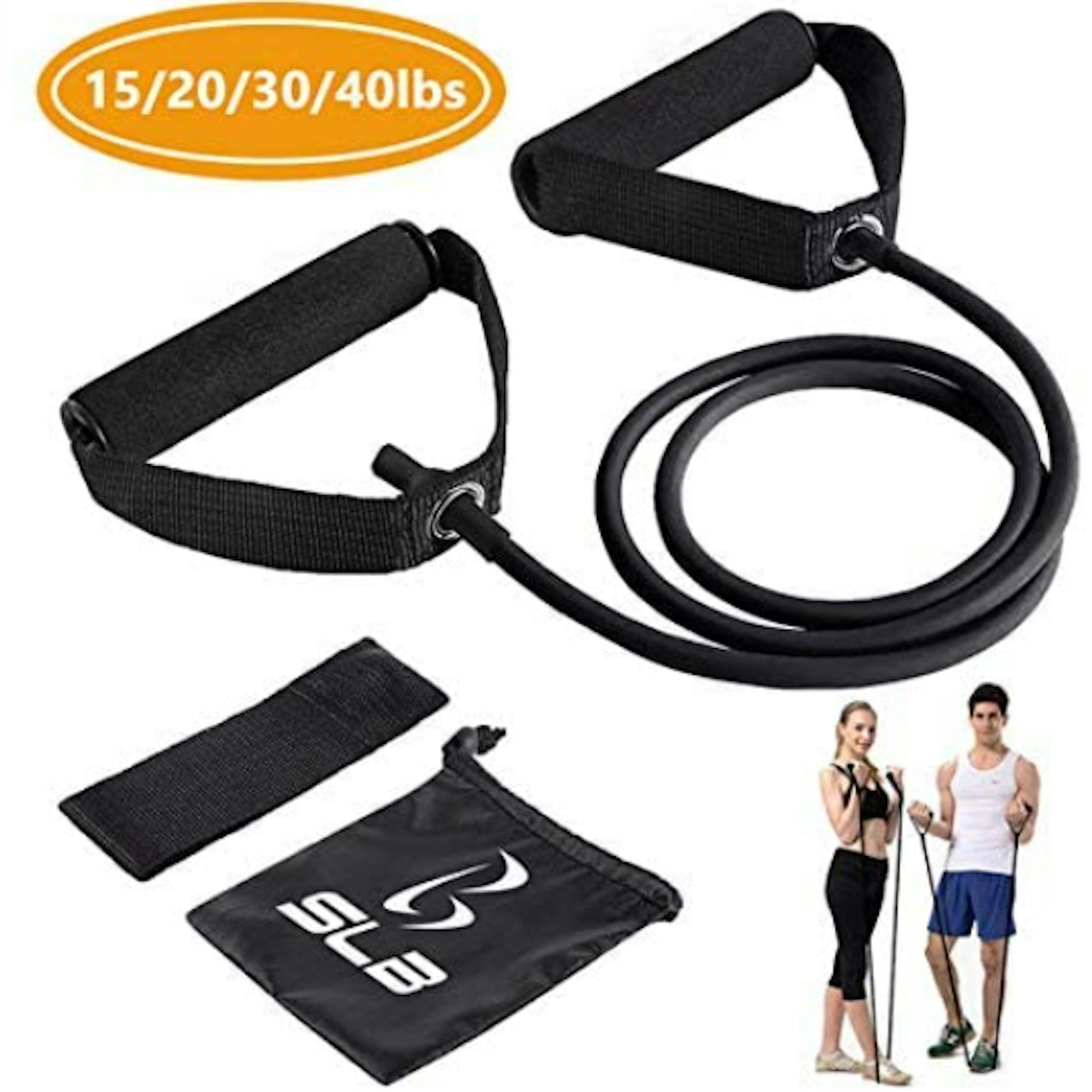 10 of 15
SLB Resistance Loop Band
Best for hand gripIf you feel you may struggle to hold and stretch a rubber resistance band, this resistance loop comes with foam handles so you can comfortably exercise your body without troubling your hand muscles. While you can workout your whole body, it's particularly great for your upper body.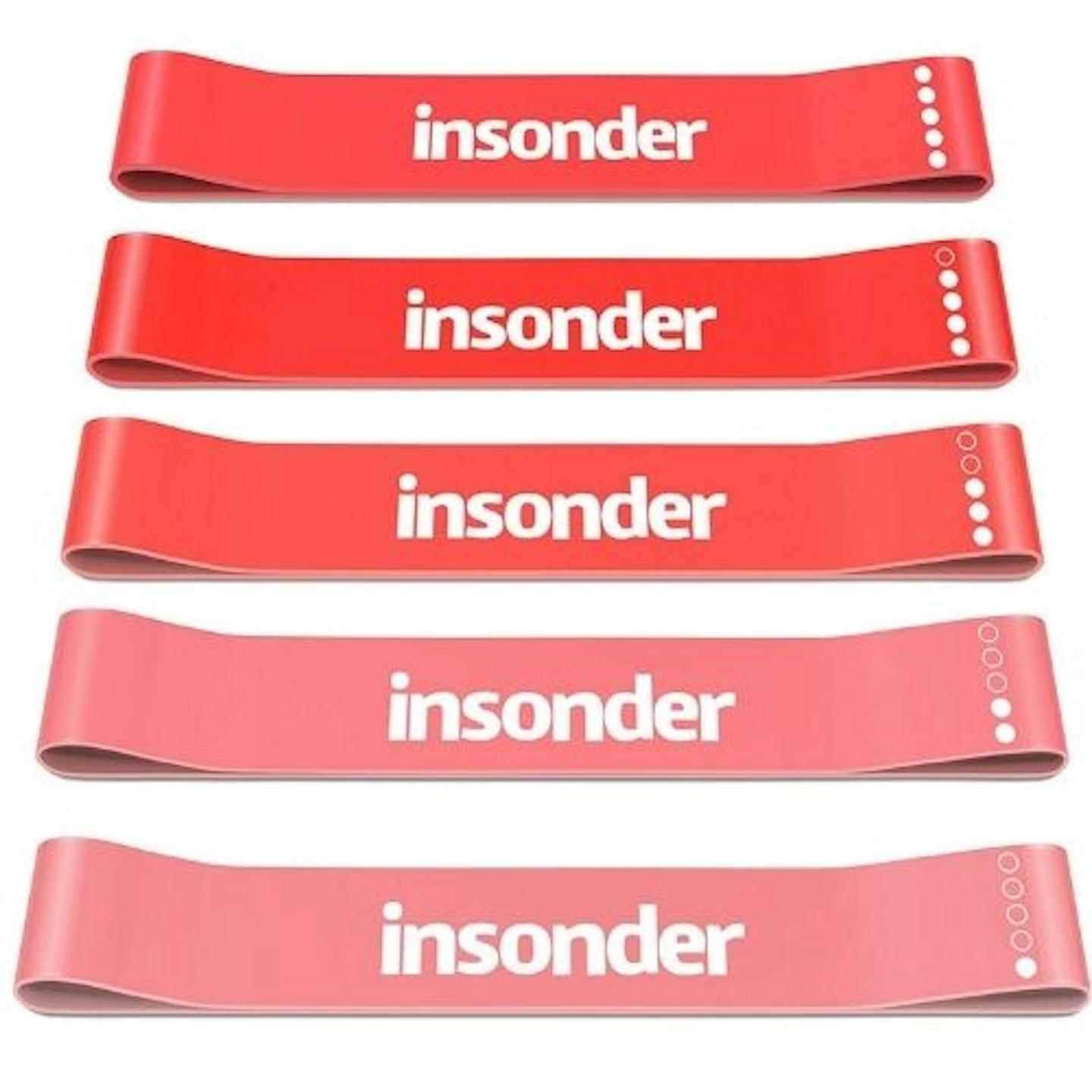 11 of 15
Insonder Resistance Bands Set
Best for on-the-goThese fun resistance bands are light and super easy to carry! So whether you want to work out at home, outdoors or with a friend, the world is your oyster.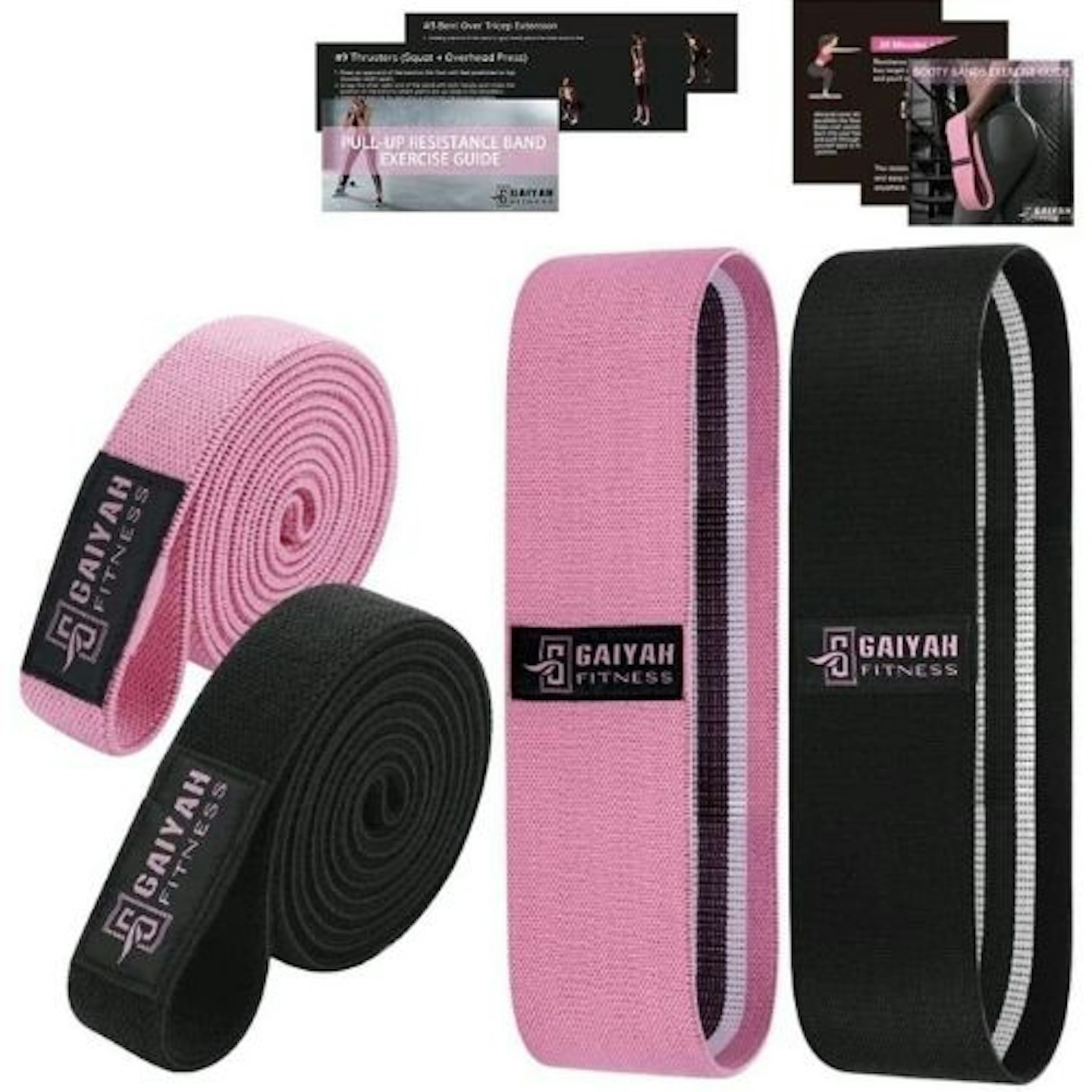 12 of 15
GAIYAH FITNESS Fabric Resistance Bands Set
Best for beginnersThis set packs a punch with 4 resistance bands, including both long loop and glute resistance, at a low cost which includes a workout bands guide manual. Target all areas of your body and learn the basics.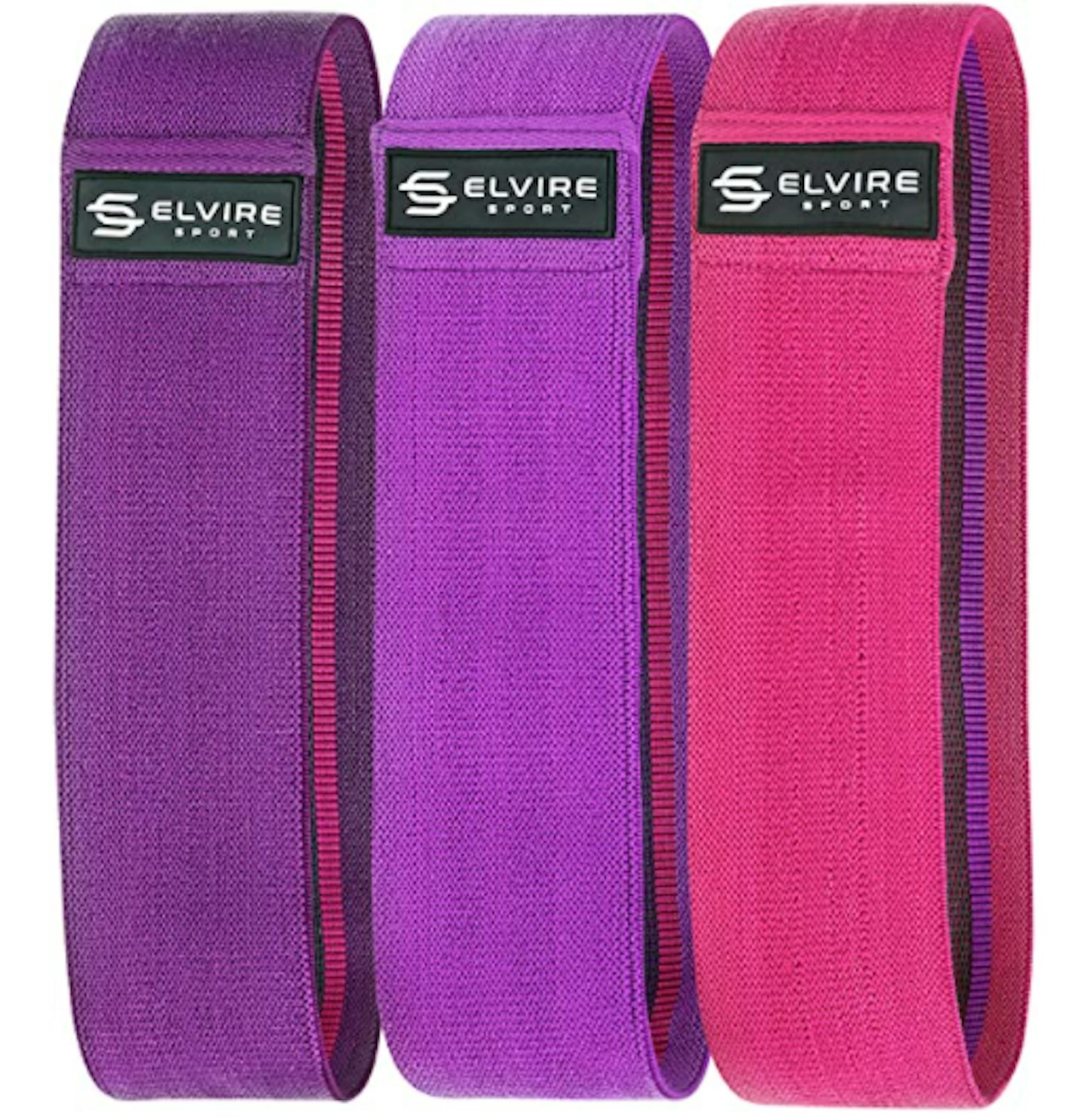 13 of 15
ELVIRE Resistance Bands – Set of 3
Best for your glutesLift and tone your legs and glutes thanks to these non-slip resistance bands. Try using them for just 10 minutes a day and you'll begin to feel the results.
14 of 15
Resistance Bands Set – Set of 5
Best for strength trainingThe bands provide a range of resistance as is but combine them together with the easy to use clips and you could use up to 150lbs at once! While this may seem like quite a stretch (literally) it gives you huge potential for growth.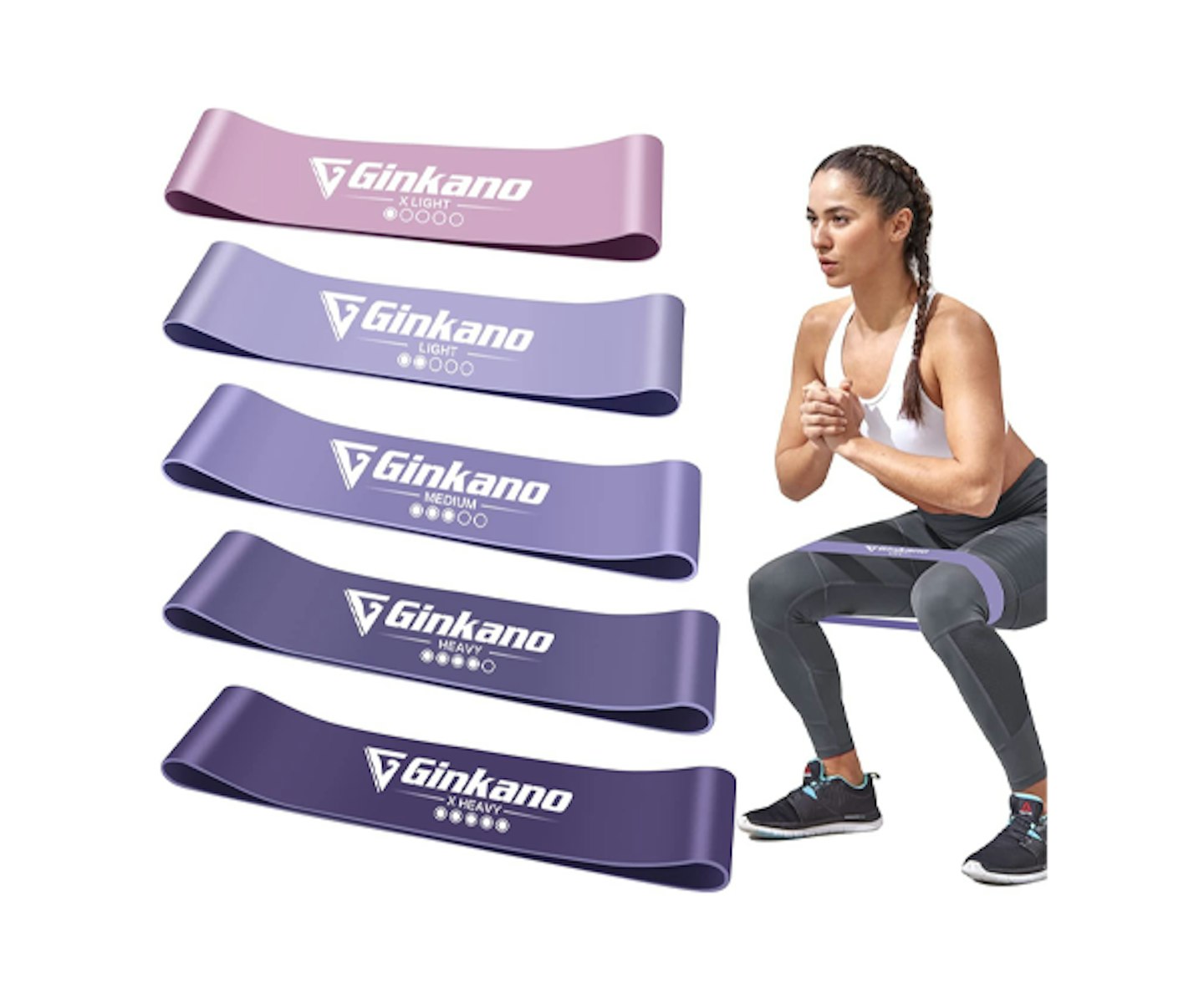 15 of 15
Haquno Resistance Bands
Best for designWith a subtle transition of colour between resistance levels, these bands not only provide an excellent exercise routine, but a stylish one too! With usage, you'll be able to find your resistance band quick and easy all whilst being the envy of the gym.
How do resistance bands work?
Resistance bands provide resistance in varying degrees of difficulty, forcing you to engage your muscles to work against it.
Due to their versatility, you can use them to move almost every muscle group in the body with targeted exercises, great for building muscle strength whilst protecting your joints.
Stretching with a resistance band will help build your flexibility, making everyday activities easier, which is why it is often recommended by physical therapists as a rehabilitation tool.
As well as building a healthier lifestyle, John Hopkins Medicine recommends using resistance exercises to build bone strength and prevent osteoporosis, helping to alleviate the risks of falls or injuries.
Best resistance band exercises
Lisa Purcell, a British Heart Foundation physical activity specialist recommends that "we should all do muscle-strengthening exercises at least twice a week" to help build this physical dexterity. Below are some great resistance band exercises to try.
Our top tip: Start with a lighter resistance band and build up your resistance slowly.
Video: Resistance band exercises for beginners with Vive Health
A short guide to using resistance bands with the British Heart Foundation
Simple stretches with our very own Mr Fit and Flexible
Popular articles to read next: