Once upon a time, we'd all have our favourite fitness DVDs stacked on the DVD shelf from the likes of Jane Fonda to Davina McCall. Now, an increasing number of us are resorting to some of the best workout apps to keep us fit from the comfort of our homes. Jumping around our living room and doing at-home workouts
Toning up doesn't have to involve going to the gym and paying for expensive classes, and it's possible to give your body a really good workout (and build muscle strength) in the comfort of your living room with our pick of some of the best fitness apps to download to your smartphone or tablet.
We've always found jumping around the living room to be a good form of exercise, whether it's a virtual Zumba Class or trying some easy at home exercises. Studies have also shown that breaking up exercise into smaller bursts is just as good when it comes to living a long and healthy life, as long as you get your heart rate up.
We've rounded up some of the best workout apps to try at home as well as five moves to give a go during the ad breaks – or pause your favourite show every 30 minutes for five minutes of exercise.
The 10 best workout apps
If you're wondering what are the best free workout apps, there are loads available so you'll be spoilt for choice. These are some of the best free workout apps suitable for both Apple and Android.
Description
This sports tracking app is a free personal training app and website that makes fitness fun and
Description
The Training Intelligence workout app from PEAR features hundreds of unique workouts that include
Description
This health and fitness app offers workouts, customised meal plans, and self-care guidance. With
Description
Enjoy full flexibility with personalised workouts you can do at home, outside or in the gym.
Description
If music motivates you, then this is the app you need for your workouts. There are loads of
Description
Get the most out of every minute of your workout with The Johnson & Johnson Official 7 Minute
Description
No gym? No Equipment? No Time? No problem. This app makes it simple to workout at home or on the
Description
There are over 3,400 videos on all levels, all styles and on all equipment including an extensive
How to pick the best fitness app for you
With so many different apps available to download, it can be hard to decide which one to go for.
As there are plenty of apps specific to certain exercises, we'd recommend having a think about what hobbies you're into and downloading an app linked to those kinds of exercises. For example, if you've been thinking about starting pilates, this could be a good app to download.
Alternatively, if you love a range of sports or don't have any specific kind of exercise in mind, then a general tracker could be better suited to your workout routines.
Five ways to tone up while watching TV
If the app you want isn't available on your device, you can still try plenty of exercises from the comfort of your home.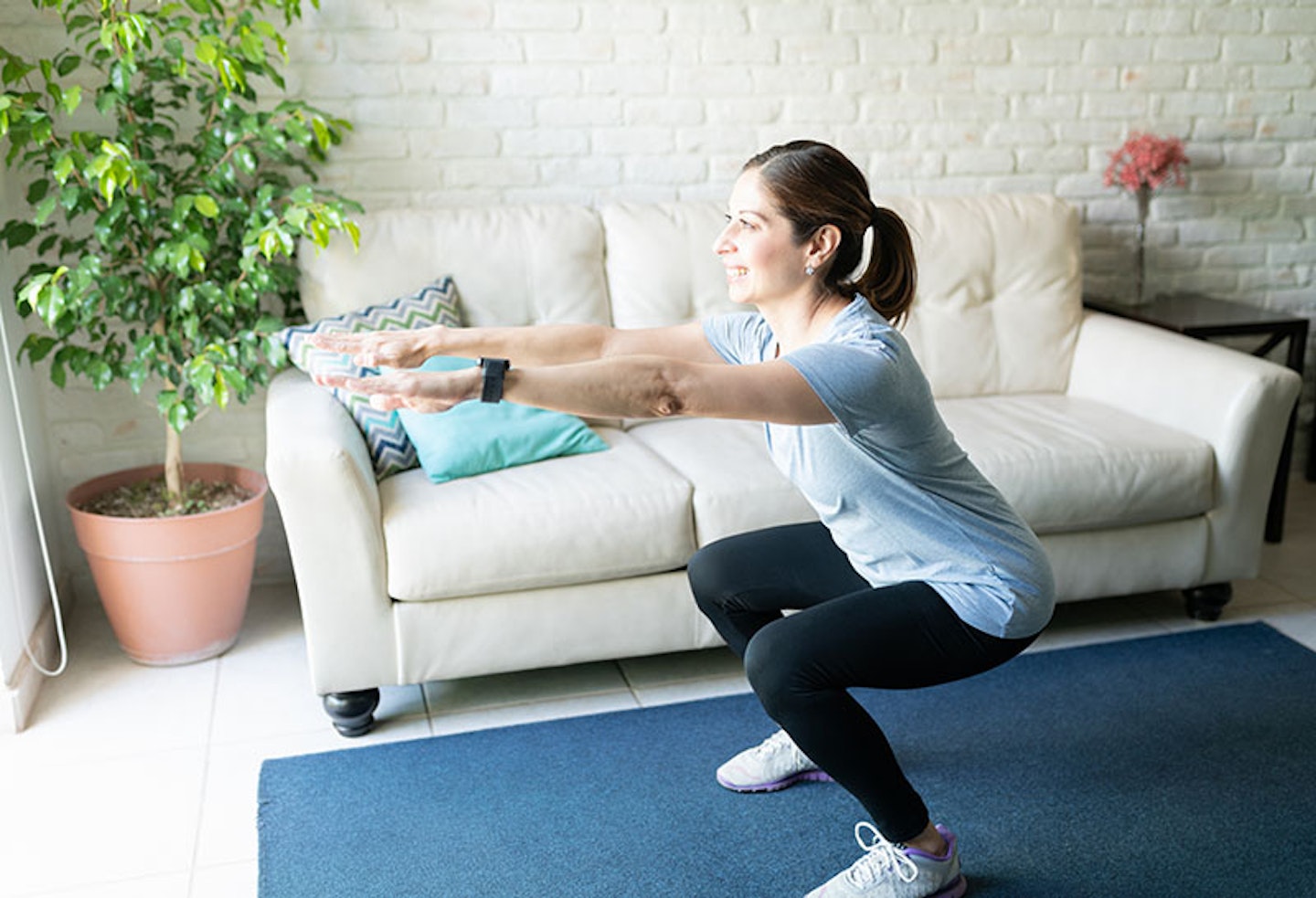 1) Squats
Squats are a great way to tone your thighs and bum:
Stand with feet a little wider than your shoulders and pointing at 10 and two on the clock face. Engage your core muscles – pull in your stomach.
Bend knees and push your bottom back as if sitting in an imaginary chair. Keep your knees behind your toes at all times (make sure you can see your toes).
Push back up to standing. Build up gradually to repeating 10 times and progress to three sets of 10 as you get stronger.
2) Squat variations
If your legs aren't yet strong enough to complete a squat, try holding onto a (secure!) doorknob with both hands as you go down. Alternatively, squat with your back against a wall and a 20cm diameter ball between your thighs to help with alignment.
Alternatively, you could try some tricep dips on the edge of the sofa to really help tone those bingo wings.
3) Hot seats
Another squat variation – this time to get your heart rate up too. Stand in front of your couch or chair, feet slightly wider than your hips. Sit back into a squat until your bum grazes your seat – and spring back to standing, as if your chair was on fire! Aim for as many as you can manage – around 10 is a great start.
4) Wall sits
With your back flat to a wall or door, slide down until your thighs are parallel to the floor, with your feet directly beneath your knees. Hold for as long as you can – it should start to burn in your thighs! Time yourself, and try to beat your record each time.
5) Side raises
If you've got a sofa that's long enough to lie down straight on, lie sideways with your hips facing straight and forward, legs extended and feet pointed. Bend your lower arm and rest your head in your hand. Draw in your tummy muscles to engage your core, and lift your top leg up as high as you can, keeping it straight. Count the number you can repeat (aim for 15- 20) before swapping sides. It's a good way to work the muscles in the side of your bum, as well as your thighs. No room on the sofa? Try it on the floor instead.
Multitasking exercises that help keep you in good shape
There are lots of other occasions you can add in some extra movement, here are some of our favourites:
Make like a flamingo when you brush your teeth or boil the kettle! Standing on one leg will not only improve your balance but works muscles in your bottom, calf, ankle and foot. Don't forget to swap sides.
Bring out your inner ballerina by tip-toeing around the house. It's a good move for strengthening your arches and ankles, as well as targeting your balance.
Try some single leg raises to work your bum muscles. Standing straight, lift one leg out to the side, and quickly return it. Without putting your foot down, lift it again. Repeat until it starts to ache, and then do the same number on the other side.
How to lose weight and stay healthy online
Lockdown made us all get more creative with our workouts to stay healthy and prevent unwanted weight gain. The great thing about online workouts is that many of them are free. Netflix, Amazon Prime and YouTube all offer a range of workout videos, from beginner to advanced, fun dance-based exercises to cardio boosters. Unless you have some dumbbells handy, look out for those that don't require gym equipment.
Have a browse and see what works for you – the great thing is that there's so much choice out there you're sure to find a workout series that you love.