We get it, your dog deserves only the best and as he's going to be spending a long time in his bed, you want to make sure it's a good one. We caught up with Dog Behaviourist and Trainer and Crufts 2020 Behaviourist, Adem Fehmi (aka Dogtor Adem), to get insight into the ins and outs of dog beds.
What should I look for in a dog bed?
A dog bed should be comfortable for the breed type, age and size of your dog. An older dog might benefit from an orthopedic bed, whereas a puppy might benefit from a bed that can absorb water if, for example, a bowl of water is accidentally knocked over by them or they 'toilet' on their bed area whilst still being house trained.
For puppies, you may also want to consider a type of bedding that is comfortable for them, but not too precious or expensive due to the higher risk of this bedding being chewed or damaged as they play and explore. For me, it is also important to choose a bed that is robust and can be easily washed. This not only helps the environment by limiting the need to frequently replace a smelly or very worn dog bed with a new version, but also ensures any accidents or dirt brought into their dog bed area can be easily cleaned away, keeping their bed area hygienic and inviting.
You could also consider covering your dog's bed with a removable and washable cover, particularly in the winter months. There are many brands on the market that offer this and 'covering' products that can be purchased to fit a wide range of dog beds. Try and be as eco-friendly as you can!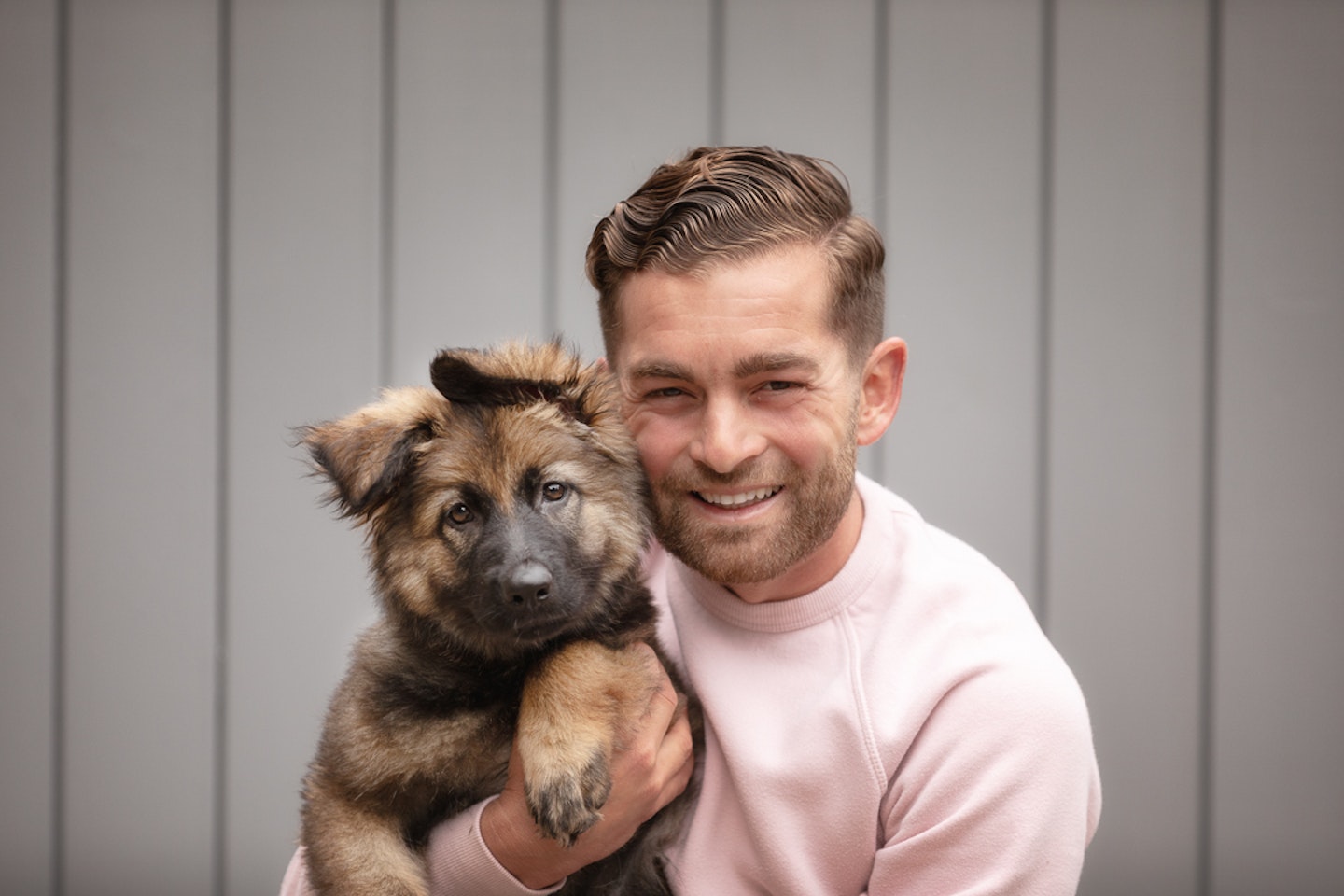 Do certain types of beds suit certain breeds?
Certain breeds might need more cushioning than others to stay comfortable and limit their potential for developing sores or sore patches, for example, greyhounds who are considered more 'boney' than many other breeds. Some breeds might also like to curl up, for example a husky or some of the smaller breeds, whilst others prefer to lay on their side and stretch out, like hounds such as deer hounds, greyhounds, and lurchers. An owner should consider how their individual dog likes to lay and relax and choose a suitable bed with this in mind.
Why do dogs dig in their beds?
This is a natural instinct derived from the need to 'clear the ground' or an area of insects and potentially small rodents and reptiles. Ancestors of our pet dogs might need to do this in order to make the area they are choosing to reside in safe for them to lay down in. Some dogs, such as those in tropical climates that predominately live outside or live as 'street dogs', still use this instinctive behaviour to keep themselves from being bitten and stung.
This act of 'clearing the ground' may even have benefits in preventing parasite infestation. Whilst in Mauritius last year, I witnessed a young street dog clearing an area and whilst watching, I noticed that she stopped in her tracks and became very observant as she had disturbed a small scorpion in some leaves. Without this act of digging and clearing, this dog would have undoubtably been stung by this scorpion.
Dogs may also dig because they sweat though their paws, making the act of digging and 'circling' in an area another way of spreading and leaving their scent. This is something we commonly know as 'marking' and usually associate with the image of dogs urinating up lamp posts!
Finally, dogs may also dig naturally on hot days and in hot climates in an attempt to try to remove hot surfaces (e.g. baked earth). This helps them to reveal a cooler surface to reside in. In addition, wild canids such as artic foxes and wolves, may dig to avoid extreme weather such as high wind, the cold (e.g. snow), and weather such as storms. Again, this act helps to keep them safe as well as assists in regulating their body temperature. Although seldom needed in the pet dog world today, this instinctive behaviour still remains in part in our domesticated dogs.
How can I train my dog to sleep in his bed?
A good training instructor or behaviourist will have this on their training syllabus, helping owners to teach the 'go to bed' command. If you are interested in this but can't attend a training class, you can also find out how to teach your dog this command in step by step instructions over on my blog at www.dog-ease.co.uk.
If, however, your dog is reluctant to sleep in their own bed, you should investigate why. Firstly consider, is the bed area provided the most attractive sleeping area available to your dog? Positive reinforcement such as offering treats in this area can help to make their bed area a more positive and inviting place to reside, as can ensuring the bed is comfortable for their breed type and age (as discussed above!).
Secondly, you might want to evaluate if your dog potentially has a behavioural issue, such as separation anxiety, that is preventing them from wanting to sleep in their own bed. If you believe this to be the case, you should seek help from a certified behaviourist to address this issue and help to build your dog's confidence in being physically away from you.
How can I stop my dog destroying their bed?
Think about your dog's life stage. A young puppy may chew a bed as they explore with their mouth and enjoy the texture on their teething gums. In this instance, it would be advisable to buy a bed that does not contain lots of small parts or stuffing that can be ingested. Similarly, you could pick bedding made of material that can not easily be broken down through the act of chewing. You can always buy a 'nicer' bed for your dog to use under your direct supervision until they have passed this life stage and have lost their baby teeth and gained all of their adult teeth.
If your dog is older and destroying their bed perhaps when they are left alone, for example, this could potentially signal that your dog is feeling stressed and is suffering from separation anxiety, for which behavioural advice should be sought to enable your dog to recover from this issue.
Similarly, chewing and destroying of beds can also sometimes indicate that your dog is bored. To combat this, you could look to try to tire out your dog more effectively before leaving them alone, which will encourage them to rest more in your absence.
You should also ensure that your dog is not left for long periods of time by themselves. Just like us, dogs are social mammals and need company. As well as ensuring your dog is appropriately exercised and is not being left for too long, you can also offer your dog something to do for some of the time you are away from them. For example, you could leave them something else to chew that is safe and made for this purpose. Consider leaving them with a hard chew food item or a food dispensing toy filled with tasty treats for them to try to get to!
Adam is the owner and founder of Dog-ease where he works as a CFBA registered Dog Behaviourist and is able to help owners with all of their dog training and behaviour needs.
How can I make my own dog bed?
If you consider yourself to be crafty, making your own dog bed can actually be pretty simple, depending on what you're after. Check out these videos for further guidance:
If you're handy with a sewing needing...
....Or if you're not so handy with a sewing needle!
For something a little more rustic
The best dog beds for your pet
If you'd rather just buy your pooch a bed, we've rounded up our favourites.
While we may receive commission for purchases made through our links, we never allow this to influence product selections.
Description
This rectangular bed from AmazonBasics comes in a variety of colours and sizes to find the perfect
Description
Project Blu combines ocean-bound plastic and recycled clothes into a unique fabric mix that is
Description
If money is no object when it comes to your beloved sidekick, you'll love this plush dog sofa.
Description
This comfy, hardwearing box bed comes in a pretty floral print, courtesy of Joules, and will look
Description
Memory foam isn't just for adults! The solid memory foam base of the JOYELF bed offers your pet's
Description
You may know Silentnight for their matresses but yep - they do dog beds too! This calming donut
Description
Sophie Allport fan? This oval shaped pet bed has deep filled fibre shoulders for enhanced comfort
Most popular articles