The best armchairs combine comfort and form, giving you a seat to relax in that looks good too. Picture the scene: You've got your 65" 4K TV all setup, the ice cream is chilling, and that film you've been wanting to watch is just a click away. But, for whatever reason, your seating just isn't up to scratch. Perhaps you just moved into a new home, or your current seating has seen better days. You may be an empty nest couple who can finally jettison the 2000s sofa in favour of two comfy armchairs just for you. Whatever your style and needs, there's a recliner for sleeping, a snuggler or a loveseat that's perfect for you.
A good armchair is synonymous with brands such as La-Z-Boy and Parker Knoll, and the great thing about opting for a premium brand is being able to customise the armchair. You can choose the fabric or leather from a huge range of swatches. However, if the chair is needed for someone with restricted mobility, go for a material that's low maintenance. Although a traditional leather armchair may be idyllic by the fireside or in the study, fine leathers require cleaning and care.
Best armchairs at a glance:
• Best budget leather armchair: Yaheetech Recliner Armchair – View on Amazon UK
• Best armchair by brand: Parker Knoll Classic Motion Recliner High Back Armchair – View on John Lewis
• Best vintage-inspired armchair: Evie Armchair – View on Marks and Spencer
We want an armchair that embraces like a hug – it's our cosy spot to sit with the cat and enjoy a natter on the phone. Comfort comes first, so help to reduce fatigue in your back, arms and legs after a long day with an ergonomic armchair. The cushioning should offer plenty of back support, especially if it's an armchair for reading. A recliner or an armchair with a matching footstool allows you to put your feet up, which is important for bringing any swelling down. Some even swivel, which could also be a useful function for anyone who has trouble standing up.
Alongside this, some armchairs even have several leg options so you can coordinate with your décor and Feng Shui your living room, or if you'd prefer a recliner, you can choose whether it's electric or manual. If you want a quality and durable armchair – that's going to be your comfy companion for years to come – it's worth investing. If possible, we'd recommend visiting your local department store to give the armchairs a test first. Seeing a range up close and personal could help you gauge the size and where it could fit in your home. Even if you eventually buy online, it's helpful to physically see what a seat that's 110cm wide actually looks like.
Best armchairs
Best budget leather armchair
Description
Relax and unwind after a long day in this Yaheetech Recliner Armchair. It's made from artificial
Pros
Durable and waterproof faux leather
Marshmallow-like softness
A good option if you suffer from fabric or dust-relative allergies
Best armchair by brand
Description
We love this chameleon armchair that can be transformed from contemporary to traditional,
Pros
Quality brand
Power recliner
High back
Choice of fabrics
Cons
Custom design so longer delivery time
Best vintage-inspired armchair
Description
Inspired by Art Deco design, this glamorous Evie armchair has an elegant, tall, fluted back. It's
Pros
Available in six colours

Style and personality

Comfortable without being too oversized
Cons
Velvet is a delicate material to maintain
Best premium recliner
Description
With its wide padded armrests and backrest, this La-Z-Boy Staten Leather Rocker Recliner Chair
Pros
Durable
Easy to clean
It will be assembled for you
Cons
A little cumbersome if you're limited on space
Best armchair for choice of fabrics
Description
Wonderfully balanced, the Hampstead Armchair combines a modern, minimalist look with tradition.
Pros
Made from quality materials
Classic yet contemporary style
Customise with a choice of fabrics
Neat shape
Best Scandi-style armchair
Description
With narrow arms, this John Lewis Hendricks Accent Chair is a great space-saving piece of
Pros
Fully assembled
Customise to suit your décor
Cons
Not overly comfortable for long period
Best armchair for a child
Description
If they're learning to read, your grandchild will love having a nook to call their own. A
Pros
Personalisation available
Wonderful gift idea
No assembly required
Cons
Only for children between 3-6 years
Best snuggler armchair
Description
Lovely for loafing on, this Swoon Denver Loveseat is too good to share. Available in seven
Pros
Made for relaxing
Spacious
Range of colours
Quality materials
Best contemporary club chair
Description
Alexander and James Lincoln Classic Back Snuggler doffs its cap to low, deep and inviting leather
Pros
Made from quality materials
Spacious and comfortable
Durable
Tradition meets contemporary
Best budget traditional armchair
Description
Whether you want to read a book, watch your favourite TV show, or just enjoy a cup of tea, this
Pros
Value for money
Choice of fabrics
Easy to assemble
Cons
Not as long-lasting as a premium armchair
FAQs: Best armchairs
What features should I consider when buying the best armchair?
Armchairs come in all shapes and sizes, but there are features that are consistent whether your seating of choice is an antique Chesterfield or an Eames lounge chair.
As the name suggests, the armrests are the defining feature of an armchair. They can be wide and supportive (or somewhere to rest the TV remote); even narrow armrests provide a level of comfort. Some chairs have built-in cup holders and pockets too. Bear in mind that wider arms take up more space, so note the dimensions and how it will fit in your room. There are compact armchairs increasing in size to loveseats; width, depth and height are the essential dimensions to know if it will fit in a space. Also, seat height, width and depth, along with seat back height, are important for your comfort.
The backrest is another essential feature, helping to support your back and promote good posture. Since this is a leisure chair, the backrest will be padded and comfortable.
Armchairs are generally upholstered in fabric or leather over foam, fibre or feather padding. If you suffer from allergies, opt for a leather or faux leather cover. In addition, opt for treated leather as it's easier to clean and extra durable. Take care with fine leather seating, however, as this will mark and require regular conditioning with a cream or wax. Whether it's soft velvet or durable microfibre, a fabric chair will benefit from an upholstery cleaner, especially for removing spills and stains.
Whether you buy online or in-store, check the delivery and assembly options before purchasing – so welcoming your new armchair is a stress-free experience.
Finally, money matters – buying a new armchair can be expensive, but there are budget options available. Amazon UK and Ebay offer good deals.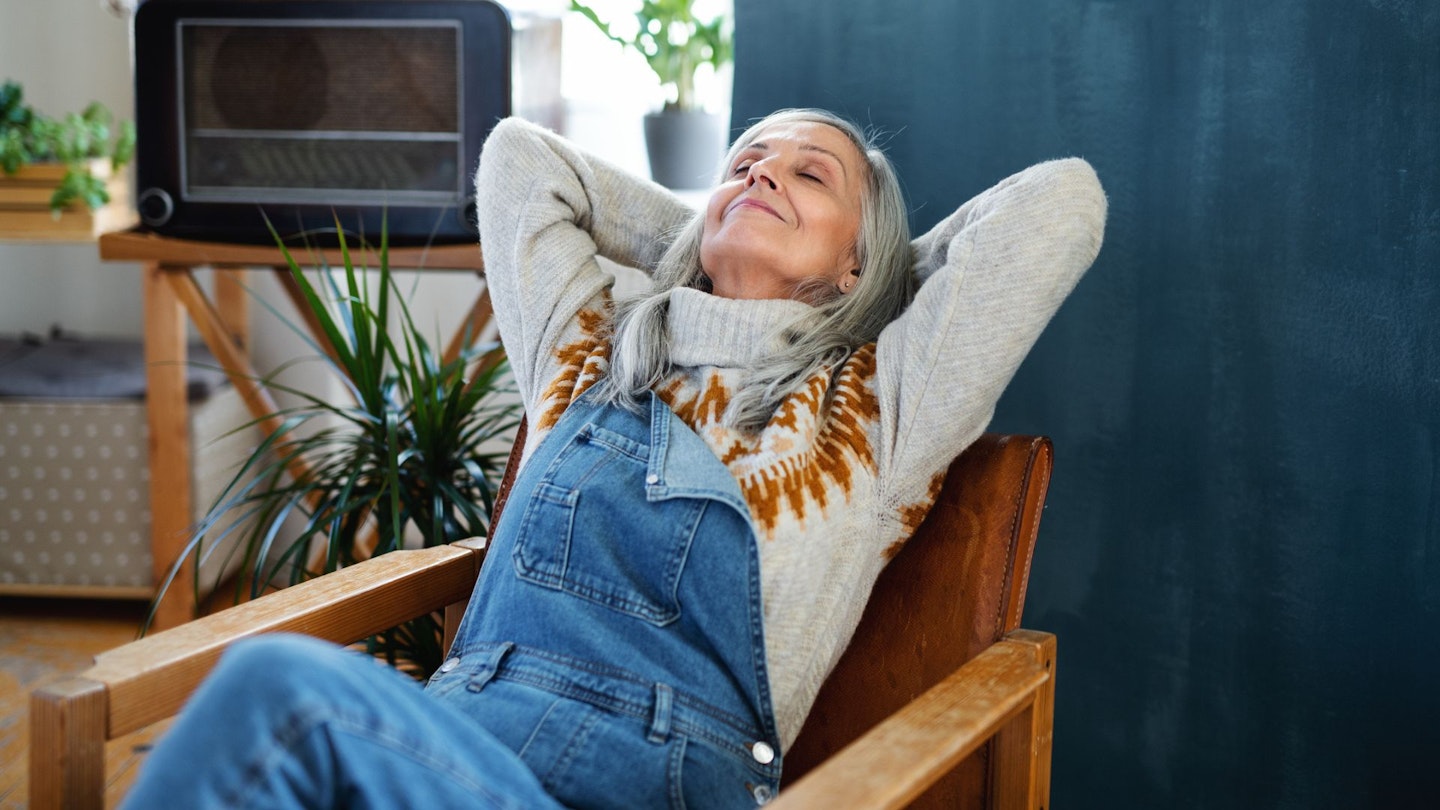 How do I choose a comfortable armchair?
First, choosing an armchair that's comfortable for you depends on your individual preferences. However, armchairs known for exceptional comfort often feature plush cushioning, generous seat depth, and supportive backrests. Additionally, armchairs with high-quality materials, like memory foam or down fillings, enhance the overall comfort level. Choose high-quality materials and construction for durability and long-lasting comfort.
Look for ergonomic features such as lumbar support, adjustable backrests, and proper cushioning. Recliner armchairs with adjustable positions offer personalised support, while oversized snugglers envelop you in comfort.
Ultimately, the most comfortable armchair is the one that best suits your body, preferences and needs, so try out different options to find your perfect match.
Furniture Village has a comprehensive upholstery buying guide that goes through what size, style and material is best for you and any extra functionality you might want.
What are the best armchairs for lower back pain?
The best armchair for lower back pain puts ergonomic design and lumbar support first. Look for armchairs with built-in lumbar cushions or adjustable backrests; these provide proper alignment and alleviate pressure on the lower back.
Chairs with a high backrest and good cushioning provide excellent support for the entire back. Recliners with various seating positions can help relieve lower back pain by allowing you to find a comfortable angle. Stressless armchairs are specially designed with high-quality cushioning and supportive armrests to promote better posture and reduce strain on the lower back. Chairs made with high-quality materials and construction will maintain their supportive features over time.
Always try the armchair in-store, if possible, to ensure it meets your specific needs and provides the desired comfort for your lower back.
Natalie Knowles is a Homes & Garden Product Writer for Yours, specialising in home appliances. When she's not testing sparkling water makers, she flexes her creative flair as an artist.