When it's too cold to wear a summer jacket but too warm to whip out your cosy winter coat, you know it only means one thing — it's time to get an autumn jacket. It's without a doubt one of the most beautiful seasons, with the leaves changing colour and richer sunsets, but autumnal weather comes with a slight chill in the air, so an autumn jacket to wrap up in is a must-have.
When looking for an autumn jacket, remember you want something that isn't too heavy, so you can easily layer up, but will also keep the cold and rain off of you. Shackets (a blend between a shirt and jacket) are a popular choice and great for layering. While bomber jackets are also a good option for wetter weather and a classic trench coat always looks chic. You may even fancy a blazer to complete your look or something a little 'cooler', like a biker jacket.
Best autumn jackets at a glance
• Our favourite: Joules Belfield Shower Resistant Dry Wax Jacket - View now on Joules
• Best trending: Chloe Jacket - View now on Freepeople
• Best lightweight: Mango Polana Trench Coat - View now on John Lewis
If you're trying to be more eco-friendly and are slightly self-conscious by splashing out on another new jacket, just remember you can continue to wear it throughout the colder months by adding more layers underneath.
The best autumn jackets
Best shacket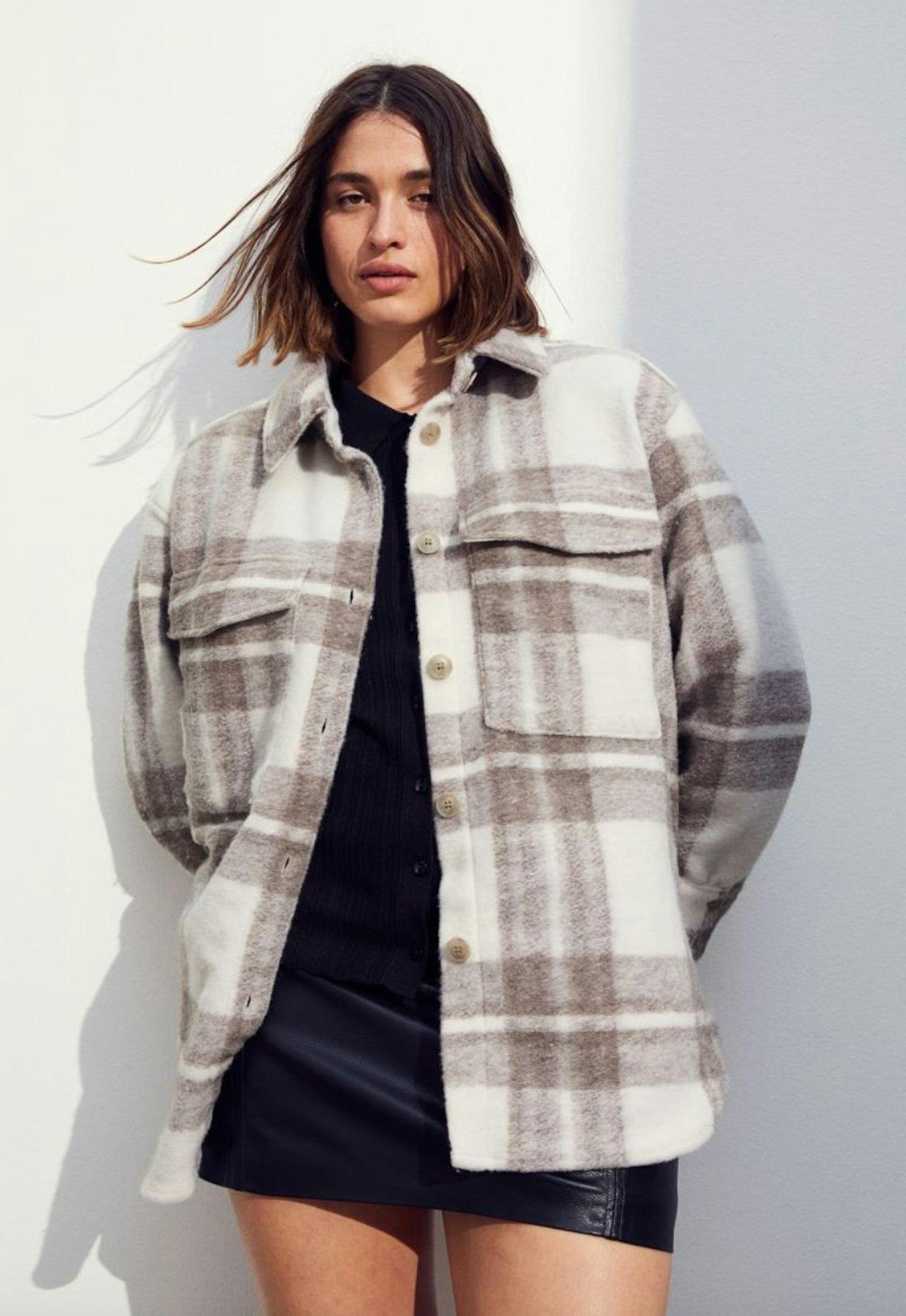 H&M
Description
Whether it's work, a weekend walk or lunching with the ladies, this modern shacket is suitable for
Pros
Oversized fit
Warm
Can be worn in spring and autumn
Cons
Size down as it is oversized
Best lightweight
Description
Technically it's not classed as a 'jacket' but this trench coat is light and roomy enough for you
Pros
Very well made
Available in different colours
Smart and casual
Water resistant
Cons
Won't be warm enough in cold weather
Best borg jacket
Description
A borg jacket is perfect for wrapping up in on those colder autumnal days and is so versatile and
Pros
Washes well
Up to size 24
Good value
Best eco-friendly jacket
Description
We are absolutely obsessed with this jacket. This jacket is double layered with Borg fleece on the
Best biker jacket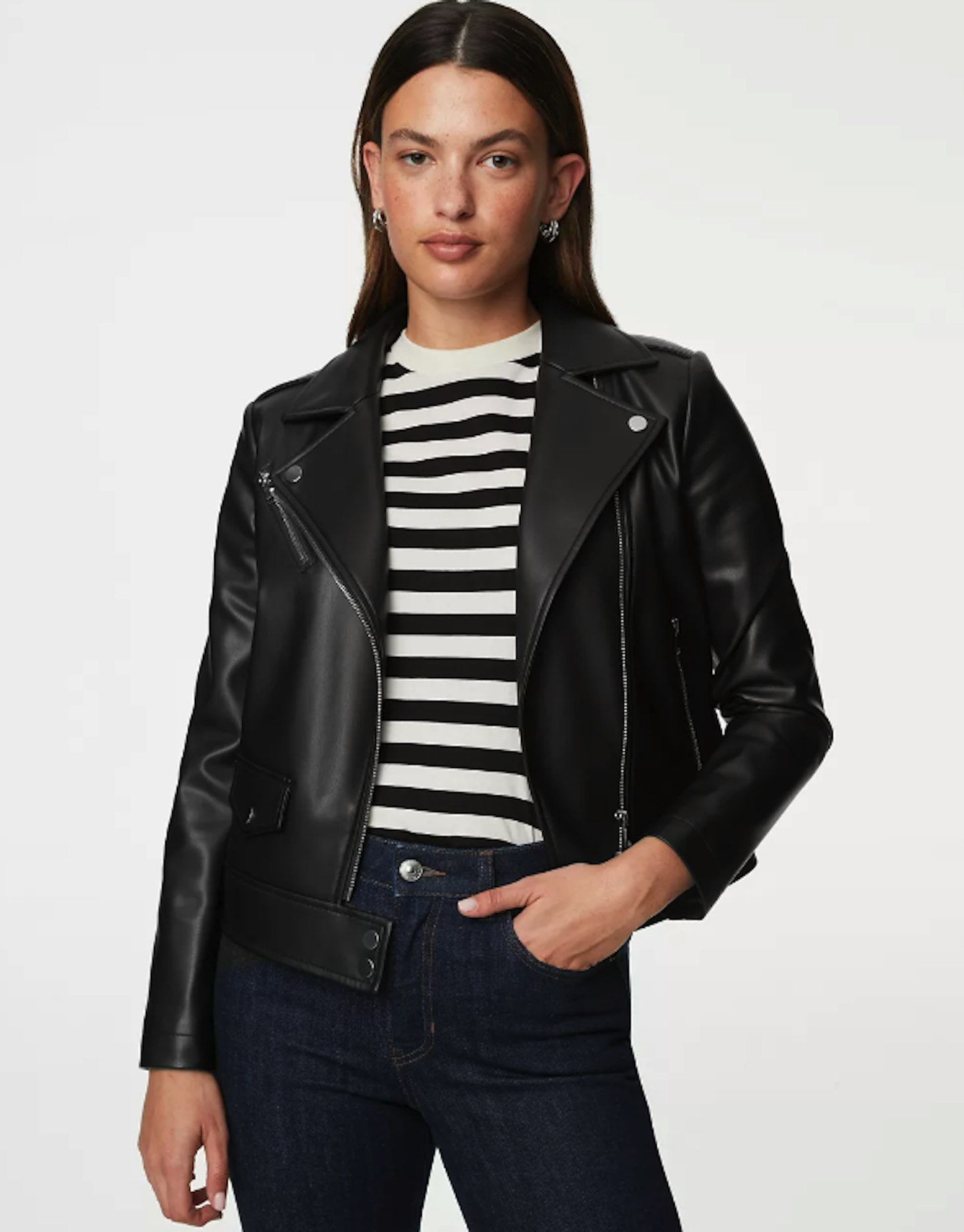 M&S
Description
Not only does a biker jacket go with nearly everything – from jeans to trousers and even dresses –
Pros
Soft colours available
Three colours available
<strong>Our favourite </strong>
Description
We've got a soft spot for this Joules Belfield Dry Wax Jacket that is both stylish and practical.
Pros
Shower resistant
Bespoke lining
Best gilet
Description
Keep off the chill and layer up in this Laurel Gilet from Lighthouse that will allow you to keep
Pros
Comfy and warm
Sizing is true to size
Cons
May be too light in colder temps
Best trending
Description
Quilted jackets are still having a moment, and we simply adore this Chloe Jacket from Free People.
Pros
Unique pattern
Boxy fit
Perfect thickness for autumn
Cons
Runs large and some reviews say that the fit is too boxy
Best smart jacket
Description
Houndstooth always looks lovely during the colder months. This blazer would look particularly
Best denim jacket
Description
A denim jacket never goes out of fashion and is an essential in every woman's wardrobe. We love
Pros
Deep pockets
Bordg lining provides warmth
Cons
Thick so may be tricky to layer
Autumn jacket FAQs
How to layer up an autumn jacket?
The best piece of advice when it comes to layering is to make sure the outer piece of clothing is a tad oversized, giving plenty of room for the under layers that can range from a vest, a long-sleeved t-shirt or a roll neck jumper. Mixing textures not only adds visual interest but also contributes depth and warmth to your look. There are three main steps to layering for cold weather: think about your base layer, mid layer and outer layer.
Hannah Mellin is a Homes & Garden Product Writer for Yours. When she's not writing, researching or testing products, she's renovating her Victorian terrace and chilling in the garden with her sausage dog Waffle, three cats and a tortoise called Bobby.