Choosing the best hair brushes for your specific hair type or hair goals is key when it comes to taking care of your hair. At first, it may seem like an easy task, but with so many hair brushes out there for fine hair, thick hair, damaged hair and more, you're left wondering which hair brush is actually going to help take good care of your lovely locks.
It is a good idea to have multiple hair brushes. Choosing the right tools will help you to achieve a flawless look. Finding the best hair brush is essential because it will cause less breakage and prevent damage. So whether you are looking for the best hair brush for thick hair, thin hair or anything in between, we have you covered.
Best hair brushes shortlist:
• Best overall hair brush: Wet Brush Detangling Hair Brush
• Best for detangling: Tangle Teezer The Original Detangling Hairbrush
• Best for thick hair: Cantu Thick Boar Paddle Brush
• Best for thin hair: Mason Pearson Pocket Pure Bristle Brush
• Best for fine hair: Briogeo Vegan Boar Bristle Brush
Hair brushes come in a variety of shapes and sizes and use different materials for their bristles, all of which are important when deciding what hair brush you should buy, says celebrity hairstylist Michael Douglas. "If it's a smooth blow dry, then a mixture of boar and nylon bristles through a metal barrel is a great combination. But if it's just a brush rather than styling, then a Mason Pearson paddle brush is great. Or for something more cost-effective, a decent quality Tangle Teezer."
Our product recommendations are based on a combination of real-world testing from customers and the extensive knowledge of our experienced editorial team and product specialists. Here are the best hair brushes to shop online.
Best hair brushes 2023
Best overall hair brush
Description
Wet Brush is a hair brush brand that has been loved by editors and stylists for years due to its
Pros
Suitable for all hair types
Can be used on dry or wet hair
Flexible bristles gently detangle
Comfortable handle design
Affordable
Cons
Maybe a little soft for thick curly hair
Best for detangling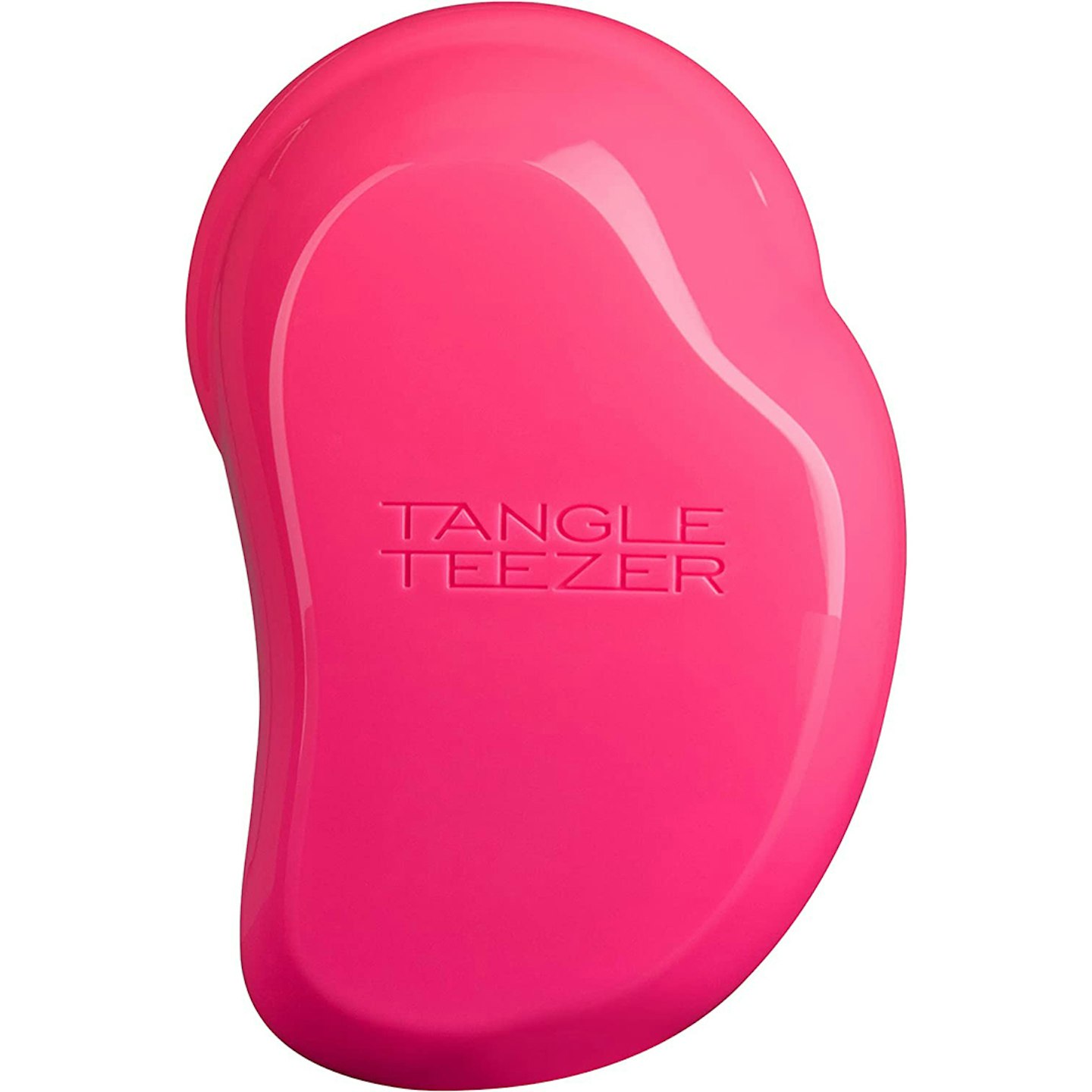 Tangle Teezer
Description
The Tangle Teezer Original Detangling Hairbrush first came onto the hair scene in 2007 and has
Pros
Small and compact size, easily fits into your handbag
Suitable for all hair types
Two-tiered teeth technology — long teeth help to remove tangles and reduce breakage, while short teeth smoothen and leave hair sleek and glossy
Inexpensive
Cons
Doesn't have a handle
Can't be used with heat
Best for thick hair
Description
The Cantu paddle brush is made with soft boar bristles, it's brilliant for blow-drying styles or
Pros
Suitable for thick, long, coil and curly hair types
Boar bristles for a soft, smooth feel and finish
Inexpensive
Cons
Can make thinner hair static
Best for thin hair
Description
Mason Pearson has been crafting hair brushes for more than 10 decades and is loved by generations.
Pros
Boar bristles are gentle yet effective on delicate hair
Renowned brand that's making hair brushes for more than 130 years
Good travel size
Cons
Cleaning brush has to be purchased separately
Small
Best for curly and oily hair
Description
There's a reason why there's a crown in Denman's logo, and it's because it remains an iconic brand
Pros
Can be used on all types of curly hair 
Round-ended nylon pins separate, shape hair, and define curls
Teardrop handle for comfortable grip
Inexpensive
Cons
Brush head is quite heavy
Nylon pins can feel a little spiky
Best for fine hair
Description
A soft bristle brush is the best hair brush for fine and thinning hair as it can gently glide
Pros
Vegan and cruelty-free
Lightweight and ergonomic
Ballpoint bristles gently massage the scalp to stimulate blood flow and invigorate your roots
Pretty colour
Best for wet hair
Description
This is one of Tangle Teezers' new and brilliant brushes, specifically designed to gently smooth
Pros
Ergonomically designed handle for a steady and controlled grip
Two-tiered teeth technology — longer teeth detangle, shorter teeth smooth
Available in a range of pretty colours
Inexpensive
Best hair brush for hair extensions
Description
This soft nylon bristle brush created by Balmain is designed to gently detangles both your own
Pros
Gentle on extensions

Glides smoothly through hair

Compact size good for taking on the go as well as using at home
Cons
Well-rated but not genuine Balmain
Best eco-friendly hair brush
Description
We love Regrowz because the brand only uses natural products, and all ingredients used are
Pros
Eco-friendly
Affordable price
Bamboo bristles
Suitable for all hair types
Cons
Hairs can get stuck in the brush after use
Best hair brush for creating volume
Description
When looking to create lots of volume, you probably think you'll need a 'bigger brush', but
Pros
Smaller barrel creates volume, bounce and curl
Long handle and lots of bristles for good control
Metal barrel helps hair dry faster
Smooth and frizz-free result
Cons
Narrow handle can be difficult to grip
Best hair dryer brush
Description
This 2-in-1 hair dryer brush by Revlon is ideal for medium to long hair and dries hair while
Pros
Reasonably priced
Ionic technology dries hair faster with less damage
Cons
Can get a little hot while using
Best smoothing brush
Description
If you suffer from frizz, then you'll want a hair brush that really works your scalp to promote
Pros
Affordable
Rubber grip on handle for extra comfort
Detangles and smoothes
Ideal for medium to long hair
Best paddle hair brush
Description
Paddle brushes are good for detangling and smoothing out hair, especially if you've got a lot of
Pros
Suitable for short and long hair
Good for detangling and smoothing hair
Vegan friendly
Cons
Can take some getting used to if you're not used to using a bigger brush
Best budget hair brush
Description
This gel grip hair brush is ideal for everyday use, with its easy-to-hold handle and
Pros
Cheap
Gel handle for easy grip
Good for detangling
Vented base helps speed up blow-drying 
Suitable for all hair types
Cons
Bristles may be a little stiff
Best hair brush for short hair
Description
Denman tends to have fewer bristles, meaning this hair brush is ideal for shorter hairstyles as it
Pros
Flexible bristles for less pulling and friction on your short hair
Vented, helping your hair dry quickly
Curved head helps create natural movement and volume
Inexpensive
Best hair brushes FAQs
How should I clean my hair brush?
Just as you wash your hair with shampoo and conditioner, Michael says you should clean your hair brush too. "Rub a generous dollop of shampoo into the brush and rinse, followed by the same with some conditioner on. Try and remove all the dead, shedding hair during this process."
Is it best to brush my hair wet or dry?
You may have heard that your hair is more fragile when it's wet, and therefore you should avoid brushing it in this state. However, it actually depends on your hair type and texture. "Brush your hair wet if it's curly and dry if it's straight," says Michael. "But don't over brush, as the static will separate hairs causing flyaways galore." If you have straight hair, brushing it wet can cause it to overpull and break, which is why brushing it dry is safest. Whereas if you have curly or textured hair brushing it wet can actually have the opposite effect and reduce breakage, keeping your curls intact.
How often should I brush my hair?
It's recommended to brush your hair twice a day, once in the morning and once at night, as this will help to distribute your scalps' natural oils throughout your hair. However, this is subject to your hair type, as curly and textured hair shouldn't be brushed dry as it just causes frizz.
"One universal rule is it's important to remove shedding hair," says Michael, "but if you've got naturally curly, then only do that when the hair is wet. So don't get up in the morning and put a brush through wavy or curly. The friction causes static, and nobody wants that!"
Michael Douglas quickly established himself in the high-stakes hair styling circuit, tending to the tresses of the world's most famous supermodels, such as Claudia Schiffer and Naomi Campbell, Kate Moss and Yasmin Le Bon. Michael moved through the fashion week calendar year on year as a go-to name for styling before embarking on editorial shoots for the likes of Vogue, Glamour, Grazia, and Marie Claire and working on global beauty campaigns for famous beauty houses.
Bryony Firth-Bernard is a product writer for Yours, What's The Best, and A Modern Kitchen, specialising in fitness. On the weekend she loves whipping up new recipes in the kitchen and spending time with her friends and family.