It was a Saturday night on April 10, 1971 when at 8.15pm a quarter of the UK population sat down to tune into a brand- new comedy TV show. Looking back at us from the screen were two men with the same name and the same genius knack for making us laugh - The Two Ronnies.
On that night 50 years ago, The Two Ronnies brought us a comedy partnership that made us cry with laughter – and saw the start of a television institution with a lasting legacy.
The history of The Two Ronnies
The very possibility of The Two Ronnies came about after a chance encounter in 1963. At the time Ronnie Corbett was an actor working between jobs behind the bar at the Buckstone Club in Soho. Ronnie Barker, meanwhile, was the well-known star of the radio comedy The Navy Lark and was enjoying a pint at this popular theatrical haunt when he heard "Evening sir...what can I get you?" from a tiny bartender he later claimed had to stand on boxes to see over the bar. The two men got chatting.
Shortly afterwards the two Ronnies found themselves meeting again, this time to work on the BBC's satirical sketch show, The Frost Report. Among a cast and writing team of mainly Oxford and Cambridge graduates, these two grammar school boys who'd never stepped foot in a university gravitated towards each other and their friendship blossomed. Among the many sketches they performed together for the show, 'I Know My Place' in which a working-class Corbett stood next to a mid-sized middle-class Barker and a towering toff in the form of John Cleese, became a well-loved classic.
Already TV crews were picking up on the special chemistry between these two comics, but it was a technical mishap at the 1970 Baftas that sealed the deal as the two Ronnies stepped up to the mic with totally improvised comedy gold when things started to go wrong. As the audience howled with laughter, BBC bosses hatched a plan then and there to give these two their own show.
Opening and closing with spoof news headlines, The Two Ronnies sandwiched in each show a series of hilarious sketches, many of which have now gone down in comedy history. There was the serial, The Phantom Raspberry Blower of Old London Town about the Jack-the-Ripper-esque madman who massacred the capital with his fatal raspberry blowing. There was the Worm that Turned, which imagined women ruling the world with Diana Dors lording it over pinnie-wearing men. Mastermind took a turn when Ronnie Corbett's specialist subject was hilariously giving the answers to the question before last.
And, of course, who can forget the moment slow-witted handyman Ronnie Barker asked the shop assistant (Corbett) for 'four candles' – or was that 'fork handles'?
Rambling monologues in which Ronnie Corbett took endless diversions and round-the-houses tangents to tell a simple story from a battered armchair became part and parcel of what we expected from the show, as well as a comic musical finale.
Over 94 episodes that at its peak attracted audiences of 18 million, The Two Ronnies became a well-oiled machine, made possible by a huge range of writers from John Cleese to Spike Milligan to Michael Palin. One writer who kept stumping everyone though was Gerald Wiley who sent in marvellous sketches but never turned up to meetings.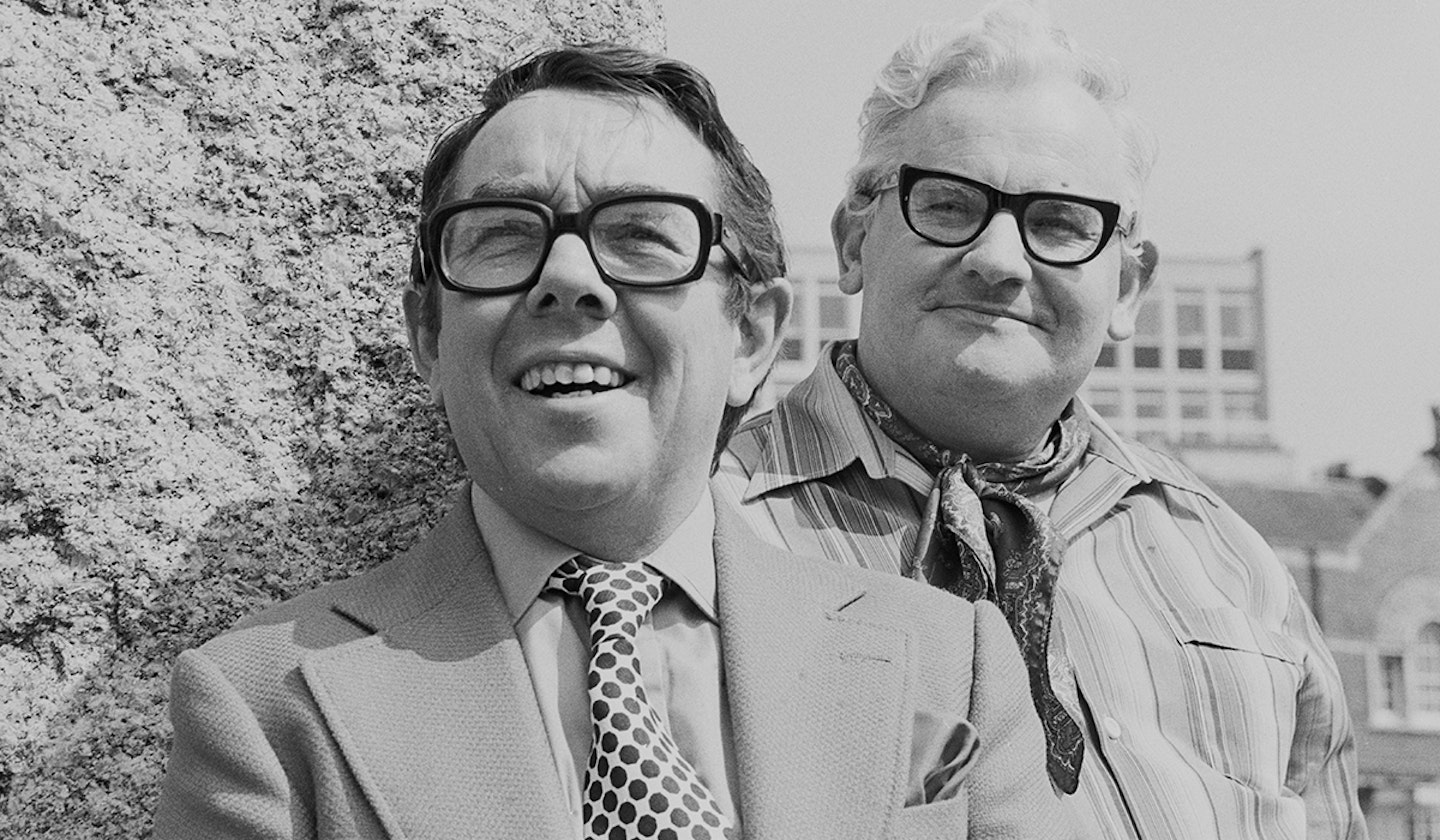 After lots of head-scratching, it emerged this Gerald Wiley was actually the self-effacing Ronnie Barker, full to the brim with ideas but never wanting to bully his stuff on the screen. In fact, for such an endlessly talented writer and comic, Barker always struggled with confidence, always hating anything that required him to play himself.
While Corbett would often introduce the studio audience to the show with a little warm-up, Barker preferred to hang back until he could hide behind the cloak of one of his characters, whether that was a buffoonish lord or a welsh coal miner. In the end, though, it was dressed as a Viking that Barker turned to his mate in between filming to say he wanted to retire. He was touching 60, had already had a few health scares and was struggling to find fresh material that would grab audiences whose comedy tastes were slowly changing.
So it was on Christmas Day 1987 that the final episode of The Two Ronnies aired on our screens. Barker and Corbett would remain lifelong friends until their deaths in 2005 and 2016 respectively as well as national treasures in the eyes of the public. But apart from a one-off revival episode in 2005, The Two Ronnies would never again say those immortal final words: "it's goodnight from me… and it's goodnight from him."
Two Ronnies golden moments
The mastermind sketch: The subject? Answering the question before last. The writer? David Renwick. The result? Pure comedy gold.
Fork handles: "Not four candles. Handles for forks!" The Ronnies' most famous sketch. Barker is wonderfully thick, Corbett (an underrated performer) brilliant as the increasingly exasperated shopkeeper: "You're having a laugh aren't you?"
The worm That Turned: Serial set in the futuristic year of 2012, Britain is now ruled entirely by women (specifically guest star Diana Dors). Big Ben has been renamed "Big Brenda," the Tower of London "Barbara Castle".
Ronnie Corbett's armchair monologues: Corbett at his best. Often his apparently random digressions were funnier than the actual punchline.
"Your sweet m'lady. Your nuts m'lord": Corbett is his Lordship. Barker's butler clearly prefers his ladyship.
"I look up to him and down on him": A brilliant attack on the class system, not actually from The Two Ronnies series at all but the earlier Frost Report.
The Phantom Raspberry Blower of Old London Town: A supremely silly serial set in Victorian London and co-written by Spike Milligan.
Who is Ronnie Corbett's wife?
In 1966, Ronnie Corbett married actress and dancer Anne Hart. They went on to have three children together: Andrew, Emma and Sophie. Sadly their first child, Andrew, had a heart defect and died when he was 6 weeks old.
Did you know
The Two Ronnies' wives, Anne and Joy, would always sit in the middle of the audience during filming so their husbands could call out to them to check they were talking loud enough on-stage.
Ronnie Corbett's height
Ronnie was 5 ft 1 in (1.55 m) tall which meant he often played roles younger than his years.
Ronnie Corbett in Sorry!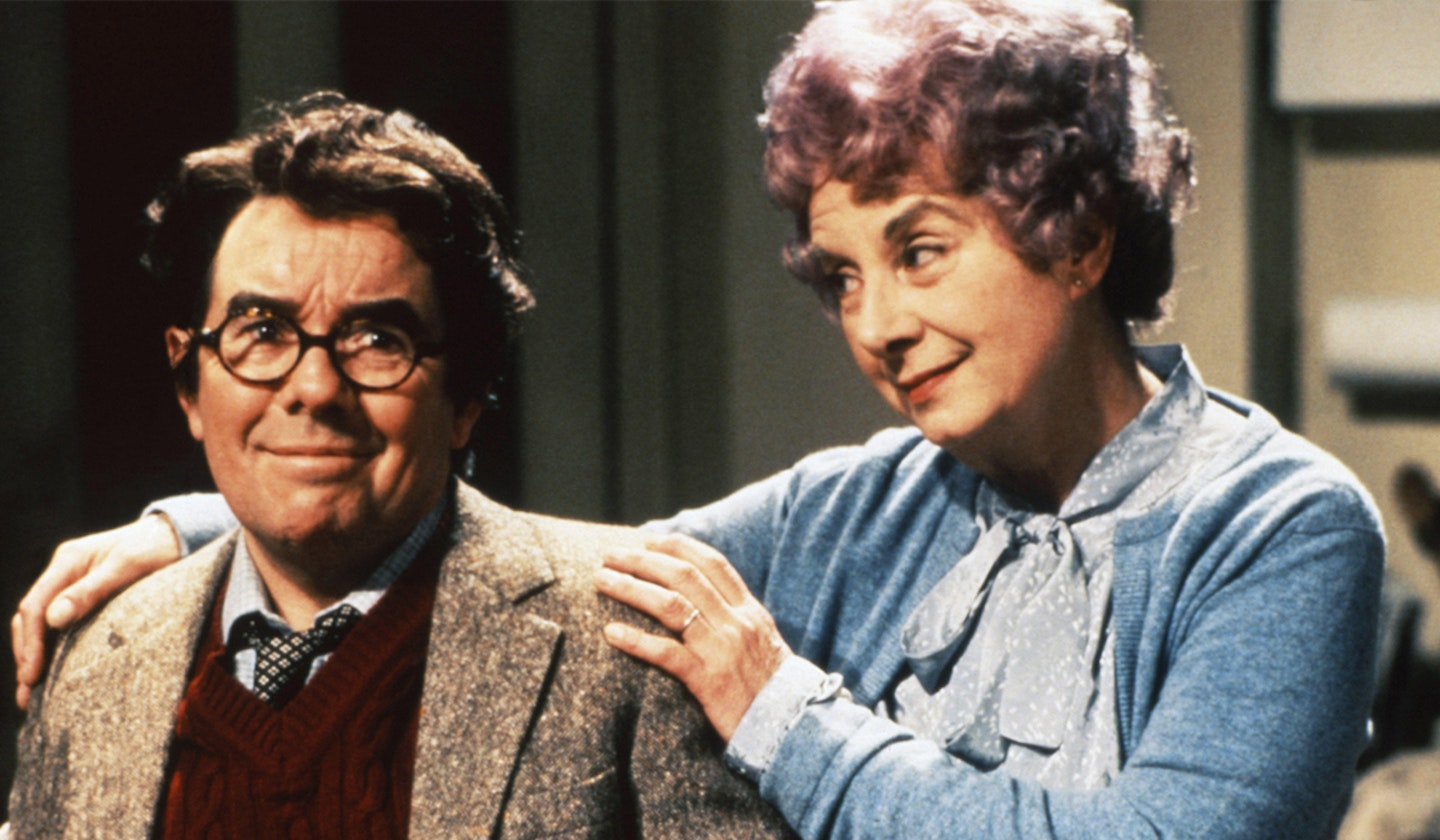 Ronnie starred in BBC sitcom, Sorry!, from 1981 to 1982 and from 1985 to 1988.
The plot followed librarian Timothy Lumsden who still lives at home with his domineering mother Phyllis and father Sidney. While shy around women, Timothy is eager to find love and leave home, but his mother is against the idea, and constantly manipulates her son into staying at home.
More episodes were produced of the sitcom Sorry! than either Barker series Porridge or Open All Hours
The Two Ronnies: Ronnie Corbett's Lost Tapes
In July 2021, ITV aired Ronnie Corbett's Lost Tapes, a look back at the life and work of Ronnie Corbett with access to his family's archives. It was an emotional watch, with memories shared by friends and families.
Popular articles to read next
Billy Connolly on comedy, family and his battle with Parkinson's