With Christmas fast approaching, the costs are already adding up. The dinners, the gifts, not to mention turning your house into a winter wonderland. So, why not try some DIY Christmas baubles and decorations that bring just as much Christmas spirit with half the price of your traditional Christmas decorations.
Not only will these crafty ideas help save a much-needed penny or two, but it's festive fun for the whole family. They're also a great gifting idea for personalised Christmas decorations that your loved ones can treasure. Try making a game or competition out of it for the little ones. Here's a guide to some easy-peasy ho-ho-homemade decorations.
Glitter confetti baubles
If you like a traditional look, or want something that can match the decorations you already have, why not put a spin on the Christmas bauble? You can buy plain and clear baubles which are easy to open and cheap enough that you can buy in bulk. Then all you'd need is glittery pens for decorating the outside, and these can be found in any arts and hobbies shop. If you don't trust your art skills, why not fill with glitter or confetti?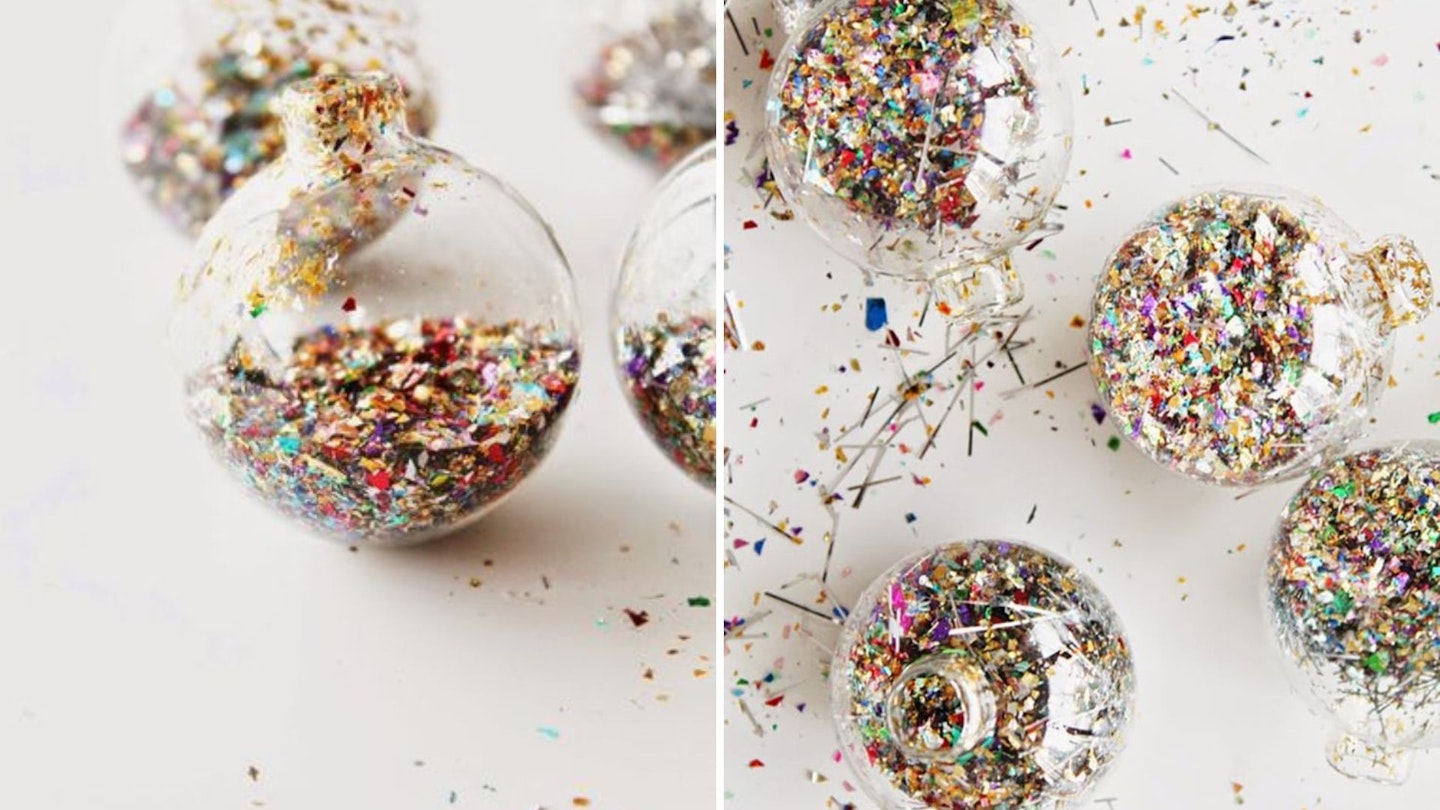 'Remem-baubles'
If you want to add a personal touch, try filling your baubles with family mementos or pictures. Simply print out a picture small enough to fit inside the bauble- for best results try printing them on some glossy card. You could have one for each member of the family to create your own family tree!
Papier-mâché baubles
This is perfect if you've got some old baubles lying around but you want a new design for your tree. Cut lines of newspaper and using Mod Podge lay the newspaper on top of you bauble. This creates the perfect nostalgic and classic bauble.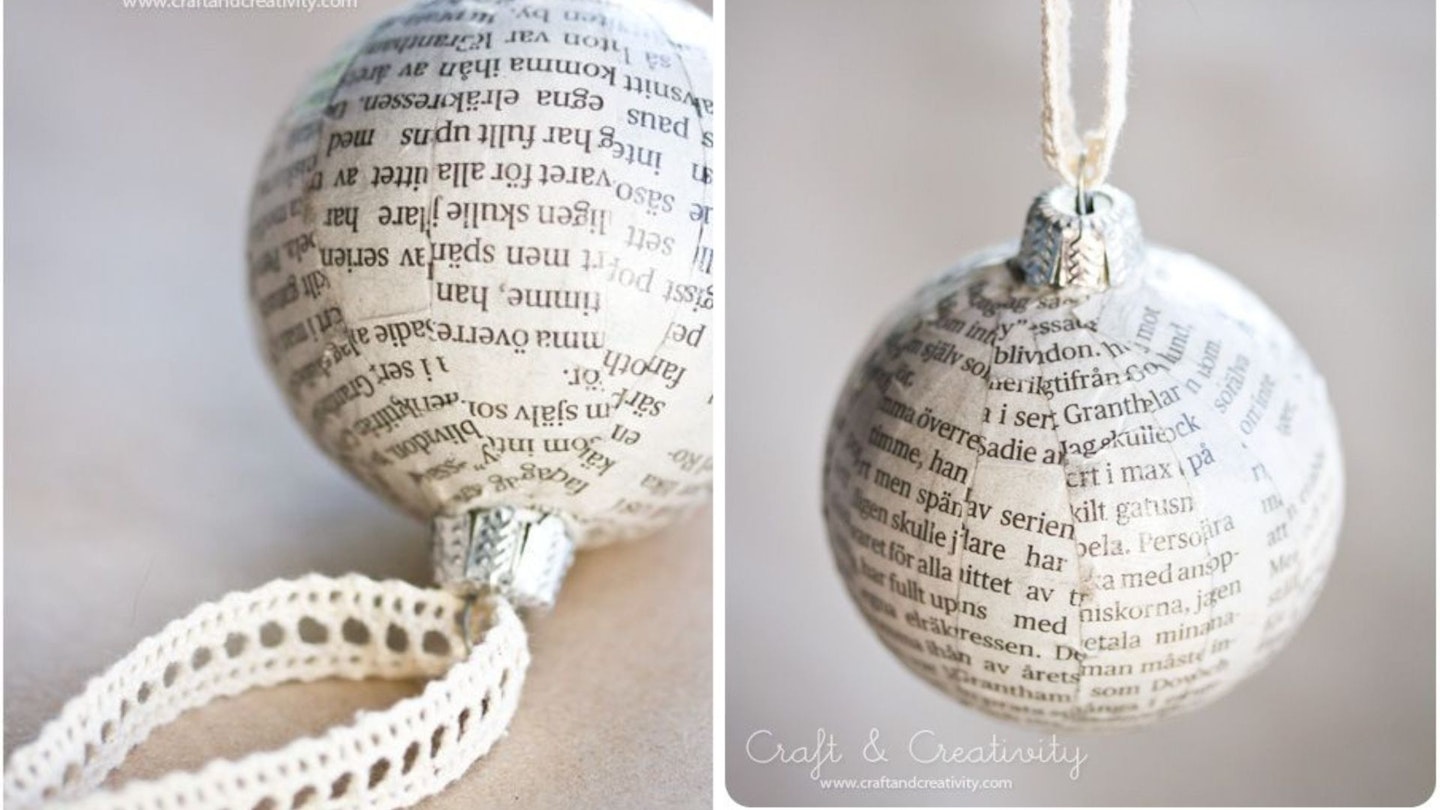 Nature baubles
If you'd like to make a day of it, you could opt for a forestry theme and place some sprigs of holly inside. This is an opportunity to create some Christmas memories with the kids by going out and searching for holly, acorns and flowers to place inside the baubles. The possibilities with these clear baubles are simply endless.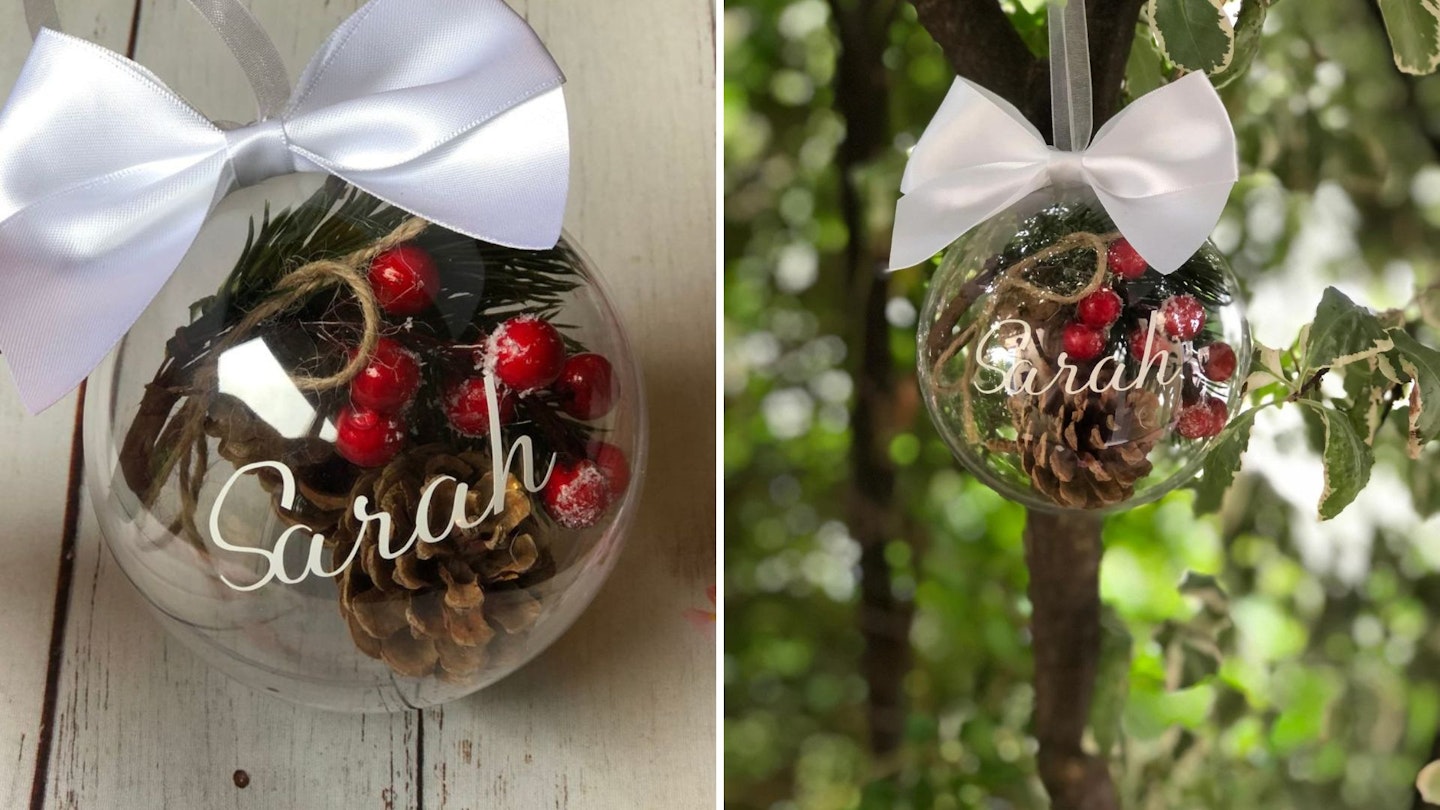 Twine baubles
Twine is going to feature a lot on this list, so if you have some lying around then you've already got most of your supplies sorted! For this one, simply blow up a balloon roughly to the size you want your bauble to be. Wrap some twine around the balloon to create your design, then paint the entire ball with Mod Lodge or whatever liquid glue you have handy. Hang the balls out to dry. Once fully dry, pop the balloon and carefully remove it through the cracks in the twine. Attach another piece of twine for hanging, and any other pieces of holly, berries or bells that you'd like to add.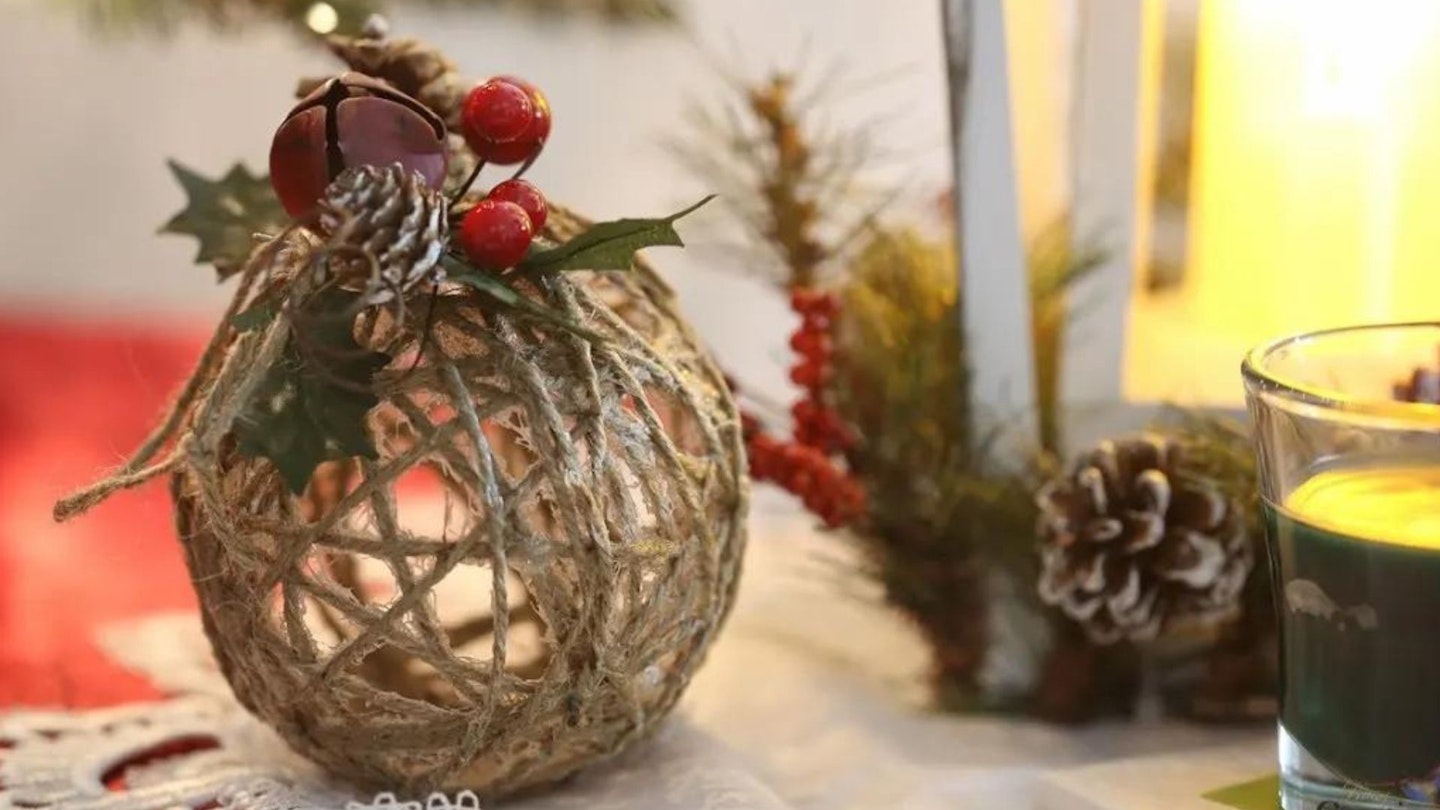 Macrame bauble
If you've a knack for macrame you could experiment with the techniques for creating a macrame plant hanger and instead wrap a clear bauble, or paint each one to match the colour palette of your festive décor!
This Hobbycraft guide to making macrame baubles is easy to follow and a great way to bring life to old baubles you were thinking of throwing out.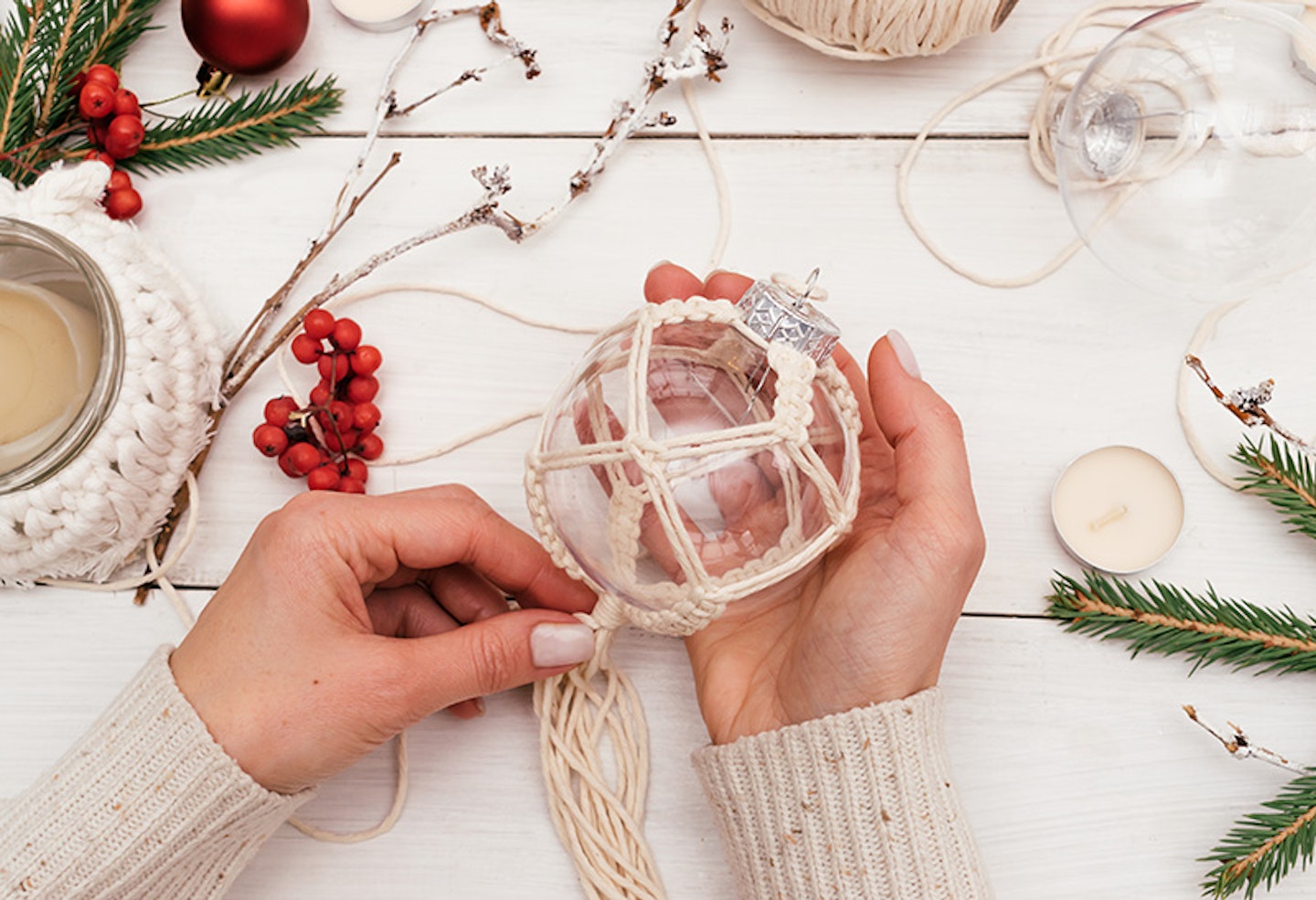 Bleached pinecones
This tip takes a few days, but the results are definitely worth it for a DIY Christmas bauble that everyone will be wanting you to craft for them. Bleaching pinecones transforms the mundane object into a stunning ornament by lightening the colour and opening up the shape. Simply mix two parts water to one part bleach, and soak the pinecone for at least 48 hours. Then, after you've left them out to dry, simply attach it to some twine or ribbon, and voila! You've got a beautiful rustic decoration for your tree.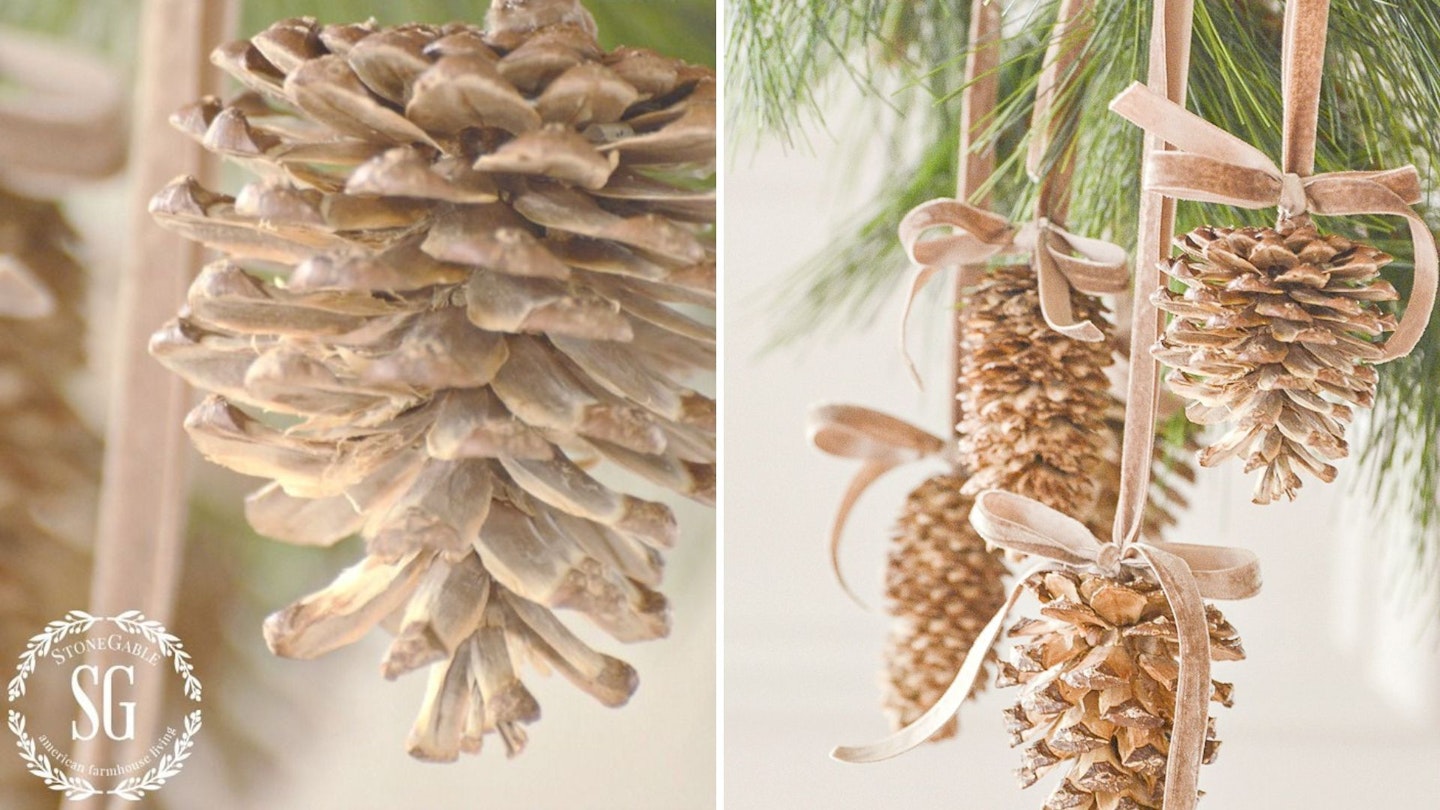 Yarn wrapped stars
This is another really simple DIY Christmas bauble hack. First you cut out a cardboard star and about 10 inches of twine. All you need to do is place a glue dot- using a hot glue gun if you have one- to the tip of the twine so it sticks to the star, and start wrapping the twine around the carboard in different directions. Place another dot of glue on the corners of the star to really keep your design in place. You can vary your wrapping technique and your twine colour to create different designs but still keep a cohesive look for your Christmas tree.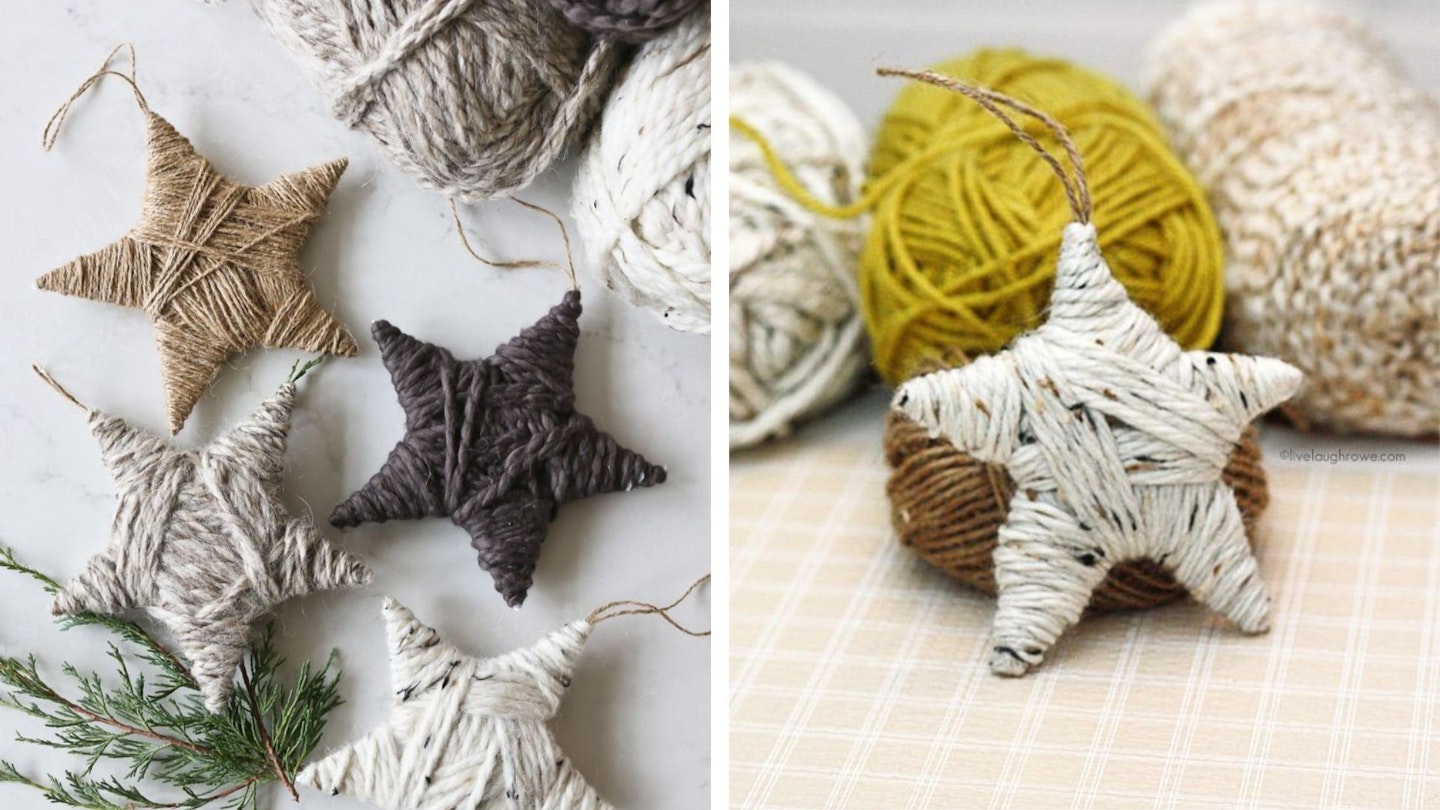 Scrap ribbon Christmas tree ornaments
This one is so easy and can be used using objects already found in your home. All you'll need to make the trunk of the tree is a twig- or, for an added festive scent, try using a cinnamon stick. Tie multiple scrap ribbons to the trunk, for best results have them close together and slightly overlapping. Then, using a scissors, trim the edges of the ribbon to create a cascading pine tree shape. Tie another ribbon or twine to the top and your ribbon Christmas tree is complete!
Wine cork garland
Wondering what to do with all those wine and champagne corks lying around every Christmas? Here's your solution! Grab your corks, some stick pins, and a length of ribbon- simply place the flap of the ribbon over the cork and pin it in place! This could also be a great idea for next year if you wanted to save a cork from special memorable champagne pops throughout 2023. Try marking the date on the base of the cork for that added personal touch.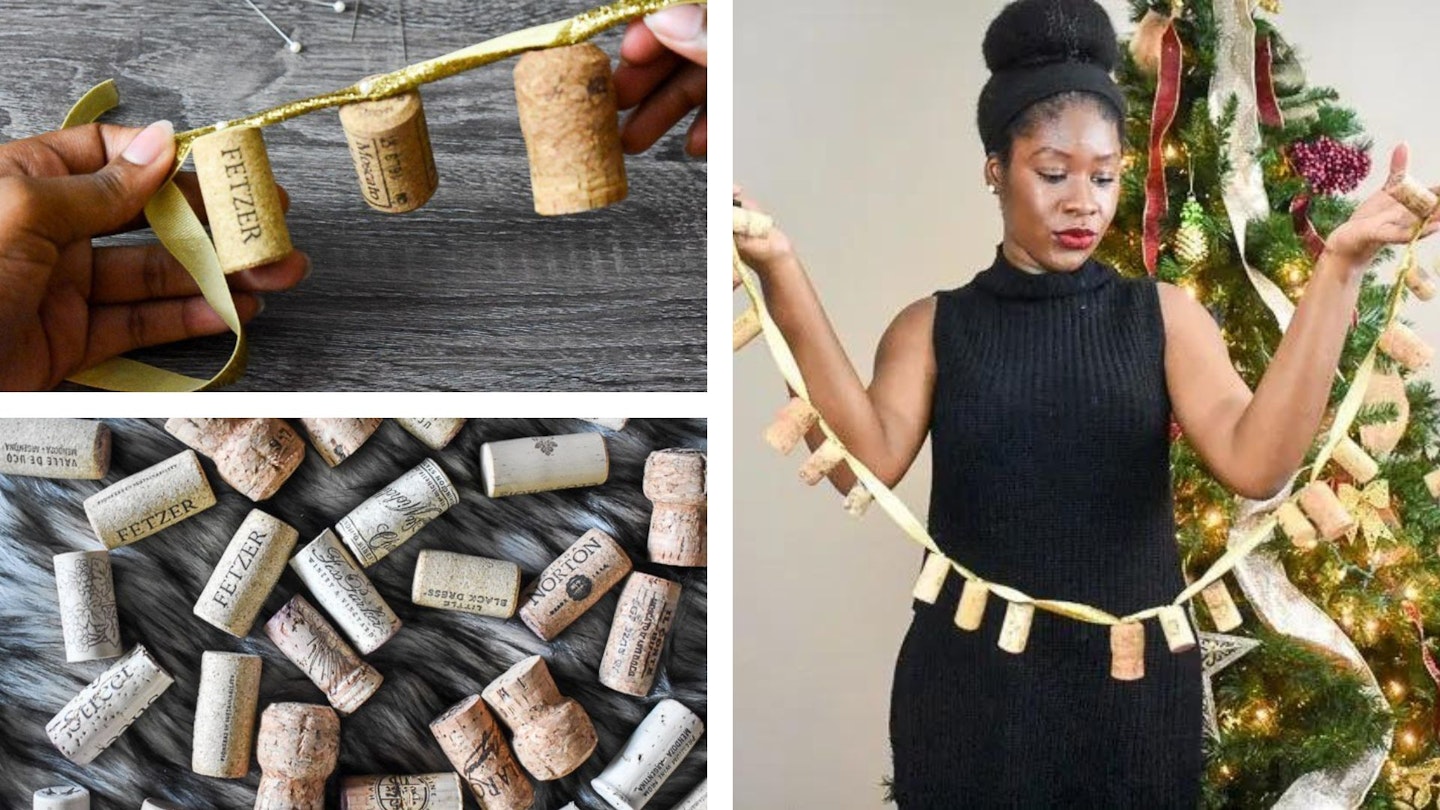 Canvas decorations
With a pack of mini canvases you can create endless hand painted ornaments. This is an especially great idea for those with young children in the house who are just learning to finger paint. Check out these snowman finger paintings below for inspiration!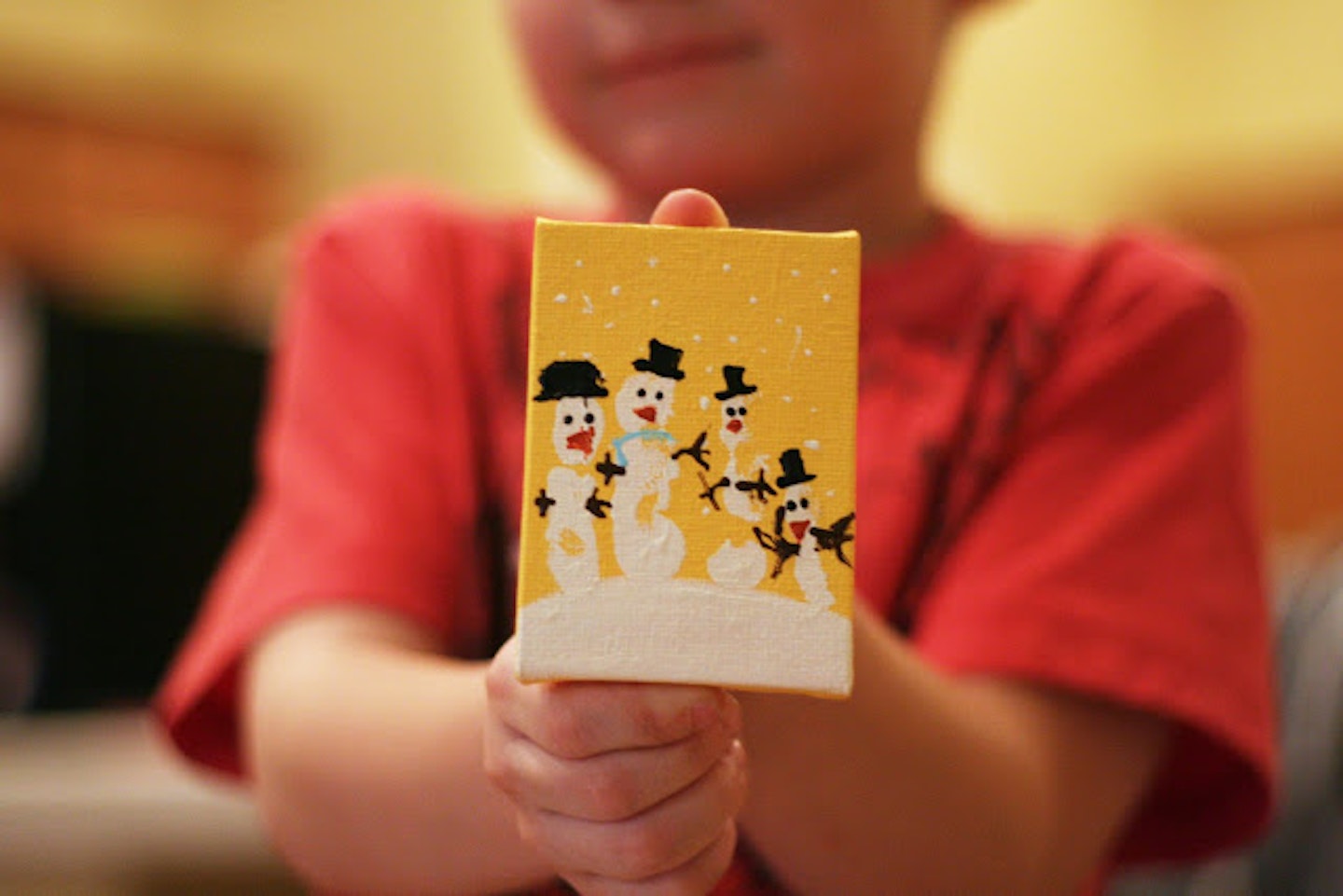 Coffee filter angel decorations
This one might be for the more experienced crafter as it requires a few more tools, but the results are worth it. For this you'll need about six coffee filters, a hot glue gun, a white pipe cleaner and a wooden bead. Three of the filters form the dress, two form the wings, and half a filter is used for the arms. Fold the first three filters (which will become the dress) into quarters and cut the corner to create a hole. Thread some twine (about 23 inches) through the hole and tie a hole at the end. Add some hot glue at the base to connect the knot and the filter. Place the second filter on top and make another knot, then repeat again with the third. This will create the layered skirt effect for the dress. Next, thread the twine through the wooden bead – this will be the angel's head. Tie the knot in a loop so you can hang the decoration and cut off any excess twine. For the arms, fold a pipe cleaner in half and cut a coffee filter into quarters, each quarter will become a sleeve. Using a hot glue gun, wrap the sleeves around the pip cleaner, and glue the pipe cleaner around the 'neck' of the angel. For the wings, fold a coffee filter in half and glue to the back of the decoration. Finally, unwind some excess twine to create curly hair for your angel.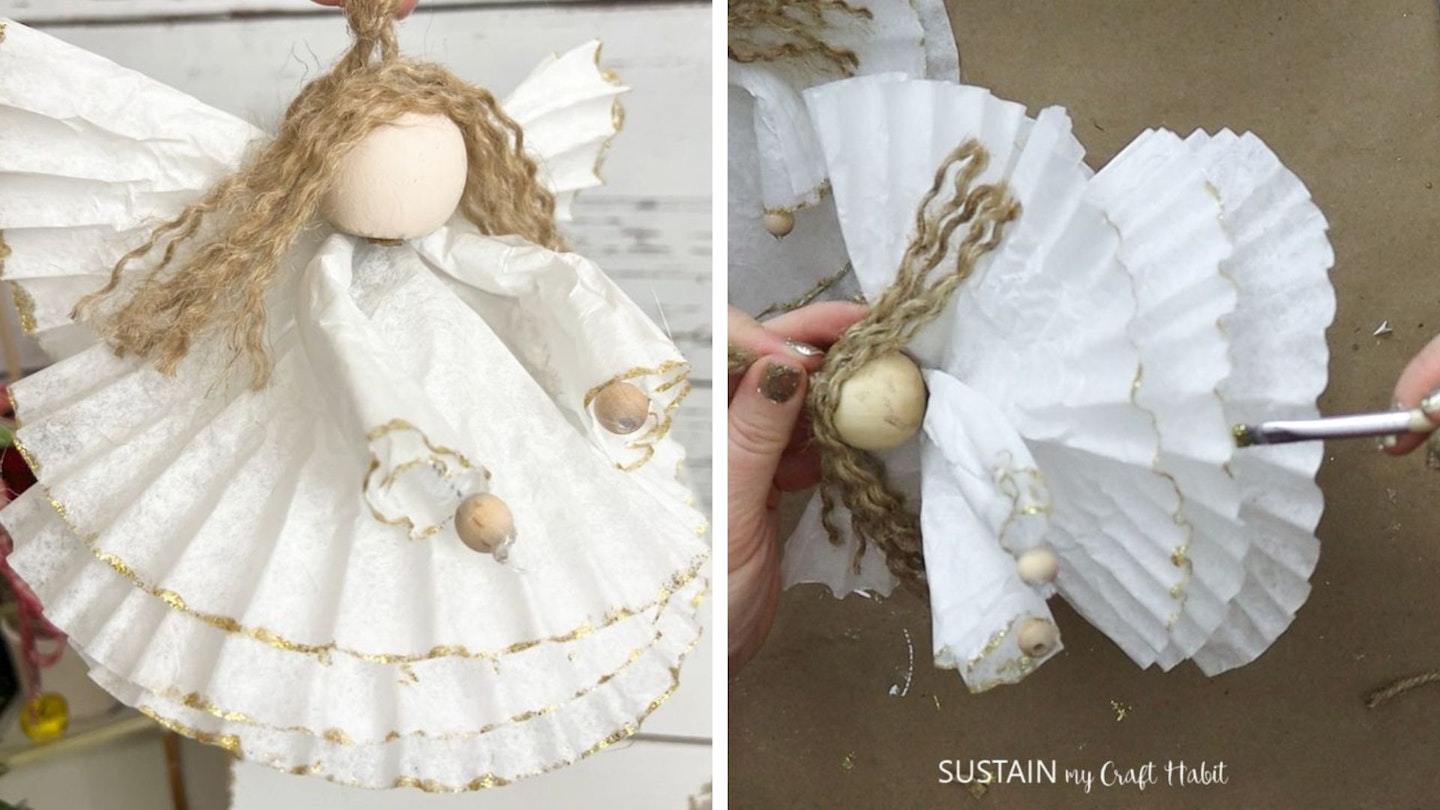 Papier-mâché Christmas trees
If you've got young children or grandchildren, this decoration might be the perfect afternoon Christmas activity for your family. First, cut two identical triangle shapes from a newspaper. Then, mix flour and water together to make your mixture. Spread this mixture over the first newspaper triangle and lay the second triangle on top so they stick together. Use your fingers to give the trees some texture, and when you're satisfied with your shape leave the trees to dry overnight. Now it's time to paint the trees however you like, and the texture of these decorations means it doesn't have to be perfect.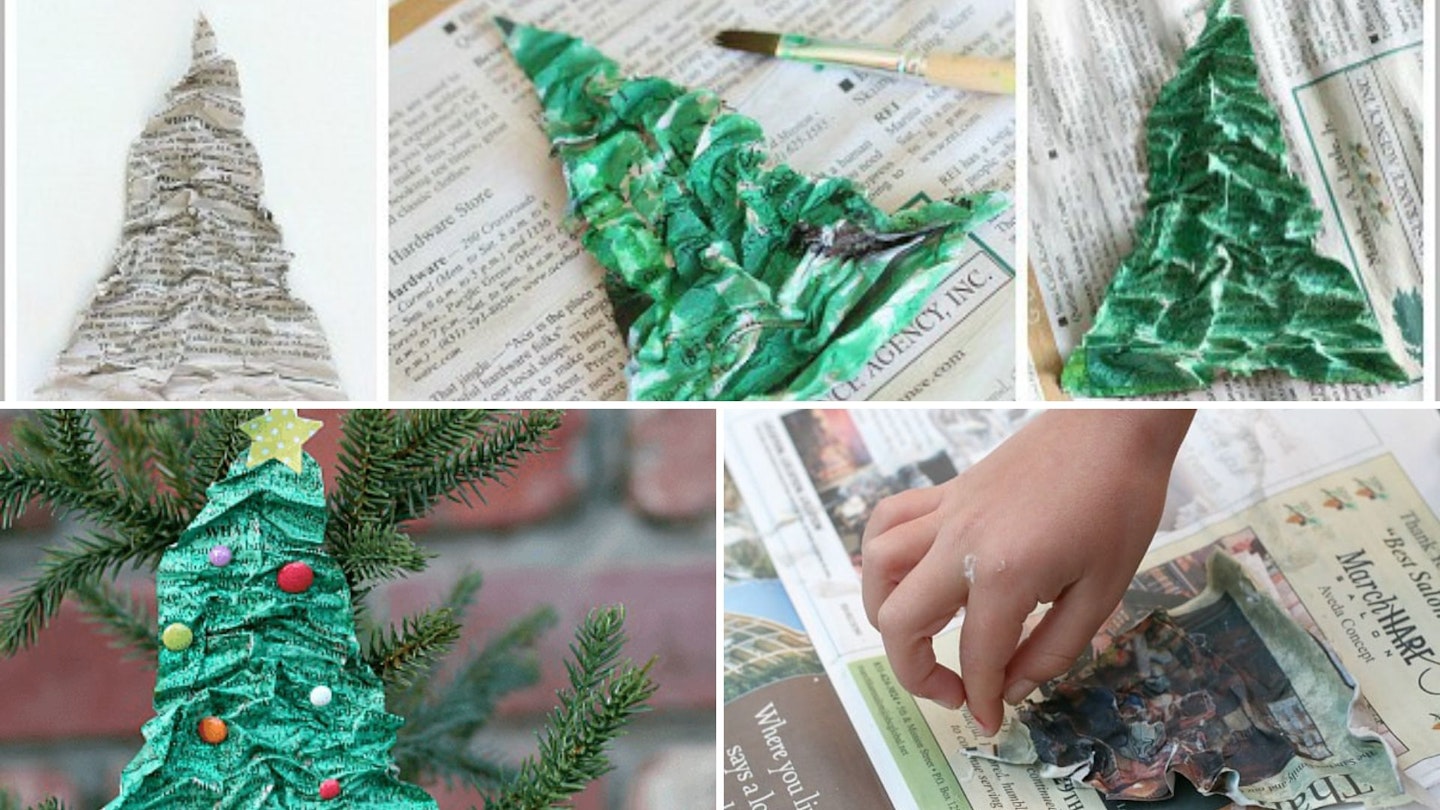 Paper snowflakes
OK, you may not need much guidance on this one, but just in case, here's a quick how-to. Cut a piece of paper into a circle and fold until you have a triangle shape. Make cuts of varying sizes all over the paper, and when you open up the paper, you'll be left with a perfect snowflake. Here comes the twist: stir salt and hot water together until dissolved. Place your snowflake on a plate and sprinkle over your water mixture generously. Leave to dry and you've got a lifelike snowflake! These can either be blue tacked or taped to surfaces, or loop a string through it to display it on your Christmas tree.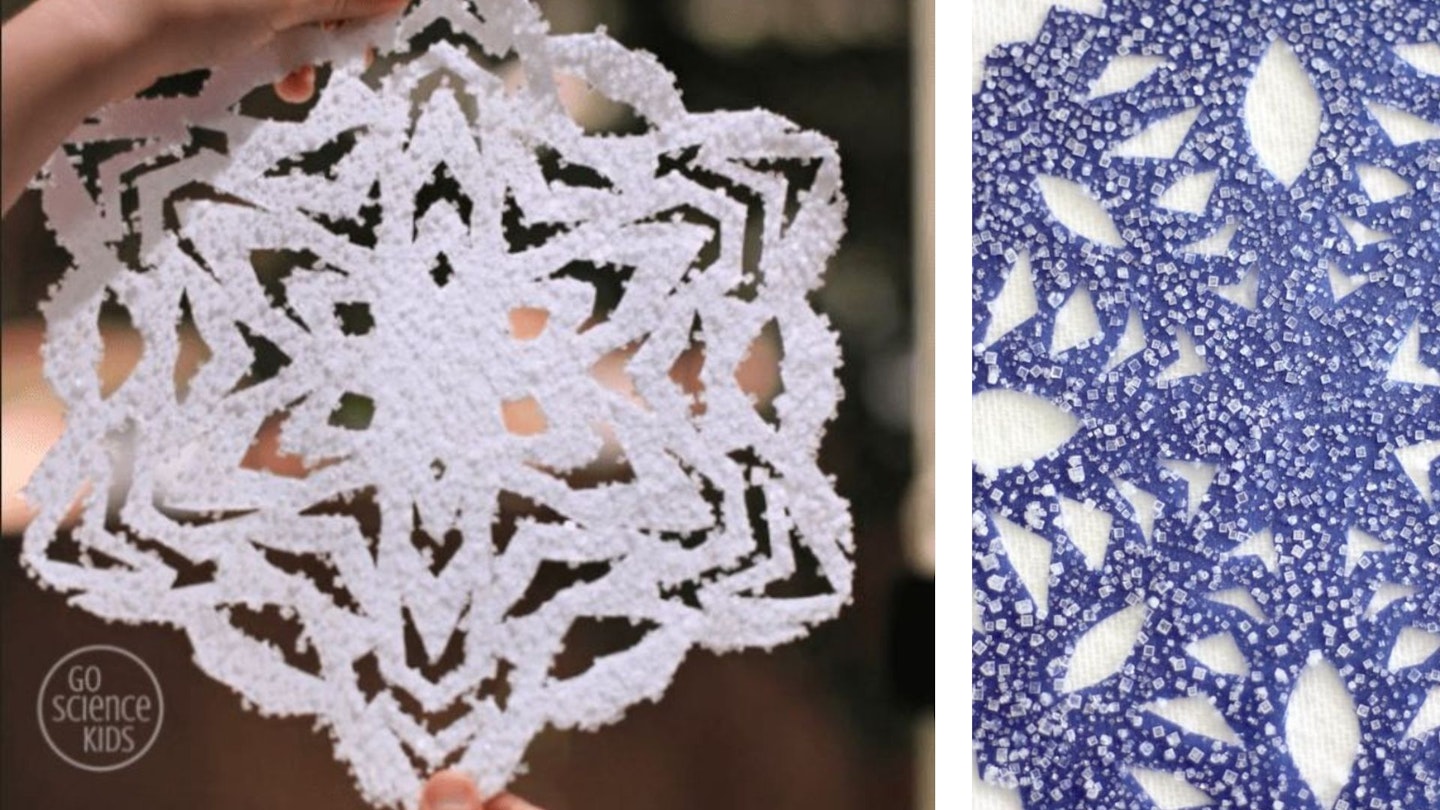 Sarah O'Byrne has been an editorial assistant at heat, Closer and Yours since May 2023. She has a BA in English with Film and an MA in Literature and Culture - both from University College Dublin.
To enjoy more regular stories just like this, become a Yours subscriber and become part of our fun and friendly community of like-minded readers.