It's over a decade since Catherine Middleton and Prince William's historic royal wedding on 29 April, 2011. With so many memorable moments from the day Will and Kate's love story took off, one key thing that remains in our minds is Kate Middleton's wedding dress.
Full of family references and meaningful imagery, and easily one of Kate's most memorable outfits, the Alexander McQueen dress is still referenced when other royals and even celebrities marry, and indeed the iconic wedding dress has inspired many celebrity copycats who've hoped to channel her effortless grace on their own wedding days.
From its long sleeves to its lace ball gown, to the accessories the now Duchess of Wales paired with it, here's everything we know about Kate's wedding dress.
Who designed Kate's wedding dress?
Kate Middleton's wedding dress was designed by the British designer, Sarah Burton, the Creative Director of the fashion house Alexander McQueen. Sarah Burton also designed the wedding dress of Sara Buys, the wife of Queen Camilla's son Tom Parker Bowles.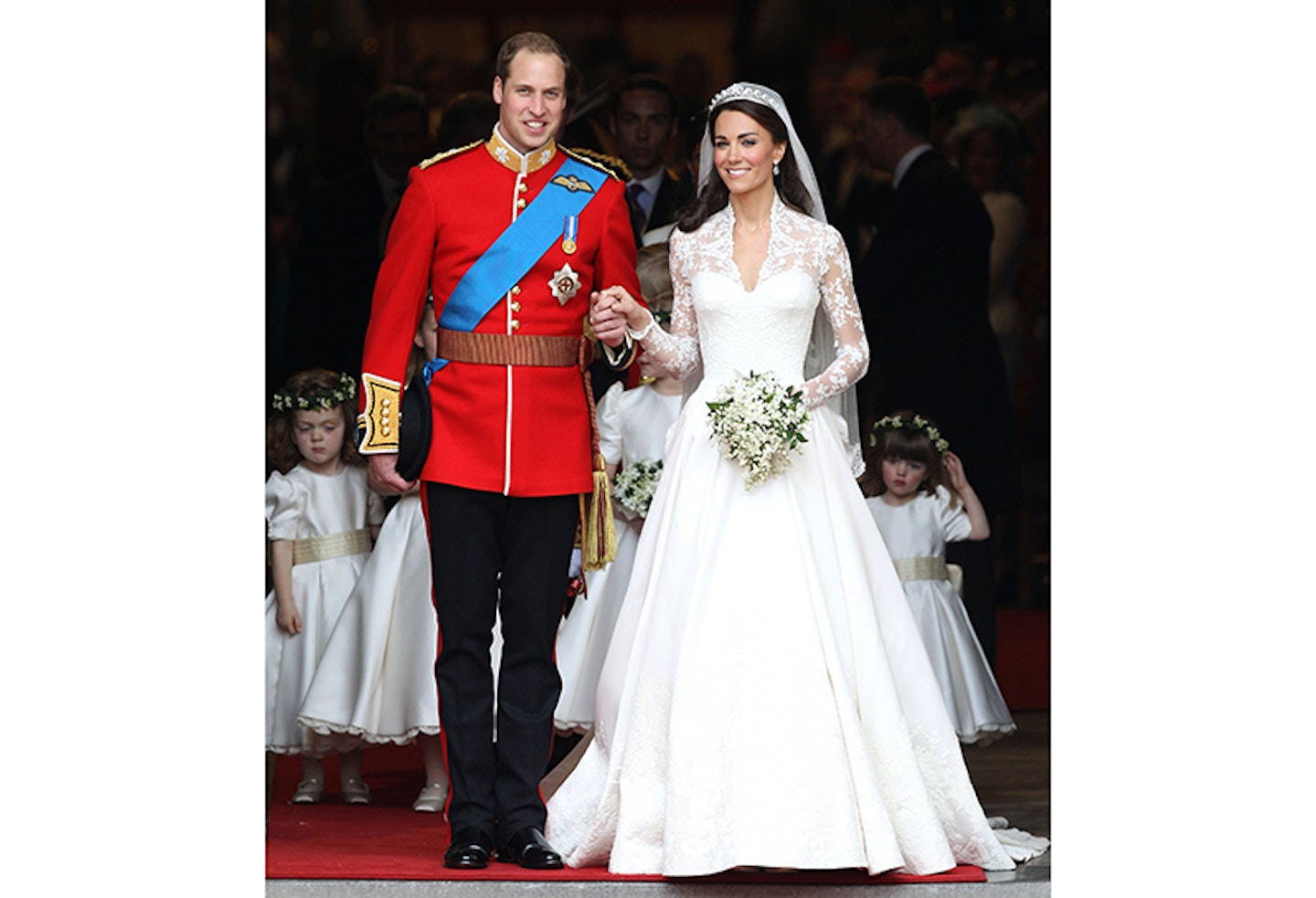 Not only did Kate choose a British designer, but she also decided that all the materials for the dress had to be made in the UK, to show respect for British craftsmanship. The main body of the dress was made in ivory and white satin gazar, using fabrics which had been specially sourced by Sarah Burton in the United Kingdom. The French Chantilly lace was the only fabric not sourced or supplied by a British company.
The dress was designed to look like a flower in bloom making the bride look like she was gliding down the aisle as opposed to walking.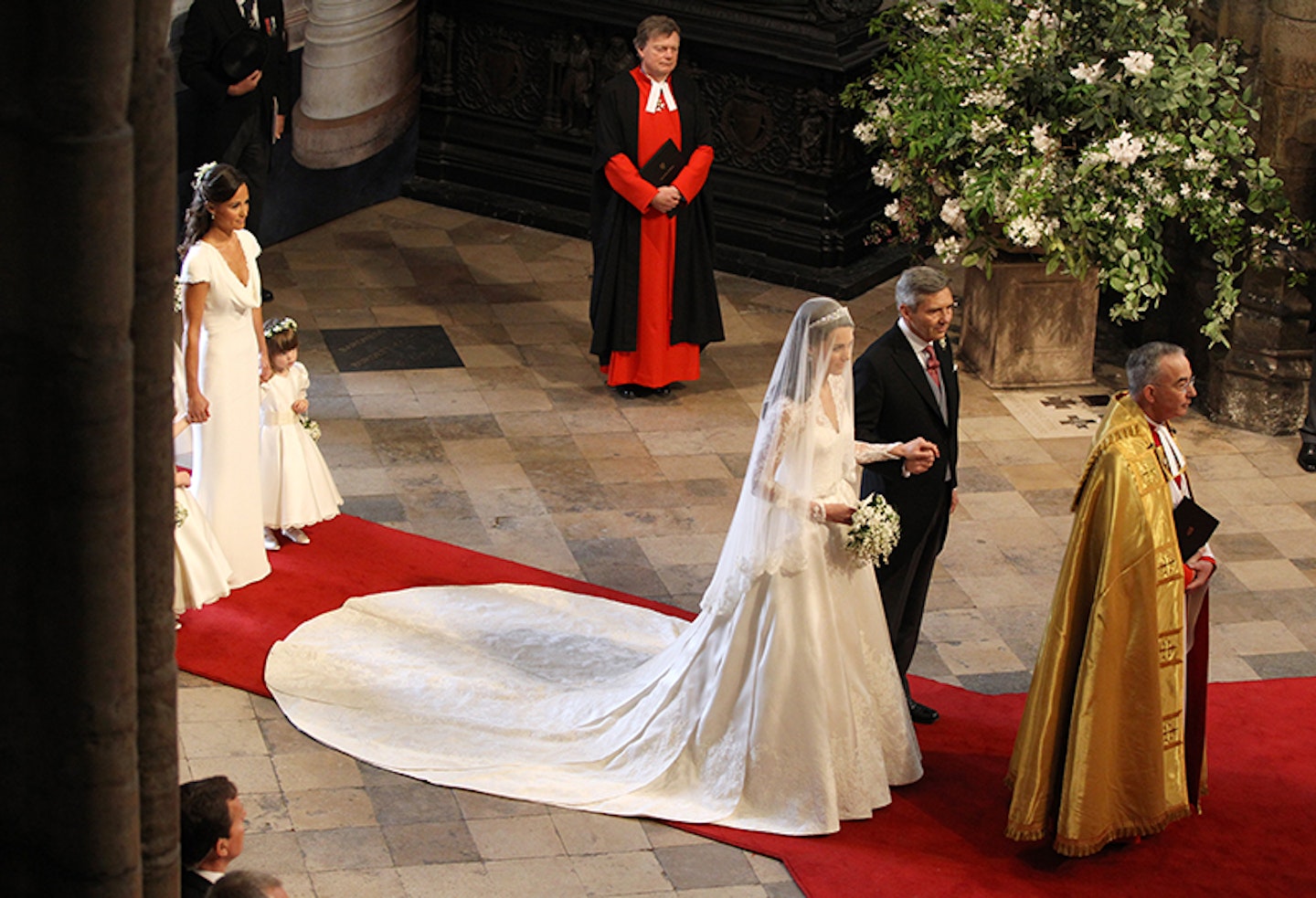 In a statement released by Buckingham Palace at the time, they revealed, "The dress epitomises timeless British craftsmanship by drawing together talented and skilled workmanship from across the United Kingdom. The dress design pays tribute to the Arts and Crafts tradition, which advocated truth to materials and traditional craftsmanship using simple forms and often Romantic styles of decoration. Ms Burton's design draws on this heritage, additionally giving the cut and the intricate embellishment a distinctive, contemporary and feminine character."
Who made Kate's wedding dress?
The lace appliqué for the bodice, skirt and veil was hand-made by the Royal School of Needlework, based at Hampton Court Palace.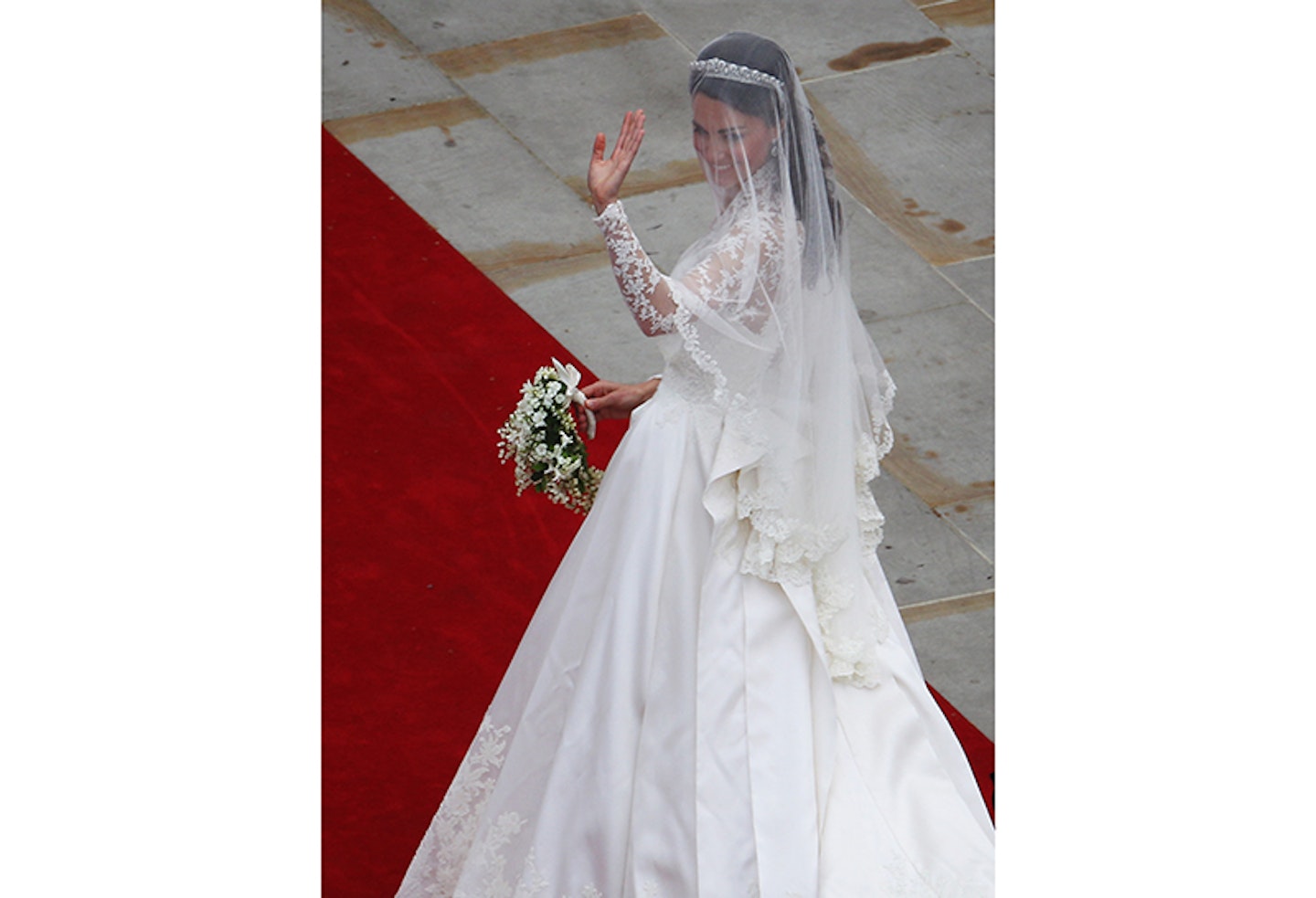 The youngest lace-maker was only 19yrs old at the time, and they used a nineteenth-century technique called Carrickmacross. The seamstresses were told it was an important job, but weren't actually told who they were making the lace for!
How much did Kate's wedding dress cost?
It's estimated that the dress cost £250,000, but it's never been officially released. It's also not known whether Catherine's parents Michael and Carole Middleton paid for the incredible dress, as tradition would have it. However, in historic value, you could argue it's priceless.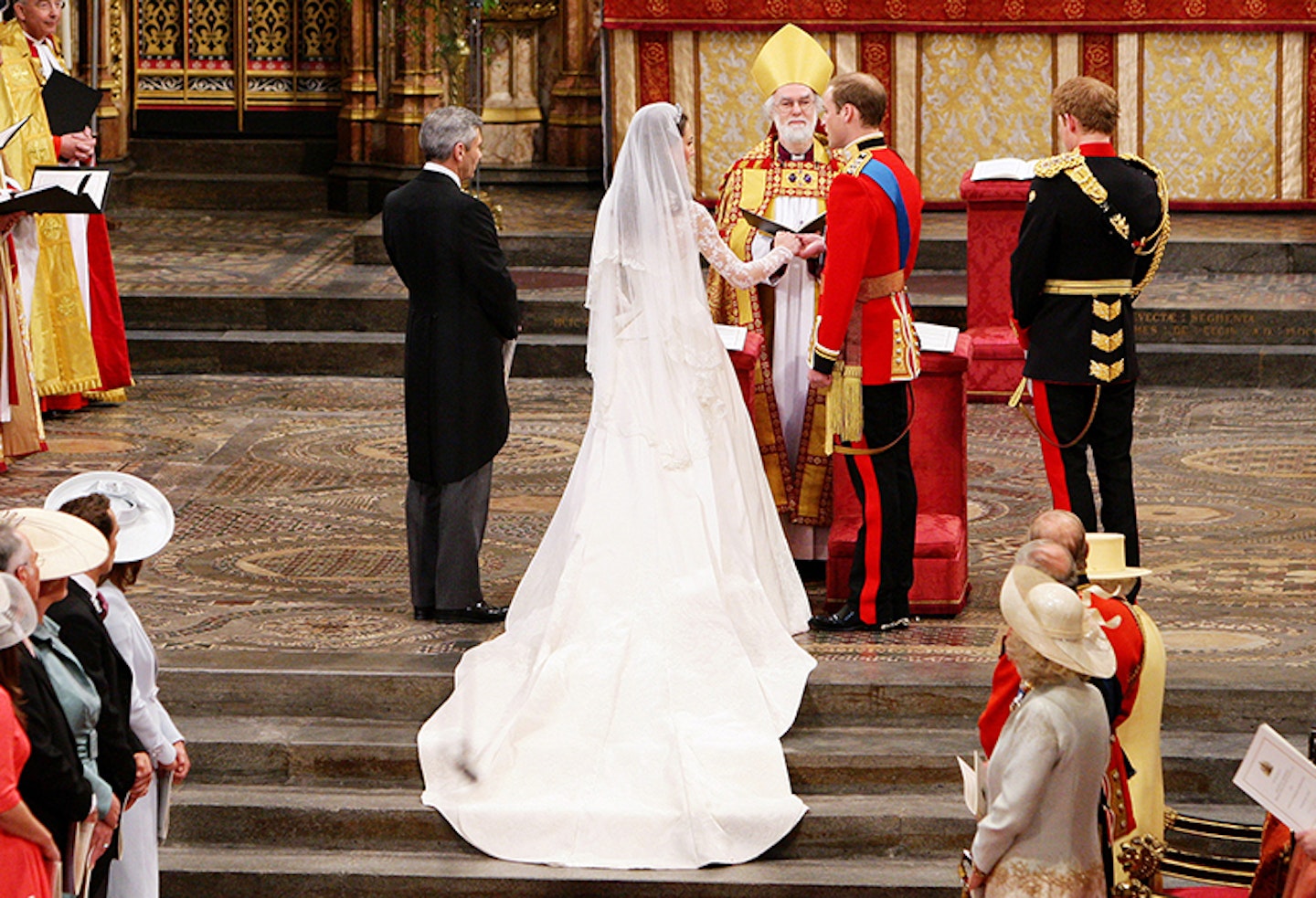 How long did it take to make?
An exact figure has not been revealed, to take into account all of the elements of the dress, but it is known that the seamstresses who attached the lace appliqué were required to wash their hands every 30 minutes to ensure the lace remained pristine.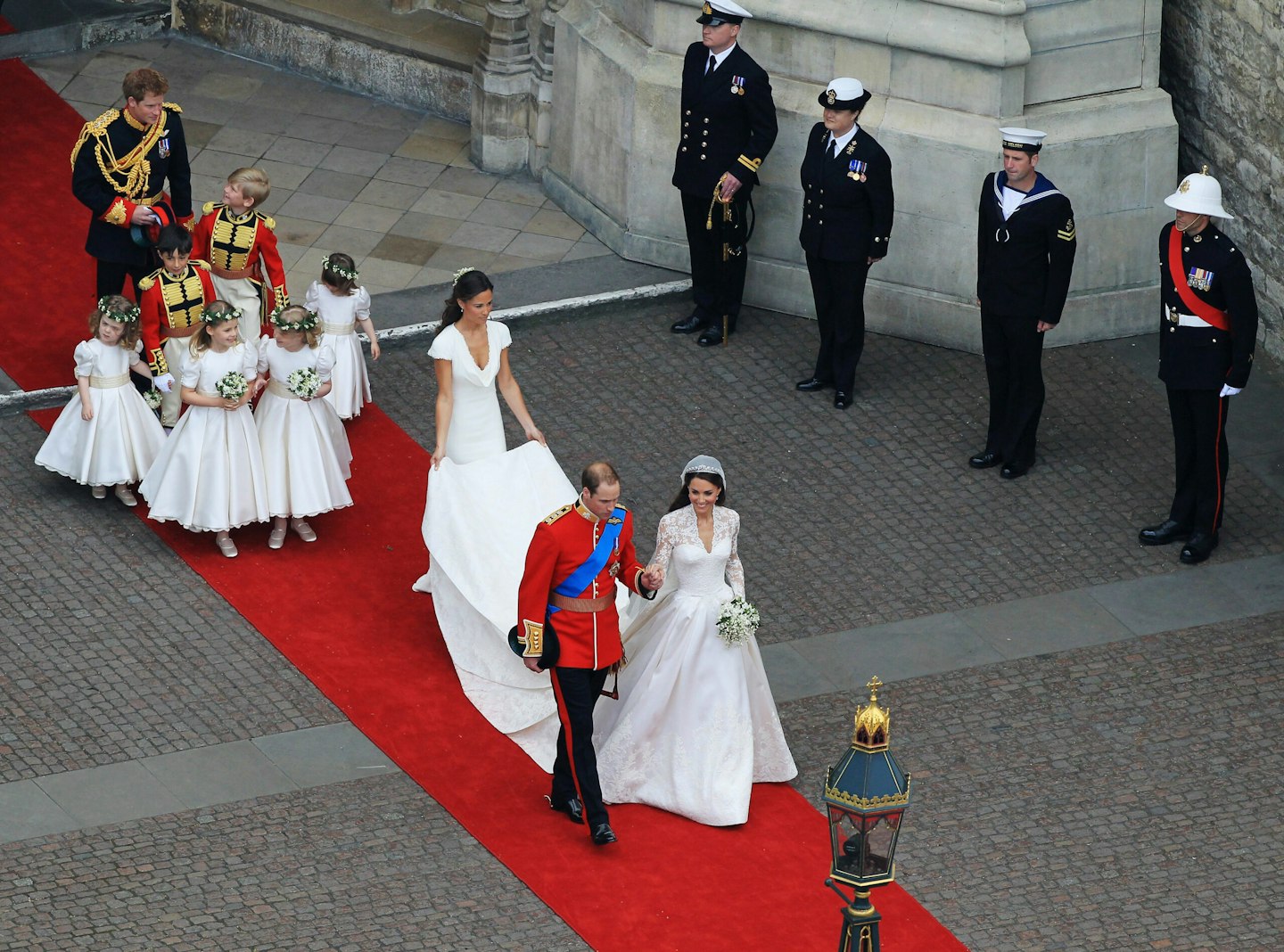 The full skirt had beautiful embroidery detailing and bustle around the hips mimicking a popular Victorian look – apparently, Kate chose Alexander McQueen for their signature Victorian-inspired corsetry.
The pleating detail around the waist was designed to look like petals opening to create a fully bloomed flower, and a fully embroidered 9ft train trailed behind. For all of the embroidery individual flowers were hand-cut from lace and hand-engineered onto ivory silk tulle to create a design which incorporates the rose, thistle, daffodil and shamrock, to represent the four nations of the UK.
Kate Middleton's wedding dress back
There were 58 buttons down the back of the dress, covered in gazar and organza and fastened by rouleau loops.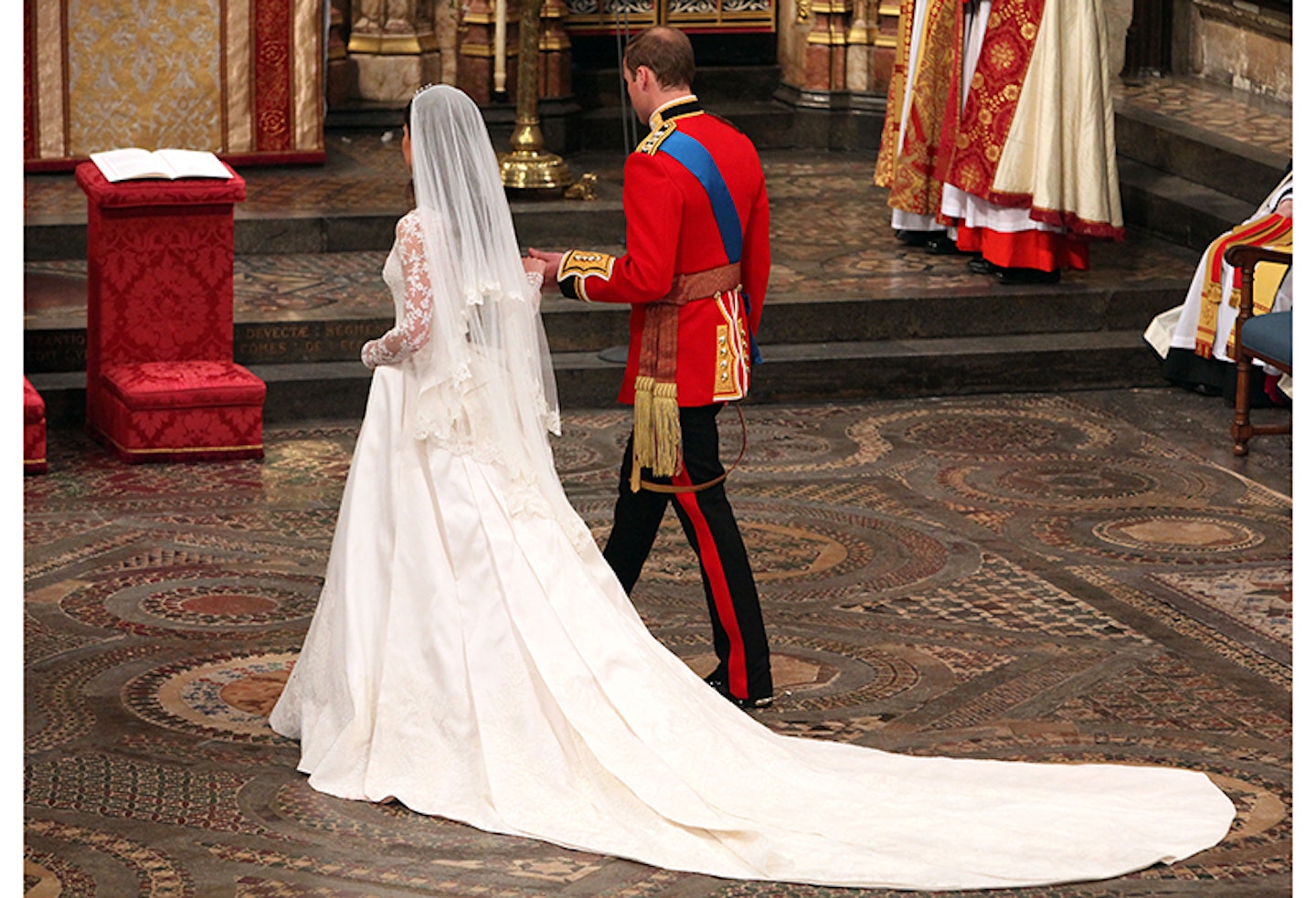 While the 9ft train looked impressive it was nowhere near as long as Princess Diana's train, which was 25ft in length!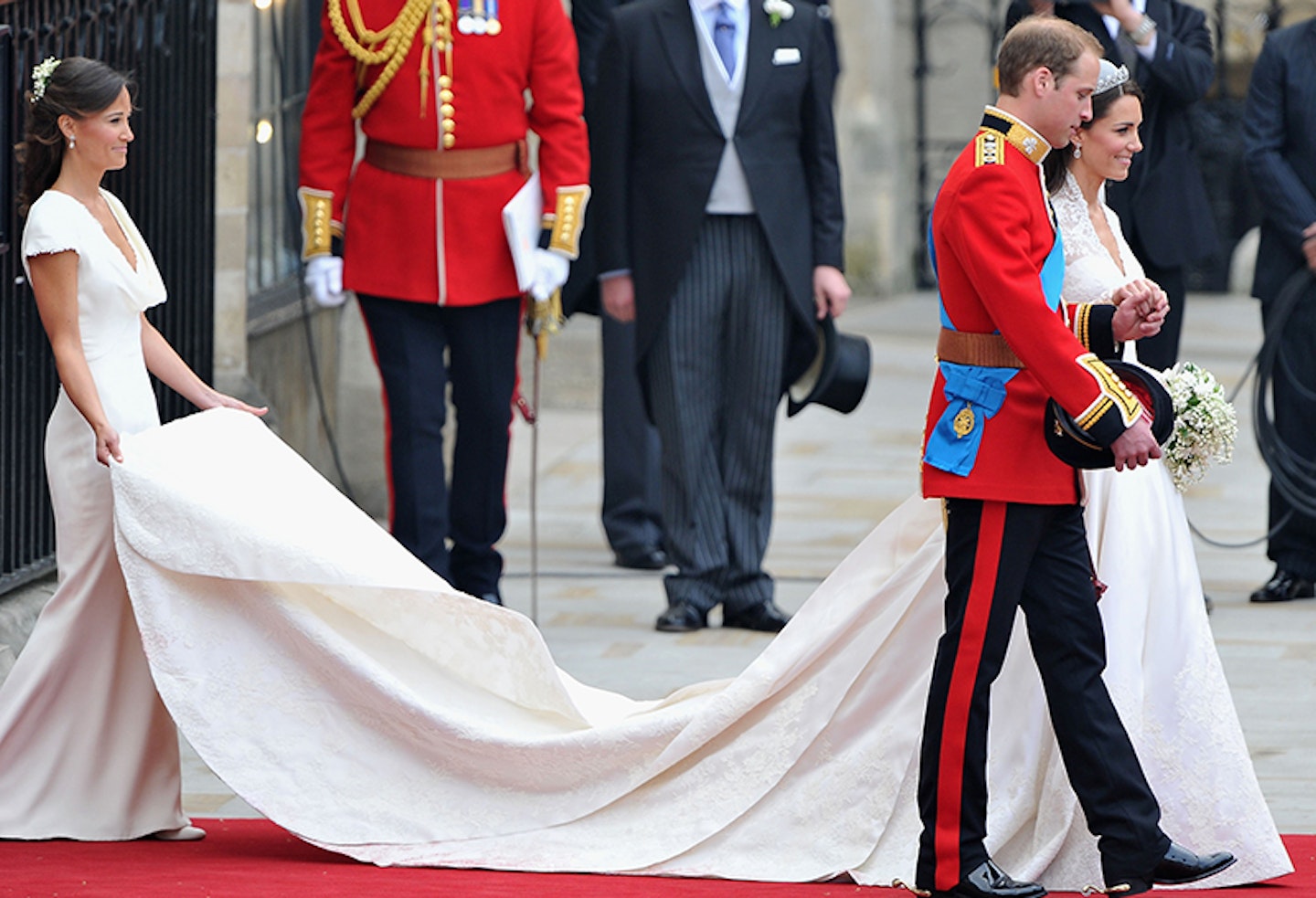 Kate Middleton's veil and wedding jewellery
For her wedding Kate's parents Carole and Michael gifted her a pair of diamond earrings designed by Robinson Pelham. The design featured oak leaves and acorns, symbols from the Middleton Coat of Arms.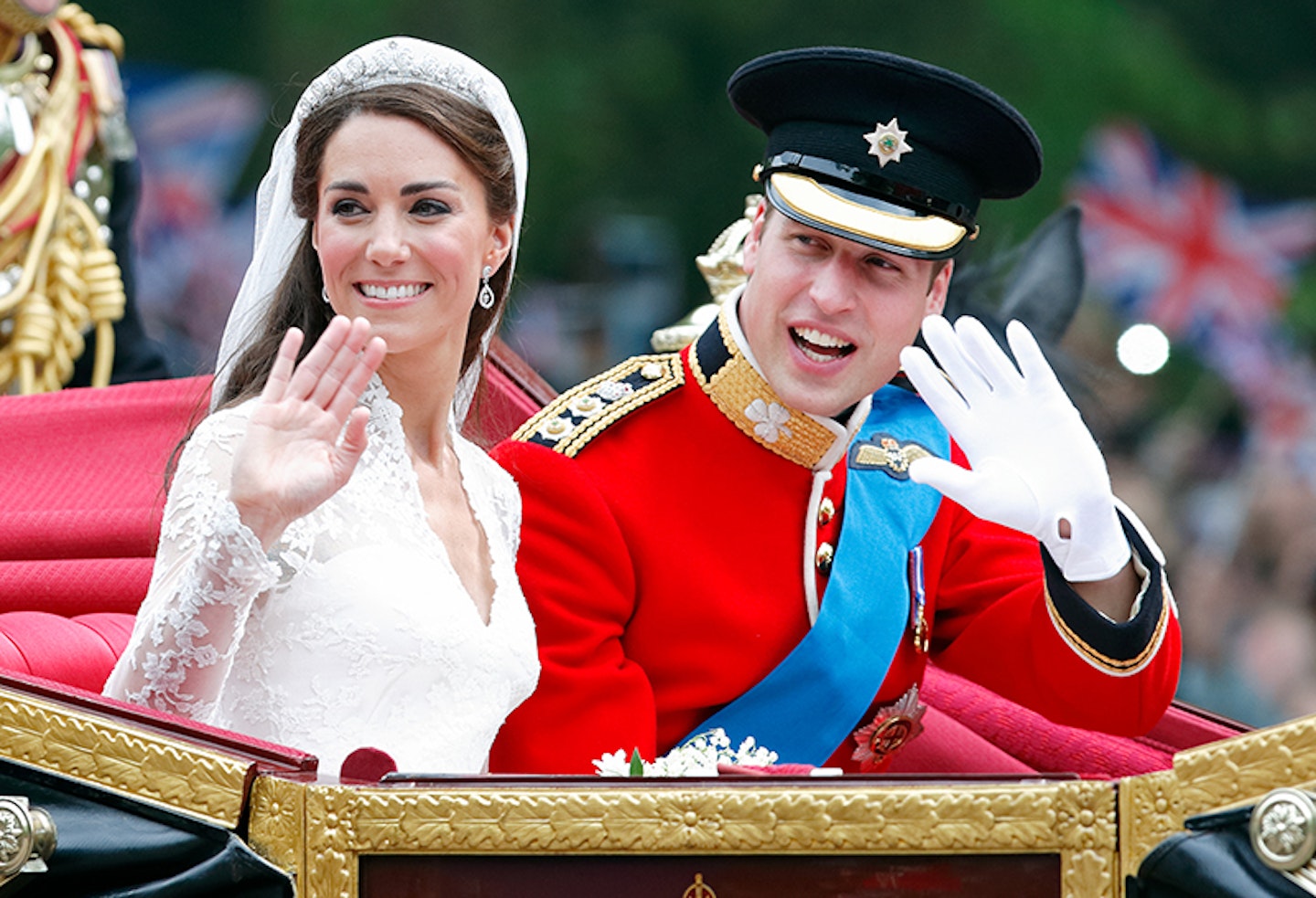 Her veil was made of ivory silk tulle with a trim of hand-embroidered flowers to match the embroidery on the dress itself.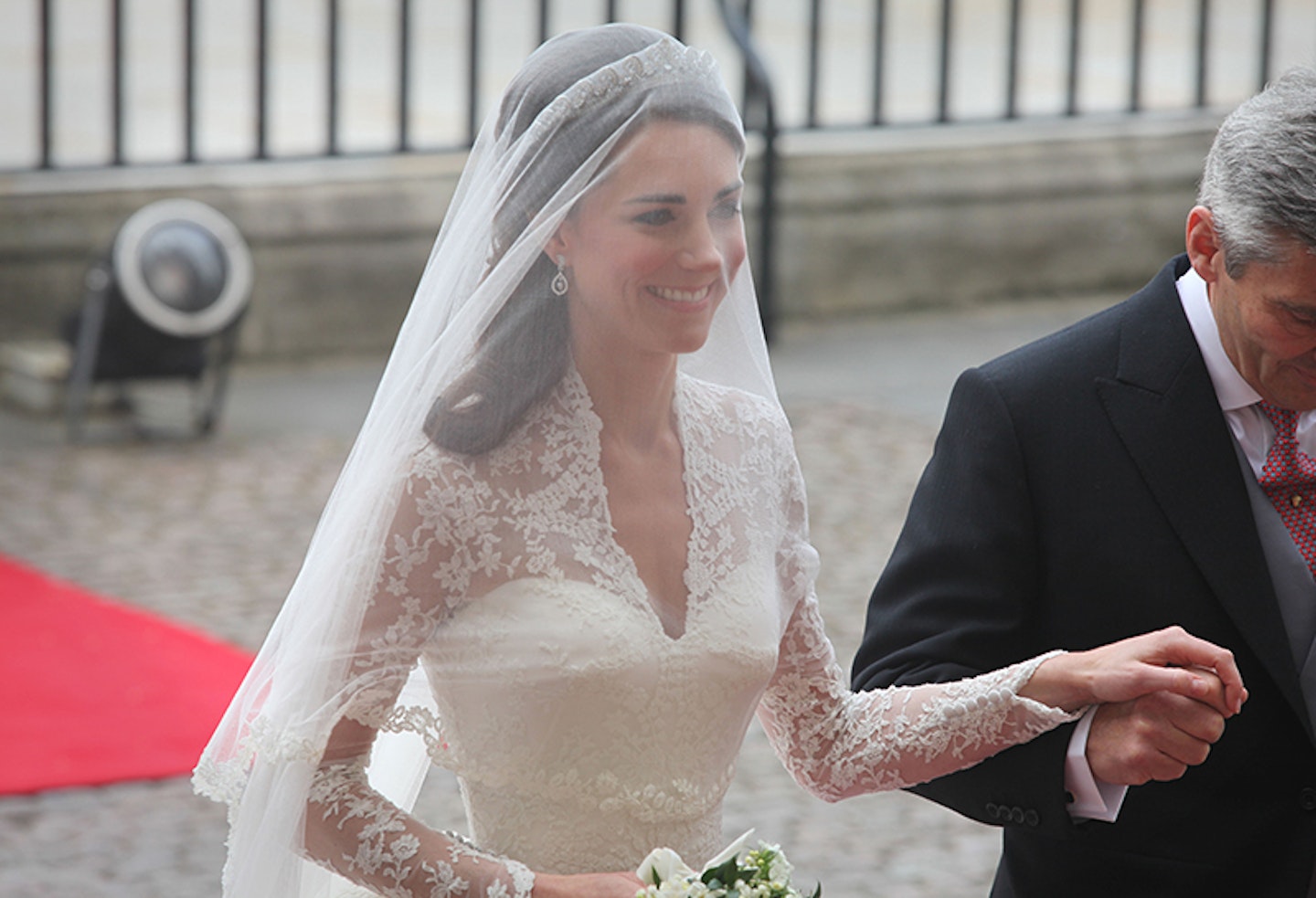 Kate also wore the 'halo' tiara, which was made by Cartier in 1936 and was lent to Kate by Queen Elizabeth II. Bought as a gift to her mother by her father King George, the tiara was presented to Elizabeth by her mother on her 18th birthday.
For her something blue, Sarah Burton's team sewed a blue ribbon into the interior of Kate's dress.
Kate Middleton's bouquet
Kate Middleton's bouquet was petite and kept to shades of white and green. It featured myrtle, lily-of-the-valley, hyacinth, and sweet William, a nod to her groom-to-be.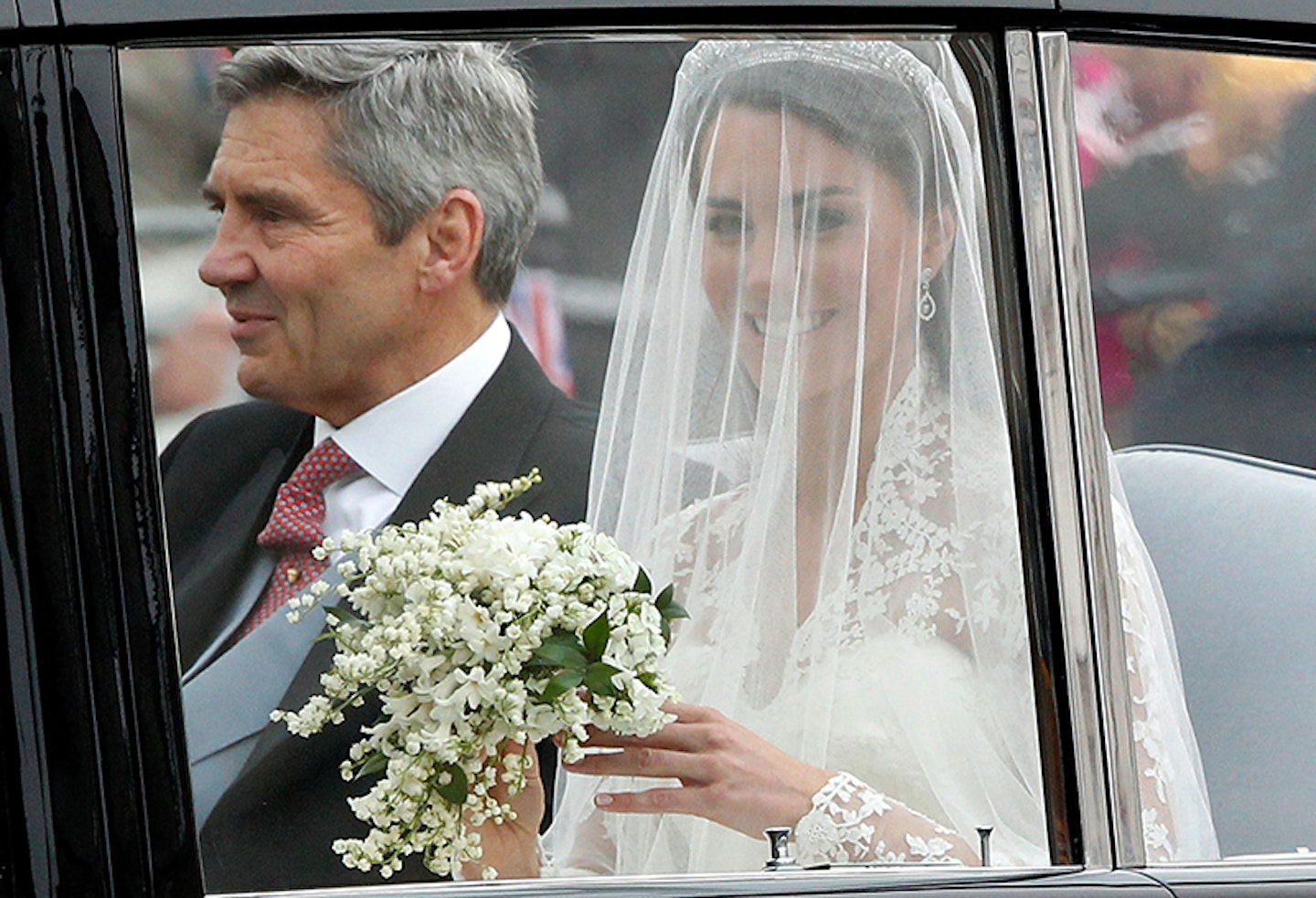 The bride carrying myrtle in a wedding bouquet is a royal family tradition. Queen Victoria's eldest daughter Princess Victoria, carried myrtle in her bouquet back in 1858, and the tradition has continued since.
Kate's wedding hair and makeup
Kate chose to do her makeup herself on the day, deciding she knew her own face. She was also advised to wear her hair up, but compromised with a half-up-do so she could maintain what's become known as Kate's signature hairstyle of long effortless waves.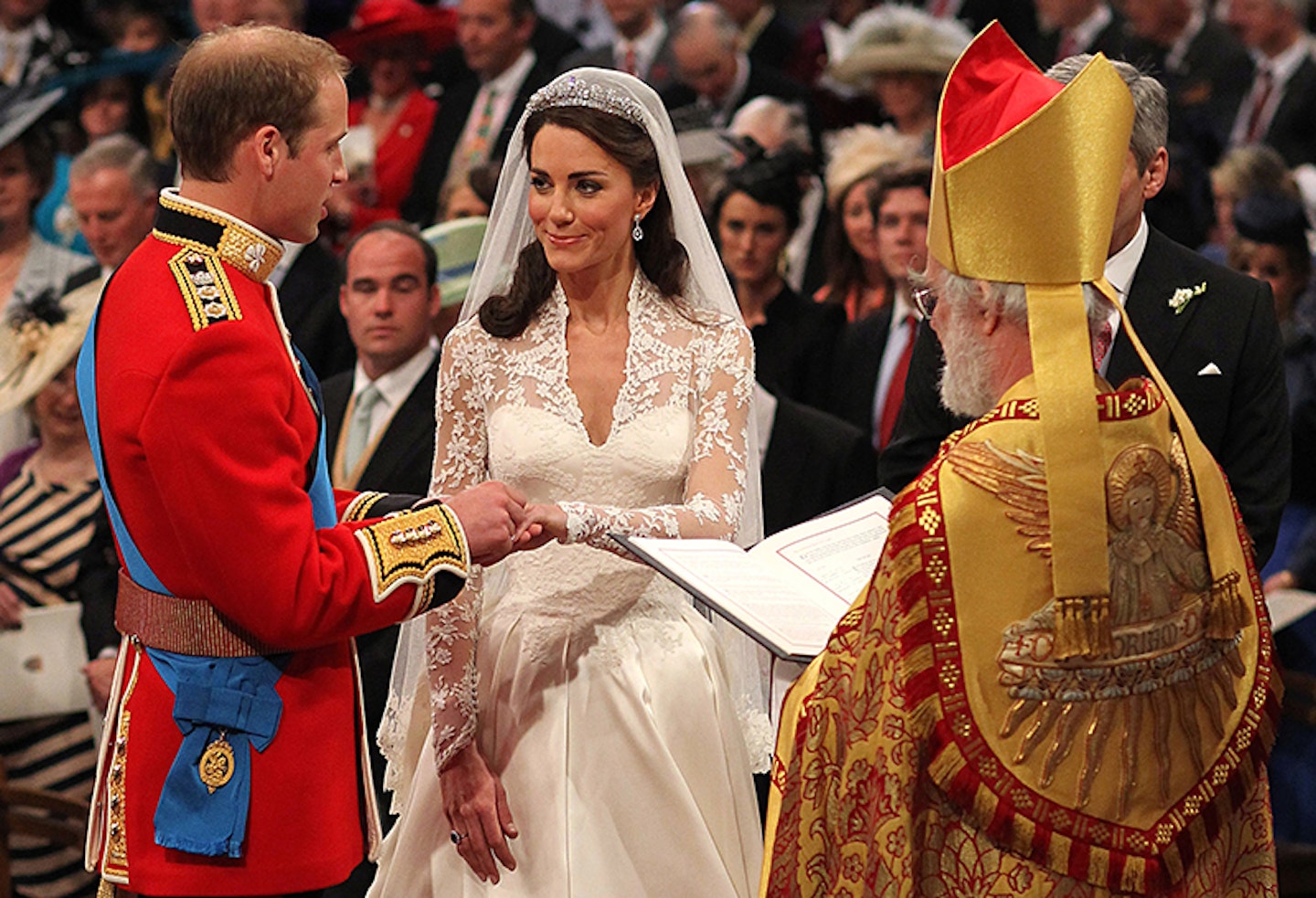 Kate Middleton's evening wedding dress
For the evening celebrations, Kate had a second wedding dress, also designed by Alexander McQueen's Sarah Burton.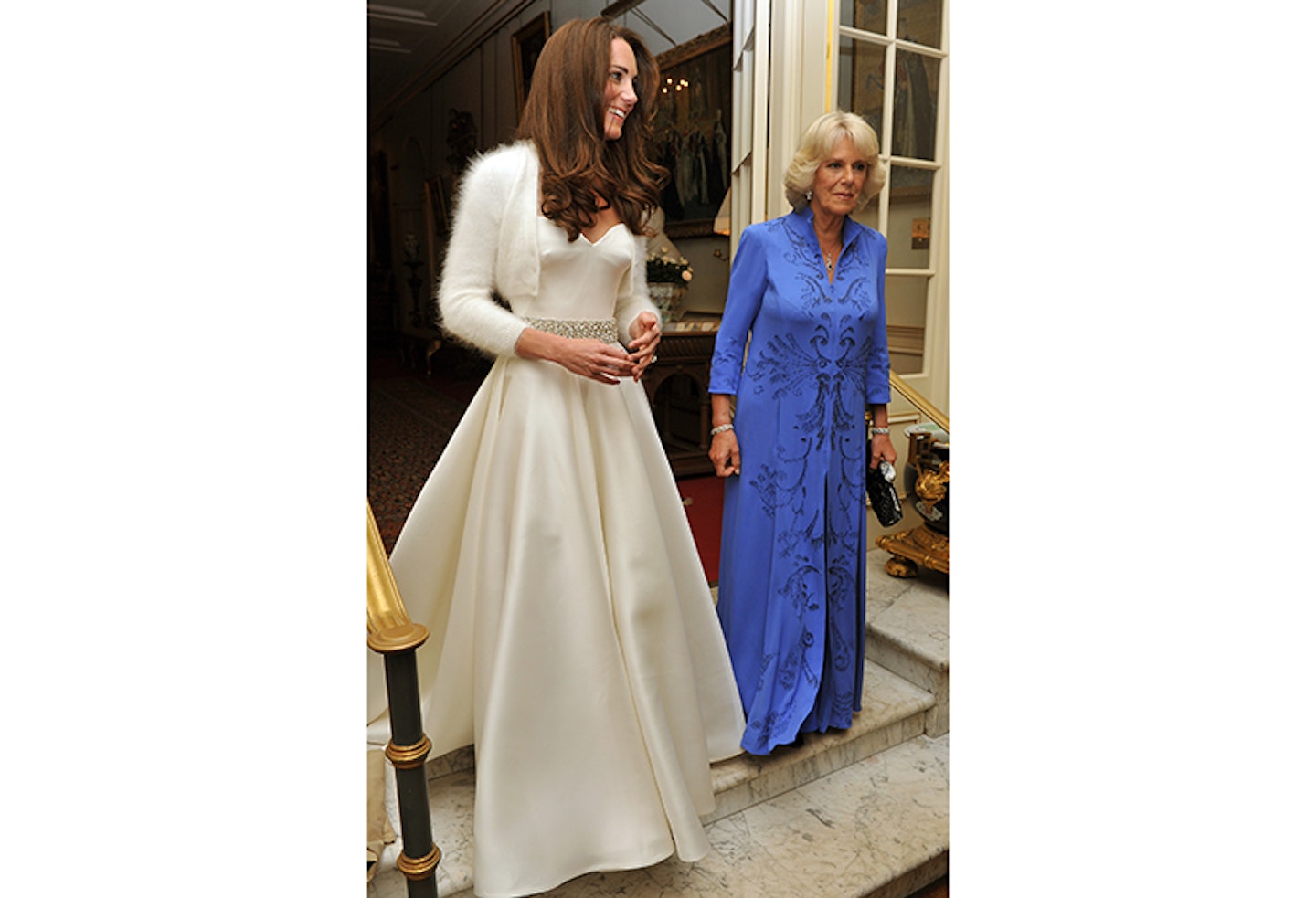 While her first dress used a lot of lace, for the evening Kate wore a sleek ballgown, plain and simple with the only embellishment being a diamante belt and a cropped ivory cardigan.
Where is Kate Middleton's wedding dress now?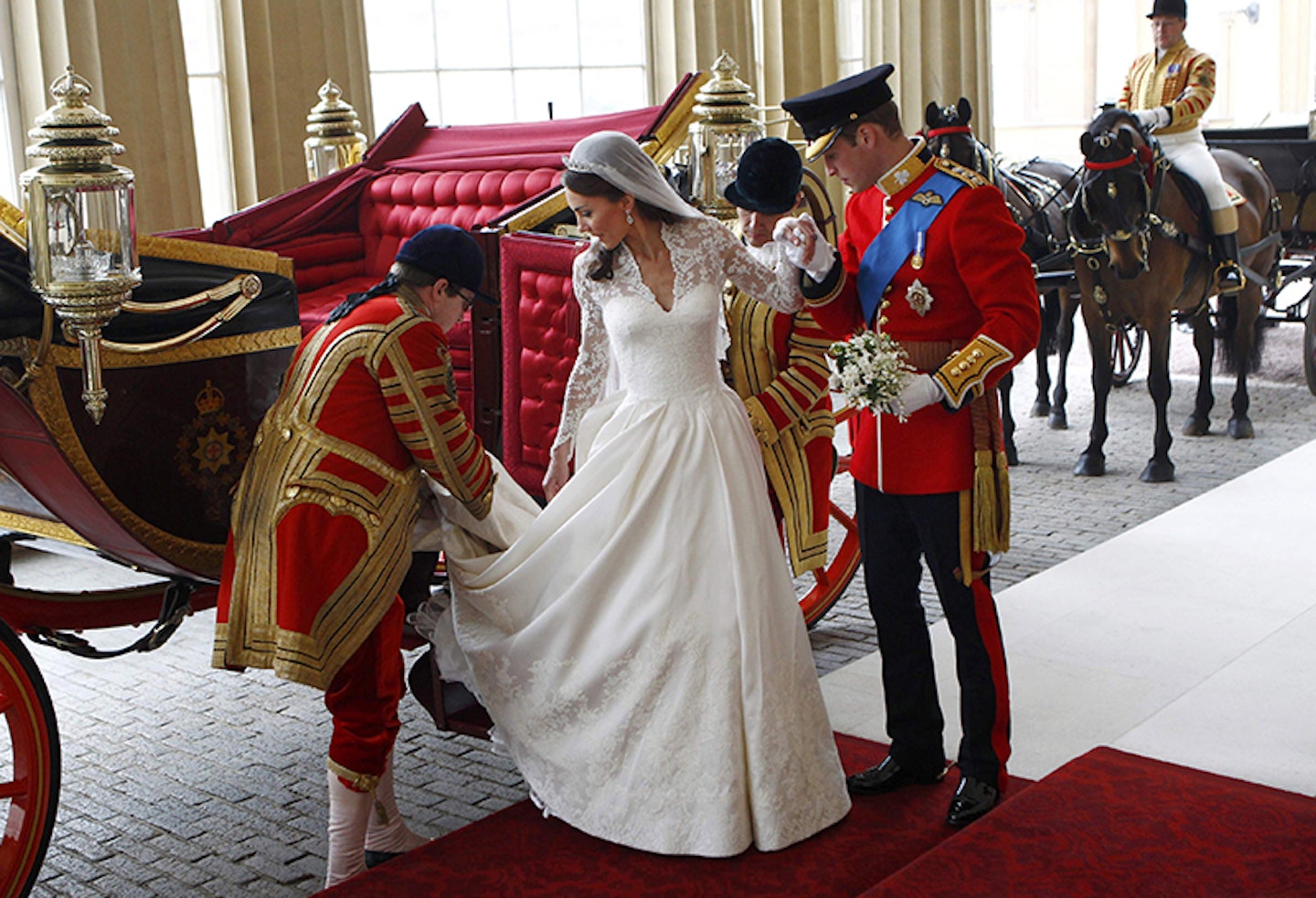 Kate's wedding dress went on display in the Ballroom at Buckingham Palace shortly after the wedding. The exhibition ran from July to October 2011 and was highly successful, with 600,000 buying a ticket to see it.
Also on display were the bride's tiara and earrings, as well as her wedding shoes, a replica of her wedding bouquet and the extravagant wedding cake created by Leicestershire-based cake designer Fiona Cairns.
It's likely the dress is now in careful storage, but perhaps it will go on display again in the future.
Stephanie Anthony is the Deputy Digital Editor of Yours.co.uk. Having worked across a variety of topics, from travel and food to pharmaceuticals, she also has a particular interest in mental health and wellness. She has a house full of pets with two dogs and two cats.