Semilac hybrid nails starter kit on test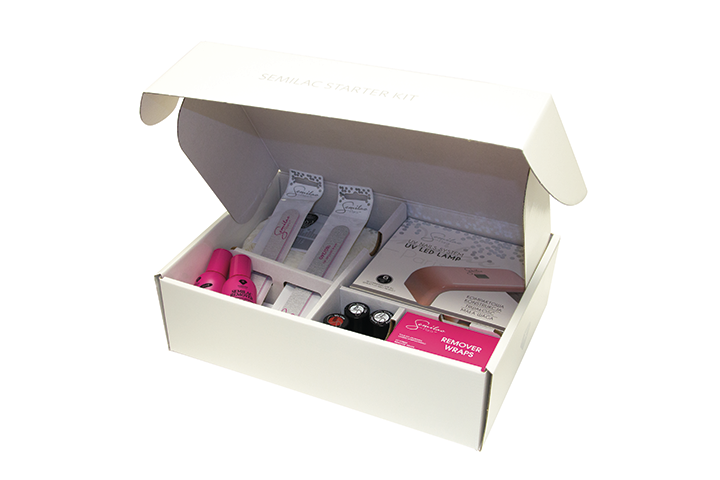 Gorgeous, long-lasting nail colour in a jiffy!
Yours Verdict
Product: www.semilac.co.uk Price: £60.00 Rating: ★★★★☆ (4/5)
Love your nails but find colours just don't last long enough? When we heard that it's possible to have long-lasting, low-maintenance colour without resorting to fake nails, we were keen to give it a try!
Semilac uses UV light to dry and harden nails and is the latest trend in beauty salons across Europe.
The Semilac starter kit includes everything you need to get started:
- UV Lamp 36W and 4 spare bulbs
- Base/Top 2 in 1 (7 ml)
- UV Hybrid 007 Pink Rock (7 ml)
- Nail Cleaner Pure (50 ml)
- Nail Remover (50 ml)
- Cotton pads (250 pcs)
- Nail stripper
- Sanding block
- 2 nail files
The Semilac promise…
Semilac® is a hybrid nail polish combining gel, UV and nail polish technology to create a high performance, long-wearing product available in over 130 vibrant vivid colours. The highly pigmented nature of the range creates intense colour that means often only one coat of SEMILAC® polish is required to last up to four weeks.
Since 2012, Semilac® has taken the Polish beauty market by storm and is the top nail product for salons in the country. Semilac UK has recently acquired the nail brand and are looking to break the UK beauty market with their wide variety of vibrant and on trend hybrid gel nail polishes, nail lacquers and variety of nail accessories.
SEMILAC® also offers a high building formula used to extend the nail plate by up to 5mm.
Priced at £8 per bottle, SEMILAC®'s range is a highly durable, long-lasting and striking nail range that rivals the top gel nail polish brands currently on the market.
For further information on Semilac please visit www.semilac.co.uk
What we thought…
Nail varnish that lasts 4 weeks? And without fake nails? Here at Yours we are not easily convinced by claims around beauty products, but this novel idea caught our attention.
The Semiliac starter kit has an rrp of £50, but really if you are fond of going for a manicure in a salon, or regularly find yourself removing and repainting your nails with regular nail varnish, it's well worth a try.
As with many products that orginate abroad, we had to work hard to find the English instructions, but once we'd tracked down the right bit it didn't take us long to work out what we needed to do.
We prepeared the nail plates using the special cleaner, it was very useful that so many cotton pads were supplied! We shaped our nails prior to paint application so we wouldn't spoil the paint afterwards. Once this was done we applied the base coat. Now for the slightly daunting part, drying them under the UV lights. But this took only a minute or so until they were hard. We repeated the process with the colour coat - wild strawberry - drying this layer before applying the top coat.
The result? Super shiny strong nails! I am always catching my nails on things, but because I did the shaping beforehand that helped keep the nails looking pristine. In my case they stayed that way for three weeks, but my hands do go through a fair bit of wear and tear! Once it is time to remove your colour a special nail stripper is provided.
Our verdict? A real treat for nails and it was nice to make time for a proper pampering session!