Smoked aubergine and yogurt dip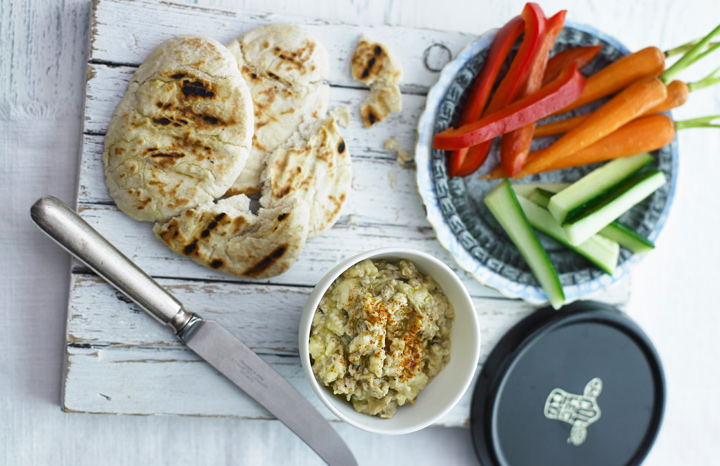 Method
For the sunflower tahini, place the sunflower seeds and pine nuts in a food processor and blitz briefly for 5 seconds.
Add the Straight Up yoghurt, lemon juice and salt, blitz briefly and then with the food processor running, slowly add the rapeseed oil and the water through the funnel. The tahini will keep happily in the fridge for up to two weeks.
Place the whole aubergines over a naked flame on your gas stove or on a BBQ grill and grill until they are blackened, charred and squidgy to the touch. This will take approx. 20-25 mins. It is important to turn them frequently, using tongs.
Once done, place them in a bowl and cover with cling film then leave them to cool and sweat for 20 mins.
When cool enough to handle, carefully peel away the outer charred skin of the aubergines with a cutlery knife and discard, to reveal a soft pale flesh.
Chop the flesh finely and place in a bowl, adding any remaining cooking juices.
Add the sunflower tahini, Straight Up yoghurt, lemon zest and crushed garlic and mix well.
Finally, season with the salt and spoon into a serving bowl. Drizzle with cold pressed rapeseed or olive oil and a pinch of smoked paprika, to serve. Great as a dip with crudities and warm pitta or as a sauce for char-grilled lamb, chicken or vegetables.
Recipe from Straight Up natural yoghurt from The Collective
There are more recipes in every issue of Yours magazine, out every fortnight on a Tuesday.
Tip
Try on crispbreads, with dippers or to cool off a hot and spicy dish
Ingredients
2 medium sized aubergines 2 tbsp sunflower tahini (recipe below) 100g The Collective Straight Up yoghurt Zest of 1 small lemon ½ tsp salt flakes 3 garlic cloves, peeled and crushed Extra virgin cold-pressed rapeseed oil or olive oil, to serve Pinch smoked paprika (Optional) For the sunflower Tahini: 50g sunflower seeds, toasted 50g pine nuts, toasted 2 heaped tbsp The Collective Straight Up yoghurt 1 tbsp lemon juice ½ tsp salt flakes 3 tbsp extra virgin cold-pressed rapeseed oil or olive oil 1 tbsp water
Notes
Time: 20 minutes Serves: 4 Nutrition: n/a