Roasted cod topped with celery, walnut and black olive stuffing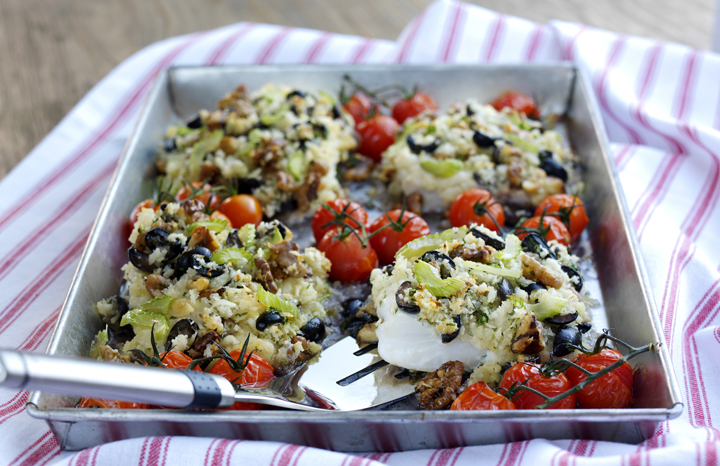 Method
Preheat oven 200c/ 180c fan/ gas 7. Grease a shallow roasting tray or heatproof baking dish large enough to hold the fish fillets and tomatoes on the vine.
Mix together the breadcrumbs, celery, zest of the lemon, parsley, chopped walnuts and olives. Stir in 1 tbsp of the olive oil and a good squeeze of lemon juice, season to taste.
Pat the cod fillets dry with kitchen paper, place on the baking tray and spread evenly with the crème fraiche then top generously with the breadcrumb mixture, pressing down lightly to ensure a good coating. Add the cherry tomatoes to the tray and sprinkle with the remaining olive oil.
Cook in the oven for approx. 15 minutes until the fish is cooked through and the topping golden.
Serve with a squeeze of lemon juice and some new potatoes.
There's more recipes in every issue of Yours magazine, out every fortnight on a Tuesday.

Tip
Serve with a squeeze of lemon juice and some new potatoes
Ingredients
4 x approx 150g cod loin fillets 40g Panko breadcrumbs 2 stick celery, finely sliced Zest and juice of 1 lemon 4 tbsp crème fraiche 40g walnuts, finely chopped 40g black olives, sliced 2 tbsp parsley, finely chopped 2 tbsp olive oil 250g cherry tomatoes on the vine, separated into bunches
Notes
Time: 10 mins Serves: 4 Nutrition: n/a