Roast leg of lamb with cranberry and redcurrant gravy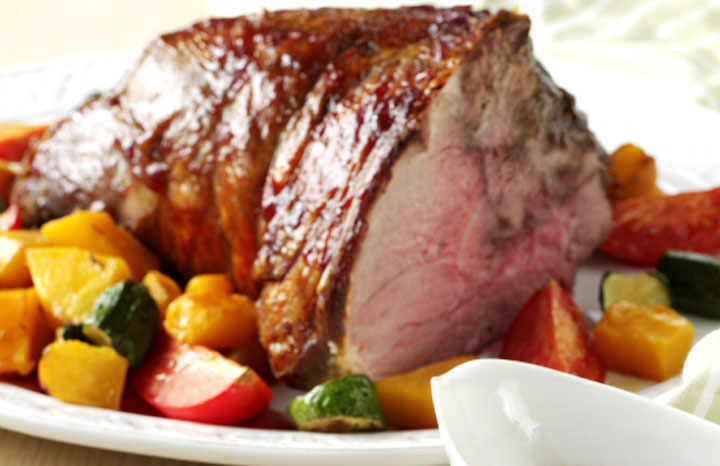 Method
Preheat the oven to 190C/375F/gas 5. Lift the lamb into a large roasting tin and drizzle or brush with half the olive oil. Season with salt and freshly ground black pepper and roast for 1 hour, basting occasionally.
Beat together 2tbsp Cranberry and Redcurrant Jelly and the soy sauce until smooth.
Remove the roasting tin from the oven and spread the lamb with the cranberry mixture. Add the squash and courgettes to the tin and drizzle the remaining oil over the vegetables.
Roast for 15 minutes. Tuck the tomato quarters amongst the squash and courgettes and roast for a further 15 minutes or until the lamb is cooked to your liking.
Transfer the joint to a carving plate and the vegetables to a serving dish. Keep both warm while you prepare the gravy. Pour off any excess fat from the roasting tin and place the tin on the hob. Add the port and cook for 1 minute, scraping the bottom of the tin to incorporate any juices.
Stir in the remaining redcurrant and cranberry sauce and heat until it dissolves. Mix the flour with a little of the stock until smooth, pour into the tin with the remaining stock and bring to the boil, stirring constantly. Pour into a warmed gravy boat and serve with the carved lamb and vegetables.
Recipe from Ocean Spray.
There's more recipes in every issue of Yours magazine, out every fortnight on a Tuesday.
Tip
If you like your meat very pink or well done, just adjust the times in the recipe accordingly
Ingredients
1.8kg (4lb) part-boned leg of lamb 4tbsp olive oil Salt and freshly ground black pepper 6tbsp Cranberry and Redcurrant Jelly 1tbsp soy sauce 1 butternut squash, peeled, deseeded and cut into 2.5cm /1in chunks 6 plum tomatoes, quartered 3 courgettes, chopped or sliced 50ml (2fl oz) port 1tbsp flour 425ml (3/4pt) lamb or beef stock
Notes
Time: 20 minutes Serves: 6 Nutrition: n/a