Lime zest infused beetroot and shallot salsa filled avocado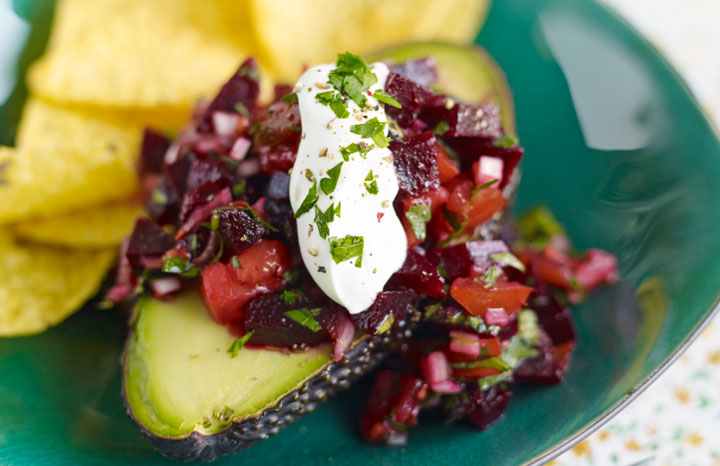 Method
Make the salsa by mixing together the beetroot, tomato, shallot and coriander. Add the olive oil, and season to taste with chilli sauce, salt and pepper.
Arrange the avocados on serving plates and spoon a little of the salsa into the middle of each, and add a spoon of sour cream on top. Add any spare salsa to a small dish and hand around separately.
Serve with tortilla chips and eat immediately.
There's more recipes in every issue of Yours magazine, out every fortnight on a Tuesday.
Tip
If you can't get your hands on lime zest beetroot then vacpac beetroot will work perfectly in this dish
Ingredients
2 ripe avocados, cut in half lengthways, skin on, stone removed 180g lime zest beetroot, diced 6 cherry tomatoes, diced 1 shallot, very finely chopped 1 small bunch of coriander, finely chopped 1 tbsp extra virgin olive oil A few drops of chilli sauce (e.g Tabasco), optional, to taste 4 tsp sour cream Salt & freshly ground black pepper A couple of handfuls tortilla chips, to serve
Notes
Time: 10 mins Serves: 2 Nutrition: n/a