Lemon, Mint & Parsley Cous Cous Salad with Beetroot and Roasted Red Pepper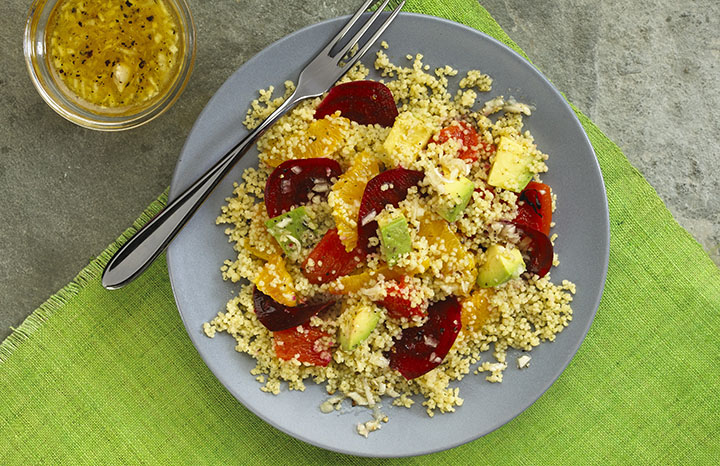 Method
Place the contents of the sachet of cous cous into a bowl. Add 160ml (5½floz) of boiling water and stir well. Leave to stand for 3-5 mins to allow the cous cous to absorb the water, and then fluff with a fork to separate the grains.
Meanwhile, use a sharp knife to cut away the peel and white pith from the oranges, then cut the flesh into segments, holding it over a bowl to catch the juices, which you will use to make the dressing.
Put the cous cous into a large bowl and fold in the orange segments with the beetroot, avocado and roasted red pepper.
To make the dressing, add the horseradish, honey and lemon juice to the leftover orange juice and then whisk in the olive oil. Season with salt and pepper and fold into the salad.
Divide the lemon, mint & parsley salad with beetroot and roasted red peppers between plates.
This recipe is courtesy of Ainsley Harriott.
For information about the Ainsley Harriott food range and for many more delicious Ainsley recipes visit: www.Ainsley-Harriott.com
For more tasty recipes, grab the latest copy of Yours.
Tip
If you don't want to handle raw beetroot, you can use cooked beetroot from a packet - but make sure that it is in natural juices and not vinegar
Ingredients
1 Ainsley Harriott Lemon, Mint & Parsley Cous Cous 2 small oranges 2 raw beetroot, peeled and pared into wafer-thin slices 1 large ripe avocado, peeled, stoned and cut into bite-sized pieces 2 roasted red peppers in oil (from a jar), drained and cut into bite-sized pieces 5ml (1 tsp) grated horseradish (from a jar is fine) 10ml (2 tsp) honey Juice of ½ lemon 30ml (2 tbsp) extra-virgin olive oil sea salt and freshly ground black pepper
Notes
Time: 15 mins Serves: 2 Nutrition: N/A