Lamb, spinach & feta tart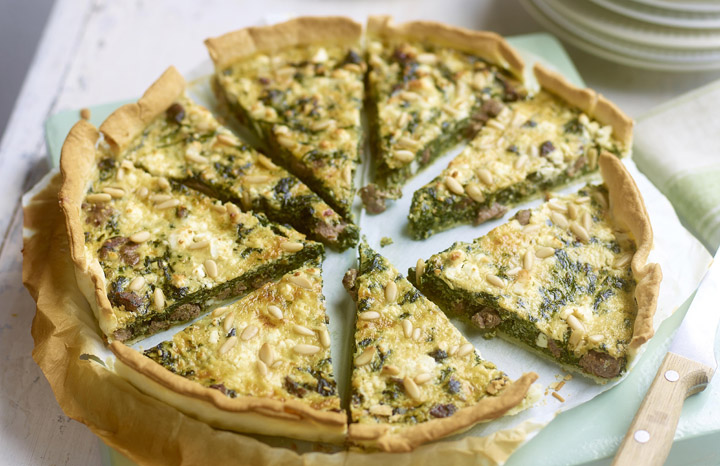 Method
Preheat the oven to 180°C/350°F/Gas Mark 4.
Heat the oil in a high-sided frying pan or wok. Add the spinach first and then the garlic and cook on a medium heat until all of the water has evaporated for approximately 2 mins.
Season, drain in a colander and press firmly with a wooden spoon to remove as much water as possible.
Sprinkle the lamb with the thyme.
Beat the eggs with the crème fraiche in a bowl.
Add the spinach, lamb and half the feta. Stir and adjust the seasoning if needed.
Line a large tart dish 28cm (11in) with the pastry. Pour the filling in evenly, then sprinkle with the remainder of the feta and pine nuts.
Bake in the oven for 30 mins. Serve hot, with a salad.
Recipe from www.tastyeasylamb.co.uk
For more recipes grab the latest copy of Yours.
Tip
Try this delicious tart warm or cold at a picnic or as a change from sandwiches in the office
Ingredients
350g cooked roast lamb, finely sliced 1 tablespoon olive oil 200g fresh spinach leaves, washed 2 cloves of garlic, crushed Salt and pepper 1 teaspoon dried thyme 3 eggs 250ml low-fat crème fraiche 100g feta cheese, crumbled 1 pack ready-made short-crust pastry 2 tablespoons pine nuts
Notes
Time: 15 minutes Serves: 4 Nutrition: n/a