Christmas pudding cocktail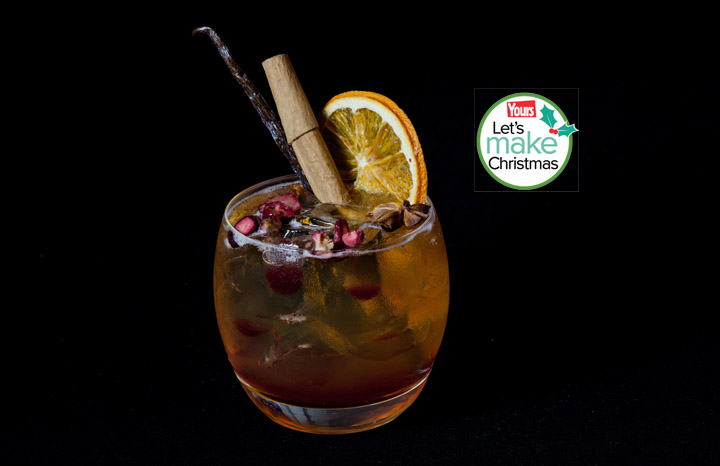 Method
Start by making the mulled wine syrup - reduce 500ml of mulled wine in a small pan down to 200ml. Ensure you do this on a gentle simmer so the sugars in the mulled wine do not caramelise and burn.
If needed, strain out the spices and leave to cool before using. This can be stored in the refrigerator for up to a month.
To assemble the cocktail, fill a shaker halfway with ice cubes. Into this pour in the Calvados and infused Grand Marnier, seal this with a lid or Boston Glass and shake well for about 30 seconds.
Fill the rocks glass to the top with ice cubes and use a Hawthorne strainer to pour the mixture into the prepared glass.
Top up the glass with ginger beer and add a splash of the mulled wine syrup. You can garnish with the spices, redcurrants and orange crisp, or serve simply on its own.
For more Christmas cocktail recipes - visit Great British Chefs
For more festive recipes, grab the latest copy of Yours.
Tip
This indulgent Christmas pud cocktail is perfect for those who like a drink with a burst of spice
Ingredients
50ml of Henry de Querville Calvados 25ml of Grand Marnier, infused with cinnamon and vanilla pod ginger beer 1 dash of mulled wine syrup ice cubes Garnish 1 star anise 1 cinnamon stick 2 2/3 handfuls of redcurrants 1 slice of dried orange crisp 1 vanilla pod, dried
Notes
Time: 30 mins Serves: 1 Nutrition: n/a