Chickpea flour and pumpkin seed pancakes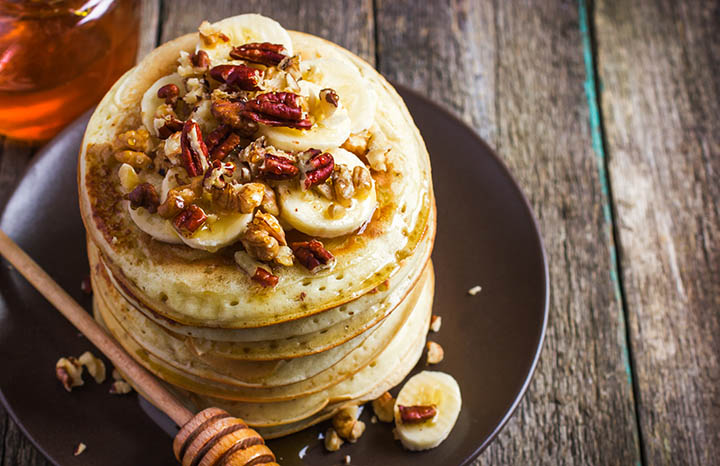 Method
Take your blender and add all the above ingredients, except the coconut oil, to the blender in the above order.
Heat your griddle pan on a medium heat and add half a teaspoon of coconut oil to the pan.
Once ready, pour the pancake batter mix into the centre of the griddle pan and stop once you have created the desired size of pancake you would like.
After 30-60 seconds, try to lift your pancake with a stainless steel non-toxic spatula and if it comes up easily it is ready to be flipped over. If not, wait a little longer before flipping and cooking on the other side, which is usually about 20 seconds for this side.
Re-oil the griddle pan before each pancake and repeat the above steps for making each pancake until you have come to the end of the pancake batter mix.
Serve with toppings of your choice.
Tip
Top your pancakes with lemon, sugar, fruit, chopped nuts or honey
Ingredients
500ml (1pt) organic almond milk 2 organic eggs 2 organic very ripe bananas 1 ½ tbsp pumpkin seed protein powder (available to buy at www.greensforhealth.co.uk, RRP £23.75) 300g (12oz) organic chickpea flour coconut oil for oiling the pan before cooking every pancake
Notes
Time: 30 mins Serves: 10 Nutrition: n/a