Cauliflower pizza with spinach and egg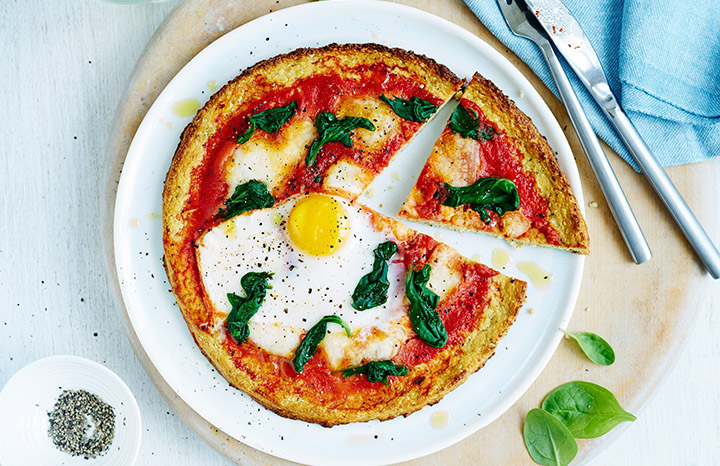 Method
Break the cauliflower into florets. Using a food processor whizz cauliflower until it resembles couscous.
Place into a bowl, cover with cling film and microwave on high for 4 mins, until soft. Leave to cool, then place into a clean tea towel and wring out as much moisture as possible.
Preheat the oven to 200°C/400°F/Gas Mark 6 and line two baking sheets with parchment paper.
Place the cauliflower into a clean bowl, add the ground almonds, dried herbs, eggs and season generously. Mix well until combined, then divide into two and place each half onto the lined baking sheet.
Shape each half into a circle, about 1cm (½in) thick, and slightly thicker around the edge. Bake in the oven for 25 mins, until golden and starting to crisp.
Meanwhile, microwave the spinach in its bag for 2 mins. Leave to cool slightly, then squeeze out any excess moisture.
Remove the cauliflower bases from the oven and spread the tomato passata on top. Tear the mozzarella and place on top.
Place the pizzas back into the oven for about five mins, so that the mozzarella melts. Then crack the egg into the middle of the pizza and add the spinach. Cook for a further 7-9 mins, until the egg is set. Season lightly with salt and pepper and serve.
This recipe is courtesy of British Lion Eggs.
British Lion Eggs have kick started British Egg Week with the launch of #PutanEggonit campaign!
For more recipes, grab the latest copy of Yours.
Tip
A healthy twist on a classic mozzarella pizza
Ingredients
1 medium cauliflower 100g (3½oz) ground almonds 1 tsp dried Italian herbs 3 medium British Lion eggs 125ml (4floz) tomato passata 125g (4½oz) mozzarella 100g (3½oz) bag baby spinach 2 medium British Lion eggs
Notes
Time: 55 mins Serves: 2 Nutrition: n/a