British asprargus, broad bean, mint and mozzarella bruschetta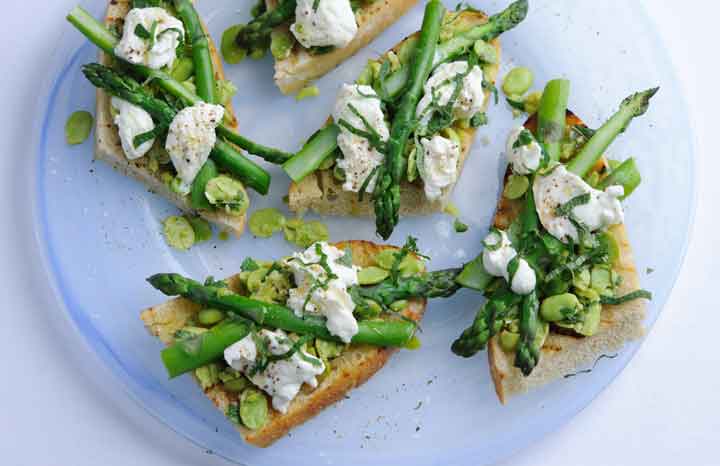 Method
Cook the broad beans in boiling water for 2 mins. Drain, refresh under cold water, drain again, then peel from their skins.
Use the back of a fork to roughly crush the beans with the olive oil and lemon juice, then stir through ¾ of the mint. Season with salt and pepper.
Cook the asparagus in boiled salted water for 1 to 2 mins and drain under cold water too.
Heat a griddle pan, toast the bread on both sides, then rub with the garlic clove. Spoon some of the beans over each slice of bread, scatter over the asparagus, mint and mozzarella and drizzle with more olive oil to serve.
There are more recipes in every issue of Yours magazine, out every fortnight on a Tuesday.
Tip
Not quite a sandwich, but ideal for a serving at a summer party
Ingredients
300g (10½ oz) podded and shelled broad beans 2 tbsp extra-virgin olive oil plus an extra drizzle at the end 1 lemon, juiced A handful of mint leaves Salt and pepper for seasoning 100g (4oz) asparagus, cut in half lengthways 4 slices rustic white bread, such as sourdough 1 garlic clove, peeled but left whole 1 small ball, approx 150g (5oz) of really good buffalo mozzarella, roughly torn
Notes
Time: 10 mins Serves: 4 Nutrition: 290 cals Fat 15g (6g sat fat)