Pecan, hazelnut & cranberry florentines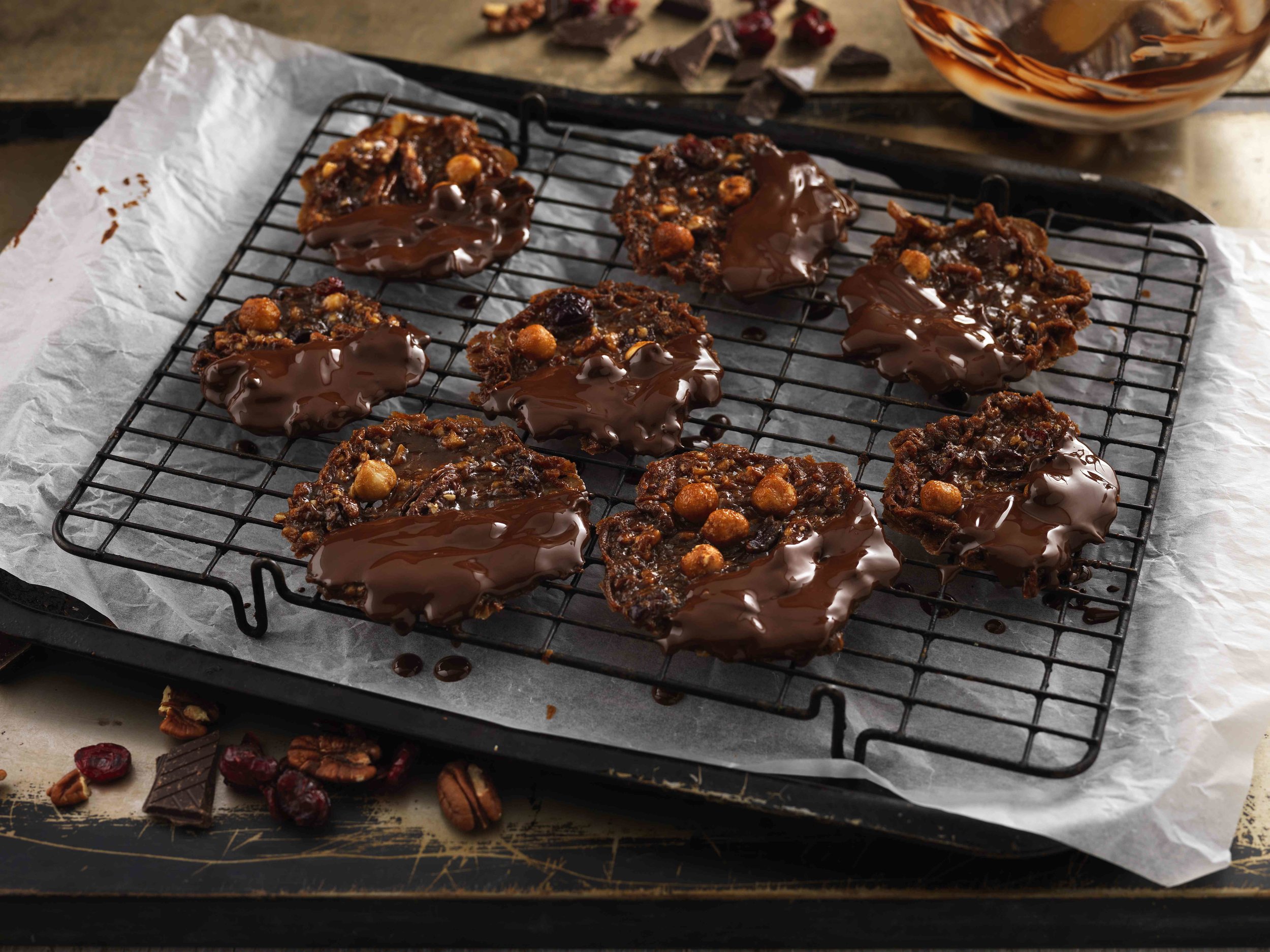 Method
Preheat the oven to 170°C/150°F/Gas Mark 3.
Spread the pecans and hazelnuts out on a baking tray and roast in the oven for 6-8 mins until toasted. Blend half of the nuts in a food processor until roughly chopped. Keep the other half whole and set aside.
Heat the butter, sugar, spices and syrup in a saucepan and stir over a medium heat until all the ingredients have melted together. Take the pan off the heat and stir in the flour, fruit and nuts.
Grease 2 flat baking trays well. Put 4 small teaspoons of mixture onto each tray, pressing down each spoonful. Press the mixture down further in the centre of each.
Put both trays in the oven and cook for 3 mins. After 3 mins, the mixture will have spread out gently push them back into a circle and bake for a further 2-3 mins.
Remove from the oven and place on a wire rack to cool. Get a medium saucepan and a glass bowl that will sit in the saucepan without touching the bottom. Add some water to the pan and bring to simmering point.
Break the dark chocolate into pieces, put them in the bowl over the saucepan and let it all slowly melt. Remove the chocolate from the heat and dip the florentines into it so they are half covered.
Rest the florentines on a wire rack for 20 mins then put them in the fridge until the chocolate has set and gone from glossy to matt.
Recipe from Kerrygold butter.
For more festive bakes, grab the latest copy of Yours, out every fortnight on a Tuesday.
Tip
Florentines are simple to make and brilliant for chocolate cravings, there also good for giving out at Christmas
Ingredients
150g/6oz dark muscovado sugar 200g/8oz dried cranberries 100g/4oz Kerrygold butter, cut into cubes 300g/12oz dark chocolate (min 65%)100g/4oz pecans 100g/4oz hazelnuts 180g/7oz golden syrup 100g/4oz plain flour, sieved 1 tsp ground cinnamon 1 tsp ground ginger
Notes
Time: 10 mins Serves: 8 Nutrition: n/a