Eccles cakes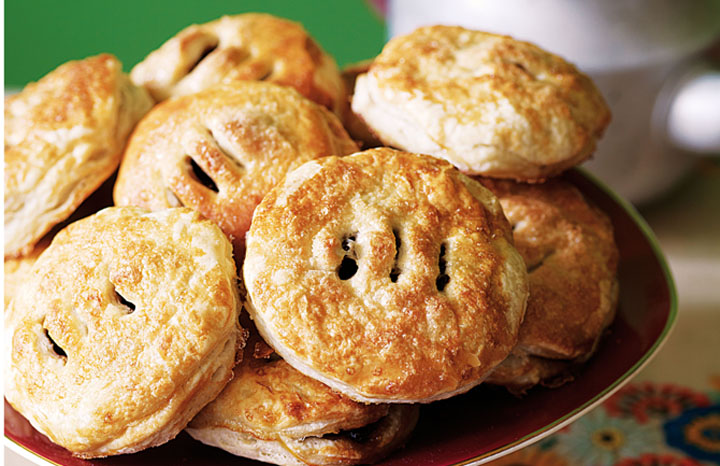 Method
Preheat the oven to 220°C/425°F/Gas Mark 7.
Make the filling first. Put the butter and sugar into a saucepan and melt gently, stirring to mix. Take off the heat, add the currants and nutmeg. Mix well; set aside.
Roll out the puff pastry to a thickness of about 5mm (¼in). Using a 7-9cm (3in x 3½in) cutter, cut out as many circles as you can from the pastry, making sure you have an equal number. Place half the circles on the baking sheet lined with baking paper, spaced well apart.
Spoon a heap of the currant filling onto each of the circles on the sheet. Top with a second circle of pastry and press and pinch the outer edge to seal. Brush with beaten egg white and sprinkle generously with caster sugar. Make 2 or 3 cuts in the top of each cake with a sharp knife or pair of scissors.
Bake in the preheated oven for 12-15 mins until puffed up and the tops are golden-brown, taking care not to let them burn. Serve warm or cold, but do not eat straight from the oven as the filling will be blisteringly hot!
Vintage Cakes by Jane Brocket, published by Jacqui Small, £25
Tip
Made in the Lancashire town of that name since 1793, these buttery pastries filled with spicy currants, have changed very little since
Ingredients
50g (2oz) butter 100g (4oz) dark soft brown sugar 250g (9oz) currants a good grating of nutmeg 500g (1lb1oz) puff pastry (such as ready-rolled all-butter puff pastry) 1 egg white, lightly beaten caster sugar, for sprinkling
Notes
Time: 20 mins Cooking time: 15 mins Serves: 16 Nutrition: 205 cals Fat 10g (sat fat 5.1g)