Pom-pom scarf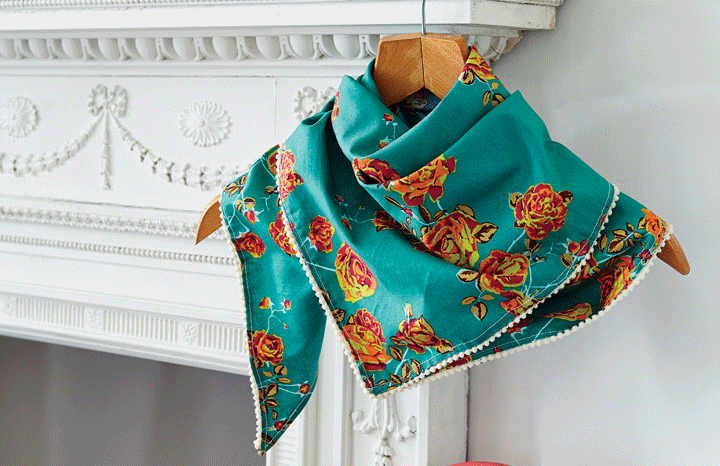 Materials:
Light- to medium-weight fabric: 100cmx100cm (40in x 40in)
Small pom-pom trim: 200cm (80in)
Co-ordinating polyester thread
Tools:
Fabric scissors
Tape measure
Iron
Pins
Sewing machine (with zipper foot)
Needle
Cut your fabric into an isosceles triangle. Fold the fabric in half diagonally to cut a triangle that measures 100cm x 100cm x 140cm (40in x 40in x 55in).
Fold a double 0.5cm (?in) hem around all three edges, toward the wrong side of the fabric. Iron and pin in place as you go.
With your machine set to straight stitch, sew all the way around, keeping close to the inner folded edge. Reverse stitch at the beginning and end to secure.
Take your pom-pom trim and pin it on the wrong side of the fabric on top of the hem, along the two shorter edges of your scarf. Position it so that the pom poms just poke out past the folded edge of the fabric, and the flat edge is flush with the hem. Pin in place, turning over and checking the positioning of your pom poms as you go.
If you have a zipper foot, attach it to your machine and sew the pom-pom trim in place. If you don't have a zipper foot, you'll find it easier to stitch your trim in place by hand using running stitch. Use stitches that are about 1cm (¼in) long, and keep the stitches in between the layers of fabric so that they don't show on the right side. Once you've attached the pom-pom trim, your scarf is done!
Yours tip:
Don't cut the length of the pom-pom trim before you sew it, as you may just need a bit more.
Extract taken from Kate Smith's new book The Makery: Sewing £14.99 published by Mitchell Beazley. Photography © Marc Wilson 2014 & ©Ania Wawrzkowicz 2014.