Nothing says spring better than spring bulbs!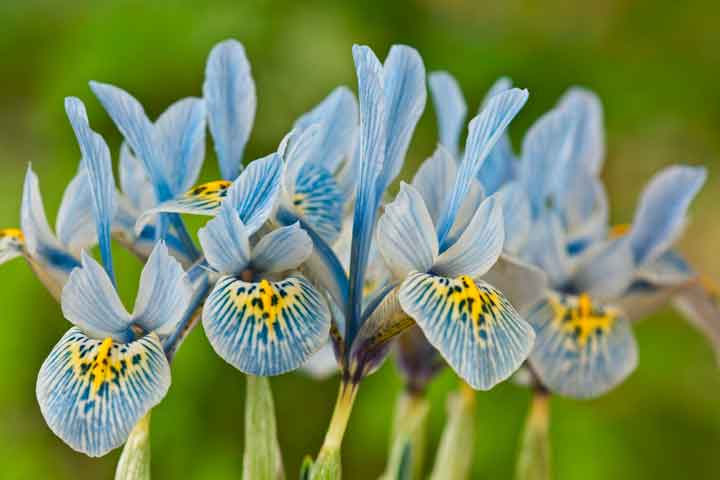 Don't you just love spring in the garden? It's at this time of year we are overwhelmed by beautiful bulbs to buy. As it's my birthday this month I'm going to treat myself to a whole host of them to brighten my garden, but where to start? I've already got pots of sunny yellow daffs, so I'm opting for something a little different with more natural-looking meadow or woodland plants.
Irises are exquisite and many dwarf varieties are available and flowering now – try 'Katharine Hodgkin', a wonderful veined light blue variety with yellow flecks. I'm also going for some English bluebells – it's important they're English, as the Spanish ones that have naturalised in many a garden are rather invasive and take over. You can tell the difference as Spanish ones have upright stems and larger blooms, while our lovely natives have delicate little bells on arching stems.
Among my favourite bulbs are snake's head fritillaries, with their drooping heads of purple with snake-like markings. Popped in a pot with grape hyacinths, they will look a treat. Not strictly bulbs but rhizomes, I'll include lily of the valley and wood anemones, too. Pots of these decorating an outdoor table will really herald the season.
The beauty of bulbs is they're easy to grow, and once they're finished,you can wait until all the flowers have gone, leave the foliage on and then plant them in your garden so they can delight you next year too. Remember that woodland bulbs, by their very nature, enjoy a bit of shade.
As for summer-flowering bulbs to plant now, try unusual Honka dahlias with tubed petals, fiery red crocosmia or orchid-like peacock flowers for an exotic look – these all like a good bit of sun through the day. Keep all bulbs well-watered, and feed with a tomato fertiliser until a few weeks after flowering, so they can store up some nutrient goodness for next year.
MUST-BUY PLANT... Fuchsia
EVERY DAY:
Fuchsia 'Mrs Popple'
A bright and breezy classic fuchsia in the usual bright pinks and purple. A supremely hardy plant that will look great in a patio container.
EXTRA SPECIAL:
Fuchsia splendens
A sheltered mild spot of your garden or a conservatory would benefit from this unusual and superbly elegant species, also known as Mexican tree fuchsia.
There's more gardening in every issue of Yours magazine, out every fortnight on a Tuesday.
Garden News magazine is packed full of practical tips, inspiration, plant and product news and great money-saving offers! On sale every Tuesday or subscribe by calling 01858 438884 or visit www.greatmagazines.co.uk