Make a pretty Christmas wreath for your front door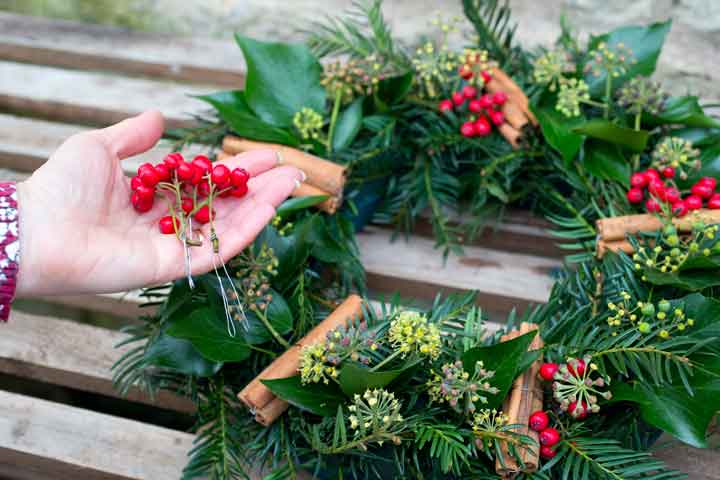 There's nothing quite as welcoming as a beautiful wreath hanging from your front door at Christmas, but one you've made yourself from foliage and berries in the garden is even better.
You might think you don't have enough plants in the garden to make a wreath, but you'd be surprised. Any evergreens make a good base. Conifers are a favourite, but you could also use holly (watch out for spines!), elaeagnus or cotoneaster. Blue-green eucalyptus leaves look really striking or try aromatic bay or rosemary.
To start with though, you need a ring to attach your foliage to. Metal hoops are available in florists' suppliers, but you need to wire balls of moss to it all the way round to give you something to poke the stems into. Wreaths made like this tend not to be as long-lasting because even if you religiously mist the moss and keep it moist, your foliage will dry out after a while. The other option is a circle of florists' foam, which helps stems last longer, but remember that by the time this is wet, it's usually pretty heavy too.
Start by poking your evergreen foliage in, working around the hoop until you've hidden the base. Then you can go to town with the colourful, exciting stuff to make your wreath unique. Red berries such as holly, cotoneaster or even rose hips make for a traditional-looking wreath, but also try white gaultheria, yellow crab apples or purple callicarpa.
Collect the distinctive seedheads of plants such as nigella (puffed up and spidery), erygnium (starry) or echinops (spiky and round), and spray them gold or silver or give them a dusting of spray-on snow. You could do the same with pine cones, or leave them their natural colour. Just wrap fine florists' wire around their bottom layer and push them into your base. Dried hydrangea flowers look beautiful too.
Don't just stick to what you can forage from your garden; embellish your wreath with bought decorations such as baubles, brightly-coloured chillies, cinnamon sticks tied into bundles with raffia or snowflakes.
It's Christmas, so don't hold back!
MUST-BUY PLANT… Thunbergia
EVERY DAY:
Thunbergia alata
Sow this tender annual climber in spring and it will twine up small supports before producing its black-eyed, bright orange flowers in summer.
EXTRA SPECIAL:
Thunbergia 'African Sunset'
This variety has the same pretty flowers but in sunset shades of peach and apricot, perfect for pastel colour schemes.
Garden News magazine is packed full of practical tips and inspiration, plant and product news and great money-saving offers! On sale every Tuesday or subscribe and try your first 4 issues for just £1 – Call 0844 848 8872 or visit www.greatmagazines.co.uk/YFIG and quote YFIG. T&Cs apply.
There's more gardening in every issue of Yours magazine, out every fortnight on a Tuesday.