Hippeastrums are not just for Christmas!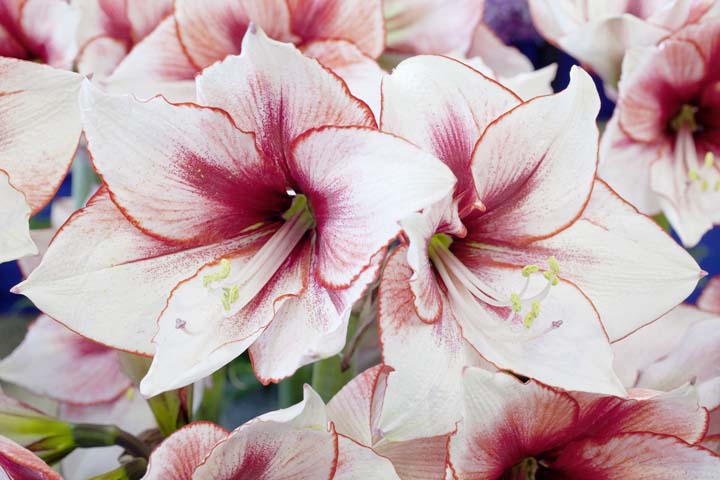 The luxurious, velvety trumpets of hippeastrums are synonymous with Christmas, thanks to a roaring trade in gift sets at that time of year. They're beautiful plants, with a satisfyingly heavy, large and chunky bulb that's thrilling to pot up and watch as it puts on its festive performance.
You might know these plants as amaryllis, but their correct botanical name is hippeastrum. True amaryllis are pink-flowered and hardy, so they can survive outdoors in the garden, but the hippeastrum you may have bought for Christmas are strictly for the house.
There's a wide range of flower shapes and colours to choose between, including white, salmon pink and pastel shades, zingy lime green and even striped petals and doubles. Recent breeding has resulted in varieties that produce more, and smaller, flowers and intriguing spidery blooms.
The bulbs that arrive in festive gift sets have been treated so they flower at this time of year. They normally come with compost and a pot, which makes things easy, but if you only have a bulb, choose a pot that's just bigger than the circumference of the bulb and use good multi-purpose or houseplant compost.
A healthy bulb will have a few thick, fleshy roots – if you spot any dead, shrivelled ones, cut these away – then plant it so the upper third of the bulb is proud of the compost surface. Put it in a warm, bright spot and water sparingly for a couple of weeks until its roots have established. Leaves will soon start to emerge from the top, followed by the stout flower stem, which extends upwards before producing that beautiful, showy display of vibrant blooms.
Once the flowers have faded, don't throw the bulb away because they'll go on to flower again, just not at Christmas – they'll revert to their natural flowering time of spring. Cut the flower stem off when it's turned yellow and died back. From March to September, keep it in a bright spot and feed with a high-potash fertiliser such as tomato food. When the leaves start to die back in autumn, let them turn yellow and shrivel before you cut them off.
Reduce the watering at this point so the bulbs go dormant. Keep them cool and dry over winter, then in spring move them back into a warm place and start watering again. This will bring them back into growth and before too long they'll produce another crop of fabulous flowers.
MUST-BUY PLANT... Yellow roses
EVERY DAY:
Rose 'Molineux'
It's bare-root rose planting time and these ones make healthy, beautiful plants. This variety has golden orange yellow blooms but their scent is subtle.
EXTRA SPECIAL:
Rose 'The Pilgrim'
This rose, with beautiful, rain-resistant primrose-yellow, golden-centred flowers, has knock-out fragrance that will stop you in your tracks – intoxicating!
Garden News magazine is packed full of practical tips and inspiration, plant and product news and great money-saving offers!

On sale every Tuesday or subscribe and try your first 4 issues for just £1 – Call 0844 848 8872 or visit www.greatmagazines.co.uk/YFIG and quote YFIG. T&Cs apply.
There's more gardening in every issue of Yours magazine, out every fortnight on a Tuesday.