Give herbs a go in your garden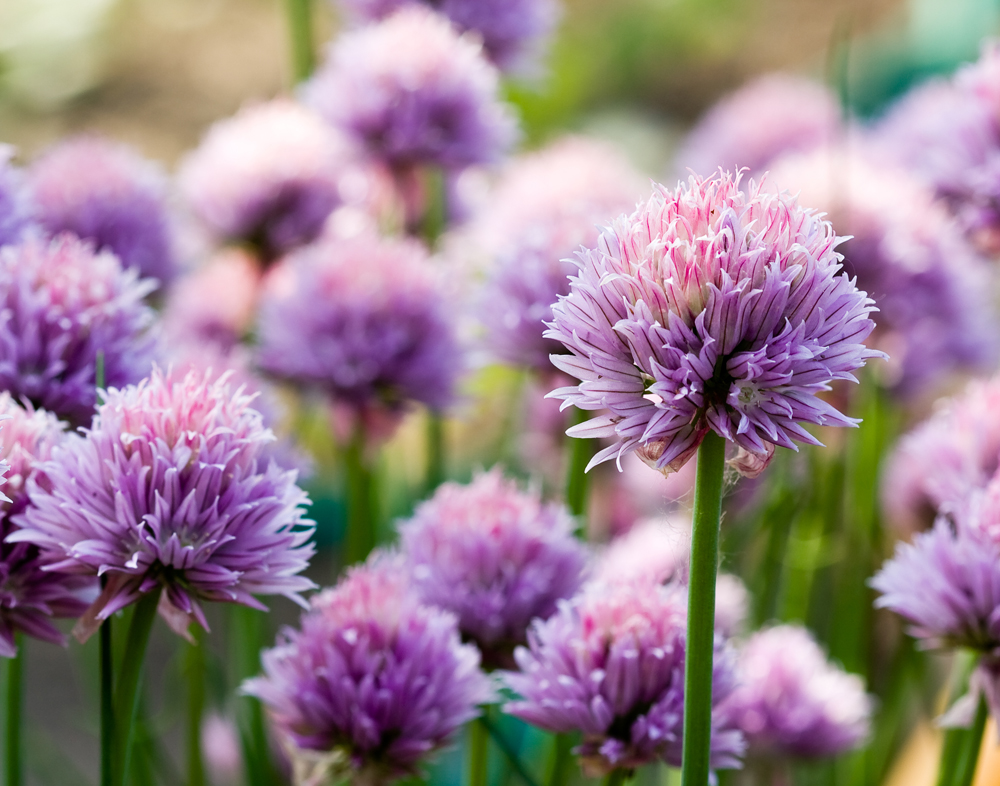 It's easy to think that using lots of herbs in cooking is a relatively modern thing, all thanks to TV chefs such as Jamie Oliver using great big handfuls on his programmes and supermarkets following suit, selling us pots of herbs perfect for the kitchen windowsill. But herb gardens date back to medieval times, when herbs were the modern-day equivalent of a first aid kit.
My copy of Beeton's Dictionary of Everyday Gardening (1909) says 'all the sweet herbs are pretty, and a strip of ground halfway between the kitchen and the flower garden would keep them more immediately under the eye of the mistress' – evidently herbs were seen as the domain of women! It's good advice though. If you're planning to grow some herbs, you want them close to the kitchen, so pots on the patio or a dedicated bed somewhere near the house are ideal. And they are pretty plants, many bearing beautiful flowers – chives (above), oregano, bergamot for instance – that bees love.
Most herbs like full sun and good drainage, so they suit being grown in containers. Garden centres have masses to choose from and they're normally sold in small pots at pretty good prices so you can buy three or four and combine them to make a really pretty pot.
Variegated thymes such as 'Doone Valley' or 'Silver Queen' will creep over the edges and add interesting coloured foliage, with perhaps something larger such as bay or rosemary 'Miss Jessop's Upright' to be the main plant in the centre. Gaps can be filled in with something to provide leafy contrast, such as spiky chives, feathery fennel and dill or the silver-leaved curry plant.
There are more unusual options, too, recommended by my dog-eared Beeton, but not grown so widely these days. Try herbs such as salad burnet or purslane, whose leaves have a fresh cucumber-like taste and make a nice addition to salads, young lemony sorrel leaves or sweet aniseed-tasting fennel fronds. The aromatic summer (or winter) savory is also worth a look.

MUST-BUY PLANT... Crocosmia
EVERYDAY: Crocosmia crocosmiiflora
Familiar orange crocosmia is a popular hand-me-down plant, much passed around by gardeners, probably because it multiplies so readily!
EXTRA-SPECIAL: Crocosmia 'George Davison'
Much more refined and a lot more manageable is this beautiful golden-yellow flowered variety, perfect for a sunny spot.
Garden News magazine is packed full of practical tips, inspiration, plant and product news and great money-saving offers! On sale every Tuesday, or subscribe and try your first four issues for just £1. Visit Great magazines (t&cs apply)

More gardening tips plus everything you need at 50+, in

Yours Magazine

- join us for a friendly catch up every fortnight!