Anton on Strictly, Bruce, and The Good Old Days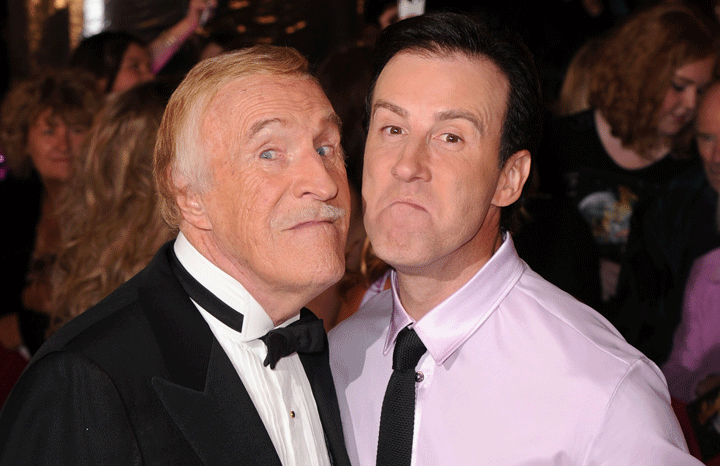 When, earlier this year, Sir Bruce Forsyth announced he was standing down from presenting Strictly Come Dancing, judging from the many letters we received there was one person Yours readers wanted, above all, to take Brucie's place – Anton du Beke. As it turned out, the job was given to former It Takes Two presenter and the Strictly Sunday night results' show host, Claudia Winkleman. But far from being disappointed, our Anton is happy with the way things have turned out.
"That's really kind of Yours readers but if I presented the show I wouldn't be able to dance and that's what I love doing the most – it's the key to everything for me," he says. "I'm just as enthusiastic as when Strictly started back in 2004 – maybe that's why I'm still taking part. Did you know Brendan Cole and I are the only two original dancers still on the show ten years on? I don't know why we've lasted – maybe because we're both so enthusiastic. I've never won but that's not important to me. I just love being a part of the competition."
'I really will miss Bruce – he was my hero before Strictly, he still is and I'm proud to say he has become a good friend'
What does he think about Sir Bruce stepping down?
"I'll really miss him – he was my hero before Strictly, he still is and I'm proud to say he's become a good friend. But I'm happy for him because he's happy about the decision he's made. That schedule of his was incredibly tough.
"Hopefully we'll still get to work with each other – in fact, we have already. Earlier this summer, he joined me in my show The Great American Songbook. ...Now I know what you're going to ask me next. What do I think about Tess Daly and Claudia co-presenting Strictly Come Dancing?"
The man's a mind-reader! "It's great for the continuity of Strictly. They both know the show inside out and we're already familiar with them presenting Strictly together when Bruce has been off. They're going to be lovely."
Anton celebrated his 48th birthday a few weeks ago but he has the physique of a man a good ten years younger.
"The dancing obviously has a lot to do with it," he explains, "but there is more to it than that. I look after myself. I eat well and work out with a personal trainer. I do it consistently, too. I don't have periods when I take time off. Having said this, I'm very careful not to overdo it or strain myself. I know I'm more susceptible to injuries as I get older. Every so often I'll see a physio but, touch wood, everything works as well as it always has."
That's fortunate for Anton as, in addition to limbering up for the start of Strictly 2014 in September, he's currently touring theatres up and down the country in a production of The Good Old Days.
"It's just like the much-loved TV show used to be," he reveals. "I'm old enough to remember that! There's singing, dancing, variety acts and lots of interaction with the audience. I'm thoroughly enjoying myself, especially as I get to sing and tell a few jokes as well as dance."
He's also appearing in an episode of the BBC daytime drama Doctors on August 29, judging a ballroom competition featuring some of the main characters. "I'm playing myself and, you know what, I'm quite good at that!" he jokes. "Well I have had enough practice. Doctors was great fun and I wouldn't mind doing some more acting – I love being able to do different things, and working with new and interesting people."
Looking ahead to early 2015, from January Anton will be back on the road, touring the UK with his long-term dancing partner, Erin Boag, in their show That's Entertainment.
"Erin left Strictly in 2012 because she wanted to have a baby," he says. "She had a beautiful baby boy, Ewan, in April this year, and after Christmas, we'll be touring together again. I imagine she'll bring the baby with her. He's very cute – until he cries. Then I'm like, 'Thank you very much' and I hand him back. And before you ask, no, he hasn't made me broody!"
Anton's said to be in a long-term relationship with a half-Japanese millionairess Amanda Barclay, so what about marriage? There's a slight pause.
"It's very sweet of you to propose but I don't think my girlfriend would be too happy about that," he replies in mock seriousness. "Besides. . . I hardly know you!"
As they'd say in The Good Old Days – 'he's a card, that Anton!'
For more details about The Good Old Days tour check with your local theatre
Photo © David Fisher, REX